FAIRFIELD TOWNSHIP — Two people are dead and 12 others injured after a shooting at a house party with hundreds of people Saturday night in Cumberland County, police said.
At 11:50 p.m. Saturday, State Police from Troop "A" Bridgeton Station responded to a residence in the 1000 block of East Commerce Street. When troopers arrived, they discovered that a 30-year-old man and a 25-year-old woman sustained fatal gunshot wounds, and 12 other adults already had been transported to area hospitals with various injuries, police said.
Police also said in a statement released on Facebook on Sunday morning that one of the confirmed 12 victims sustained serious injuries and was in critical condition.
No arrests have been made, and the motive and incident are under investigation.
Joeron Pierce, 20, lives a couple of blocks down from the shooting. He was awake to witness the immediate aftermath.
"Man, it was like pandemonium down here. People were driving down the street all erratic," Pierce said.
People who attended the party parked their cars on of Route 49 and on both sides of Gouldtown Woodruff Road, both in front of and across the street from the nearby Fairfield Township School, Pierce said. Once the gunfire started, people ran from the party and to their cars to drive away.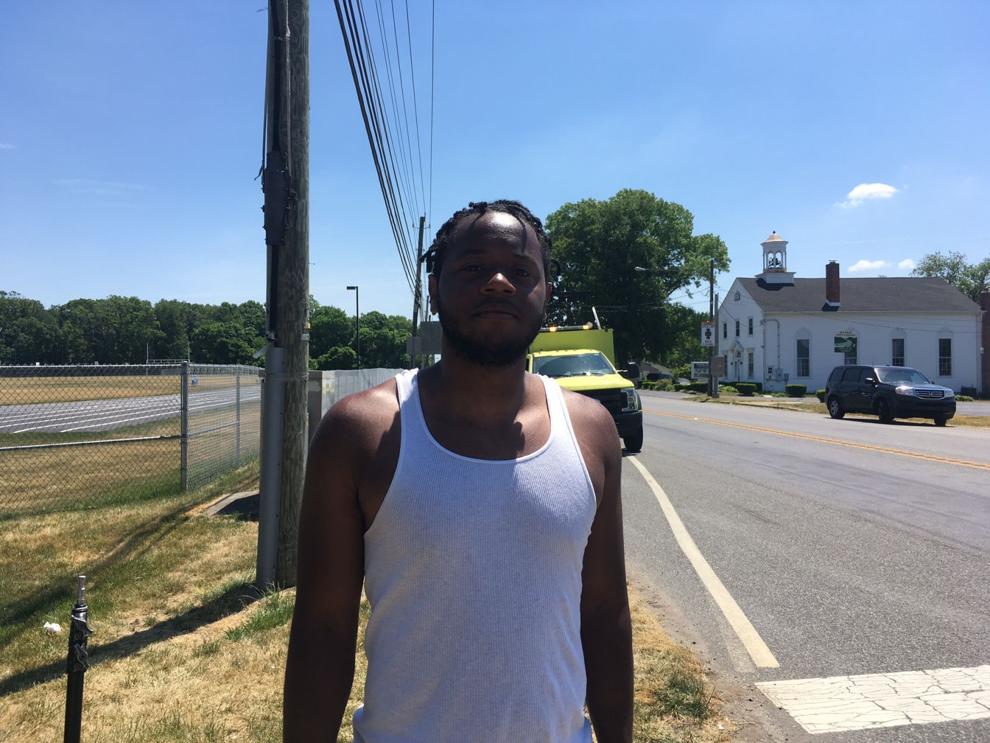 Pierce said people ran into his friend's yard and rang his friend's doorbell.
"People were screaming and hollering on their phones trying to get in touch with people. It was nuts," he said. "We have not had anything this big in a long time. This is a really a peaceful area. This stuff happens more in the city (of Bridgeton). Every now and then, you might get something, but nothing this catastrophic."
A woman who lives on Gouldtown Woodruff Road and did not want to be identified first noticed cars parked on both sides of East Commerce Street as the sun set Saturday night. Later at 11:30 p.m., she looked out her window and noticed the rare occurrence of cars parked on both sides of her road as well.
She was about to call the police when she then heard gunshots that sounded like firecrackers.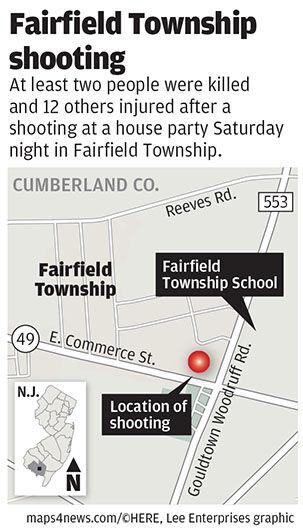 East Commerce Street is also known as Route 49 and is the main road connecting Millville to Bridgeton in Cumberland County. Fairfield Township is a township that wraps around the eastern part of Bridgeton with about 6,000 residents.
The home is across the road from Gouldtown Memorial Park Cemetery, which is located next to Trinity AME Church. Fairfield Township School is just around the corner from the home on Gouldtown Woodruff Road.
Early Sunday morning, a dumptruck, a truck from the N.J. Department of Transportation and cones kept traffic from driving west down Route 49. Beyond the capital black letters on yellow police tape that said "DO NOT CROSS," three marked State Police cars and a Salvation Army truck were visible.
The back of a State Police crime scene investigation truck was opened toward the front door of the house.
Fairfield Township Mayor Benjamin Byrd Sr., who was at the scene Sunday morning, said that New Jersey Gov. Phil Murphy offered his support and help.
"Nobody knows when someone's going to come out of the woods with a gun," Byrd said.
Murphy will hold a news conference with Attorney General Gurbir S. Grewal, State Police Col. Patrick J. Callahan and Cumberland County Prosecutor Jennifer Webb-McRae at 10 a.m. Monday in front of the prosecutor's office in Vineland.
"We hold those who have died, and their families, in our prayers today, and we also pray for the recoveries of those injured. We are grateful for the swift response of law enforcement and stand with them as they continue their investigation," Murphy said in a statement.
"Let there be no mistake: This despicable and cowardly act of gun violence only steels our commitment to ensuring New Jersey leads the nation in passing and enforcing strong and commonsense gun-safety laws. No community should ever experience what occurred last night in Fairfield," he added.
The Cumberland County Board of Commissioners expressed shock at the senseless gun violence.
"The investigation into this tragic crime is being led by the New Jersey State Police," said Commissioner Director Joseph Derella in a statement. "Our County Prosecutor's Office will be lending assistance as is requested and necessary."
Minister Allahdjinn Wright, of Union Baptist Temple Church in Bridgeton, and Isaiah White, of God's Location Church in Millville, were on the scene of the shooting, praying for the city. Their prayers were streamed live on the God's Location Church's Facebook page.
Wright, who has lived more than 50 years in Bridgeton, said it was a fitting that a cemetery is a part of the crime scene because you have many family members, many daughters, many moms and dads, who were worried about their children Saturday night.
"I came to pray for all these families impacted, all these young people that are dead, and the five survivors that are holding on right now. We are an active body of believers. I have Jesus Christ. I take him everywhere, so why not come here, look at the scene, post it live and pray for it," Wright said.
John Fuqua, who runs a local anti-violence organization called Life Worth Living, said he was called out Saturday night to assist families. He said the shooting happened at a '90s-themed party where guests ranged from teenagers to senior citizens.
NBC10 in Philadelphia reported that several people showed up at area hospitals, including Cooper Medical Center in Camden. CNN.com reported that Cooper treated six victims from the shooting and that two of them were released. Their conditions were unavailable.
Eric Comer said he was in bed at around midnight when he heard all this commotion from his neighbors. Comer had heard that one woman was supposedly shot in the head. He believes he knows her family.
He said the shooting was a shame, and his heart goes out to those who were injured or killed.
"We do protests and all of that because it is wrong for cops to kill Black people, but you have Black people killing Black people," said Comer, 48, who has lived in Fairfield Township for the past 18 years. "That's wrong. That's terrible."
Anyone with information is asked to contact the New Jersey State Police Bridgeton Station at 856-451-0101 or submit a tip via the Cumberland County Prosecutor's Office tip website at www.njccpo.org/tips. Anonymous tips are welcome.
The Associated Press contributed to this report.
Contact Mark Melhorn: 609-272-7179
Twitter @ACPressMelhorn