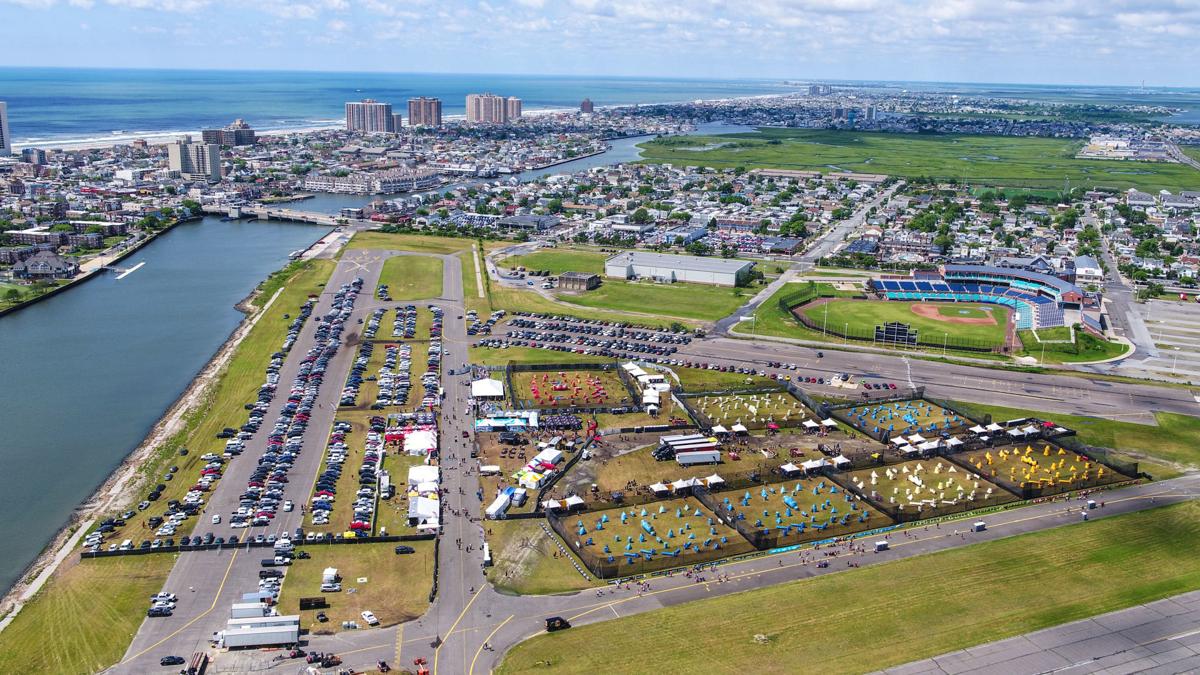 ATLANTIC CITY — Two testing sites for the new coronavirus will open soon in the city, Mayor Marty Small Sr. said.
A drive-thru testing site at Bader Field and a walk-up location in the Showboat Hotel Atlantic City surface parking lot could be operational beginning the week of April 27.
"This (pandemic) is going to, unfortunately, be going on long term," Small said during a recent video briefing on the city's social media site. "Not as quick as anyone would like, but just know that we're going to put Atlantic City in the best position possible."
There have been a total of eight deaths attributed to COVID-19 at long-term care facilities …
Testing will be by appointment only for city residents who display symptoms and have a doctor's prescription, the mayor said. Each testing site will be open two days a week.
Small said Atlantic City first responders and essential employees will be tested.
Negotiations with a health care provider to operate the testing sites are nearly complete, and Small said he would like to make an announcement as early as Monday with more details. Specifics, such as how many test kits the city has, the cost of the testing sites and how many tests per day would be administered, would be forthcoming, he said.
The Surf Stadium parking lot at Bader Field will serve as the drive-thru site. The walk-up site will be located in the lot between Delaware and Maryland avenues and Atlantic and Pacific avenues, directly across from Showboat.
To date, 46 Atlantic City residents have tested positive for COVID-19 and four people have died, according to officials.
In March, Small lobbied for a county-run testing site at Bader Field. County officials selected a centrally located site at the Hamilton Mall in Mays Landing.
ATLANTIC CITY — From his home Saturday, Mayor Marty Small held a Facebook Live update on the…
"As promised, to the good people of Atlantic City, we have delivered," the mayor said.
The testing sites differ from the federally operated field hospital at the Atlantic City Convention Center. The field hospital is being built for a capacity of 250 beds but can be converted to house as many as 3,000. The field hospital is expected to open next week. Gov. Phil Murphy is scheduled to tour the Convention Center field hospital Tuesday morning.
Atlantic County
AtlantiCare
The AtlantiCare Physician Group (APG) Primary Care and Urgent Care is offering COVID-19 testing to individuals who meet Centers for Disease Control's guidelines.
Testing is in Galloway, Atlantic County; Little Egg Harbor, Ocean County, and Berlin, Camden County, Mondays, Wednesdays and Fridays from 10 a.m. to 4 p.m., weather-permitting. Testing requires an appointment and a prescription from an APG Primary Care or Urgent Care provider after being seen in the office or through an AtlantiCare Telehealth visit.
Individuals can schedule a virtual Primary Care or Urgent Care appointment by calling the AtlantiCare Access Center at 1-888-569-1000 and learn more by visiting www.atlanticare.org/telehealth.
AtlantiCare also offers a 24/7 COVID-19 hotline for those who have questions about coronavirus. The number is 1-888-ATLANTICARE (1-888-285-2684).
Hamilton Mall, parking lot, 4403 E Black Horse Pike, Mays Landing
Testing began April 9 for symptomatic healthcare workers and first responders by appointment. Going forward, officials will provide testing by appointment for county residents who are symptomatic for COVID-19 and have a doctor's script.
The Hamilton Mall COVID-19 drive-thru testing site will be open for the public Tuesday and Thursday It will be open from 10 a.m. to 1 p.m. on those days.
Atlantic City
A drive-thru testing site at Bader Field and a walk-up location in the Showboat Hotel Atlantic City surface parking lot could be operational beginning the week of April 27, according to Mayor Marty Small Sr. Find out more here.
Cape May County
Drive-thru testing sites in the county have not been released. Those who want to be tested must have an appointment, be a CompleteCare Health Network patient or a Cape May County resident.
Cape Regional Urgent Care
Cape Regional Urgent Care is now testing in all locations, according to a post on their Facebook page. Please call 609-465-6364 and press option #2 to schedule an appointment at the Cape May Court House, Wildwood or Marmora locations.
CompleteCare Health Network
The Cape May County Department of Health and CompleteCare Health Network are partnering to open a drive-thru COVID-19 testing site, open consecutive Wednesdays starting April 22, by appointment only.
Testing will only be for CompleteCare patients, as well as Cape May County residents, who are sick with symptoms of fever, cough and shortness of breath and that meet a certain criteria, according to a news release.
Symptomatic first responders who are residents of the county will also be given priority testing.
Cumberland County
Rowan College of South Jersey Cumberland Campus, 3322 College Drive, Vineland
A testing site will be open by appointment and for symptomatic Cumberland County residents only.
Contact: 609-272-7222
Twitter @ACPressDanzis