Ocean City tops the list of New Jersey coastal towns with large numbers of properties projected to face chronic high-tide flooding by 2045, undermining real estate values and tax ratables, according to a new study by the Union of Concerned Scientists.
The study found New Jersey is second only to Florida nationally for at-risk real estate. More than 62,000 residential properties in the state with a value of about $27 billion, and 2,600 commercial properties with a value of $2.1 billion, would face regular inundation by 2045, according to the study.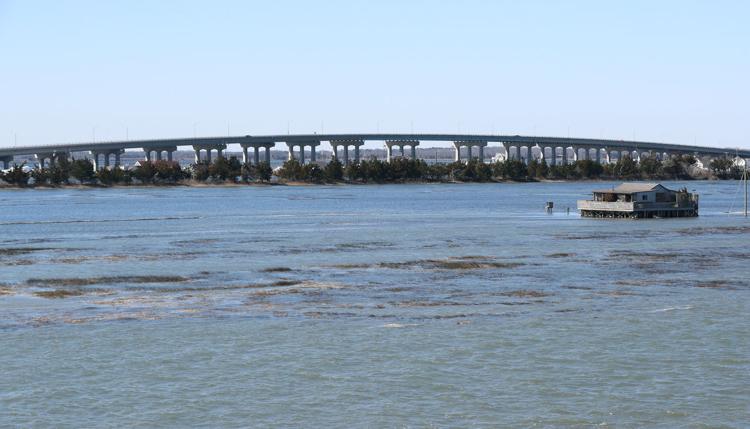 "(New Jersey) is always seen as the poster child for sea-level rise in the U.S.," said study co-author Erika Spanger-Siegfried, the lead climate analyst for UCS, based in Cambridge, Massachusetts.
Even so, she called findings about New Jersey "pretty striking."
More frequent flooding. Two hundred mph winds. Stronger hurricanes.
Of the state's beach towns, 10 are projected to have at least 1,500 homes at risk by 2045. Ocean City is projected to have the most at-risk homes at 7,200. That's about 39 percent of its housing stock.
Other communities predicted to be hard-hit include Atlantic City, Wildwood and parts of Long Beach Island. All face regular flooding of 36 to 40 percent of their homes. Other shore communities fared little better.
Chronic inundation is defined as having street flooding at least 26 times a year, Spanger-Siegfried said, and does not include storm-related flooding.
"That's already happening here. I've documented it on Facebook," said Suzanne Leary Hornick, who administers the Ocean City NJ Flooding Facebook page and lives at 30th Street and West Avenue. She regularly posts photos of flooding around her home.
Andrea Palermo's life has taken on the ups and downs of the tides she follows on her phone app.
Ocean City NJ Flooding is a subcommittee of the watchdog group Fairness in Taxes. It has 2,500 members, which is about a third of the year-round population of the island, and is working with a hydrologist from the American Geophysical Union to advocate for flooding issues at the state level, she said.
"Last week (at high tide) Wednesday through Friday, 30th Street and Haven was completely impassable," Leary Hornick said. "That's six (tides) right there."
Mayor Jay Gillian said Ocean City is taking immediate measures to address street flooding and protect property.
"Risen or rising, extreme tides already are part of life on our barrier island," Gillian said. "Ocean City is making unprecedented investments in infrastructure upgrades, revising building codes to require construction at safe elevations and working with outside consultants to study other measures."
A warming climate is causing sea level to rise, according to the UCS and other researchers. Sea level rises because of thermal expansion of warming ocean water; melting of land-based ice sheets, especially in Antarctica; and the sinking of land due to geological forces.
The study projects an average of 2.1 feet of sea-level rise for New Jersey in 2045 and 7.3 feet in 2100.
The polar ice cap is melting, our ocean is expanding and New Jersey is sinking.
Government policies encouraging building or rebuilding at the shore can make matters worse.
"Roughly 2,600 of the coastal New Jersey homes at risk by 2045 were built or rebuilt after Hurricane Sandy devastated the region in 2012," the report said.
Real estate agent Gary Jessel, of Fox Real Estate in Ocean City, said potential home buyers have been more concerned about flooding since Sandy. But homes rebuilt after Sandy, and many built in the past 15 years, exceed federal standards and avoid problems of older, nonelevated homes, he said.
Beach replenishment projects, and local government efforts to install new infrastructure and pumping stations, have also provided important protections, Jessel said.
"You are never going to end it," he said of flooding. "You are living on an island. But it's not a problem with (newer) homes."
The interactive map with this story allows readers to click on specific communities to see how much real estate is projected to be at risk.(tncms-asset)ce723b9e-70b2-11e8-b207-00163ec2aa77[3](/tncms-asset)
Property on the bay side of most barrier islands in New Jersey is most at risk, said Spanger-Siegfried.
"Being on the ocean side of barrier islands provides some protection," she said. "Those parts tend to have higher elevation than the bay side." And they benefit from beach replenishment.
Back bay flooding is much more difficult to address, she said.
The study uses the higher of three scenarios projected for sea-level rise by the National Climate Assessment of 2014.
"We analyzed all three, and opted to lead with the high scenario," said Spanger-Siegfried. "It's the one recommended for use when there is a low tolerance for risk. When it comes to people's homes, their single greatest asset, that qualifies for a low tolerance for risk."
Leary Hornick said Ocean City is working on a flooding remediation project from about 28th to 33rd streets, from West Avenue to Bay Avenue. It is one of several projects the city has undertaken to address flooding in specific neighborhoods.
But it will only be a temporary fix without a comprehensive, island-wide plan, Leary Hornick said. And it may just move water to new areas.
"It's a Band-Aid on an amputation," Leary Hornick said. "What we need is short-term and long-term flooding remediation island-wide."
Find the full report here.