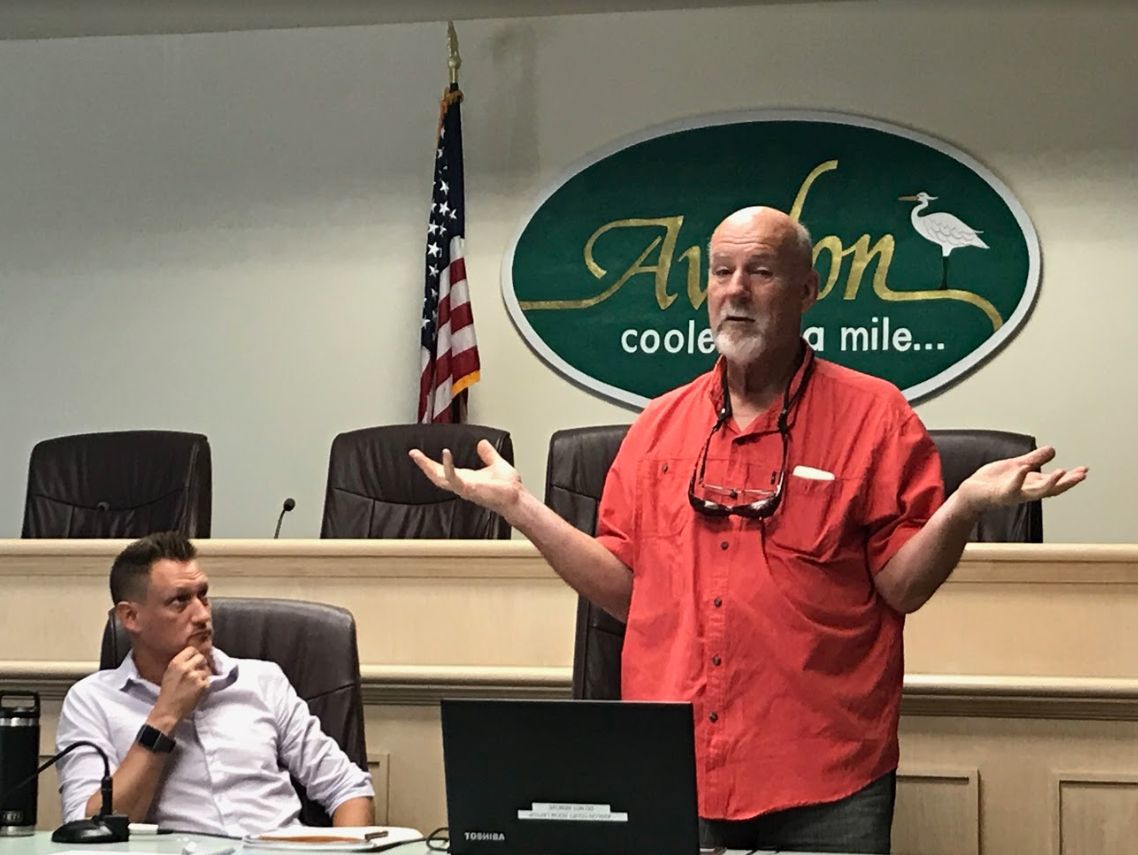 AVALON — Three and a half years after the destructive winter storm that inspired their project, Stockton University researchers revealed some of the 1.6 million data points their flood-tracking sensors have since gathered in coastal communities.
Working with the New Jersey Coastal Coalition, the researchers from Stockton's Coastal Research Center installed $300 cigar-sized sensors on the underside of 13 storm drains in Avalon and seven in Longport, in areas identified by local authorities as hot spots for "nuisance flooding," to gather hard data and determine their practical applications.
GALLOWAY TOWNSHIP — Nine yellow, blue and green lines wave up and down on a small coordinate…
On Thursday, they laid out preliminary findings.
For example, from Aug. 28, 2017, to Feb. 25, 2019, there were 151 nuisance flooding events in Avalon and 235 in Longport, the researchers found.
Rutgers University scientists project the sea level will rise by 10 feet by 2100 in New Jersey if carbon emissions remain high, so it's no wonder other towns are paying attention. It could directly inform their flood resiliency efforts going forward.
"To my knowledge, this is the first time that anybody in New Jersey has recorded this kind of flooding information in terms of knowing when they started, how long they lasted, how deep the flood was," said Stewart Farrell, director of the Coastal Research Center. "I've been excited as hell about this since 2016 when we started it after this storm called Jonas."
The researchers hope to release their final report by the end of August or in September. Prompted by the destruction of Winter Storm Jonas in January 2016, the sensors were installed in August 2017. With GPS units attached to track their elevation as water rises, the sensors have recorded the ambient pressure around them every four minutes since their installation. Their findings back up anecdotal evidence of nuisance flooding hot spots. Charts shown in Avalon's Municipal Building on Thursday showed the duration of flooding and how high the water rose above the street during specific incidents of heavy rain.
Fielding questions from representatives from a number of coastal communities, the U.S. Army Corps of Engineers and the state Department of Environmental Protection, among others, Farrell and Mathew Suran discussed the possible uses of their on-the-ground findings.
Avalon and Longport have partnered for a joint flooding study that will help coastal municip…
They can be leveraged for funding for infrastructure improvements, for starters.
"Whether it's a coastal event or a nuisance flooding or a rainwater event, there's a number of things we can do. It just takes money," said Tom Quirk, executive director of the New Jersey Coastal Coalition. "We have to take this scientific data to our legislators and say ... 'You have to help us defend ourselves.'"
Their presentation also introduced the possibility of using their findings to inform property owners of incoming flood events.
Jonas brought two feet of street flooding and destroyed about 40 cars in Ventnor alone, according to Quirk's estimate.
Semi-automated systems, like text alerts and Reverse 911, could be used to contact owners in hyperlocal areas when weather and tides align for flooding conditions, giving them enough time to move their vehicles.
"There's conditions (that are) set up to do this," Farrell said.
One of the biggest limitations of their work, said Suran, is getting the closest, most accurate rain gauge to their sensors. For Avalon, their most reliable rain gauge is at the Cape May County Airport in Rio Grande.
"You don't have major fronts coming through like in the winter," Farrell said, "where if you measured it at the Atlantic City Airport, it would probably rain the same amount down here."
The data could also be used to address the public safety concerns of flooding for pedestrians, and to do cost-benefit analyses of installing pump stations.
"Remember, pump stations aren't free. What is it, about $700,000 a piece?" Farrell said. "But if you can go from 55 flood events a year to three ... it might have a value."