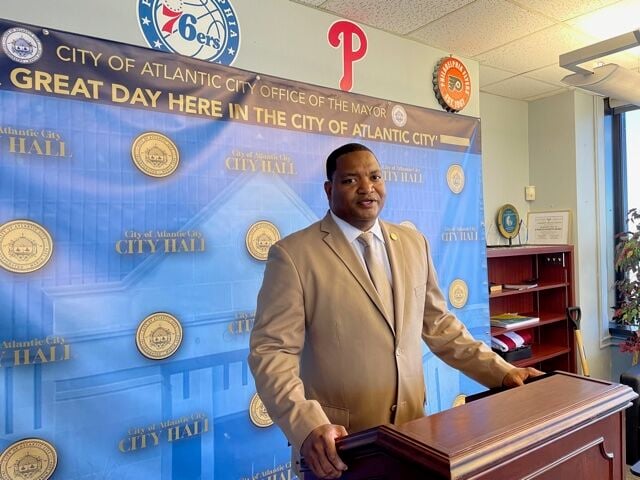 ATLANTIC CITY — City workers did not get promised $3,500 checks Thursday to thank them for keeping the city going during the COVID-19 pandemic, said an apologetic Mayor Marty Small Sr., who blamed the state for the delay in a Thursday press conference.
Small said the state is holding up the city's plan to use about $6.6 million of $33 million in federal American Rescue Plan funds for the payments after initially offering no objection. That's a point the state disputes.
"The state did not say no. ... The memo asked for backup documentation ... and it's under review," Small said Thursday during a midday news conference in his office at City Hall. He said he had gotten the request for documents Monday, and that information on the payments had been shared with the state before the Aug. 19 news conference in which he them.
The state Department of Community Affairs controls city finances and must approve minutes of meetings before action can be taken. It has not yet approved the minutes of the City Council meeting that put the payments into the budget, so checks could not go out, Small said.
A spokesperson for the DCA said later Thursday it had not been told about the planned payments before Small's Aug. 19 news conference.
"DCA is not trying to impose on the City of Atlantic City how to use the American Rescue Plan funds," DCA spokesperson Lisa Ryan said in an emailed response to questions. "With that said, DCA has experience dealing with federal recovery funds and requirements ... and has the expertise to ensure that regulations are followed."
She said the Division of Local Government Services had told the city to keep DCA posted on plans for American Rescue Plan funding.
"(DCA was) surprised to learn about the proposed stipends for city workers and taxpayers from Mayor Small's press conference on Aug. 19," Ryan said. "DCA was not involved in discussions leading up to this press conference."
That's why Local Government Services Director Jacquelyn Suarez sent a letter to the city administration earlier this week seeking information, Ryan said.
ATLANTIC CITY — After it was announced last week that city employees and taxpayers would soo…
Under Small's proposal, property taxpayers would also get a one-time payment of $500 to help them recover, but at a later date of mid-September.
"Under this administration, we have enjoyed a tremendous relationship with the state of New Jersey," Small said. "Do we get pissed off sometimes? Absolutely. You fight with your family, too."
Small said the state should have contacted him right after the news conference announcing the payments.
"To do that days before people were due to get paid was just not good," he said.
Small promised "to fight to the bitter end till you receive this money."
ATLANTIC CITY — Taxpayers and city employees will receive stipends from the $33 million the …
Some people have spent the money or relied on it for college tuition, school clothes and other important expenditures, he said.
Small is due to meet with Lt. Gov. Sheila Oliver at 3 p.m. Tuesday in Trenton, and said he spoke with Gov. Phil Murphy's chief of staff George Hamey on Thursday morning.
The state has oversight of city finances under the 2016 Municipal Stabilization and Recovery Act, which was recently extended another four years.
"DCA is seeking to work with the city to make sure all regulations and compliance requirements are followed, because when they are not followed federal ARP dollars have to be paid back," Ryan said. "This is exactly why DCA has a partnership with the City under MSRA, so that we can work through solutions together and make sure the path forward ... meets federal requirements and is fair and equitable to any city staff affected."
Under MSRA, Oliver, as commissioner of the DCA, is the ultimate state overseer of the city.
"When the state calls and it's good to go, it will just be a button to push" to get the checks out, Small said.
Under federal rules, the city's millions in ARP funding could be used for a variety of specific types of spending, including to give stipends to workers who kept the city going during the worst of the pandemic.
For current employees to receive a payment, they must have served the city from March 20, 2020, to Sept. 28, 2020, Small has said.
Staff hired during that time would receive a prorated payment, Small also said.
The first city in New Jersey to give its employees funds from the American Rescue Plan is believed to be Trenton, which is using part of the $73.8 million it received from the act to give city employees up to $7,000 each in hazard pay.
"We wanted to show our employees we appreciated their efforts. We worked hard through the pandemic. The state government is not even back to work," Small said. "We've been here facing the public on a daily basis, and we are going to make sure our hardworking employees and the taxpayers get their just due."
President Joe Biden signed the $1.9 trillion American Rescue Plan Act on March 11. New Jersey's state government secured $6.5 billion of the total federal package. Collectively, the state's local governments received $2.9 billion.
Staff Writer Molly Shelly contributed to this report.
REPORTER: Michelle Brunetti Post
609-272-7219