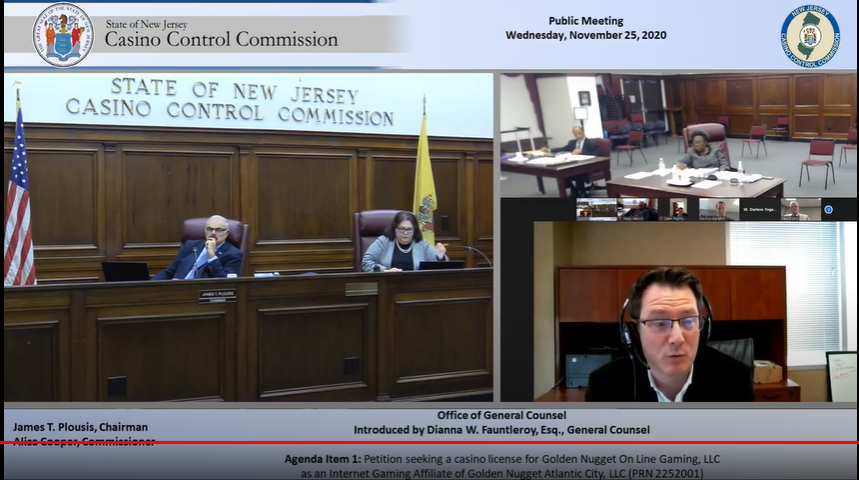 ATLANTIC CITY — Golden Nugget Online Gaming is one step closer to being listed on Wall Street following a licensure and merger approval Wednesday by state regulators.
The Casino Control Commission granted a casino license to Golden Nugget Online Gaming LLC as an internet gaming affiliate of Golden Nugget Atlantic City and conditionally approved a merger of GNOG with an existing special purpose acquisition company that is already being traded on Nasdaq.
According to the petition filed with the state, Landcadia Holdings II Inc., a blank-check company launched by billionaire and Golden Nugget casino owner Tilman Fertitta, is currently traded under the symbol "LCA" but will change its name to Golden Nugget Online Gaming Inc. and its Nasdaq trading symbol to "GNOG."
Federal regulators must still approve the merger before it becomes final.
Richard Liem, vice president and treasurer of Golden Nugget Atlantic City, testified that the primary benefit of taking an online gaming entity public was access to capital. As a smaller retail casino operator, Golden Nugget's strong online performance and brand can be leveraged to allow the company to better compete with larger players in certain markets, he said.
ATLANTIC CITY — The results of Monday's third-quarter casino profit reports were not nearly …
"You need to have adequate access to capital to be able to grow and compete effectively in this nascent and very quickly growing industry," Liem said.
Dylan Thompson, representing the state Division of Gaming Enforcement, expressed concerns during closing arguments about the potential negative impacts to Golden Nugget's physical casino operations if the internet component became a focal point.
"The transaction would deprive (Golden Nugget Atlantic City) of the much-needed cash flow from internet gaming on a permanent basis," Thompson said.
Casino Control Commission Chairman James Plousis said he understood the DGE's concerns and supported recommended conditions to ensure the Atlantic City casino would not become a casualty of negligence or secondary importance to online gaming.
"I will note, however, that while there may continue to be variations in Golden Nugget's online gaming versus land-based gaming revenue, particularly as the industry as a whole works to recover from the impact of COVID-19, I am satisfied with the petitioners' assurances that they are committed to Golden Nugget Atlantic city's ongoing financial stability," Plousis said. "I am convinced that Mr. Fertitta will protect Golden Nugget's brand of excellence and elegance, and will do so by supporting, maintaining and ultimately growing the Atlantic City casino hotel facility."
State gaming regulators will hold a special meeting next week to consider a request by Golde…
Golden Nugget Atlantic City has been the standard-bearer and market leader for internet gambling in New Jersey since the option was legalized in 2013.
Last year, Golden Nugget reported more than $177 million in online gaming revenue. The land-based casino only generated $22 million more than online for the entire year.
Through the first 10 months of 2020, Golden Nugget has reported more than $263 million from online gaming.
The new entity will be only the second pure publicly traded online casino company in the United States, according to a June news release announcing the merger. DraftKings Inc., the Boston-based daily fantasy sports operator who was among the early participants to enter the legalized online and mobile sports betting market, went public in April.
Fertitta, owner of five Golden Nugget casinos; Landry's Inc.; restaurant chains such as Rainforest Cafe, Bubba Gump Shrimp Co. and Morton's The Steakhouse; and the NBA's Houston Rockets, will remain chairman and CEO of the new company. Thomas Winter, senior vice president and general manager of online gaming for Golden Nugget, who has spearheaded the company's internet casino operations since Day One, will serve as president of GNOG.
Contact: 609-272-7222
Twitter @ACPressDanzis