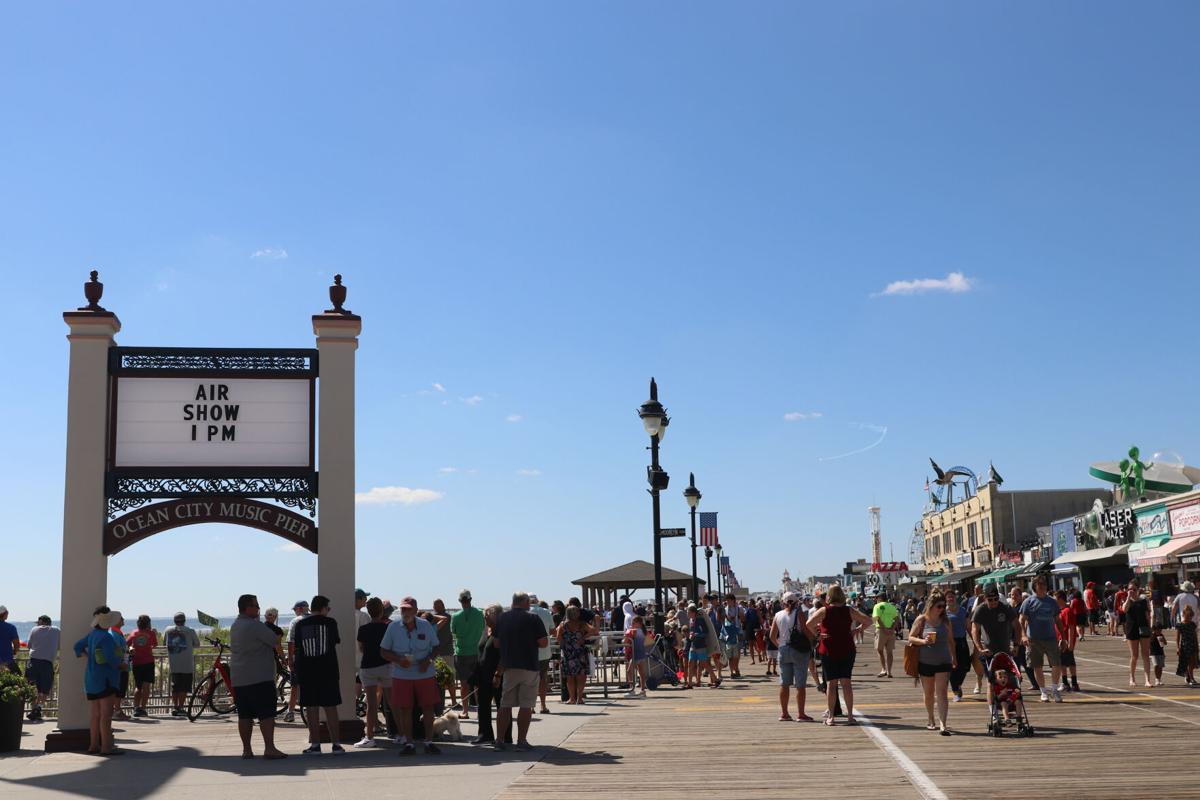 ATLANTIC CITY — The economy of the Jersey Shore is on the road to recovery after the COVID-19 pandemic shut down its staple hotels, restaurants and casinos, but there are still concerns and obstacles to overcome, industry leaders said Thursday. 
The Lloyd D. Levenson Institute of Gaming, Hospitality & Tourism at Stockton University hosted its annual Jersey Shoreview: Fall Tourism and Business Panel Discussion on Thursday at the college's city campus.
A panel of experts reflected on how the shore has emerged from last year's coronavirus shutdowns and forecasted the area's future, which they agreed is mostly positive.
Larry Sieg, president and CEO of convention bureau MeetAC, said summer 2021 was a banner season for the city's tourism industry. He said entertainment events were successful. A three-day run of Phish shows, for example, averaged 30,000 people per day.
"We did really well through the summer of 2021, we had record numbers," Sieg said. "People were in demand for in-person meetings and live entertainment."
Lori Pepenella, CEO of the Southern Ocean County Chamber of Commerce, said part of the area's success has involved a lack of competition because people wanted to stay closer to home.
One in a series of interviews with candidates in the Nov. 2 general election, based on edito…
"We were able to capture near capacity all summer," Pepenella said. "We did bring back events, modified so that they were safe, but they were met with enthusiasm."
Jamie Hoagland, marketing director of Tennessee Avenue Liquor, said summer for restaurants was a significant improvement on 2020. (Summer 2020 marked a low in coronavirus spread after the pandemic's first wave, but at the time, there were still an array of COVID-19 restrictions that businesses had to navigate).
"This past summer was fantastic, and 2020 was actually a really great summer for us, too," Hoagland said. "So year over year, we're ahead, and we expect to finish out the year ahead at all of the restaurants, so that's really exciting, and we're looking forward to 2022."
Stockton Finance and Business Studies Professor Michael Busler said businesses he has talked with say revenue generated during summer 2021 was about 10% higher than it was in 2019.
Concerns remain, however, for Atlantic City businesses.
Busler said business owners he spoke with believe revenues would have been significantly higher, had it not been for the nationwide labor shortage.
CAPE MAY — A settlement agreement with Cape May Seashore Lines could pave the way for additi…
He said the shortage compelled businesses to raise wages to attract new workers, with increased labor costs putting upward pressure on prices.
Busler added that nationwide supply chain disruptions have made certain materials for local businesses scarce, with them paying prices that were "sky high" — and that he was concerned about the recent spike in inflation.
Hoagland said the restaurants she worked with were struggling to attract workers and purchase materials, with one local pizzeria being unable to open full time due to its inability to hire a full-time staff. Some restaurants have even had to be more conservative in distributing condiment packets because of increasing costs, she said.
Developments on the labor front were not just about a lack of workers. Sieg said innovations around virtual work have increased labor productivity from his experience — although he acknowledged those changes would be much more difficult to implement for the hospitality industry.
The panel generally anticipated that many of those innovations would be kept in the long term as the world eventually enters into a post-pandemic period.
Panel members broadly agreed that pandemic-era innovations, such as the augmentation of outdoor dining, the implementation of virtual menus and the use of virtual meeting options would also impact the economy in the long term.
ATLANTIC CITY — Emily Seelman only spoke for about 15 minutes during her panel session Satur…
"We actually saw productivity increase by having a work-from-home schedule, so we plan on continuing to have that opportunity, we're not going to change that," Sieg said.
"Businesses had to adapt to changing conditions here, and they did that," Busler added.
Jane Bokunewicz, LIGHT faculty director and event moderator, finished the meeting by crediting the area for how it has endured the challenges presented by the pandemic.
"If there's one takeaway I think that we can get from today's panel, it's that the Jersey Shore is a resilient tourism destination, and that it has a really strong appeal for people looking for a diverse mix of amenities and attractions," Bokunewicz said.