South Jersey beaches, and the lifeguards who stand watch over them, are going to look different during the summer of COVID-19.
In Wildwood, lifeguards will report directly to their stands instead of coming together for a roll call, with all the supplies and equipment they need, Beach Patrol Chief Steven Stocks said Wednesday. There will be only one guard per stand instead of the usual two, with another nearby on the beach or in the water.
"The protocol is going to be sanitize, use, sanitize," Stocks said, adding guards will be issued neck gaiters that can be used as a mask. "So if you need to use a piece of equipment, you're going to sanitize it first and then you're going to use it for the designed purpose and then you're going to sanitize it again. So that would provide two layers of sanitation before different people touch the same equipment."
Gearing up for Memorial Day weekend — heralded as the unofficial start of summer — Atlantic and Cape May county beach patrol officials are changing the way lifeguards stand watch, make rescues and interact with beachgoers in an effort to keep everyone safe from the threat of a spike in new coronavirus cases, including providing them with masks and assigning one guard per stand. As is traditionally the case in the early part of the shore season, not all beaches will have lifeguards on duty over the holiday weekend, and many beaches will have limited coverage.
And while all beaches are following guidelines set by Gov. Phil Murphy, each municipality has final say over how it adapts to the orders, making each beach's plans a little different.
"Our first priority is to protect our guards from the public without compromising public safety," Margate Beach Patrol Capt. Chuck LaBarre said.
Some of the measures being considered include putting in a rope system or definitive line of six feet between lifeguards, their equipment stand and life boat, and the public, so guards can still answer questions from a distance while keeping an eye on bathers, LaBarre said.
"The one thing I've learned in my career in public safety is you've just got to adapt and adjust," he said. "You have to protect the public from themselves. They only see it from their perspective. We want everyone to have fun and keep it as close to business as usual, but that's going to be impossible."
Officials are asking that the public keep their distance and wear a mask, and have also planned to restrict bathing between waist and chest deep, he said.
MIDDLE TOWNSHIP — After weeks of sheltering in place under COVID-19, the township has begun …
Atlantic City Beach Patrol Chief Steve Downey said beach entrances, of which the city has more than 100, are going to be designated as either an exit or entrance only, and there will be signs on lifeguard stands telling bathers to stay 10 feet away so lifeguards can access their equipment quickly if needed.
"The customer service skills are going to be necessary now," Downey said. "You're going to have to be polite when keeping people out of your specific area. We don't want to be referees."
VENTNOR — A Mays Landing man was arrested Tuesday evening after police say he assaulted a ci…
But, even as city beaches are free and generally draw large crowds, the weather this weekend may limit the number of people who choose to come out, he said, giving officials and guards a chance to ease in to the new guidelines.
"I can't see us getting slammed," Downey said. "We'll really have to worry when it's really hot, really humid and the water's really warm and the casinos open."
Saturday is expected to have highs in the upper 60s, while Sunday and Monday may reach the low 60s, Press meteorologist Joe Martucci has forecasted. Last year, shore highs were no lower than 75 degrees except for one day.
About 41,000 more New Jerseyans applied for unemployment benefits last week, the lowest numb…
"This is going to be a season that is going to be very different from any other," Wildwood Commissioner Steven Mikulski said. "The influx of people that everybody is used to will not be here. There may be more day visitors that may be coming down the shore, so probably the parking lots will be a little more crowded, but again, with the influx of people, I don't see that happening."
But guards are preparing and training, just as they would every year, with some changes to rescue protocol.
"These guys are professional first responders," Stocks said. "They understand (personal protective equipment). We've been talking about PPE forever. PPE is new lexicon to many people, but for first responders, PPE goes back to when you first start taking CPR training."
BRIDGETON — Friction between two Cumberland County freeholders is growing after officials al…
Lifeguards have to assume that every beachgoer they come in contact with for CPR is infected with something, so they use every barrier they can to prevent coming in contact with any of their patient's bodily fluids, Stocks said, adding that dealing with the new coronavirus isn't that different for guards.
For CPR, lifeguards will use a bag valve mask that covers a victim's nose and mouth while another guard does compressions, Stocks said. Both first responders should be in full PPE — eye covering, mask, gown if possible.
Rescues in the water are going to look a little different, too, Stocks said. For normal rescues, two lifeguards would go out, and one would hold onto the rescue can and secure the victim while a second lifeguard swims them in to shore.
"Obviously that's the kind of contact that we need to avoid now," he said. "So the guards are trained now to pass the can to the victim and say, 'Hold on' if they can, 'You have to hold on.' If they can't hold on, you're going to have to get in there and secure them."
Then the guard will backstroke toward shore, keeping the victim calm, he said.
Overall, Wildwood has an advantage in that its beach has ample room for bathers to spread out in accordance with social distancing guidelines. Stocks said it's about ¾ of a mile from the water to the Boardwalk.
"If there's a beach in South Jersey where you can practice safe social distancing and enjoy the sand, the sun, the beautiful ocean, Wildwood is the place," Stocks said, looking out the second-floor window of the Beach Patrol headquarters. "Because that sand that's here in front of us is unlike any other beach in South Jersey."
Atlantic County
Atlantic City
The following beaches are open:
Caspian Avenue
New Hampshire Avenue
Connecticut Avenue
States Avenue
North Carolina Avenue
South Carolina Avenue
Kentucky Avenue
Mt. Vernon Avenue
Martin Luther King Boulevard
Ohio Avenue
Michigan Avenue
Missouri Avenue
Mississippi Avenue
Florida Avenue
Texas Avenue
Brighton Avenue
Chelsea Avenue
Montpelier Avenue
Albany Avenue
Lincoln Place
Annapolis Avenue
Bartram Avenue
Montgomery Avenue
Brigantine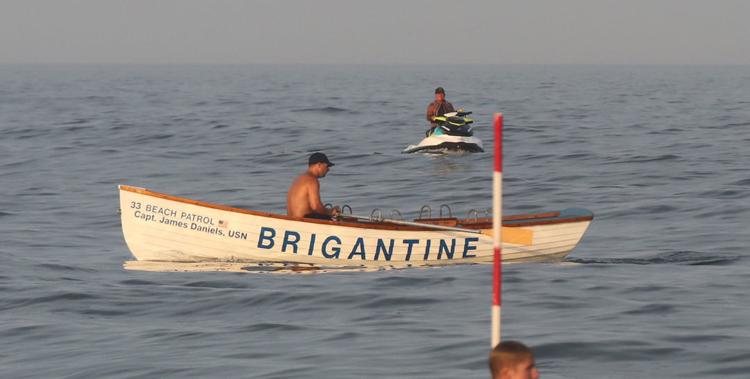 Effective Friday, all beaches will be open for recreational activities, swimming and sunbathing. Normal Social distancing procedures and masks should be worn by all. Families are permitted to congregate in groups, up to 10 in size and couples may sit together. Swimming is permitted at guarded beaches only.
For the preseason weekends, lifeguards will be on the beaches at Roosevelt Blvd., 16th Street, 26th Street and 38th Street only.
Longport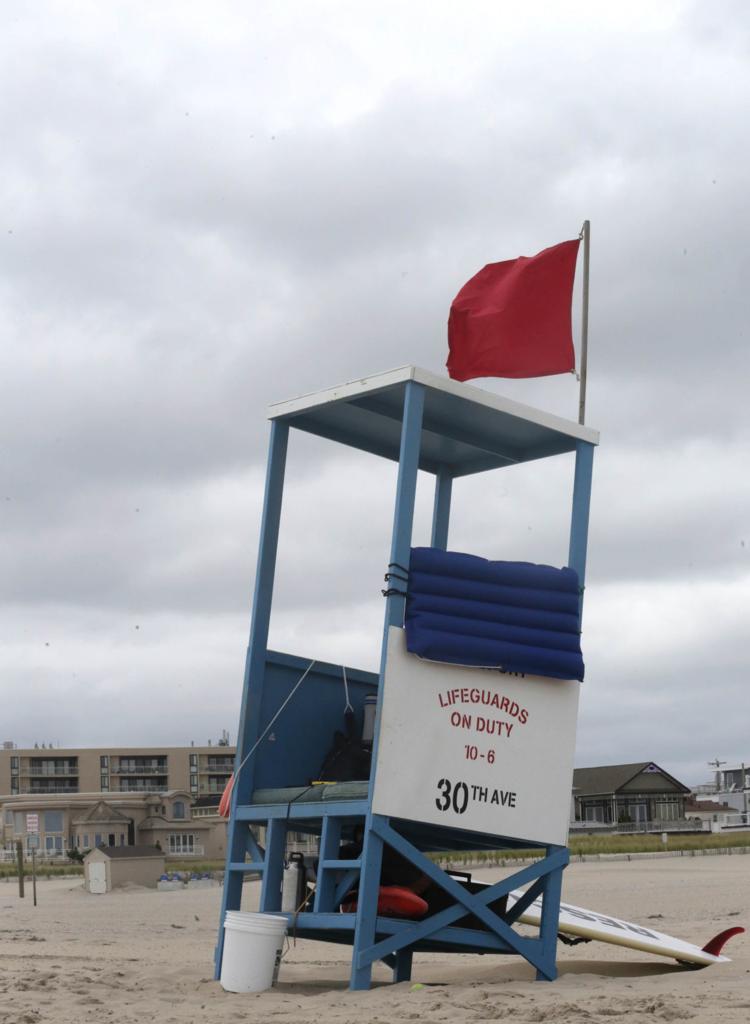 Swimming is currently prohibited on city beaches, but passive recreation and sunbathing is allowed. 
Margate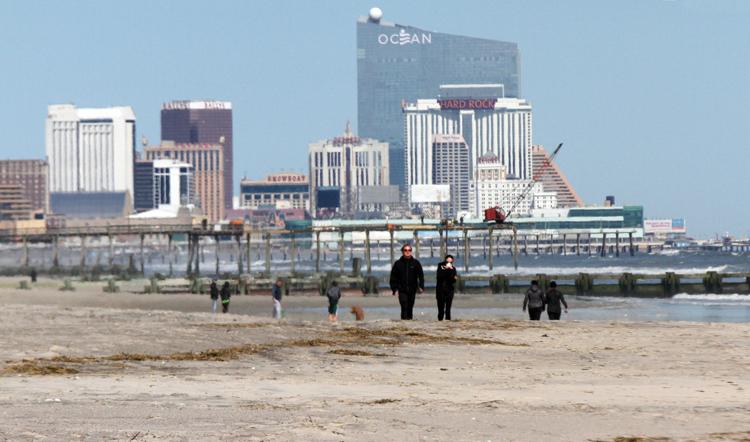 Beginning Memorial Day weekend, the following beaches will be protected from 10:00 a.m. to 6:00 p.m. over weekends.
Beaches:
Clermont Avenue
Huntington Avenue
Thurlow Avenue
Washington Avenue
Ventnor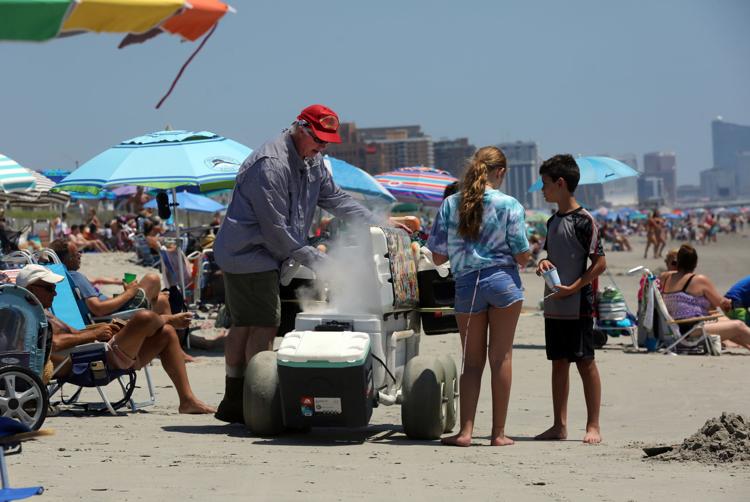 The city provides guarded beaches between Memorial Day and Labor Day) at the following locations:
Vassar Square
Austin
Frankfort
Suffolk
Dorset
Sacramento
Surrey
New Haven
Buffalo
Lafayette
Washington
Lifeguards are on duty from 10 a.m. to 6 p.m. daily. The beaches that our lifeguards are on duty vary during the beginning and end of the summer. Call the Beach Headquarters at 609-823-7948 to ascertain which beaches are guarded.
Cape May County
Avalon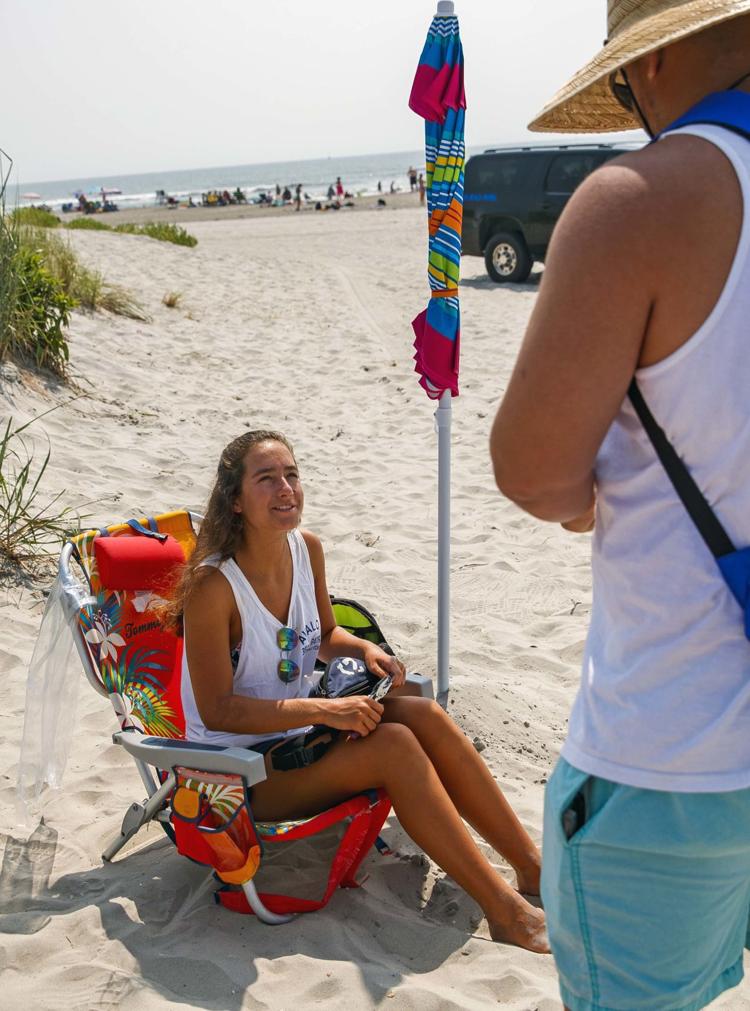 As of May 22, the beach will be open for sitting, using social distancing rules.
Cape May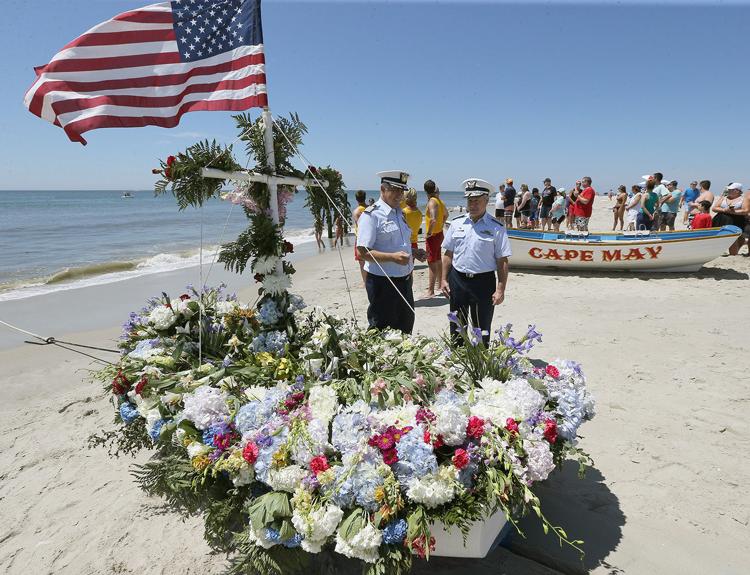 The Cape May Beach Patrol protects the beaches from The Cove to Poverty Beach from 10 a.m. to 5:30 p.m. from July 1 through Labor Day
Ocean City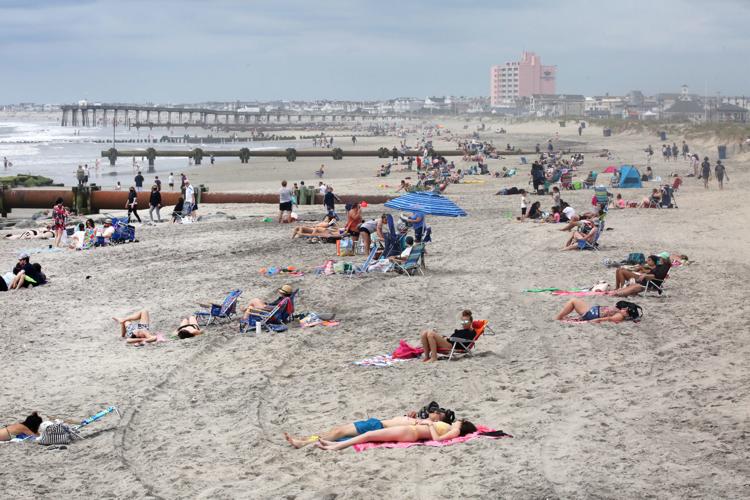 The Department of Fire and Rescue Services announces that the Ocean City Beach Patrol will be guarding the following beaches for the 2020 Memorial Day Weekend. Beaches are guarded from 10 a.m. to 5:30 p.m. weekends and holidays and from 10 a.m. to 5 p.m. on weekdays.
Beginning Saturday, May 23, the following beaches will be guarded:
St. Charles Place
12th Street
Brighton Place
26th Street
8th Street
34th Street
9th Street
58th Street
10th Street
11th Street
As per governor's guidelines, please maintain six feet of space between strangers when using the beaches. Avoid groups of 10 or more. Masks or face coverings are recommended. Tents and canopies will not be permitted on the beaches between First Street and 10th Street. On other beaches, they will be limited in size to 8 feet wide by 6 feet deep by 6 feet tall, and they must be placed at the back of the beach within 10 feet of the seaward side of the dunes.
Thank you for helping to keep Ocean City safe. The Ocean City Beach Patrol strongly urges bathers to swim only at guarded beaches. If you have any questions, please call 609-525-9200. For information on guarded beaches, visit www.ocnj.us/ocbp or view the Ocean City Government Access Channel 97.
Sea Isle City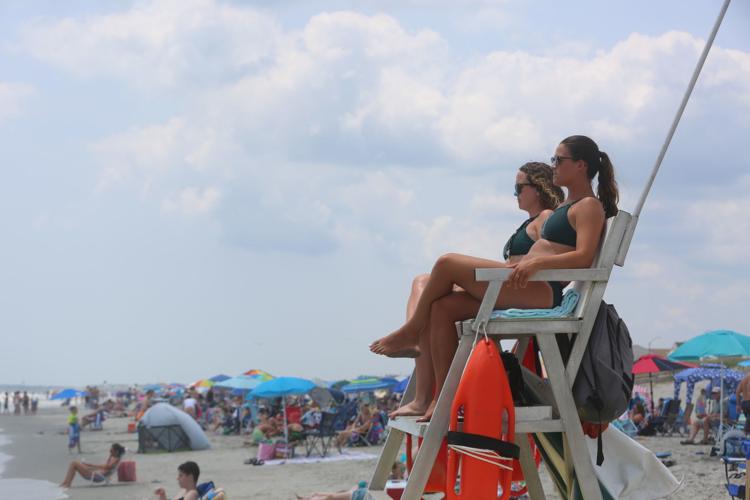 Beach Patrol Headquarters
44th St. & Beach
(609) 263-3655
Lifeguard Duty Hours
Monday to Friday, 10 a.m. to 5 p.m.
Saturday and Sunday, 10 a.m. to 5:30 p.m.
Bathing Beaches
24th, 28th, 32nd, 34th, 38th, 40th, 43rd, 45th, 49th, 51st, 54th, 56th, 59th, 61st, 64th, 68th, 71st, 75th, 77th, 81st, 84th, 86th, 89th and 92nd streets
Stone Harbor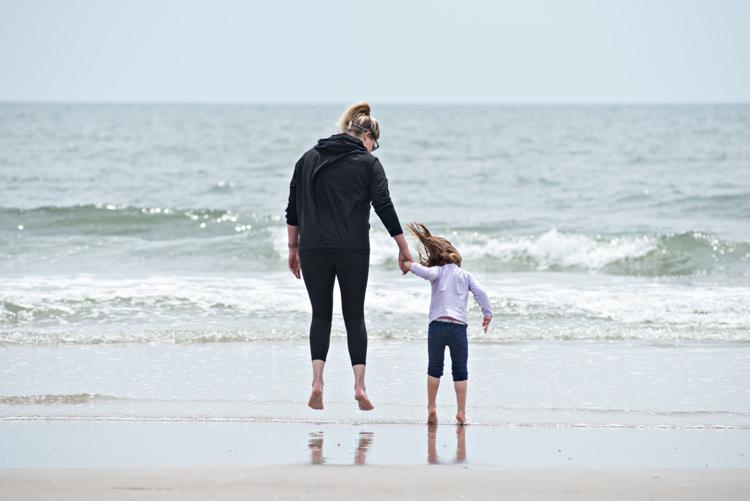 Protected bathing beaches are 81st, 83rd, 86th, 87th, 90th, 93rd, 94th, 95th, 96th, 100th, 102nd, 103rd, 105th, 108th, 110th, 112th, 113th, 116th, 117th, 120th and 122nd.
Swimming, rafts, and surfboards are permitted at designated beaches only. Swimming and rafting beaches are all designated beaches except 81st, 86th, 105th, 110th, 112th, and 122nd Streets. The use of surfboards (with leases attached) are permitted at the beaches at 81st and 110th Streets only. Kayaks are permitted at 122nd Street through 126th Street only, and life jackets must be worn at all times while in the water.
Wildwoods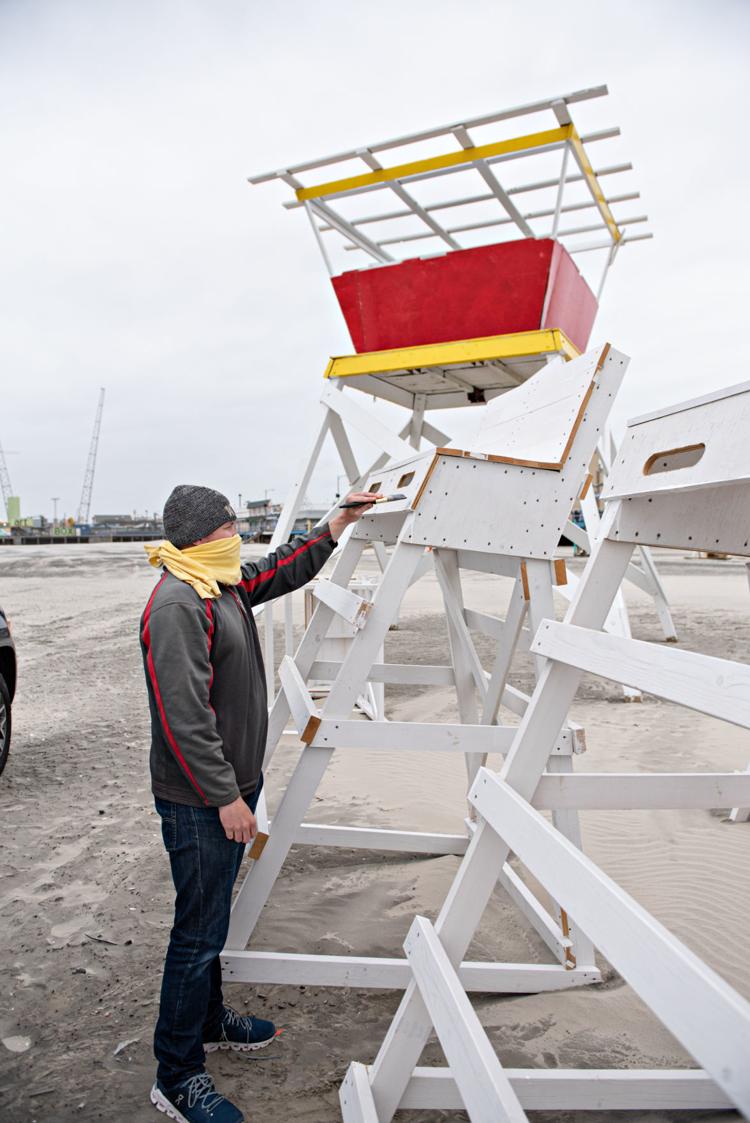 The Wildwoods beaches are guarded by expert Lifeguards from Memorial Day through Labor Day, 10 a.m. to 5:30 p.m. daily. Handicap access is available by contacting the beach patrol for the corresponding area.
North Wildwood: 609.522.7500
Transport via surf chairs at First Aid Station at 15th Avenue
In Wildwood, lifeguards will be on duty 10:00 a.m through 5:30 p.m. Saturday through Monday of Memorial Day weekend at Cresse, Leaming, Rio Grande, Andrews, Baker, Youngs, Spicer, Lincoln, Oak, Maple, Magnolia and 26th.
Wildwood: 609.522.8258
Contact lifeguard headquarters at Lincoln Avenue and beach
In Wildwood Crest, all beaches will be open and protected by lifeguards, weather permitting, from 10 a.m. to 5:30 p.m., on Memorial Day weekend, Saturday through Monday, May 23-25, as well as on Saturday and Sunday, May 30-31.
Lifeguards will be placed on stands for the weekends of May 23-25 and May 30-31 at the following locations: Cresse-Morning Glory, Buttercup-Lavender, Crocus-Aster (surfing beach), Cardinal-Sweetbriar (surfing beach), Columbine-Rosemary, Fern-Palm, Myrtle-Primrose (surfing beach), Rambler-Orchid (surfing beach), Stockton-Stanton, Atlanta-Nashville, Miami-Monterey, Toledo-Denver, Hollywood-Preston, Pittsburgh-Charleston, Trenton-Newark, Washington-Jefferson.
Beginning Saturday, June 6, all beaches will be open and protected daily, weather permitting, from 10 a.m. to 5:30 p.m. through Labor Day, Monday, Sept. 7.
The Wildwood Crest Beach Patrol strongly advises all bathers to swim at lifeguard protected beaches only during the hours of operation.
Transport service for the handicapped with be available from 11 a.m. to 4 p.m. whenever lifeguards are on duty.
Call Wildwood Crest Beach Patrol headquarters at (609) 522-3825 for transport service or for further information.
Ocean County
Long Beach Island
Barnegat Light: Beaches remain open and badges are available online via the borough's website.
Website: http://www.BarnegatLight.org Phone: (609) 494-9196
Beach Haven: Beaches and restrooms are open. Badges are available via an app on the borough's website or at the Centre Street badge office.
Website: http://beachhaven-nj.gov Phone: (609) 492-0111
Harvey Cedars: Preseason beach badges may be purchased through the borough's website.
Website: www.harveycedars.org Phone: (609) 361-6000
Long Beach Township: Beaches are open and seasonal beach badges can be purchased at The Beach Badge Shack on 68th Street, Brant Beach and at other locations listed on the township's website. Badges are required on township beaches from June 1 to September 7.
Website: http://www.longbeachtownship.com Phone: (609) 361-1000
Ship Bottom: Beach badges are for sale online and at Town Hall and are available at preseason rates through May 31.
Website: http://www.shipbottom.org Phone: (609) 494-2171
Surf City: The borough never closed its beaches. Badges are available at Borough Hall and preseason rates are in effect through May 31.
Website: www.surfcitynj.org Phone: (609) 494-3064