ATLANTIC CITY — Mayor Marty Small Sr. issued an executive order Friday morning permitting online short-term rentals and all city hotels to resume operation beginning May 29.
Small said he was "happy" to be taking the first steps toward restarting the city's economy but added it would be a "long process."
He also echoed Murphy's recent sentiments on reopening casinos, saying "we're not there right now."
ATLANTIC CITY — Vowing to be the voice of change for residents and businesses in a post-COVI…
"But I'm willing to take a shot in the interest of getting this economy restarted," Small said Friday morning about reopening short-term rentals and hotels during a live video conference on the city's Facebook page.
All short-term rental operators and hotels must be registered with the city's Department of Licensing and Inspection before resuming business. Violators are subject to immediate closing, fines and may be prevented from conducting future business in the city, said Dale Finch, director of the licensing department.
"So if you are a short-term rental in the city and you know you have not registered with Licensing and Inspections, do so this week," Finch said. "I urge you to do that."
Fire Chief and Emergency Management Coordinator Scott Evans said hotels and motels will be required to adhere to health and safety protocols established by public health professionals and industry-specific guidelines.
"We reserve the right to pull back, to restrict (operations), if we see things going in the wrong direction," Evans said.
In addition to the short-term rental and hotel order, Small announced changes to the city's two COVID-19 testing sites.
The major change is that coronavirus testing is now available to "anyone," Small said. Residents and first responders who work in the city will no longer need to be symptomatic or possess a doctor's prescription to be tested.
The other modification is that the walk-up site in the Showboat Hotel Atlantic City parking lot between Delaware and Maryland avenues will be open three days a week — Tuesdays, Wednesdays and Thursdays — from 10 a.m. to 2 p.m. The drive-thru testing site at Bader Field will now only be open Fridays from 10 a.m. to 2 p.m.
Residents are still required to make an appointment to be tested.
Atlantic County
Atlantic City
The following beaches are open:
Caspian Avenue
New Hampshire Avenue
Connecticut Avenue
States Avenue
North Carolina Avenue
South Carolina Avenue
Kentucky Avenue
Mt. Vernon Avenue
Martin Luther King Boulevard
Ohio Avenue
Michigan Avenue
Missouri Avenue
Mississippi Avenue
Florida Avenue
Texas Avenue
Brighton Avenue
Chelsea Avenue
Montpelier Avenue
Albany Avenue
Lincoln Place
Annapolis Avenue
Bartram Avenue
Montgomery Avenue
Brigantine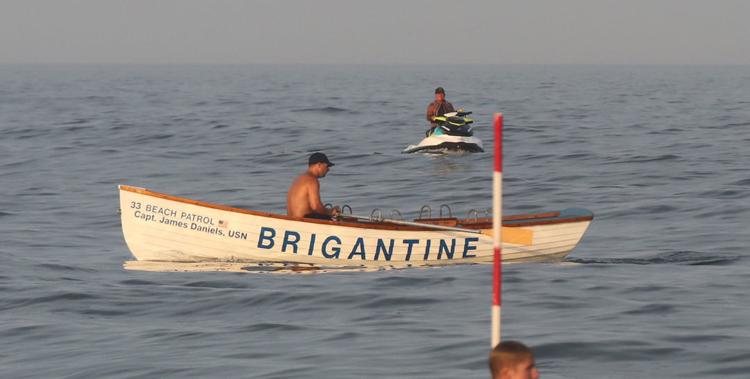 Effective Friday, all beaches will be open for recreational activities, swimming and sunbathing. Normal Social distancing procedures and masks should be worn by all. Families are permitted to congregate in groups, up to 10 in size and couples may sit together. Swimming is permitted at guarded beaches only.
For the preseason weekends, lifeguards will be on the beaches at Roosevelt Blvd., 16th Street, 26th Street and 38th Street only.
Longport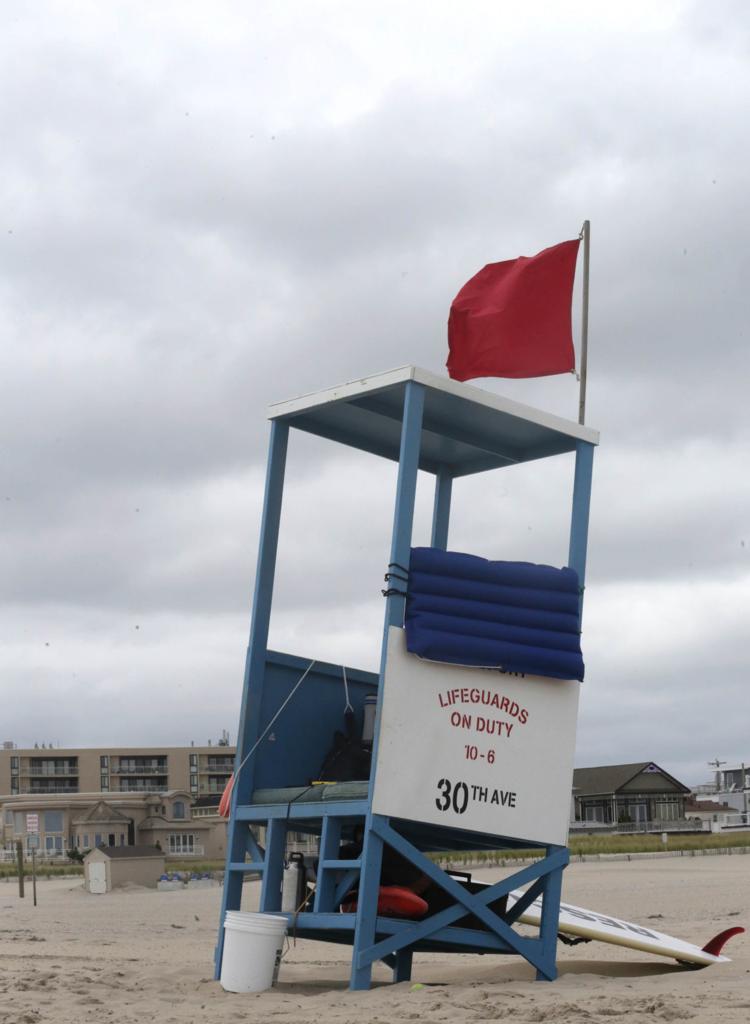 Swimming is currently prohibited on city beaches, but passive recreation and sunbathing is allowed. 
Margate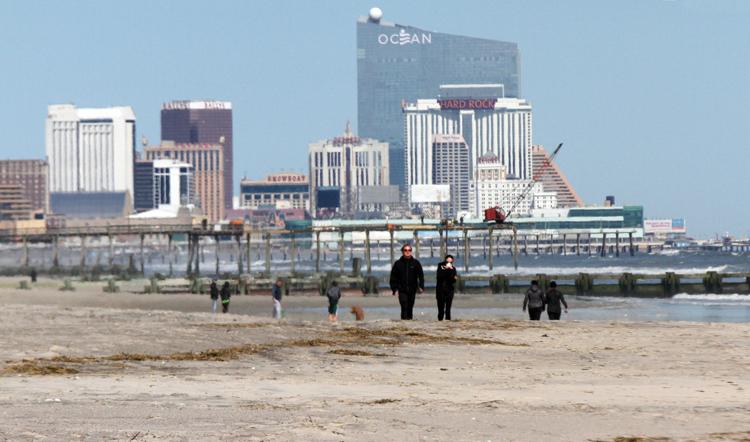 Beginning Memorial Day weekend, the following beaches will be protected from 10:00 a.m. to 6:00 p.m. over weekends.
Beaches:
Clermont Avenue
Huntington Avenue
Thurlow Avenue
Washington Avenue
Ventnor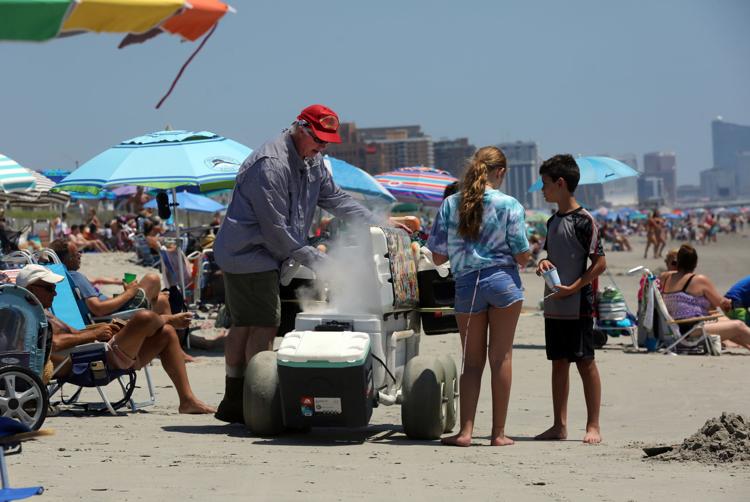 The city provides guarded beaches between Memorial Day and Labor Day) at the following locations:
Vassar Square
Austin
Frankfort
Suffolk
Dorset
Sacramento
Surrey
New Haven
Buffalo
Lafayette
Washington
Lifeguards are on duty from 10 a.m. to 6 p.m. daily. The beaches that our lifeguards are on duty vary during the beginning and end of the summer. Call the Beach Headquarters at 609-823-7948 to ascertain which beaches are guarded.
Cape May County
Avalon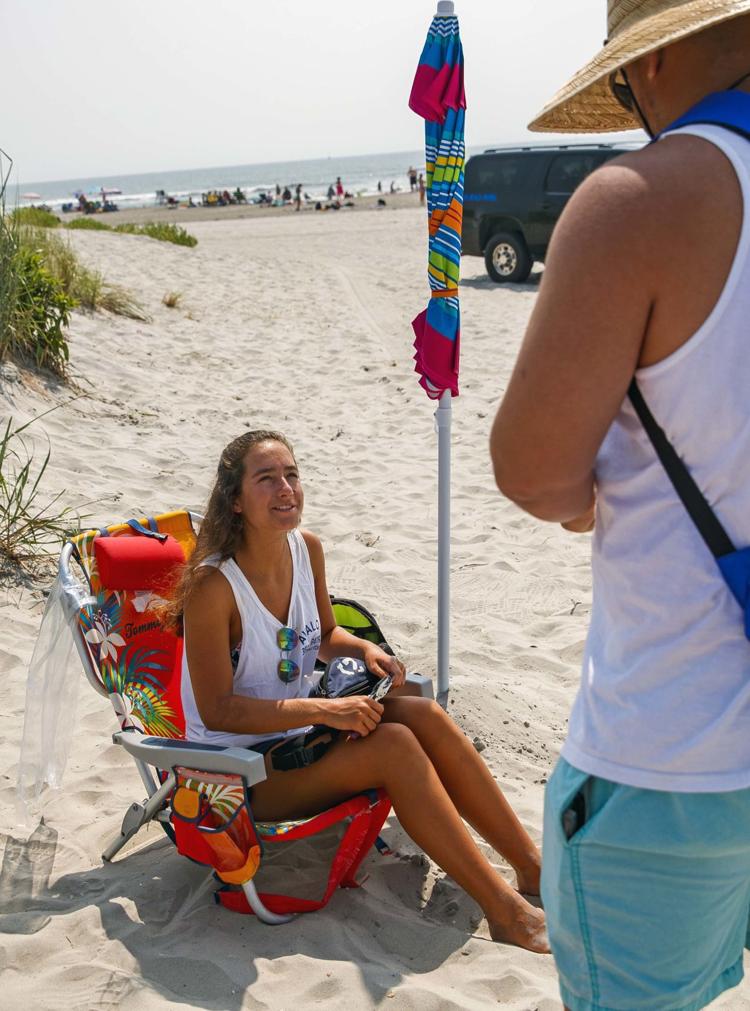 As of May 22, the beach will be open for sitting, using social distancing rules.
Cape May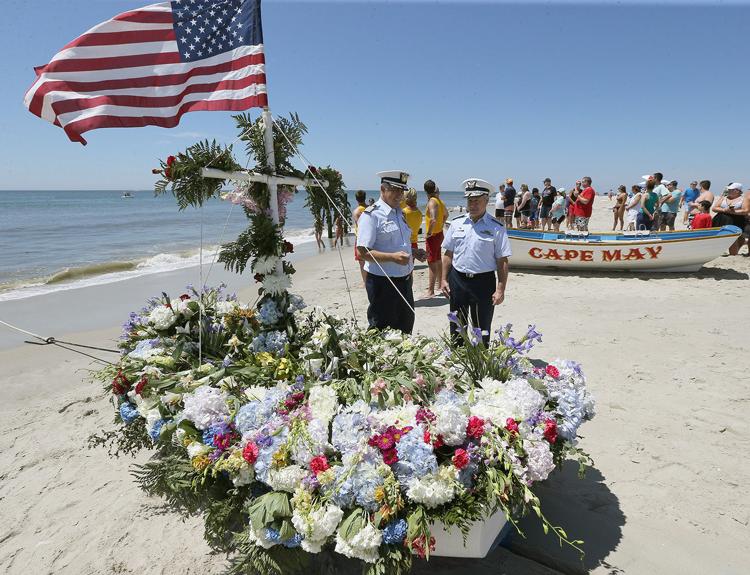 The Cape May Beach Patrol protects the beaches from The Cove to Poverty Beach from 10 a.m. to 5:30 p.m. from July 1 through Labor Day
Ocean City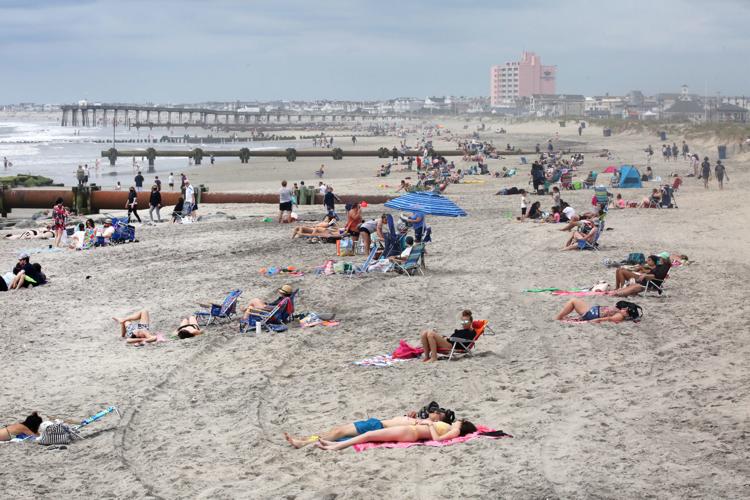 The Department of Fire and Rescue Services announces that the Ocean City Beach Patrol will be guarding the following beaches for the 2020 Memorial Day Weekend. Beaches are guarded from 10 a.m. to 5:30 p.m. weekends and holidays and from 10 a.m. to 5 p.m. on weekdays.
Beginning Saturday, May 23, the following beaches will be guarded:
St. Charles Place
12th Street
Brighton Place
26th Street
8th Street
34th Street
9th Street
58th Street
10th Street
11th Street
As per governor's guidelines, please maintain six feet of space between strangers when using the beaches. Avoid groups of 10 or more. Masks or face coverings are recommended. Tents and canopies will not be permitted on the beaches between First Street and 10th Street. On other beaches, they will be limited in size to 8 feet wide by 6 feet deep by 6 feet tall, and they must be placed at the back of the beach within 10 feet of the seaward side of the dunes.
Thank you for helping to keep Ocean City safe. The Ocean City Beach Patrol strongly urges bathers to swim only at guarded beaches. If you have any questions, please call 609-525-9200. For information on guarded beaches, visit www.ocnj.us/ocbp or view the Ocean City Government Access Channel 97.
Sea Isle City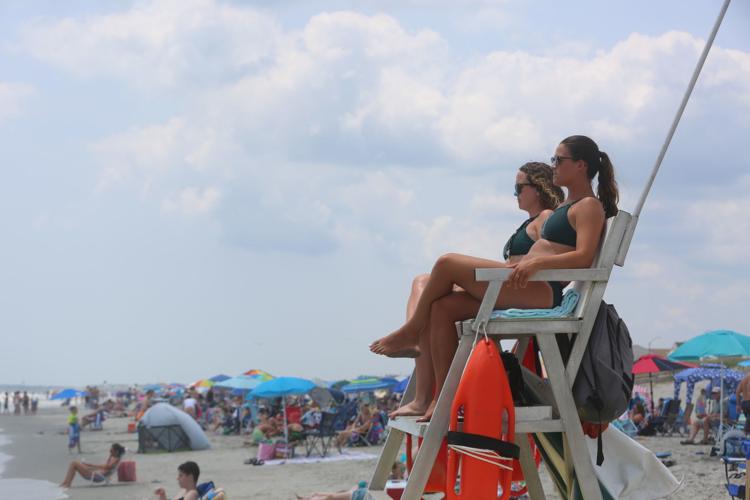 Beach Patrol Headquarters
44th St. & Beach
(609) 263-3655
Lifeguard Duty Hours
Monday to Friday, 10 a.m. to 5 p.m.
Saturday and Sunday, 10 a.m. to 5:30 p.m.
Bathing Beaches
24th, 28th, 32nd, 34th, 38th, 40th, 43rd, 45th, 49th, 51st, 54th, 56th, 59th, 61st, 64th, 68th, 71st, 75th, 77th, 81st, 84th, 86th, 89th and 92nd streets
Stone Harbor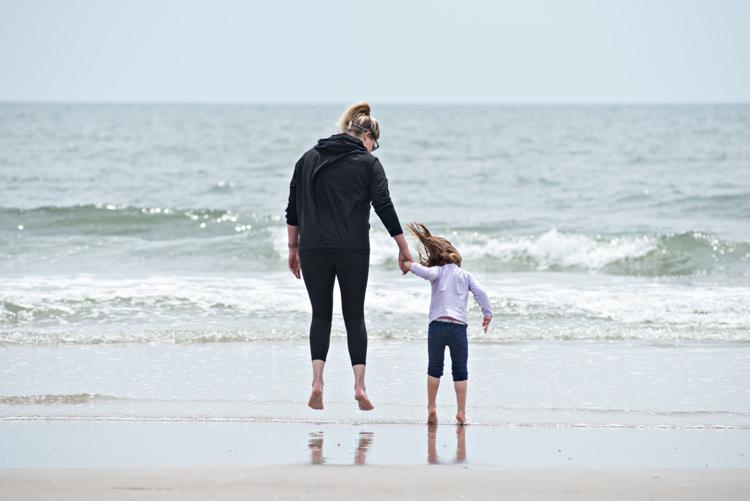 Protected bathing beaches are 81st, 83rd, 86th, 87th, 90th, 93rd, 94th, 95th, 96th, 100th, 102nd, 103rd, 105th, 108th, 110th, 112th, 113th, 116th, 117th, 120th and 122nd.
Swimming, rafts, and surfboards are permitted at designated beaches only. Swimming and rafting beaches are all designated beaches except 81st, 86th, 105th, 110th, 112th, and 122nd Streets. The use of surfboards (with leases attached) are permitted at the beaches at 81st and 110th Streets only. Kayaks are permitted at 122nd Street through 126th Street only, and life jackets must be worn at all times while in the water.
Wildwoods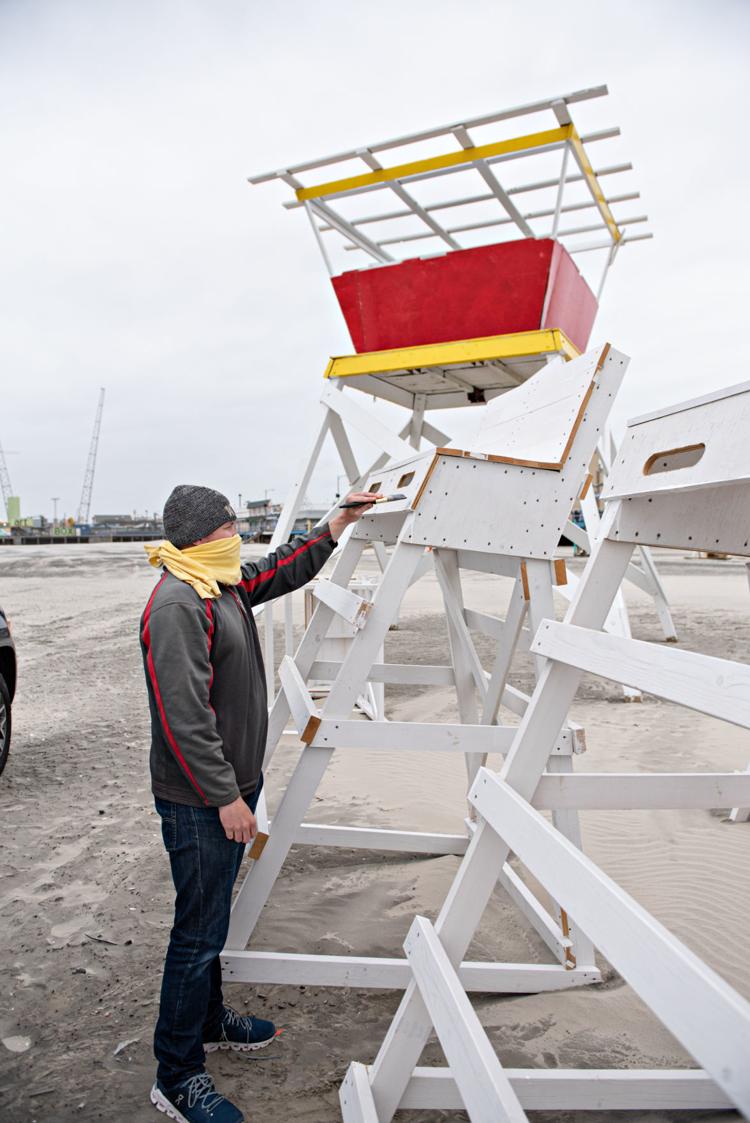 The Wildwoods beaches are guarded by expert Lifeguards from Memorial Day through Labor Day, 10 a.m. to 5:30 p.m. daily. Handicap access is available by contacting the beach patrol for the corresponding area.
North Wildwood: 609.522.7500
Transport via surf chairs at First Aid Station at 15th Avenue
In Wildwood, lifeguards will be on duty 10:00 a.m through 5:30 p.m. Saturday through Monday of Memorial Day weekend at Cresse, Leaming, Rio Grande, Andrews, Baker, Youngs, Spicer, Lincoln, Oak, Maple, Magnolia and 26th.
Wildwood: 609.522.8258
Contact lifeguard headquarters at Lincoln Avenue and beach
In Wildwood Crest, all beaches will be open and protected by lifeguards, weather permitting, from 10 a.m. to 5:30 p.m., on Memorial Day weekend, Saturday through Monday, May 23-25, as well as on Saturday and Sunday, May 30-31.
Lifeguards will be placed on stands for the weekends of May 23-25 and May 30-31 at the following locations: Cresse-Morning Glory, Buttercup-Lavender, Crocus-Aster (surfing beach), Cardinal-Sweetbriar (surfing beach), Columbine-Rosemary, Fern-Palm, Myrtle-Primrose (surfing beach), Rambler-Orchid (surfing beach), Stockton-Stanton, Atlanta-Nashville, Miami-Monterey, Toledo-Denver, Hollywood-Preston, Pittsburgh-Charleston, Trenton-Newark, Washington-Jefferson.
Beginning Saturday, June 6, all beaches will be open and protected daily, weather permitting, from 10 a.m. to 5:30 p.m. through Labor Day, Monday, Sept. 7.
The Wildwood Crest Beach Patrol strongly advises all bathers to swim at lifeguard protected beaches only during the hours of operation.
Transport service for the handicapped with be available from 11 a.m. to 4 p.m. whenever lifeguards are on duty.
Call Wildwood Crest Beach Patrol headquarters at (609) 522-3825 for transport service or for further information.
Ocean County
Long Beach Island
Barnegat Light: Beaches remain open and badges are available online via the borough's website.
Website: http://www.BarnegatLight.org Phone: (609) 494-9196
Beach Haven: Beaches and restrooms are open. Badges are available via an app on the borough's website or at the Centre Street badge office.
Website: http://beachhaven-nj.gov Phone: (609) 492-0111
Harvey Cedars: Preseason beach badges may be purchased through the borough's website.
Website: www.harveycedars.org Phone: (609) 361-6000
Long Beach Township: Beaches are open and seasonal beach badges can be purchased at The Beach Badge Shack on 68th Street, Brant Beach and at other locations listed on the township's website. Badges are required on township beaches from June 1 to September 7.
Website: http://www.longbeachtownship.com Phone: (609) 361-1000
Ship Bottom: Beach badges are for sale online and at Town Hall and are available at preseason rates through May 31.
Website: http://www.shipbottom.org Phone: (609) 494-2171
Surf City: The borough never closed its beaches. Badges are available at Borough Hall and preseason rates are in effect through May 31.
Website: www.surfcitynj.org Phone: (609) 494-3064
Contact: 609-272-7222
Twitter @ACPressDanzis