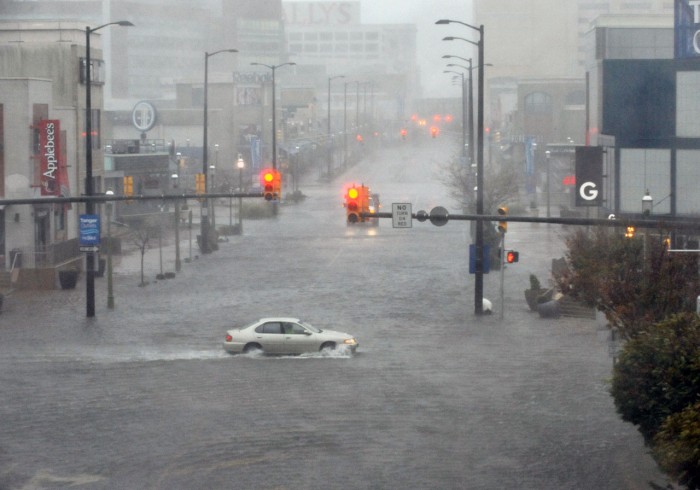 Sandy marched up the coast every bit a hurricane, but a last-minute decision to classify the storm as a "post-tropical cyclone" as it made landfall is saving homeowners thousands of dollars in insurance deductibles.
The decision to classify Sandy, even as it landed in New Jersey with hurricane-force winds as high as 80 mph, will potentially cost insurance companies millions of dollars in claims.
"If this was a court case, you'd have multiple meteorologists on the stand," said Campbell H. Wallace, an attorney for the Professional Insurance Agents of New Jersey.
There is no court case. Insurance companies in New Jersey, New York and Connecticut have agreed to waive costly hurricane deductibles, which could have run in the millions of dollars along the three-state area.
Wallace said the insurance industry accepts the fact that the National Weather Service is "legally tasked" with making such determinations. He said meteorologists are judged by their peers and credibility is paramount to them.
"You might have a storm that is a hurricane in the middle of the Caribbean or in the Atlantic, but if it's no longer technically a hurricane when it hits New Jersey you no longer have the hurricane deductibles. It was a storm, and a superstorm, but not a storm that triggers hurricane deductibles," Wallace said.
Gov. Chris Christie issued an executive order Nov. 2 prohibiting insurance companies from imposing hurricane deductibles. He said they can be as high as 5 percent of a property's insured value. That puts the deductible for a $500,000 house at $25,000. This compares with a typical deductible ranging from $500 to $2,000, Christie said.
But in a press release explaining his order, even Christie referred to the storm as a hurricane.
"While Hurricane Sandy was a devastating storm, it did not meet the regulatory threshold to trigger the application of hurricane deductibles by insurance companies in New Jersey. This executive order makes it clear that consumers do not have to pay these unusually large and often unexpected amounts," Christie said.
Marshall McKight, a spokesman for the state Department of Banking and Insurance, said the two main regulatory thresholds triggering the deductibles in New Jersey are that the storm has to be a named hurricane by the National Weather Service and it must have sustained winds measured on the ground greater than 74 mph.
Sandy appeared to meet both measures at 8 p.m. Oct. 29 as she made landfall five miles southwest of Atlantic City. The Saffir-Simpson Hurricane Wind Scale lists a Category 1 hurricane as having sustained winds of 74-95 mph. Mitchell Gaines, a meteorologist with the National Weather Service in Mount Holly, said sustained winds at landfall were 80 mph.
The service, however, is not concerned with the rules in individual states that trigger the deductibles. Gaines said the storm's status was downgraded because it lost hurricane characteristics after hitting cooler ocean waters and mixing with a separate northeast storm, which may have helped keep winds at such a high level.
"It interacted with another frontal boundary moving into the region and transitioned into a post-tropical cyclone. This was not a hurricane. It was classified as a post-tropical cyclone upon landfall," Gaines said.
McKnight said the storm has spawned an unprecedented number of claims, and waiving hurricane deductibles is potentially saving shore dwellers millions of dollars.
"Insurance companies are aware of the governor's order, and they're going to comply with it," McKnight said.
There may be no dispute about Christie's order, but there is some concern whether instruments to measure storms are adequate. Deana Lykins, president of the Insurance Council of New Jersey, which represents insurance companies, questions the number of wind gauges along the coast. Lykins noted New Jersey's hurricane deductible rules require winds of 74 mph for at least one minute, measured on land 10 meters above the ground.
Lykins said the service measures wind speeds a lot of ways, including from airplanes and dropping devices into storms, but she noted most anemometers on the ground are located at airports inland of the coast. She said no ground readings from Sandy met the requirement.
"The reading wasn't there. It wasn't 74 on the ground. It could have been in the air. The language says the reading must be in New Jersey, and that's taken to mean on the ground," Lykins said.
The insurance industry has been pushing for more anemometers along the coast since Hurricane Irene in August 2011, though Lykins said it is not disputing the call in this case. Hurricane deductibles, Lykins said, result in lower premiums.
"If the event never occurs, everybody wins. You get lower premiums, and insurance companies don't pay. Without hurricane deductibles, premiums would be higher," Lykins said.
It might be the one bright spot from the storm once called a hurricane, later called a superstorm, which finally retained the label post-tropical cyclone. Since most homeowners along the shore have a hurricane deductible, the insurance industry is playing its part to create this silver lining.
"We were not triggering it, even before the (Christie) order. We agree this absolutely was the right reading for this storm," Lykins said.