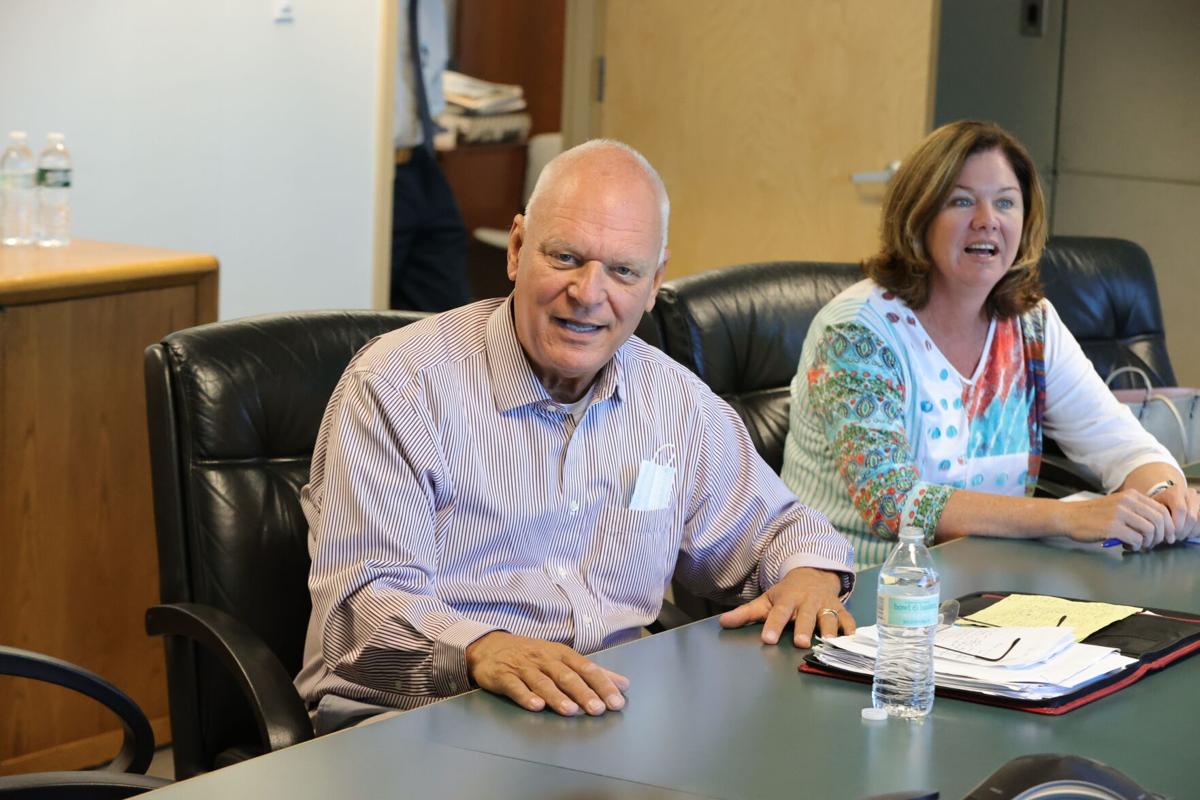 One in a series of interviews with candidates in the Nov. 2 general election, based on editorial board meetings at The Press of Atlantic City.
Candidates from both parties for Assembly and State Senate in the second legislative district chose dates for their editorial board meetings. The Republican candidates chose Sept. 29 and the Democratic candidates chose Oct. 14.
Early voting starts Oct. 23 and Election Day is Nov. 2.
Former Atlantic City Mayor Don Guardian, and attorney and Margate resident Claire Swift, are running as Republicans for State Assembly against Assemblyman John Armato, D-Atlantic, and Atlantic County Commissioner and Democrat Caren Fitzpatrick.
In opening statements in their editorial board meeting Sept. 29, Guardian said he is running for office again "to ensure the area gets a fair shake from the state." He spent about two years as administrator at Toms River after losing re-election after one term as mayor to Democrat Frank Gilliam in 2017. Gilliam resigned in 2019 after pleading guilty to taking more than $80,000 from a youth basketball league.
Swift said she grew up in Longport and Margate, graduated from Atlantic City High School, and comes from a large family. She is in legal practice in Northfield with two of her brothers, and before that was a deputy Attorney General representing what was then the state Division of Youth and Family Services (DYFS), now called the Division of Child Protection and Permanency.
Swift said she is running because she saw a lack of leadership during the COVID-19 pandemic that left small businesses and residents without the information and help they needed, and because she has seen a lack of respect for the concerns of parents and small businesses in the way the Democratic legislature has handled marijuana legalization and other issues.
Q: Do you favor continued state oversight in Atlantic City?
Guardian: No. The state is supposed to help us out, but we see higher crime and the streets are filthy. ... Beyond fiscal oversight, it's excessive. The state is deciding who is appointed to different authorities and who is going to be the director at the Municipal Utilities Authority. They are blocking the mayor, who picks the same police chief that the police officers want ... because the lieutenant governor thought she'd be able to put a former state trooper in there.
Q: Should government workers get hazard pay for working during the pandemic?
Swift: It should be on a case-by-case basis. ... (It might be appropriate) for nurses, nursing home LPNs. You can't just do blanket hazard pay to everybody.
Guardian: Some people on the front lines ... funding should be going to them, not to cities where they locked down city hall for 18 months ... police and fire, emergency and public works were out there facing the public all the time. I have more empathy for them.
Q: Do you think casino closures were handled well during the pandemic?
Swift: It was appropriate in the beginning. ... They reopened casinos in June (2020), which was fortunate ... maybe casino workers should get hazard pay ... but the big issue we have here now is unemployment. We can't get people to come back to work at restaurants and casinos.
Q: Do you support changing the PILOT legislation, as proposed by Assemblyman John Armato, D-Atlantic, that would drop sports and online betting revenues from determining how much casinos should pay in lieu of property taxes?
Guardian: Absolutely not ... the casinos are making money, which I'm glad they are ... if you reduce what they pay to the city or county, it means it's going to pass the burden to property taxpayers. ... The city was never wise in how it determined how much money it should get from casinos. ... I don't understand how you can give casinos a break and not anyone else.
Swift: Sports and online revenue should be included ... that would save the taxpayers of Atlantic County millions of dollars ... anything we can do to help the taxpayers of Atlantic County. Of all polls and issues out there, the No. 1 issue in the county and state is property taxes. We pay an average $9,100 and the rest of the country pays $3,100. That's three times higher than the national average.
Q: Do you support legislation requiring a governor to get permission to continue any state of emergency beyond three months?
Swift: Yes, I think need approval of the Legislature before we have another state of emergency. What works for North Jersey may not work for South Jersey.
Guardian: New Jersey has the most powerful governor (in the nation). We must have checks and balance by the Legislature.
Q: Has the current administration handled mask rules properly?
Swift: The No. 1 issue I hear about from parents is the mask mandate. ... I believe each school along with parents and doctors should determine what's best in their district.
Guardian: Parents also have the pediatrician they would be talking to, we ought to, value what their concerns are about their children.
Q: Do you feel business taxes should be increased or decreased?
Swift: Decreased. ... You want business to come to New Jersey. ... You want more jobs ... to encourage business and families to come here.
Guardian: We should do everything we can. ... Larger businesses are not coming unless you give them a lot of help. ... We can't be taxing them more.
Q: How should the state reform the pension system for public workers?
Guardian: I support police, firefighters, teachers ... but many leave after retirement to avoid state tax on pensions. ... We have to lower their pension tax so they spend it here. ... Pensions are not sustainable. ... We have got to live up to our obligations ... but in the future make major changes in pensions for new employees.
Swift: In moving forward, we have to reevaluate the pension system, maybe require people to stay in New Jersey (to get a full pension payment).
Q: Should there be a limit to how much the state spends to combat climate change?
Swift: You can't have "the sky's the limit" for any costs. There's climate change, there is rising water and we need to address that. However, some actions are unsustainable. For example, they put dunes in but failed to dredge the back bays, failed to dredge the rivers. ... We have to have the ability to go in and dredge. Sea level is rising but a lot of fill is going into the back bays, but there are too many regulations.
Guardian: I think in terms of climate concerns, we have to reduce the carbon footprint. I'm very concerned that we jumped into a project to provide all of the energy from one source that hasn't been proven yet. Everyone likes looking at windmills, but we don't have the batteries yet to store that energy. ... Another thing the state has continued to do is take away, for Forked River and Ocean City, to say they don't have a say about cables going under their property ... is all wrong.
Swift: These windmills are going to be massively big. I know ... the fishing community doesn't want them. We are all for reasonable energy but we have to make sure we don't put all our eggs in one basket.
Guardian: The gas industry is actively working on cleaning up the pollution they put in the air. We shouldn't write them off. We haven't reduced our consumption (enough). The concept of pushing everyone into electric homes in 10-15 years, I can tell you half the people in Atlantic City couldn't afford that.
REPORTER: Michelle Brunetti Post
609-272-7219