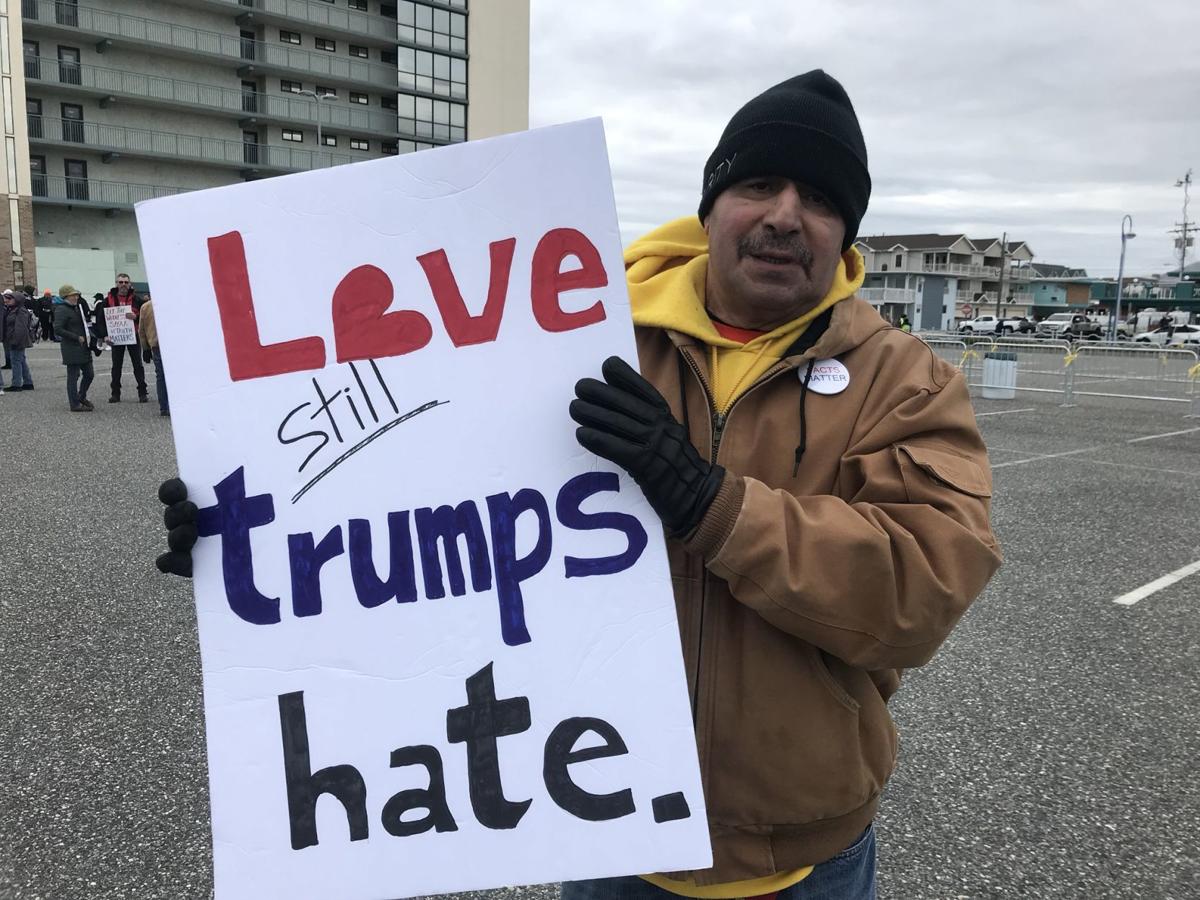 WILDWOOD — George Perez took the day off from work as a security guard at Ocean Casino Resort to be part of democracy in action.
The 65-year-old from Atlantic City said he wanted to be part of the protests against President Donald Trump and U.S. Rep. Jeff Van Drew, R-2nd, to "exercise his First Amendment rights."
"No. 45, Mr. Trump, he pretty much demolished our city," Perez said of the onetime Atlantic City casino owner. "I have so many friends in private businesses that were never paid or were paid pennies on the dollar."
Perez said he used to work at Trump Marina when the president still operated casinos. On Tuesday, Perez said he was there protesting against the "racism" he sees in the Trump administration.
Opposition to "violence, corruption, misogyny and racism" were primary reasons for putting together the counterdemonstration, said Shayla Woolfort and Cassandra Gatelein, organizers with Cape May County Indivisible, a progressive grassroots organization that was among the nearly 30 groups joined together Tuesday against the president's visit.
"When hate comes to our backyard, we feel a moral duty and obligation to show up," said Gatelein, of Wildwood.
The protest crowd was much smaller than those who were in Wildwood to support Trump and Van Drew. For much of the day, protesters were outnumbered by the president's supporters, who gathered along the railing on the Boardwalk to challenge their positions.
ATLANTIC CITY — "This is an important day for you," Dr. Martin Luther King Jr. School comple…
While some of the rhetoric from both sides got heated at some points, the protesters and presidential supporters remained peaceful.
One man wearing a red Trump hat was arrested about 5:40 p.m. after he tried to deflate an oversized "Baby Trump" balloon inside the protest area. A brief scuffle ensued before the man was taken away by authorities to chants of "Lock him up."
The keynote speaker of Tuesday's protest was Martin Luther King III, son of the civil rights icon, who spoke about the need for unity and inclusion.
"This evening, we need to look at the soul of America to determine what direction we're going to go in the future," King said. "My (intent) is not to focus on the negative, but to focus on the positive. How do we bring the best out of Americans to make America what it ought to be? That's what Martin Luther King Jr. talked about."
Although King and others preached tolerance, not all of the protesters were willing to be as magnanimous.
Steve Richter, 60, of Philadelphia, who owns a home in Ventnor, said he was protesting to demonstrate that "not everyone agrees with what President Trump is trying to do right now."
Richter walked around with a giant sign shaped like a peach that read: "Impeach (crossed out), Remove."
"The majority (of Americans) do not support what (Trump) is trying to do," Richter said. "I hate to say it, but a lot of these people here (supporting the president) are kind of like a cult. But they have to see that there's people who look at things rationally and try to make decisions based upon fact."
Contact: 609-272-7222
Twitter @ACPressDanzis