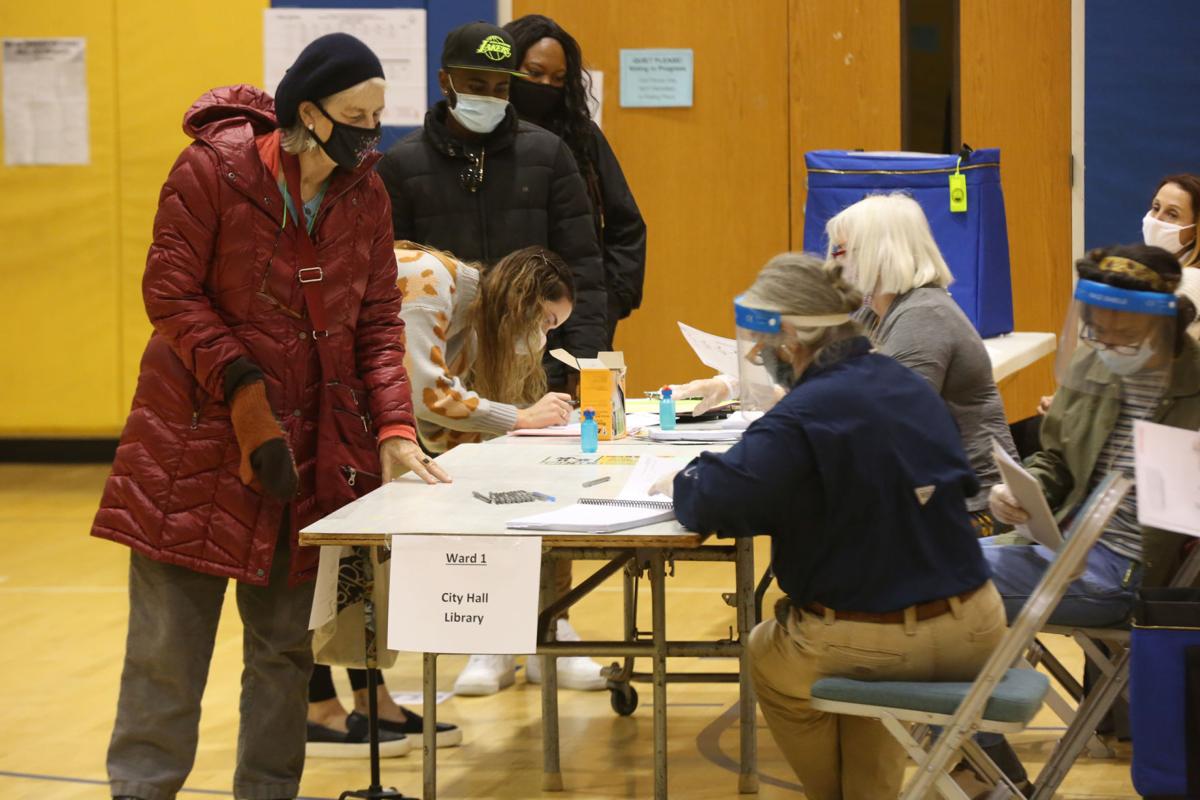 Atlantic County election officials have long been asking the state Legislature to increase daily pay for poll workers, which was set by statute at $200 about 19 years ago.
There's been a movement recently to double it to $400 to ensure enough workers and to offer a fair rate to people who work long hours and are responsible for making sure election law is followed. On a regular Election Day, poll workers start between 5:15 a.m. and 5:30 a.m. and work to 8:30 p.m. to 9 p.m., said Atlantic County Board of Elections Chair Lynn Caterson.
In most cases, it's a long day and the pay comes out to a little more than $13 per hour. Minimum wage in New Jersey is $12 per hour.
Caterson said early voting hours will run from 10 a.m. to 8 p.m., but poll workers will have to be in earlier for setup and stay later to close up.
"Poll workers' responsibilities and hours have greatly increased since the Legislature passed the statute,"  Caterson said on Friday, as she oversaw the second day of recounting of the at-large county commissioner race from 2020. "Absolutely the increase ... would greatly help in recruitment and is absolutely deserved."
Henal Patel, Democracy and Justice program director for the New Jersey Institute of Social Justice, said Friday poll workers are essential to a functioning democracy.
"That's why I do stress that everyone that cares about democracy — if they have the time and ability — should sign up and be a poll worker," Patel said. "At the same time, we should pay people for their work. This is not the type of thing we can rely on a volunteer for, nor should we."
A lot of people have questions about how our system works, and hear conspiracy theories, Patel said.
"If you have any of those questions, go be a poll worker and see how it works," Patel said. "Those who take part in the system end up trusting it more."
The only time poll workers saw an increase was in the 2021 primary, when their pay was doubled by a bill that only affected compensation for the primary election (A-5842/S-3880). County elections officials begged for the help because the COVID-19 pandemic was preventing many long-time workers from participating.
But it was introduced so late — June 3 for the June 8 primary election. It passed the day it was introduced and was signed by the governor within hours of its passage, but it only helped with last-minute recruitment. Many poll workers didn't know about the increase until they showed up to work Election Day.
A bill to increase pay going forward to $275 sponsored by state Senators James Beach and Joseph Cryan, both Democrats, was amended in committee to $400 and passed the Senate unanimously June 30. But it never got out of an Assembly committee, and the Legislature won't meet again until after the election.
So some activists are asking Gov. Phil Murphy to make some of the federal American Rescue Plan money available to increase the pay for the Nov. 2 election, since COVID is still affecting recruitment.
No one from his office could provide a comment on the issue Friday.
Patel led her list of requests for how to spend $6.5 billion in American Rescue Plan funds with a plea to double the pay to $400 per day when she testified this week at a hearing.
There is a huge shortage of poll workers across the country, in large part because poll workers tend to be older, Patel said, and during the COVID-19 epidemic older people are more reluctant to be in crowds.
With early voting starting in the general election, New Jersey needs poll workers comfortable with technology who can learn to use e-poll books and new voting machines quickly, Patel said.
She estimated the cost of the raise at $13.6 million.
Jesse Burns of the League of Women Voters of New Jersey, has argued for better poll worker pay as well.
During the American Rescue Plan hearing held by the governors' office this week, Burns said her organization is "exasperated by the poll worker shortage" and said a permanent increase in poll worker pay, training and recruitment is needed.
Among other duties, county boards of elections train and oversee poll workers, as well as counting paper ballots like vote-by-mail and provisional ballots.
For the Nov. 2 election, Caterson's staff will have to recruit people to work for 10 days of early voting as well as Election Day, she said.
"We recognize the chances of getting 10 days out of one person are slim to none," she said. "People who are available weekends may not be available weekdays, and the reverse."
Visit other counties' Board of Elections sites for information on working for them.
REPORTER: Michelle Brunetti Post
609-272-7210