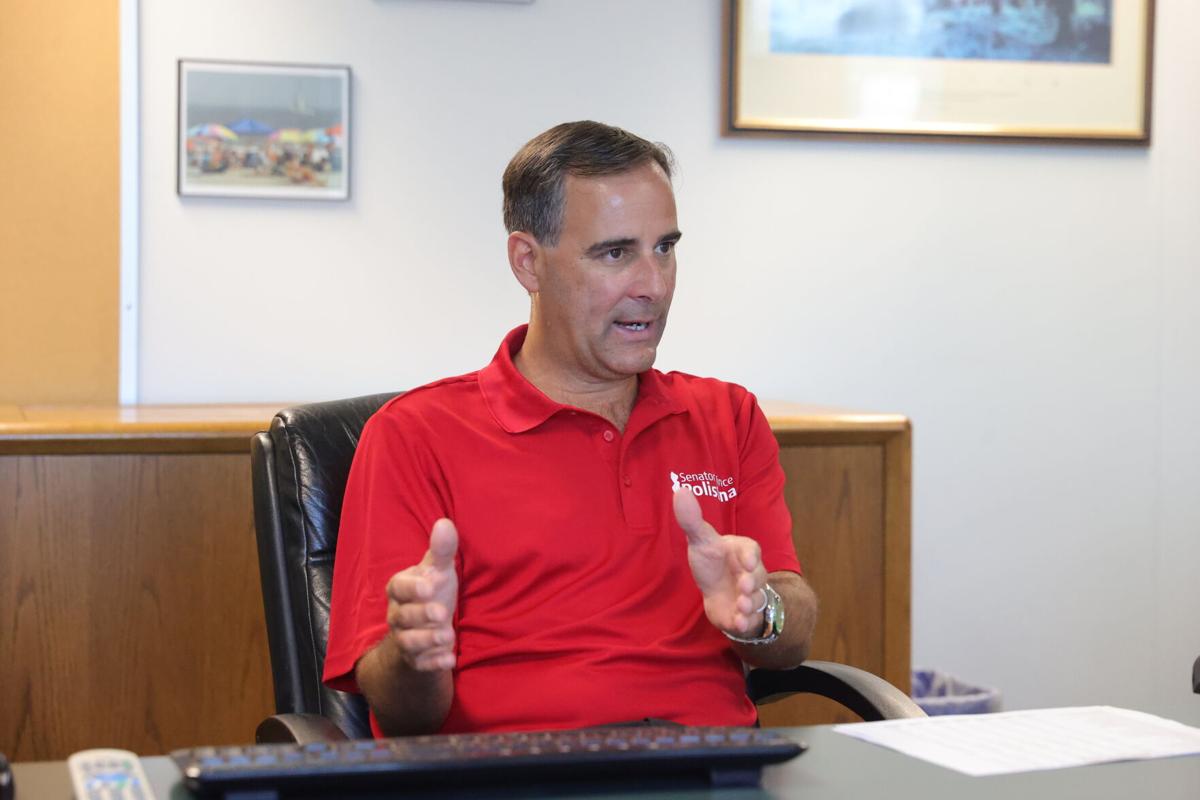 One in a series of interviews with candidates in the Nov. 2 general election, based on editorial board meetings at The Press of Atlantic City.
Candidates from both parties for Assembly and State Senate in the 2ne Legislative District chose dates for their editorial board meetings. The Republican Senate candidate State Senator-Select Vince Polistina, R-Atlantic, chose Oct. 6, and the Democratic Senate candidate Assemblyman Vince Mazzeo, D-Atlantic, chose Oct. 14.
Early voting starts Oct. 23 and Election Day is Nov. 2.
State Senator-Select Vince Polistina, R-Atlantic, said he is getting back into running for elective office after about 10 years out of the fray because the timing is right for his family.
"I've been coaching kids' baseball and basketball — timing is everything in life," Polistina said. "I started getting calls ... back in the spring when (former Senator) Chris Brown said he was not going to do it (run for reelection). My kids are all in high school now. ... I had more time."
Polistina was a state assemblyman from 2008 to 2012, when he ran for State Senator against Democrat Jim Whelan, and lost.
"Many of the issues we look at now, like sea level rise, the infrastructure, the fiscal issues, I'm perfectly suited as an engineer to have a voice in the State Senate," Polistina said. "I have always demonstrated I'm fiscally responsible. I'm an engineer. I'm about getting things done ... (I know) the process and the regulatory environment in New Jersey."
Q: What needs to be done differently in terms of redeveloping Atlantic City and what should be the approach?
A: It's been an issue for so many years, and it still kind of looks the same. ... One of the things (we could do) is bring back some regional contribution agreements (related to affordable housing) and direct some of that funding into Atlantic City to get some of those properties redeveloped. We need more police, community policing, a steady funding mechanism to get things done.
On climate change, sea level rise is a bigger impact right now. Sometimes sea level rise is not all climate change, its also debris going into the back bays. We need a real plan for dredging areas. It's like you have a bucket, you put sand in the water is going to rise.
We have to deal with climate change, of course. The data shows it's happening.
Q: Should the state pursue climate change fighting policies, even if they are costly to residents and ratepayers?
A: The fact is, when you look at the energy master plan (the Murphy Administration) is not looking at economics. It's a tremendous failure on their part. We cannot blindly go in and spend money. That just drives up energy costs for consumers.
Q: What do you think of the plans for huge gates across some of the inlets?
A: I have to study it more ... (I have read) it is going to raise sea level a foot at the gate (which could force water onto the ocean side of islands). ... We need additional bulkheading on the back side of barrier islands. I don't know if a massive gate is going to work the way they intend.
Q: Regarding renewables, is the state on the right track pushing wind turbines and farms?
A: I think everybody is in favor of renewable energy. To the extent you can figure out ways to go with offshore wind or solar, those efforts make sense. I don't think we have fully examined the economics. The costs need to be fully analyzed and what is impact on consumer going to be? ... What is the cost to bring that power on shore?
Q: Should the government have to get approval for a state of emergency more than three months, say?
A: There are equal branches of government. In 2020, (Murphy) had to invoke his emergency powers because we didn't know what exactly we were dealing with. ... It's gone on way to long. The notion the Legislature is going to be excluded so long is not good government at work.
South Jersey was much different than North Jersey as this was unfolding. The impact on businesses and employees, I'm amazed we didn't hear more from our legislators about these topics.
Q: You were part of creating the Atlantic City tourism district in 2008. What do you think about how it is working?
A: We created the district to give the state a partnership. I don't think we've done enough. The notion we've had billions and billions of investment and the city still looks way it does, it's a tragedy. It's not even fathomable to think been 43 years and there are parts of that city you wouldn't even want to go to.
Concerning the takeover, it would have been a lot better if we let Trenton focus on what they do and let the county be a partner. One of the things I would push is to bring county executive and commissioners in and have them be a real partner with what's going on in Atlantic City.
Q: Is the Atlantic City payment in lieu of taxation (PILOT) legislation still the way to go? And do you agree with the bill from Assemblyman John Armato, D-Atlantic, which would exempt sports betting and online gaming revenues from the casino income that determines how much casinos pay in the PILOT?
A: If we could get casinos valued appropriately and go back to a regular property tax system, that would be the way to go. The county partnership could help with countywide assessment.
I have criticized our legislators (Armato and Assemblyman Vince Mazzeo, D-Atlantic, over how they want to change the PILOT.) This is the second time they have had efforts to take money from county taxpayers to give to casino operators.
Q: Should New Jersey have a Safe Haven policy for immigrants here illegally?
A: Our immigration system has been off the rails so, so long. They have to come up with a better policy in Washington. In many cases, people were born here. We have to figure out a way to give them a path. ... In Washington they have to figure out a process in which people who have been here a long time can go through to become citizens.
We also need to close the borders. My great grandparents came through Ellis Island to Ducktown in Atlantic City. ... We have to enforce all laws.
Q: Should government employees get hazard pay using American Rescue Plan funds?
A: Front line workers who have been putting lives at risk at work during this, especially in the early stages and they didn't know exactly what was going on, should be eligible. I would not just give it out to everyone. We have so many other challenges to do with money, infrastructure, the need to develop Atlantic City, so many other things.
Q: Where do you get government to stop spending? What do you cut?
A: They have to modernize departments. You have got to make state government streamlined ... clearly if you look at Department of Labor issues they have 20-year-old computers. ... Let's give people the resources and tools to do their jobs.
Q: How is your fundraising going, and do you think you will be dramatically outspent by Democrats?
A: That pledge of $5 million (by Camden Democratic power broker George Norcross) was to try to scare people off. They have done everything they can to try to prevent me from raising money. We have still done well. It looks like most of the spending is by Garden State Forward, which is (a PAC of) the New Jersey Education Association. ... They will certainly outspend us.
Q: How have Democrats tried to stop you from fundraising?
A: We hear all the time, they are calling people saying "stay out of Districts 2 and 8." Steve Sweeney has been Senate president since 2008 and wants to run for governor. If he loses Districts 2 and 8 it hurts his chances. I know that's the dynamic going on. It's more about Sweeney wanting to maintain votes for Senate president than anything else.
REPORTER: Michelle Brunetti Post
609-272-7219