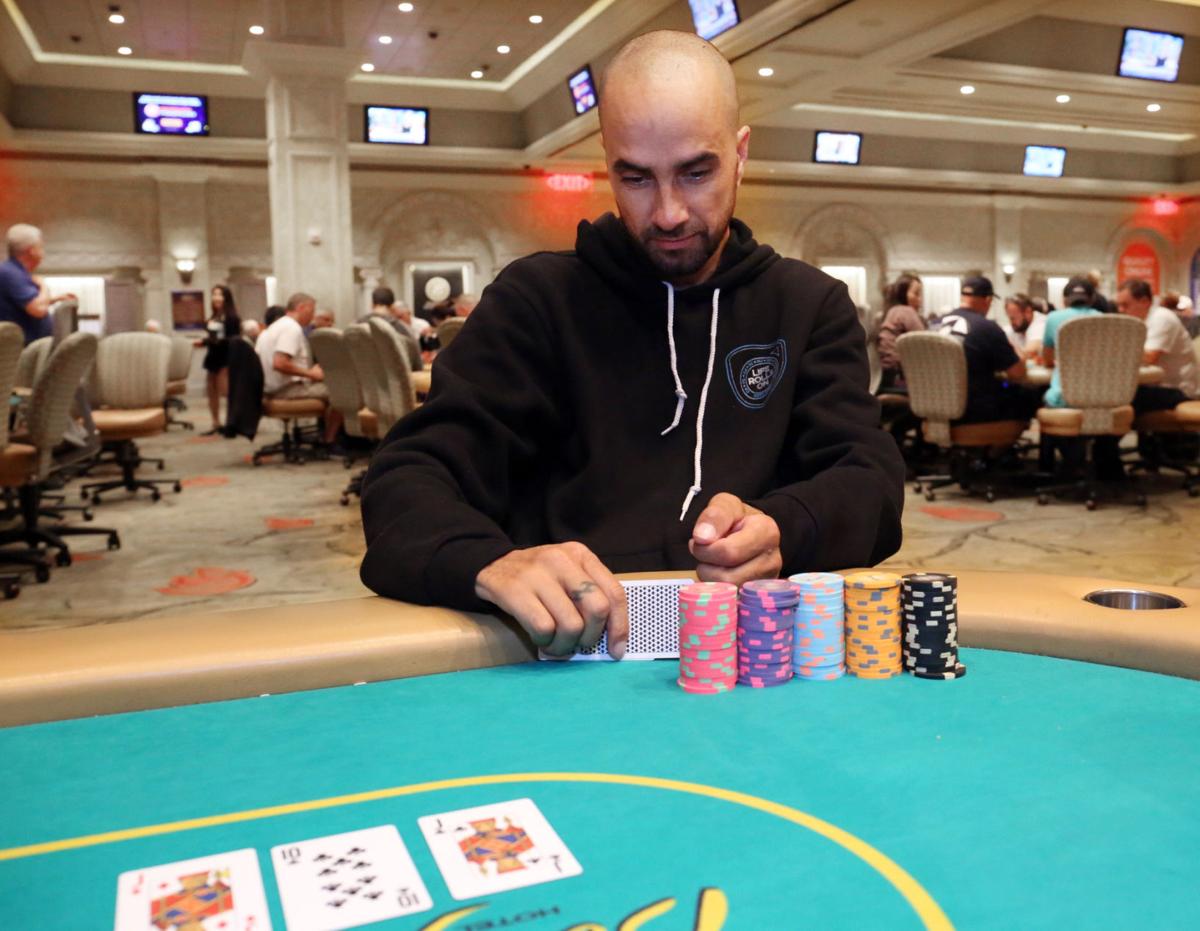 ATLANTIC CITY — Most live table games have returned to Atlantic City's nine casinos with one notable exception: poker.
While other gaming jurisdictions have resumed live poker with strict protocols in place because of the coronavirus pandemic, Atlantic City casinos have yet to make the move.
"Poker is tough," Steve Callender, regional president of Caesars Entertainment Inc. and president of the Casino Association of New Jersey, said during a remote discussion with the Greater Atlantic City Chamber last week. "It's a challenge. I wouldn't venture (to say) when we're going to see poker come back."
There are presently five poker rooms in Atlantic City casinos: Bally's Atlantic City, Borgata Hotel Casino & Spa, Golden Nugget Atlantic City, Harrah's Resort Atlantic City and Tropicana Atlantic City. Ocean Casino Resort had poker tables but removed them to make space for a new high-limit slot area.
The challenge with poker rooms is two-fold, Callender said.
ATLANTIC CITY — The lingering impact of the coronavirus pandemic on the city's casino workfo…
The first issue is COVID-19 and how to open the rooms while keeping guests and employees safe.
In other gaming locales, most notably Las Vegas, poker rooms have reopened with table capacity limits and polycarbonate dividers between players. New Jersey's regulations on reopening the casinos appear to allow for the reopening of poker rooms under similar restrictions.
But those limitations only underscore the second issue for Atlantic City casinos, which is the profitability, or rather lack thereof, of poker.
"A live poker room does not bring a great deal directly to the bottom line," said Bob Ambrose, a gaming industry consultant, professor of casino management and former Atlantic City executive. "It does bring bottom line revenues to the other property amenities, such as restaurants, bars and even other non-poker gaming. ... I would say you gain more from it as a marketing tool for visitation."
Big events, such as the Caesars Entertainment-owned World Series of Poker, bring attention and visitors to the properties, but not much in terms of gambling revenue compared to slot machines and other table games. Players wager against one another, while the casino gets a small commission, otherwise known as the rake, or charges a buy-in for tournaments.
ATLANTIC CITY — State oversight of the city is set to expire next year, but the second highe…
In 2019, Atlantic City casinos with poker rooms reported slightly more than $27.2 million in revenue. The prior year, revenue generated from poker rooms was nearly $28.5 million.
"This is a business decision as well, and, frankly, we don't make a lot of money in poker," Callender said.
According to data reported by the casinos to state gaming regulators, Borgata was far and away the biggest benefactor of offering poker. The market leader also boasts the city's largest poker room, with 77 tables. In 2019, Borgata generated nearly $17.9 million in poker revenue.
The Caesars properties with their World Series of Poker-branded rooms — Bally's and Harrah's — reported a combined $4.925 million in 2019. Tropicana, which is now a Caesars-operated casino, reported just over $2 million last year, while Golden Nugget and Ocean generated $1.037 million and $1.386 million, respectively.
But the casinos want to be able to offer guests the full resort experience, so poker rooms will "be back eventually. We just have to be patient."
"Many serious players like the slower pace and methodical experience of a live game," Ambrose said. "The poker footprint in the casino is a must have for diversification of gaming product and experience for the player."
Contact: 609-272-7222
Twitter @ACPressDanzis