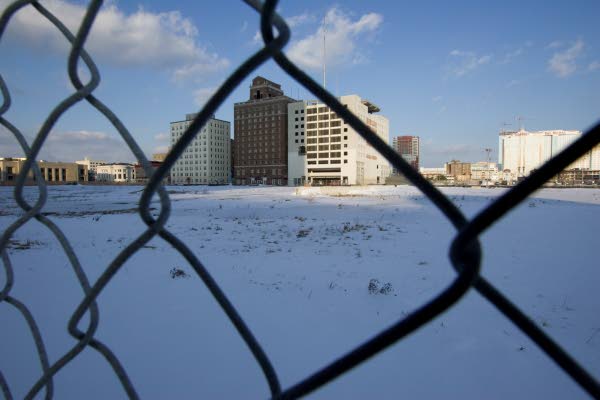 ATLANTIC CITY — The company that spectacularly imploded the Sands Casino Hotel is pulling out of Atlantic City after its plans for a $1.5 billion gaming resort proved to be a dud.
Dealing another blow to the struggling gaming market, Pinnacle Entertainment Inc. announced Friday it has abandoned its casino project and will sell its Boardwalk property.
"We put the property up for sale in Atlantic City," John Giovenco, Pinnacle's interim chief executive officer, told gaming analysts during a conference call. "We hope to sell as soon as a reasonable bid comes in. I can't tell you when. Hopefully, sooner than later."
Pinnacle owns 19 acres of oceanfront property between Indiana and Kentucky avenues in the heart of the Boardwalk. Pinnacle executives did not disclose how much the company will ask for the land. The company bought the Sands and its surrounding property for $270 million in 2006, but wrote down the land by $160 million in the fourth quarter of 2009 to reflect falling real estate values.
Pinnacle cited Atlantic City's prolonged gaming slump, fierce competition from casinos in surrounding states and the fragile economy as reasons for killing a project that looked less and less likely after it was put on "indefinite hold" in late 2008.
"Atlantic City is no longer a good strategic fit for us, given the current economic outlook, the state of the financing markets and the major capital commitment that would be required," Pinnacle spokeswoman Pauline Yoshihashi said. "It's an attractive and well-located site, and may be a better strategic fit for another company."
Atlantic City casino officials were not surprised by Pinnacle's pullout because of earlier statements by the company that it would consider selling the land. They expressed confidence that another gaming company would swoop in to buy the property, although no names were mentioned.
"While we are disappointed that Pinnacle will not be building there, the site is a prime piece of real estate in Atlantic City and I am confident that when the economy turns around, that will be a very desirable location for a new developer," said Daniel Heneghan, a spokesman for the New Jersey Casino Control Commission.
Harvey Perkins, senior vice president of Spectrum Gaming Group, a Linwood-based casino consulting firm, said despite its current economic troubles, Atlantic City will remain attractive to developers over the long run because of New Jersey's low tax rate on gaming revenue.
"I think it's an exciting opportunity for somebody else," Perkins said of the Pinnacle property. "It's a great oceanfront, center-Boardwalk location. Given the location and dimensions of the land, it has the power to fulfill an exciting vision."
Exactly how the sale will proceed is not clear. Giovenco indicated that interest has been limited.
"We can't tell you we've had an enormous number of bids at this point," he said during the conference call.
Las Vegas-based Pinnacle initially made a splash in Atlantic City by imploding the old Sands casino in October 2007 during a lavish, fireworks-laden ceremony witnessed by a cheering crowd of 100,000 people. Pinnacle cleared out the Sands to create space for its proposed casino, but optimism about the project faded when the company announced delay after delay beginning in 2008.
Dan Lee, Pinnacle's former chairman and the driving force behind the casino plans, later said he regretted that the company had bought the land. Lee resigned from Pinnacle in November after he allegedly threatened a St. Louis gaming official over a zoning change in favor of a rival casino operator. Pinnacle has declined to discuss the fate of Kim Townsend, the company executive who has been overseeing the Atlantic City project.
Pinnacle will leave town with little more than a gigantic empty dirt lot to show for its efforts. The barren site overlooking the Boardwalk has infuriated city officials and generated debate about possibly using the land for a parking lot or entertainment attractions.
"If you look at that area, it would be fair to compare it to Berlin after the war," police Chief John J. Mooney III said in a December interview. "That whole neighborhood has been decimated by the demolition."
Mayor Lorenzo Langford had hoped to swap city-owned land at the former Bader Field airport for the Pinnacle property. Langford once thought he could speed up casino development at Bader by having Pinnacle take a portion of the 140-acre site along the Route 40 corridor. He could not be reached Friday for comment about Pinnacle's announcement.
Failed or delayed projects
Here is a list of other Altantic City casino projects that were proposed in a pre-recession building boom but later failed:
Feb. 5, 2009: Blaming Atlantic City's withering casino market, Penn National Gaming Inc. decides not to build what it had boasted would be a "Borgata-like" resort along the Route 30 corridor.
Jan. 11, 2009: A development group headed by Cape May hotelier Curtis Bashaw delays plans for a $1.5 billion to $2 billion casino at the foot of Route 40 because of the weak economy. Bashaw had proposed moving the city's historic World War I monument to create an entryway to the casino.
Oct. 29, 2008: Gaming giant MGM Mirage Inc. halts construction plans for a $4.5 billion to $5 billion megaresort in the Marina District. It represented the third time since the 1990s that MGM tantalized Atlantic City with a project that was never built.
Contact Donald Wittkowski: