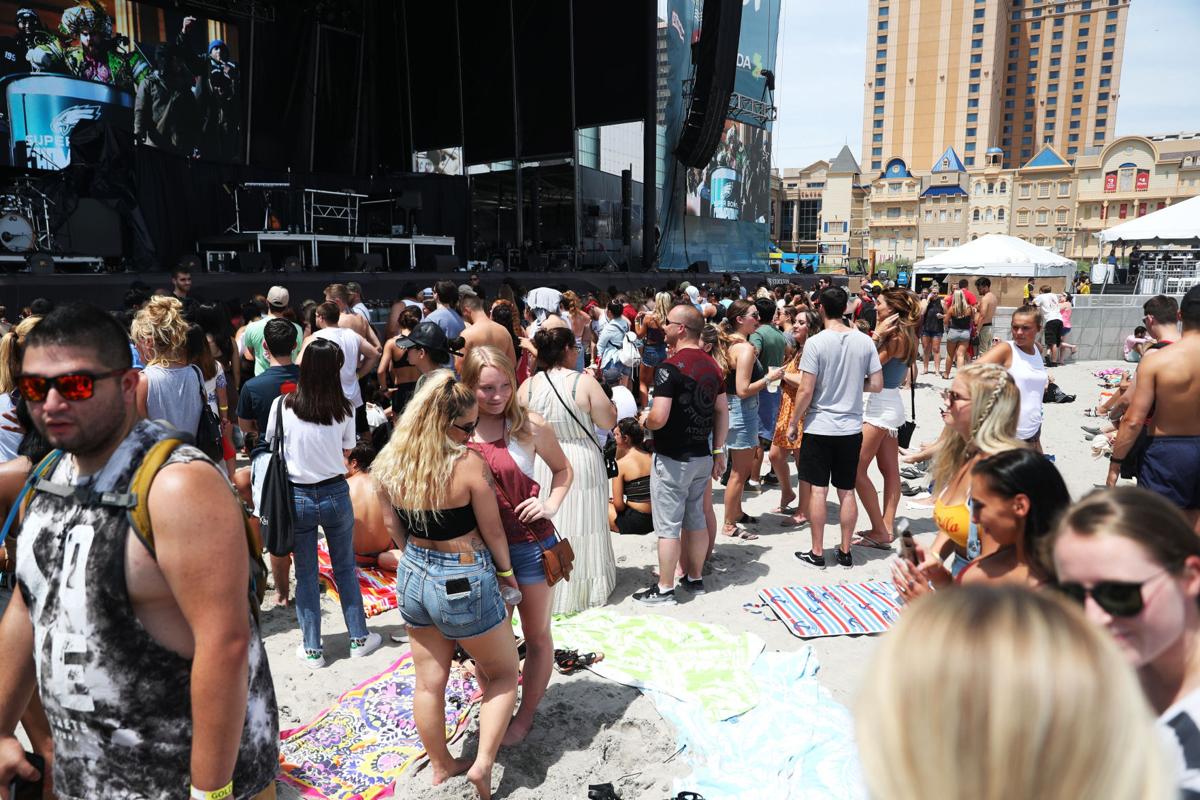 TRENTON — More than 1 million doses of the COVID-19 vaccine have been given in New Jersey, pushing the state closer to its goal of 70% vaccination by the start of summer and giving hope to a struggling South Jersey economy.
"This is definitely forward progress, and it shows how we're working to maximize every dose received from the federal government," Gov. Phil Murphy said Monday during his regular COVID-19 response briefing from the Trenton War Memorial.
Earlier in the day, Murphy told South Jersey radio host Harry Hurley that if New Jersey reaches its vaccination goals by the end of the spring, outdoor events such as beach concerts and the Atlantic City Air Show will likely be able to go on.
"The beach and air show are higher probability than something indoors. I think something can happen indoors, but I don't think it will be back to where we're all piled on top of each other watching a concert," Murphy said.
While the state has administered more than 1 million vaccines, that does not mean that 1 million people have been vaccinated, as the vaccines developed by both Pfizer and Moderna require two doses.
As of Monday morning, the state had administered 1,037,657 doses with 224,237 of those as second doses. The state has a goal to vaccinate 4.7 million residents before July 4.
Making his announcement Monday afternoon, Murphy said an even more important trend than the number of vaccines distributed is the pace at which the state has been able to increase vaccinations since its first shot was administered on Dec. 15.
It took 29 days for the state to get to 250,000 vaccines administered, 10 more days to reach 500,000 and 16 additional days before reaching the 1 million mark.
"Make no mistake," Murphy cautioned, "while this is a significant milestone, we have a good ways to go to reach our ultimate goal to reach 4.7 vaccinated adults by the beginning of summer."
Reaching that goal will only be possible with a greater supply of vaccine, he said.
The state has more than 290 vaccine distribution points, including six mega sites, but Murphy said the state could use two to three times the number of doses it is receiving per week. He urged patience.
Access to vaccines has been an issue statewide as supply is far outpaced by demand, and the state's most vulnerable residents are also among those least equipped to use the technology required to make an appointment.
Health Commissioner Judy Persichilli reported Monday that the agents at the state's recently activated hotline for COVID-19 vaccination help have spoken with 50,000 individuals. Over the weekend, agents helped 16,000 callers, including registering 514 individuals for the vaccine and making 286 appointments.
Meanwhile, New Jersey's COVID-19 infection numbers continue to decline, with a positivity rate of 8.5% and the rate of transmission — the average number of people infected by each infectious person — down to .85.
Hospitalizations have decreased to 2,814 as of 10 p.m. Sunday and the number of patients entering the hospital is about equal to those being discharged, which Murphy said was a positive sign.
"Overall, the metrics we are seeing continue to point in the right direction," he said, noting the importance of seeing a decline in the number of hospitalizations in reopening the economy.
Murphy, speaking to Hurley on Monday morning, said also the downward trend was vital in his lifting of the 10 p.m. dining curfew and expanding indoor capacity to 35% ahead of Super Bowl Sunday. Although he did say he had some requests from bar and restaurant owners to give a one-day Super Bowl moratorium on the rules.
"The data suggested we could do it," Murphy told Hurley, adding that variants of the coronavirus in the United Kingdom, South Africa and South America had caused a delay. "If it were not for these variants — we've got the U.K. variant in the state. ... I think we would have taken the step earlier."
The data will also allow for in-person elections this spring, Murphy announced Monday. He had previously pushed the winter school and fire elections ahead to coincide with the April 20 school elections, which he said will be held in person, as opposed to the mostly mail-in voting processes held in November and during last June's primary election.
"We will ensure that all in-person polling places adhere to proper health and safety protocols," Murphy said. "As always, voters will have the ability to request a vote-by-mail ballot."
He has not yet made a decision on the upcoming primary election, but he is optimistic for in-person voting as well.
Murphy said the state is watching the more infectious variants of COVID-19 "like a hawk." Persichilli said there are 31 reports of the U.K. variant in New Jersey, with one in Atlantic County and 12 in Ocean County.
Contact Claire Lowe:
609-272-7251
Twitter @clairelowe