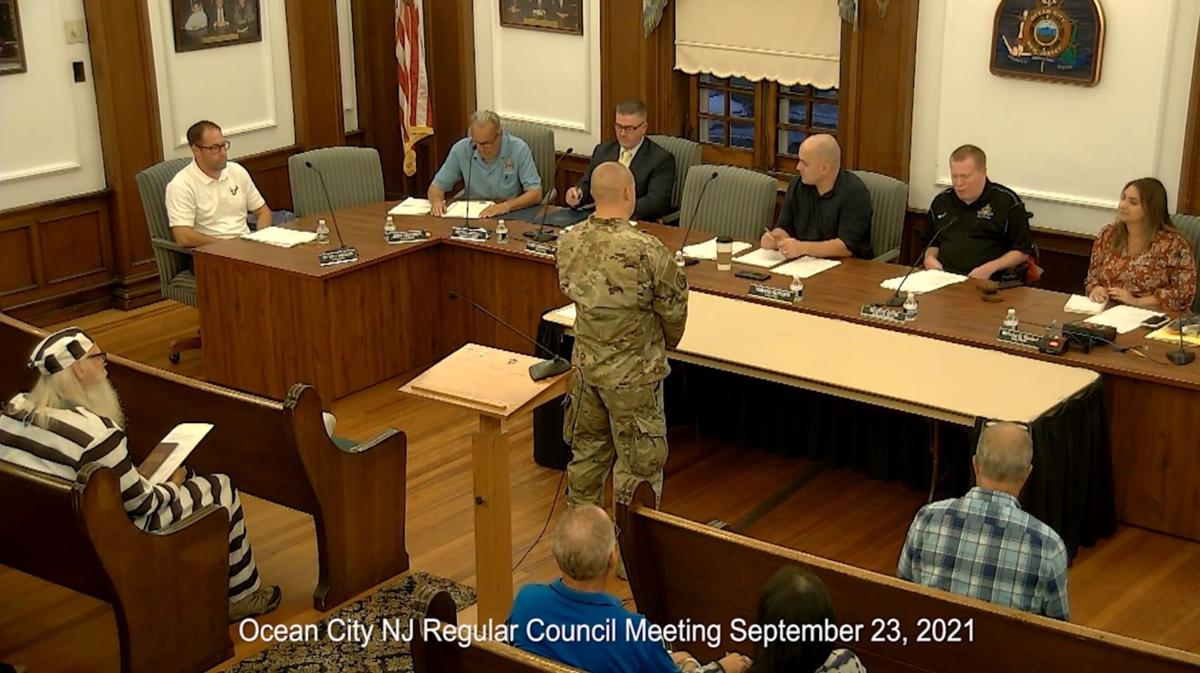 OCEAN CITY — City resident Brian Day was among the last American airmen at Bagram Air Base, once the largest U.S. military base in that country.
As American forces shut down the airfield, his task included securing and transporting the arms and ammunition at the base before it left American hands.
"When you're deployed, you have this mindset where you do what you have to do," he said.
Day, 36, is a staff sergeant with the 177th Fighter Wing of the New Jersey Air National Guard and an Air Force veteran. He is also a captain and EMT with Strathmere fire and rescue in Upper Township and an assistant fire chief with the state.
City Council recently honored Day.
Day completed seven active duty tours, including three deployments with combat tours in Afghanistan, according the city's proclamation, read by Councilman Terrence Crowley. Most recently, he was deployed to Afghanistan from March until August. Crowley said Day was among the last 17 members of the Air Force to leave the country after shutting down the ammunition supply point at Bagram.
As election season heats up, vote-by-mail ballots have been sent out and new machines for ea…
Day received a standing ovation at the meeting. He thanked officials and his family, especially his wife, Megan.
"She's been there for all seven tours," he said. "I did two back-to-back in Afghanistan. The first time she was pregnant when I left and the second time we had an 8-week-old, so she's done a lot by herself."
He said she deserved more applause. After the meeting, Day said his wife is a teacher in the city school district and is the reason the family settled in Ocean City.
Day grew up in Cumberland County, moving to the beach town in 2014.
Their son, Brian Reid Day, is now 10 months old.
"He's a whole different kid now," Day said.
GALLOWAY TOWNSHIP — The memory of former trustee Michael Jacobson will live on at Stockton U…
Councilman Keith Hartzell read a proclamation on behalf of U.S. Rep. Jeff Van Drew, R-2nd, which described Day as an inspiration who has brought pride to the community, to New Jersey and to the United States.
After almost 20 years, the United States ended its military involvement in the country in August. It has been described as America's longest war.
At another meeting Sept. 9, officials honored members of the Dahl family. Lt. Col. Thomas Dahl and his two sons, Senior Airman Thomas "Jeff" Dahl Jr. and Airman First Class Charles Dahl, all served in Afghanistan.
Council also read proclamations on behalf of Van Drew and the state legislative team representing Ocean City, which includes Sen. Michael Testa and Assembly members Antwan McClellan and Erik Simonsen. Council members said Van Drew and the state officials planned to attend the Ocean City meeting in person but were called away to another event.
Councilman Tom Rotondi read the proclamation from the Legislature.
"The Dahls are among the rare father-and-son combinations to have served the United States in the same conflict," Rotondi said.
TRENTON — New Jersey Democratic Gov. Phil Murphy and Republican Jack Ciattarelli will meet t…
The elder Dahl works full time as the comptroller for the 177th and has been deployed overseas. Both sons are Air National Guard members. Charles Dahl was in Afghanistan this year, with missions that included destroying weapons before the Taliban takeover.
He is a 2019 graduate of Ocean City High School. His older brother serves as an aircraft mechanic and was also in Afghanistan this year undertaking similar missions. Jeff Dahl graduated from Ocean City High School in 2017.
Hartzell read the proclamation approved by Congress.
"This is no small deal. This is a big deal. This is part of our country's history," he said.
Councilman Jody Levchuk also read a proclamation on behalf of the city.
"I've got to tell you, I'm so proud of all of you, and we haven't mentioned Jennifer Dahl just yet," Levchuk said. "What must be going through your mind as the wife and mom, I just can't even imagine. I want to thank you so much for all you do as well."
LONGPORT — U.S. Army Maj. Todd Berrios and his wife, Mari, received a hero's welcome Wednesd…
"Oftentimes, we talk about football players or basketball players or movie stars being heroes, but these are the true heroes," Council President Bob Barr said of the Dahls. "We are so proud and honored to have you represent Ocean City."
Contact Bill Barlow:
609-272-7290
Twitter @jerseynews_bill