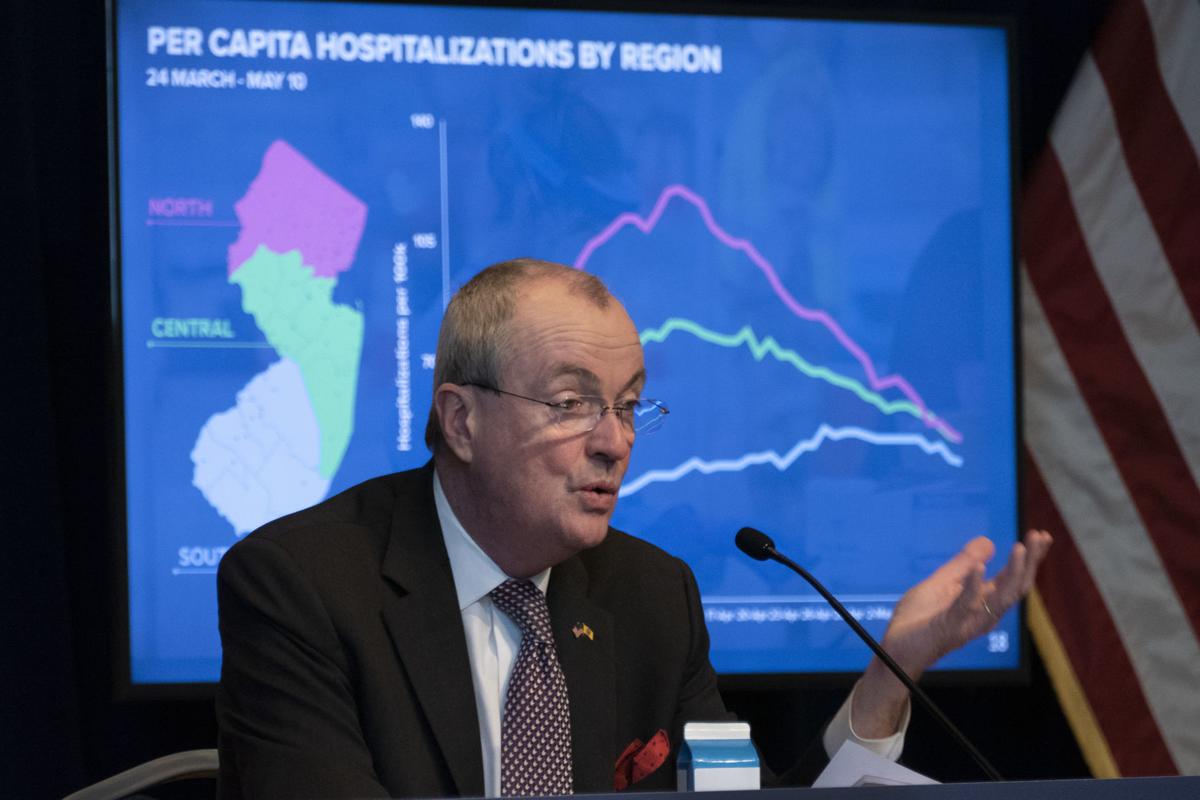 TRENTON — New Jersey officials say the arrival of the new Omicron variant of COVID-19 is inevitable, and at a news briefing Monday, they said they're preparing for it for the holiday season.
Over the coming weeks, officials with the state Department of Health will begin collecting data on Omicron cases, if they emerge. Cases can be detected through PCR testing, Gov. Phil Murphy said.
The department will stay in communication with hospitals and medical teams to assess the situation when Omicron emerges in New Jersey, Health Commissioner Judith Persichilli said. 
The World Health Organization last week declared Omicron a "variant of concern" after it emerged in South Africa. The United States took immediate action by suspending travel to and from seven south African nations to prolong its arrival. 
"The reality is that as our region is a hub of international travel and commerce, we must be ready now in anticipation of this variant hitting us," Murphy said.
Other nations are reporting Omicron cases among residents, the closest being Canada, which Sunday reported its first cases of the variant were found in Ontario.
The variant's dangers remain mostly unknown, but health officials continue to assert that vaccines remain the strongest weapon against any potential infection, regardless of what variant a vaccinated person encounters.
Early data from South Africa indicates that Omicron infections are resulting in fewer hospitalizations, thus not causing severe illness. But more data and study is needed.
"We just don't know enough right now about the scope of illness," state Epidemiologist Dr. Christina Tran said Monday.
The governor continued to assert that indoor masking in crowded spaces and social distancing are effective, too, adding that New Jersey's latest coronavirus numbers continue to be fueled by the Delta variant, which has caused new cases since summer, with the mostly unvaccinated residents stoking the trends.
Murphy and state health officials joined President Joe Biden, who addressed the country Monday, in urging the nation to not panic amid the emerging health trends.
"Next two or three weeks, going to probably know a lot more than we know now," Murphy said.
Murphy said he isn't sure about how Omicron could impact legislative extensions or in-school mask mandates.
In light of the developments, health officials are urging more residents to get the vaccine as a way to impede a potential winter surge.
New Jersey was lagging in boosters two weeks ago, Persichilli said at the time, having only administered boosters to 24% of the state's roughly 4 million eligible residents. The age range for boosters has expanded to include anyone over 18.
Two weeks later, just over 29% of those eligible have received their booster shot, according to New Jersey Department of Health Communications Manager Nancy Kearney.
Contact Eric Conklin:
609-272-7261
Twitter @ACPressConklin