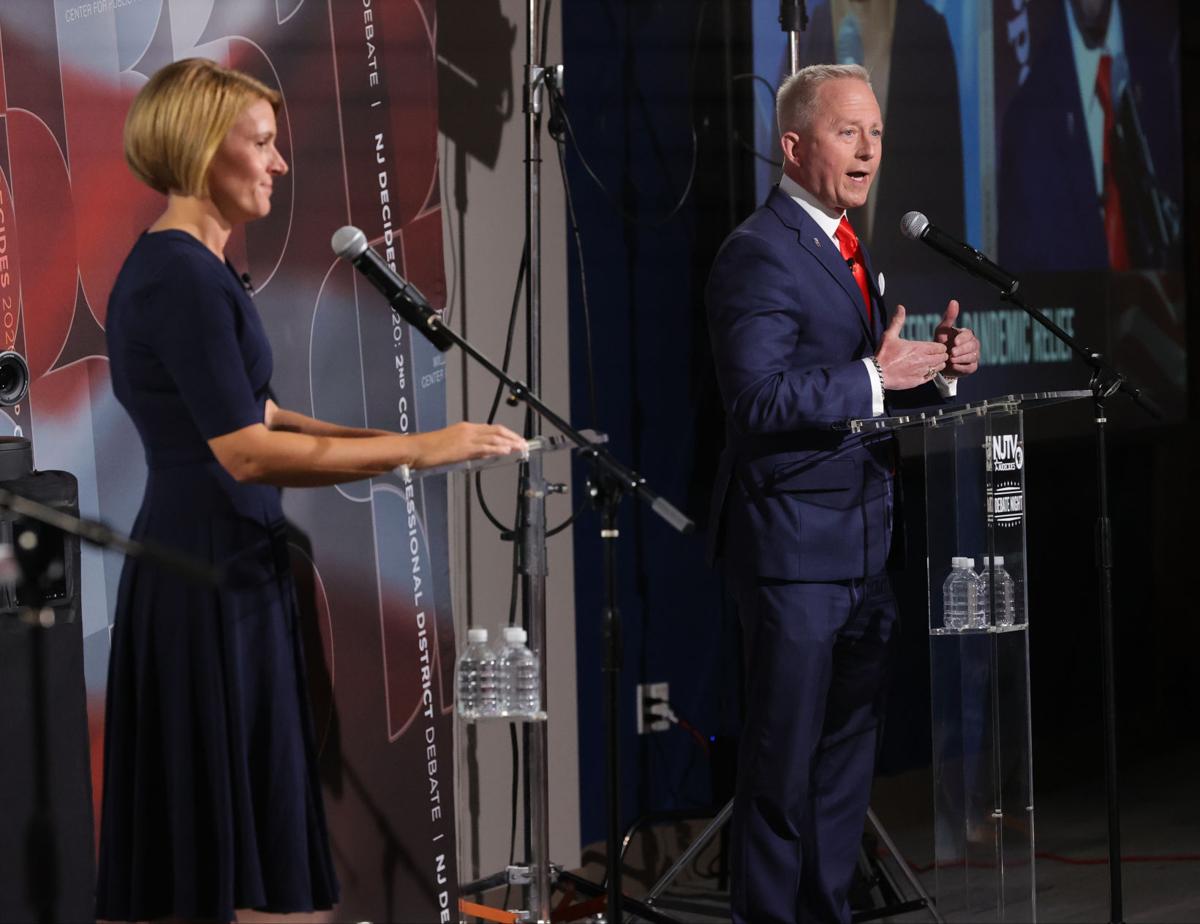 For the first time in decades, the race for the House of Representatives in New Jersey's 2nd Congressional District is one of the nation's hottest and most closely watched.
Congressman Jeff Van Drew, R-2nd, 67, is facing Democratic challenger Amy Kennedy, 41, of Brigantine.Kennedy is a former Northfield school teacher and mother of five who is married to Patrick J. Kennedy, the former Rhode Island congressman who is the son of the late Sen. Ted Kennedy. She has never been elected to any office.
Van Drew has held just about every office in New Jersey government, from township committeeman to freeholder, assemblyman and state senator.
Recent polls show Kennedy ahead by four to six percentage points, but Van Drew questions their accuracy, saying they oversampled Democrats and left-leaning independents.
ATLANTIC CITY — Congressman Jeff Van Drew, R-2nd, and Democratic challenger Amy Kennedy, of …
Political experts say a House member is most vulnerable to being voted out after their freshman term.
Van Drew has been in the national eye since being elected as a moderate Democrat in 2018, and on his first day in office made it clear he would not be in lockstep with his party. He made national news for voting "no" for Nancy Pelosi to be speaker of the House of Representatives.
His independent streak continued with frequent appearances on the conservative Fox network's news shows, with his calling for bipartisanship to end the national government shutdown of early 2019, and with his standing for both stronger border protection measures and for a path to citizenship for "dreamers" — undocumented immigrants brought here as young children by their parents who have only known the United States as their home.
It culminated in a "no" vote to impeach President Donald J. Trump, resulting in a split with his party and a change to Republican that again drew national coverage.
Now, he is up against a powerful force in Kennedy, a mental health advocate who is calling for more attention to emotional and psychological health to help smooth relations between the public and police, and between the races.
Expenses continue to mount as Atlantic County election officials hire additional staff, rent…
The two have more in common than one might expect.
Neither favors the state legalizing recreational marijuana, which also will be on the ballot Nov. 3.
Both would favor decriminalizing marijuana and removing it from the list of the U.S. Drug Enforcement Agency's Schedule 1 drugs, considered "drugs with no currently accepted medical use and a high potential for abuse."
Marijuana, or cannabis, is on the list along with heroin, lysergic acid diethylamide (LSD), 3,4-methylenedioxymethamphetamine (ecstasy), methaqualone and peyote, according to the DEA.
Being on the Schedule 1 list prevents research on it as a medicine, they both say. Medical marijuana is already legal, and thousands of New Jerseyans are using it therapeutically.
Both also say they will protect the rights of those with pre-existing conditions to access affordable health insurance, but Kennedy favors expanding the Affordable Care Act, while Van Drew favors scrapping it once a better alternative is available.
Contact: 609-272-7219
Twitter @MichelleBPost