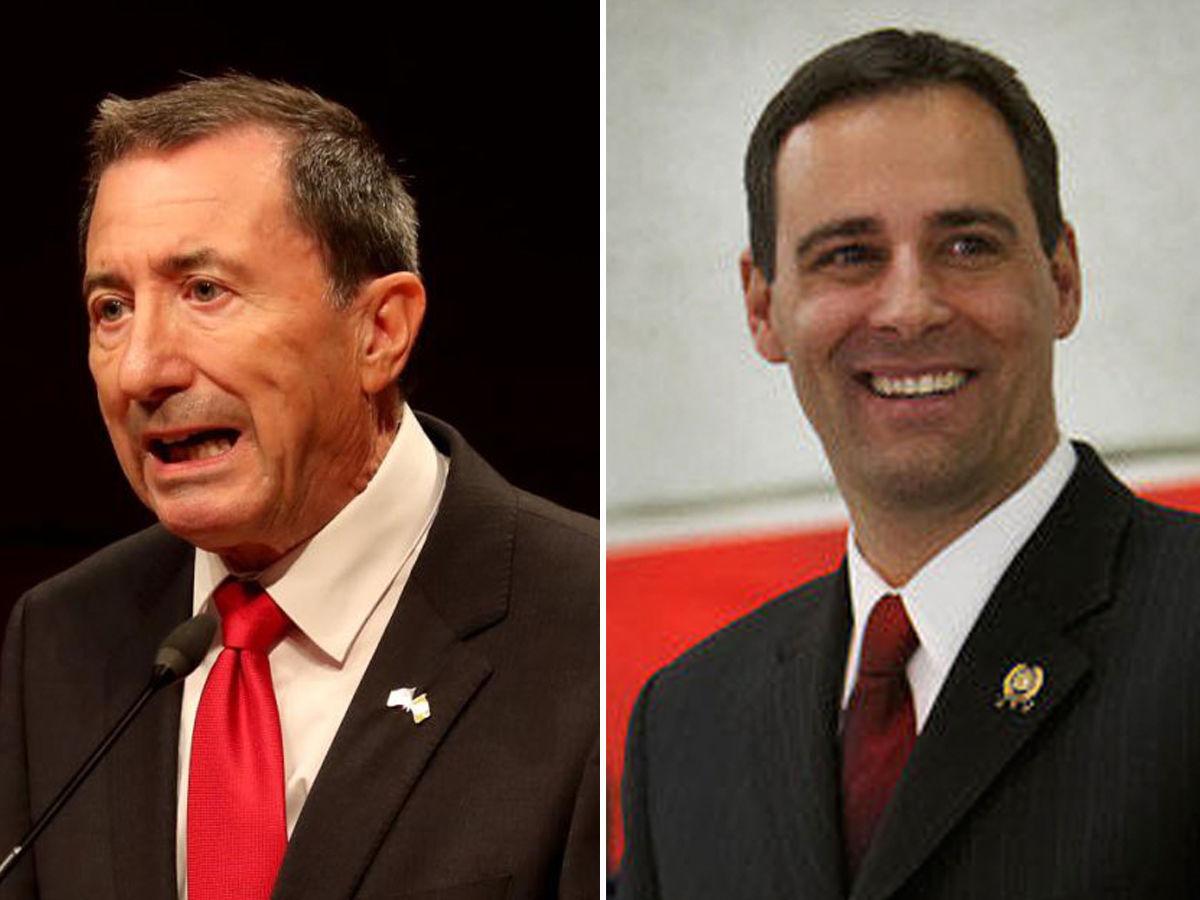 The two candidates vying for the Republican nomination for state Senate in Legislative District 2 answered the same questions quite differently in a virtual candidates forum Tuesday night held by the NAACP of Atlantic City.
Lawyer Seth Grossman and engineer Vince Polistina showed they would take very different approaches to legislating.
Republican voters will decide in the June 8 primary election who will go up against Assemblyman Vince Mazzeo, D-Atlantic, for the Senate seat representing the heart of Atlantic County in the November general election.
Polistina said his focus would be on economic development through diversifying the economy.
"We have to have jobs and opportunities for the area," Polistina said. "I will do everything I can to make sure people have opportunities ... and that tax dollars generated in Atlantic City stay in Atlantic City."
There are few contested primary races for state offices this year in southeastern New Jersey…
Grossman, of Atlantic City, said his main interests are combating the rise of "woke mandates," educating people about the greatness of America rather than focusing on historic wrongs and encouraging self-reliance rather than reliance on government.
While the United States was a slave nation during its first centuries, "310,000 white Americans died in a war to end slavery," Grossman said.
White Christians, particularly Quakers, in South Jersey and elsewhere took great personal risks to defy the law and undermine the slave economy of the South by helping enslaved people escape through the Underground Railroad, Grossman said.
Both said they oppose the state takeover of Atlantic City. Grossman had sued to challenge the constitutionality of the payment-in-lieu of taxes plan to stabilize property tax payments for casinos. He dropped the suit due to the expense of it after Atlantic County dropped out after settling its case to get 13.5% of PILOT payments.
"The state has a lot of challenges itself," Polistina said. "I don't know if the takeover role is appropriate. The state should focus on challenges the state has. The state has proven it can't handle what they have on their plate."
Republican congressional nominee Seth Grossman on Monday defended comments he made in a vide…
Grossman called the takeover unconstitutional and said it only kept the city from facing the poor choices it had made that led it close to financial collapse.
"The things that hurt Atlantic City most are destroying the country," Grossman said. "(Particularly) The idea that you can spend money ... and make someone else pay for it."
Both said recovery from the COVID-19 pandemic depends on opening up fully and ending mask mandates.
Sponsored by the NAACP of Atlantic City, the forum did not include debate-style interaction between candidates. Instead, each candidate had the same amount of time to answer the same questions posed by moderators.
Polistina had refused to participate in a planned debate sponsored by the William J. Hughes Center for Public Policy at Stockton University and the League of Women Voters of Atlantic County, saying he did not participate in virtual debates.
The Atlantic County Republican Committee is supporting Polistina, who will run as an "Atlantic County Regular Republican."
Grossman won the 2nd Congressional District Republican primary in 2018 but was defeated by a smaller margin than expected by then-Democrat Jeff Van Drew, who later changed parties to Republican after voting against impeaching President Donald Trump in the House of Representatives.
Grossman, whose campaign slogan is "The Real Republican Fighting 'Woke' Democrats," also runs a conservative organization called Liberty and Prosperity.
He made statements in that race that got him national coverage, including saying "the whole idea of diversity is a bunch of crap and un-American" when used to give supposedly less qualified applicants jobs or college admission.
"Normally I would go with the organization candidate (winning), because of the built-in advantages that go with it," John Froonjian, executive director of the Hughes Center, has said. "This is going to be a little different."
Second district state Senate Republican primary candidates Q&A with the Stockton's Hughes Center
What are the top one or two issues that need to be addressed by state lawmakers in Legislative District 2?
VINCE POLISTINA: If Atlantic City fails, it drains taxpayers in the suburbs around it and drags down Atlantic County's whole economy, so that is a key issue that 2nd District legislators must confront. My opponent, Assemblyman Vince Mazzeo, has been in office for years - with total Democratic control in Trenton - and has not gotten the job done. If it weren't for Senator Chris Brown, we might be faced with North Jersey casinos and be in even more trouble. Second, I will embrace our police officers and defend them from attacks by Trenton radicals. It was terribly disappointing to see Assemblyman Mazzeo vote to ban police officers from alerting parents if their minor child was caught with marijuana, and similarly troubling that Mazzeo voted to ban police officers from within 100 feet of polling places - effectively suggesting that all cops are corrupt. Law enforcement deserves our support and as Senator, they will have mine.
---
SETH GROSSMAN: Bring liberty back to America. Trust each American to make the most important decisions affecting his or her own life. Teach each American to take responsibility for those decisions -- the bad as well as the good. Teach how America brought more wealth, opportunity, and justice to more people than any other nation in history when we embraced those ideas.
Judge each individual by his or her own character, talent, work, and achievement.
Stop hiring, rewarding, promoting, or punishing people by whether or not they belong to any race, ethnic group, sex gender or other politically useful group. Stop public schools, colleges like Stockton University, and libraries from doing this. Stop them from teaching hateful fake-history, Critical Race Theory, and other hate-America propaganda that promotes this.
Give financial support to parents who save taxpayers money when they opt out of public schools. Stop requiring college degrees for jobs from applicants who got the needed skills and knowledge without them.
End state government takeover of Atlantic City and casino tax breaks. Stop the endless gas tax and toll hikes. Do it by enforcing sections of the New Jersey State Constitution which require:
1. Equal application of all laws, including tax laws.
2. Balanced budgets for operating expenses. Borrowing for long term improvements only when voters approve.
3. No bailouts of failed state "authorities" that borrowed money without voter approval.
State government took over Atlantic City in 2010. As part of that takeover, state government allowed Atlantic City to run seven years of illegal budget deficits and borrow roughly $400 million to cover operating expenses. It also declared Atlantic City's casinos to be "blighted areas" and therefore qualified for special tax breaks.
State government let its "Transportation Trust Fund Authority" recklessly borrow money billions of dollars without voter approval for 30 years. It then bailed out that authority with a scheme that now gives us "automatic" toll and gas tax hikes almost every year.
As a State Senator, I will do my best to bring the teaching of American values back to colleges like Stockton and respect for our U.S. and State Constitutions back to state government in Trenton.
What can or should be done, if anything, to help the casino industry and the district's tourist economy post-pandemic?
SETH GROSSMAN: The real estate tax burden on casino and non-casino properties alike must be quickly and greatly reduced. We must challenge and reduce Atlantic City's massive $300 million to $400 million debt that was incurred to fund illegal budget deficits while under state control. These deficits funded operating expenses in blatant violation of the state's Local Budget and bond laws, which require balanced budgets.
We can also quickly cut taxes by applying the same cost cutting methods previously applied to city government operations to Atlantic City's public schools and public library.
---
VINCE POLISTINA: First, we need to move past the state takeover in a responsible way. Governor Murphy and Assemblyman Mazzeo promised four years ago to end the takeover, but four years later they both supported extending it indefinitely. In the process, they are destroying the morale of public safety professionals in the city. I agree with former Assemblyman Tom Foley that we need to reinstate civil service and collective bargaining rights to all public employees to stop favoritism and nepotism, and bring back merit-based promotions. Next, we need to give county government a greater role in the city's future, as opposed to handing the keys to Trenton. South Jersey leaders - in both parties - are far better equipped to make local government more efficient, attract jobs and commerce, and make public safety a priority.
What possible role, if any, do you believe the state Legislature should have in certifying county-level election results, and what is the reasoning for your position?
VINCE POLISTINA: We should all want our election system to be as organized, fair, and honest as possible. We should also want the greatest amount of access to voting. I don't believe that Trenton politicians will necessarily do a better job than county election officials - the egregious errors of our current Democratic Clerk notwithstanding. I believe this is another opportunity for Democrats and Republicans to work together to ensure greater participation - including early voting and vote-by-mail - but also to require identification to vote and do everything possible to safeguard the integrity of our elections and make sure every single voter has faith in the process that elects our leaders.
---
SETH GROSSMAN: As both a winner and loser in close elections, I believe Superior Court judges are capable of supervising county-level election results. The real problem with elections today is that "woke" Democrats and weak Republicans in Congress and our State Legislature wiped out voting laws and procedures that gave us honest elections for nearly a century. Those procedures included:
1. Close registration books 30 days in advance, so there is enough time to identify and remove fake voters.
2. One Election Day for most voters. Mail-in or messenger ballots only for those who are sick or disabled or have confirmed travel or work plans.
3. Mechanical voting machines that cannot be "hacked", and which produce a hard copy register tape.
Because few election officials and election workers personally recognize most voters in their districts, and because virtually every voter now has a photo ID, I support laws requiring ID at polling places.
The Republican Party has been the minority party in the New Jersey Legislature for the past 18 years. What direction or changes would you advocate to make the party more competitive and to put it in a position to become the majority?
SETH GROSSMAN: Republican candidates, leaders and election officials must stop lying to voters. For thirty years, Republican leaders like Tom Kean, Christie Todd Whitman, and Chris Christie won elections by promising lower taxes and an end to "waste, fraud and abuse". Yet right after taking office, they joined Democrats to raise taxes, borrow money, and do the same pay-to-play politics and "waste, fraud, and abuse" they promised to end.
By winning the Primary on June 8 and winning again in November and then keeping my promises, I can undo much of the damage done to the Republican brand during the past thirty years.
---
VINCE POLISTINA: Our party needs a clear vision and elected officials (and candidates) willing to take our message and our ideas into communities and to voters who have not traditionally been in the Republican fold. We need to focus on affordability, economic opportunity, education reform, public safety, and infrastructure. If we do that, we can appeal across party lines and attract more people to what should be a big tent party. Senator Brown has been a great example of a Republican who is extremely popular with Unaffiliated and Democratic voters because he always put Atlantic County working families and retirees first and wasn't afraid to buck his party when they were wrong. I would do the same.
Contact Michelle Brunetti Post:
609-272-7210