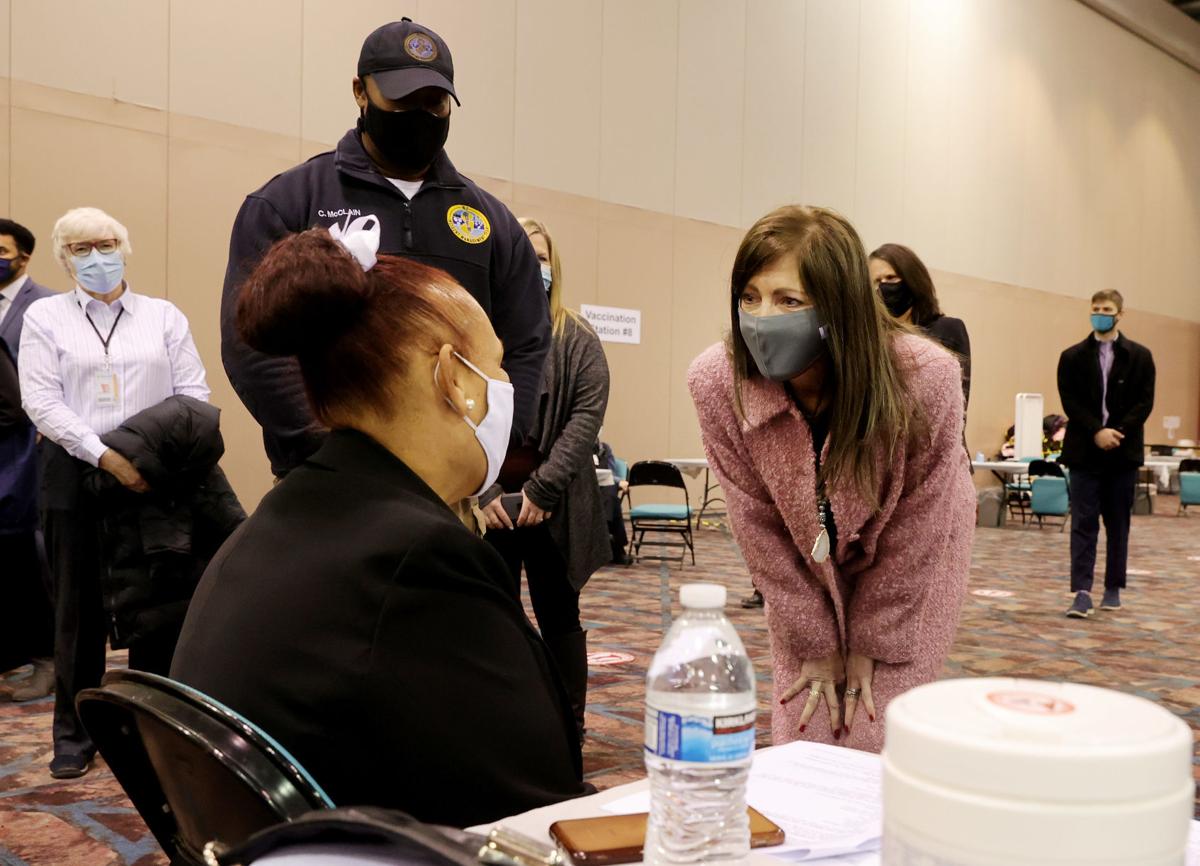 More New Jerseyans, and specifically school employees, will soon be eligible for the COVID-19 vaccine, Gov. Phil Murphy announced Monday.
During a news conference, Murphy detailed two new phases of eligibility expansion.
Beginning March 15, new eligibility will start for K-12 educators, support staff, child care workers, transportation workers, remaining public safety workers, members of tribal communities, migrant farm workers and individuals experiencing homelessness or living in shelters.
Murphy said the state will work hard in the next two weeks to figure out how to administer vaccines to educators while not interrupting the school day.
On March 29, the state will open eligibility for workers in food production, agriculture, food distribution, eldercare, warehousing and logistics, social services, hospitality, medical supply chain, postal and shipping services and the judicial system.
Clergy members and election personnel are also included in the second phase of eligibility, according to Murphy.
Murphy estimates the new eligibility will allow "hundreds of thousands" of residents to get vaccinated but emphasized that many people in these industries already may have been eligible.
"Please remember there are thousands of residents within these groups who have already been eligible either because of their age or their chronic medical conditions," Murphy said. "We are certain that there are many of these folks that have already been vaccinated."
Murphy said the eligibility for educators corresponds with more districts transitioning back to in-person learning.
"As of this morning, of the 811 public school districts, charter schools, renaissance schools and schools for students with disabilities, 110 of those are currently open for all in-person, 533 are open for hybrid instruction," Murphy said. "These numbers are both up from the last time we gave a full report three weeks ago ... the number remaining all-remote is currently 142 ... and 27 local education agencies are using a mix of options across their building."
Earlier on Monday, Murphy appeared on the "Morning Joe" talk show hosted by MSNBC's Mika Brzezinski to discuss New Jersey's COVID-19 response.
Murphy told Brzezinski that getting school reopened is imperative. He said that while the vaccine is not a "magic wand," it is a "big positive factor."
Murphy also said that "emphatically yes" schools could be fully open in-person by next school year.
During the show, Murphy also told Eddie Glaude Jr. that the one-dose Johnson & Johnson vaccine that received emergency-use authorization on Saturday would significantly help the state in its vaccine goals.
"This is a journey, we're not declaring any victory," Murphy said.
He said that the administration will continue to open up more vaccines to the state's residents over the next several weeks, and he thinks several months from now "any New Jerseyan who wants a shot will get a shot."
New Jersey has set a goal to vaccinate 70% of adults by July 4.
Contact Claire Lowe:
609-272-7251
Twitter @clairelowe