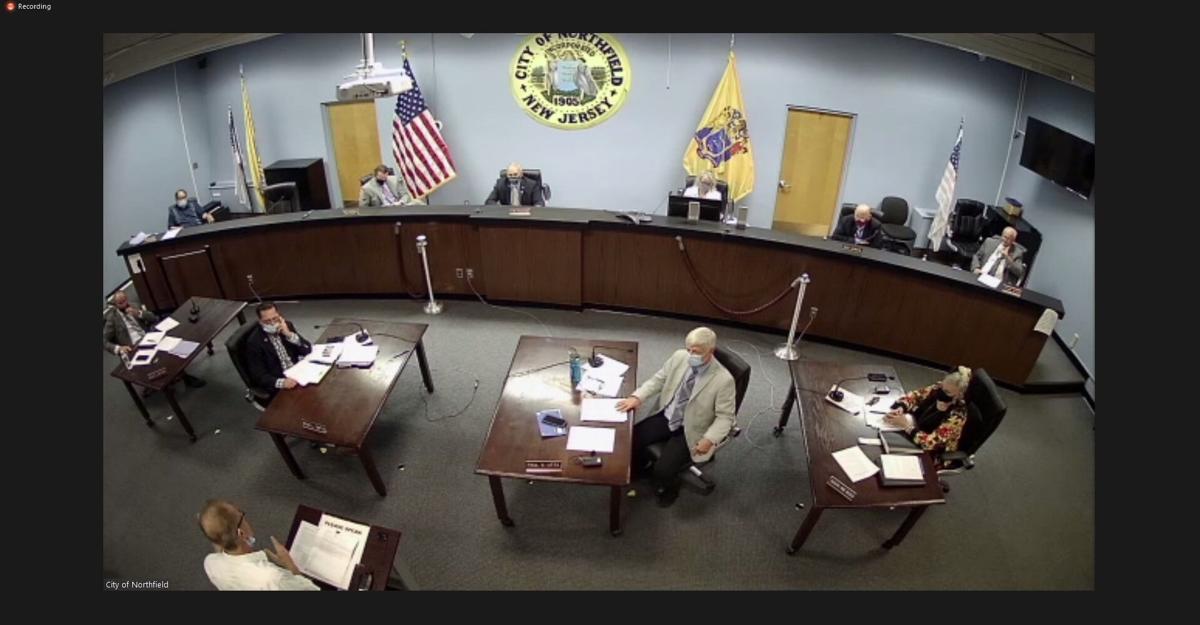 NORTHFIELD — When City Council introduced an ordinance allowing cannabis sales in town in a 5-2 vote in June, Councilmember Paul Utts thought it was a shoo-in when it came up for a final vote.
On Tuesday, council did the opposite, approving instead an ordinance banning cannabis sales anywhere in town. With an abstention from Councilman Greg Dewees leaving a 3-3 tie, Mayor Erland Chau got the last word, voting to ban dispensaries.
Under Northfield's form of government, the mayor only votes on council matters if there is a tie.
Council President Tom Polistina brought forward the second ordinance in July, arguing the city needed a backup in case the other ordinance did not pass by Aug. 21. Under the state law creating a legal cannabis market, towns that do not act on the issue by then will fall under the state defaults.
Polistina has been skeptical about what the final rules for the cannabis market will look like once the state approves them. He said repeatedly during the meeting that he did not want to vote on an ordinance allowing sales until he could look at the final version of the state regulations, expected from the Cannabis Regulatory Commission this month.
HAMILTON TOWNSHIP — The Township Committee unanimously voted to pass an ordinance amending i…
He maintained that the vote will allow Northfield to quickly act to allow sales if council members were satisfied with those regulations. A new ordinance would not need to be introduced, he said, because one was already at the ready.
Councilman Brian Smith, a consistent critic of legalization, described cannabis as addictive and as a specific threat to children, especially when sold as an edible that looks and tastes like any other sweet. New Jersey regulations are expected to require labeling and packaging aimed at avoiding accidental ingestion, but other states have seen similar incidents after legalization.
Smith also said legalization will increase intoxicated driving, citing a report from an organization of doctors in Connecticut.
But Utts countered that legal cannabis is on the way whether Smith likes it or not. It will be available in neighboring towns, he said, and will be able to be delivered to Northfield and legally used by adults. Utts believes Northfield should see some of the revenue. Towns are allowed to impose an additional local tax on cannabis sales and production in their communities.
In the spring, a council subcommittee recommended allowing sales in the commercial zone on Tilton Road, from Deborah Avenue to the municipal line at Egg Harbor Township. As introduced, the ordinance included a buffer between cannabis operations and homes.
PLEASANTVILLE — While a few residents at Monday night's City Council meeting voiced oppositi…
"I will not support it in any form" Smith said.
Utts pointed out that Smith had voted to approve liquor licenses in Northfield without raising concerns about the harmful effects of alcohol.
"I did. It's legal," Smith said.
"So is marijuana," Utts countered.
After an extensive discussion, including several moments of raised voices, Polistina said, "I think we're going in circles" and called for a vote.
NORTH WILDWOOD — A fight involving juveniles over the July 4 holiday continues to reverberat…
Dewees, a Republican, was part of the council subcommittee that recommended allowing sales and voted to introduce the original ordinance to allow sales. But he abstained Tuesday, saying he could not decide. Otherwise, the vote took place along party lines, with Democrats Utts, Perri and Madden opposing banning sales, and Republicans Dave Notaro, Polistina and Smith saying yes to a ban with the Republican mayor breaking the tie.
At one point, Notaro accused the Democrats of engaging in their own boogeyman thinking with the suggestion that a delay to approve the ordinance would ensure potential businesses would head to other communities.
There were few comments made during the public hearing on each ordinance, but several residents spoke about the topic at the earlier workshop portion of the meeting. Several spoke in favor of allowing sales, most citing the economic opportunity and the need for new businesses along Tilton Road.
Others remained firmly opposed, citing the dangers to children and marijuana being considered a stepping stone to stronger drugs.
Speaking via Zoom at the limited-capacity meeting, union representative Hugh Giordano said the cannabis industry will mean good-paying jobs for locals. He also argued that cannabis is used to treat opioid addiction, rather than leading to it. He described cannabis as an exit drug rather than a gateway drug.
EGG HARBOR TOWNSHIP — The Township Committee on Wednesday unanimously adopted rules governin…
As discussed Tuesday, several neighboring towns have said yes to cannabis production and sales, while others have voted against it.
Egg Harbor Township, Atlantic City and others have either approved cannabis sales in some zones or plan to do so. Linwood was set to vote on an ordinance banning local sales Wednesday, after a public hearing.
In Somers Point, the local government has said no to local sales but has left the door open a crack. City officials say they do not have enough information from the state to approve sales but plan to continue to study the issue and potentially amend ordinances in the future.
Contact Bill Barlow:
609-272-7290
Twitter @jerseynews_bill