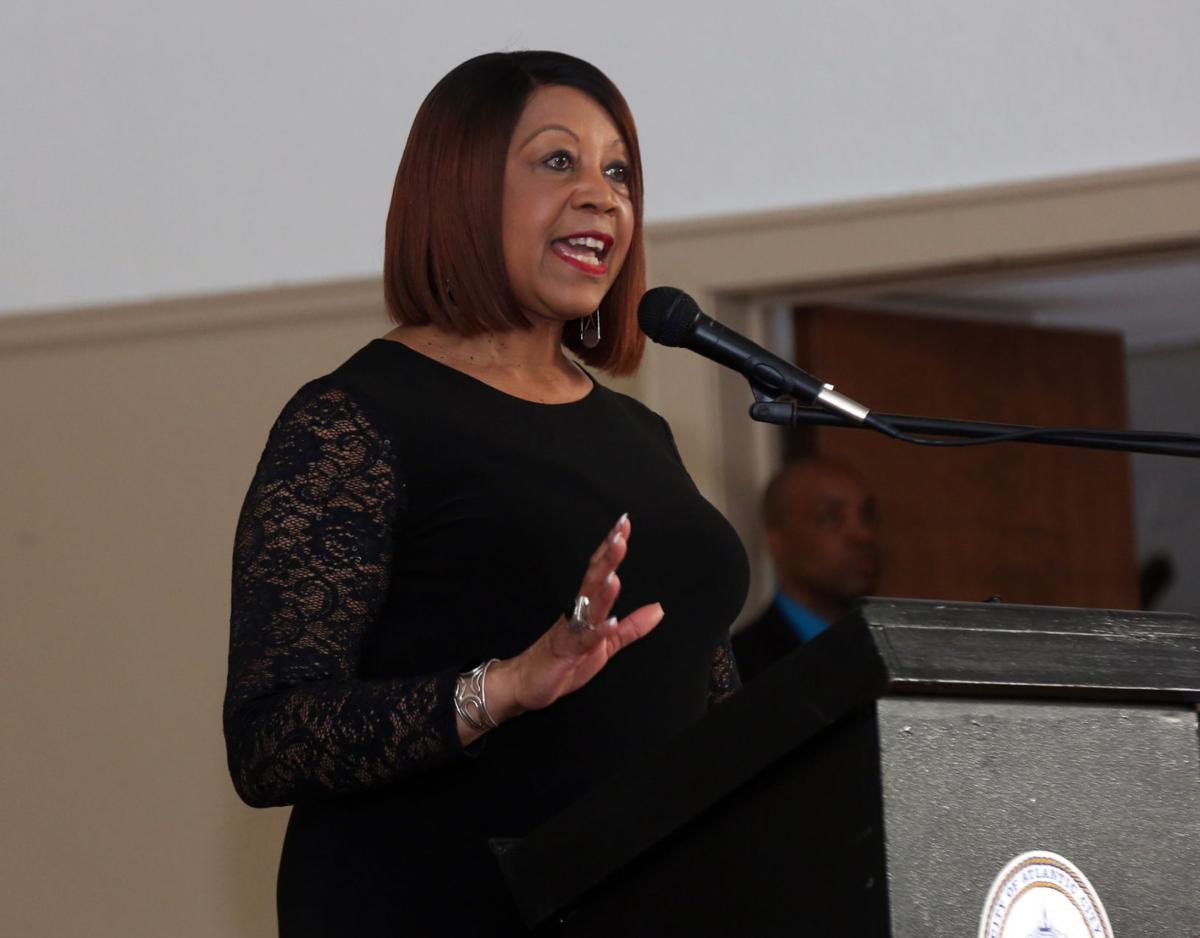 ATLANTIC CITY — State oversight of the city is set to expire next year, but the second highest-ranking official in New Jersey believes there is still more to accomplish before the seaside resort returns to self-governance.
In a wide-ranging interview with The Press, Lt. Gov. Sheila Oliver said she would like to see the state's oversight of Atlantic City continue past the 2021 expiration date outlined in the 2016 Municipal Stabilization and Recovery Act. Oliver also serves as commissioner of the state Department of Community Affairs, the agency with direct oversight of Atlantic City.
"I think that Atlantic City needs to continue its partnership with the state. There's a lot of work to be done," Oliver said. "I, personally, would like to see it last a little longer. I don't think the state's work is done."
Once teetering on the brink of an economic collapse, Atlantic City has made financial strides since the state takeover began, most notably by reducing its annual operating budget by 11.5% since 2016.
For 2020, city government adopted a $210.7 million operating budget that featured the second municipal property tax decrease in five years.
Conversely, the city's long-term debt obligation has increased. In 2015, the year before the takeover legislation was passed, the city's total debt was $247.89 million. In 2019, the most recent year in which data was available, Atlantic City's total debt was $357.82 million.
"We are holding the line on governmental spending," Oliver noted as one of the tangible accomplishments made under Gov. Phil Murphy's administration in Atlantic City. "We are helping the leadership in (city) government understand what you prioritize in your budget, what is important and what is not important."
The state can still help Atlantic City in securing financial resources and broaden local government's reach in developing relationships toward achieving that goal, Oliver said.
The novel coronavirus pandemic severely disrupted the local and regional economy. Murphy ordered the closure of the city's nine casino properties in March to mitigate the spread of COVID-19. The ensuing job losses — the industry had been employing nearly 26,000 people before the closures — placed the Atlantic City-Hammonton metro area among the country's highest unemployment rates.
Oliver acknowledged the economic hardship that decision caused, but also said it likely contributed to containing the "community spread," in Atlantic City and the surrounding area.
"I know it was very difficult for residents in the southern part of the state to understand why this had to be done, but they could not imagine what COVID had done in some of the northern-most counties of the state because it didn't happen (in Atlantic County)," she said. "(But), the real assault (to Atlantic City) was not from COVID, but to the economy in Atlantic City."
Oliver said the state wants to continue focusing on economic development in Atlantic City, improving public health outcomes and increasing home ownership.
Resurrecting Atlantic and Pacific avenues as commercial attractions, completing the AtlantiCare healthcare complex expansion and turning blighted or vacant properties into viable real estate opportunities are all priorities, Oliver said.
Public safety is another key area the state wants to improve before leaving Atlantic City, Oliver said. With the impending Oct. 1 retirement of Atlantic City Police Chief Henry White, Oliver said now was the time to "reorganize and reform" public safety.
"We all know that community policing is the Alpha and Omega, all across the country," she said about what police reform would look like in Atlantic City. The lieutenant governor went on to say that increasing police visibility — and not just in the areas of the city which cater to tourists — and enhanced social services were also part of a larger reform effort that will be forthcoming. "We define (community policing) as taking social ills and social inequities out of the bailiwick of the police department."
One public safety initiative that Atlantic City may implement started in Essex County to reduce violence. Newark Mayor Ras Baraka introduced the Newark Community Street team program, which connects residents with services and skill programs in hopes of reaching with those most at-risk and prone to violence.
Two Atlantic City officials — At-large Councilman Jeffree Fauntleroy and 2nd Ward Councilwoman LaToya Dunston — were recently certified after completing the NCST training program.
Oliver praised both Mayor Marty Small Sr. and former Mayor Frank Gilliam Jr. — who resigned last year after pleading guilty to a federal wire fraud count and is scheduled to be sentenced next month — for working with state officials to accomplish some of its goals in Atlantic City. She noted both official's lengthy public service records and their connections to the community as being integral elements in aiding the state.
"That was very helpful and useful to us," she said.
Contact: 609-272-7222
Twitter @ACPressDanzis