8:20 p.m. - The snow is over for South Jersey. It rolled off the Cape May coast around 7:15 p.m. The National Weather Service didn't report any snowfall totals from the region. However, judging by social media posts, coatings were seen, melting back quickly.
Icy spots will develop during the evening, as temperatures fall into the 20s and teens. Untreated roads and sidewalks will be hazardous so do watch yourself into the night.
Thanks for choosing The Press of Atlantic City for your weather. 
3:05 p.m. - Sorry for not hopping back on for a few hours. I just finished updating our article on what to know about the Friday night into Saturday nor'easter. Spoiler alert: It'll be a miss for much of the area. 
On the other hand, snow is still coming down in southeastern New Jersey, which has changed over to rain just above everywhere. However, it's not falling everywhere in the region. Toms River, Greenwich and Hammonton are all dry.
At this point, the snow is moving more north, along the axis of the cold front, than east, the direction the front is moving. You have to look to Delaware and Maryland to see what will happen in the region and signs point toward snow for a few more hours.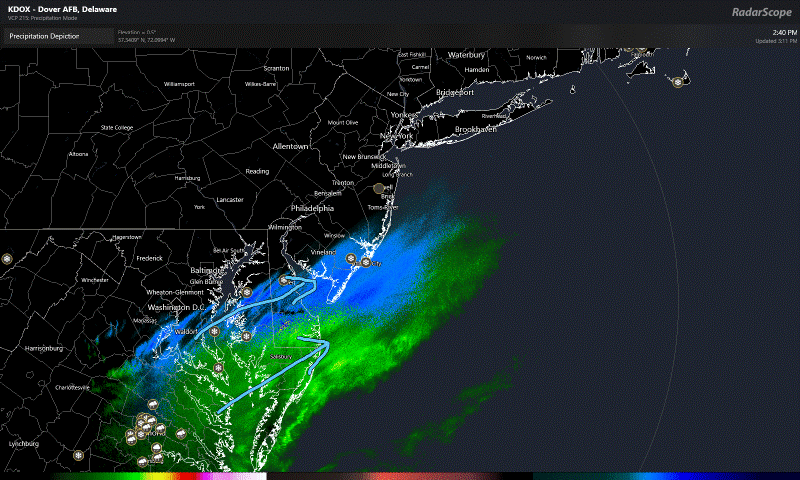 With the sun setting and temperatures cooling, snow will start to accumulate. However, if you're dry now, I don't expect anymore flakes to fly for you. 
Noon - Atlantic City, Cape May Court House and Cape May are among the places near the shore that are still raining. Joe has a forecast update
10:00 a.m. - Rain is changing to snow in our corner of the state. As of 10 a.m. changeovers to snow are seen in northern Ocean County.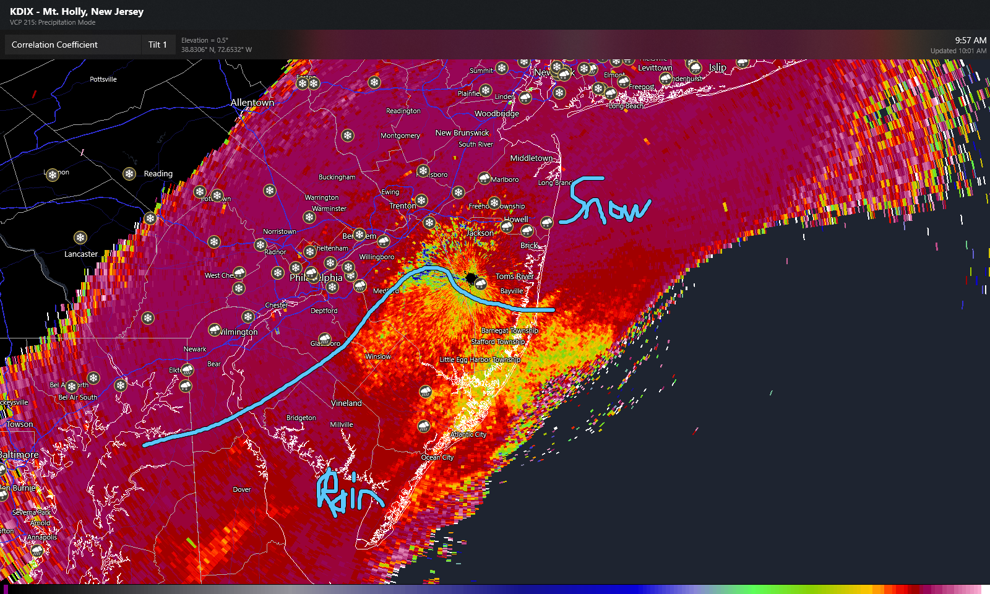 It does look like the coating to 1.5 inch amounts for most of the area will verify, but expect it to be on the lower end. 
8:20 a.m. -  The snow forecast will go as planned but the steady rain, and the change to snow, are taking longer than I expected. Readjusting for the new information, here's what to expect.
Rain showers did begin between 1 and 3 a.m. However, the steady rain will have worked in between 7 and 10 a.m. Thursday, from west to east across the area.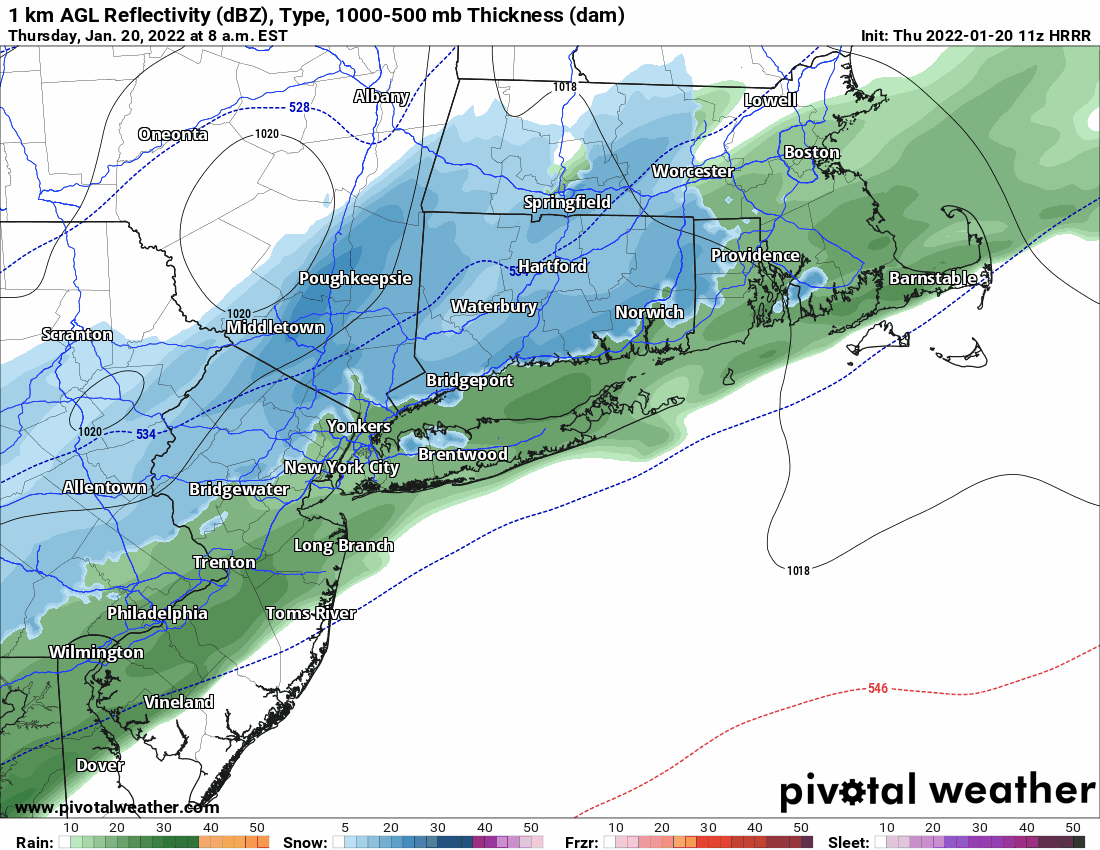 From there, a cold front will pass, flipping winds from southwest to northwest across the area. That will bring a drop in temperatures, cold enough to flip rain to snow.
This has also been delayed. This is partially because cold air does take a long time to flip from rain to snow but it's also because the precipitation is taking longer to arrive.
Figure that it will snow as early as 9:30 a.m. in Manchester or Bridgeton, but take until noon for a flip to Cape May.
Light to moderate (0.5 to 1.0 inch per hour snow) will be around for the midday and afternoon. The slower timing of the front means that snow will end between 3 and 5 p.m., again from west to east. 
A coating to 1.5 inches will be likely for most of our region. However, 1.5 to 3 inches will fall in places like Bridgeton or Manchester, closer to the New Jersey Turnpike. I'd use the lower end of the totals for this.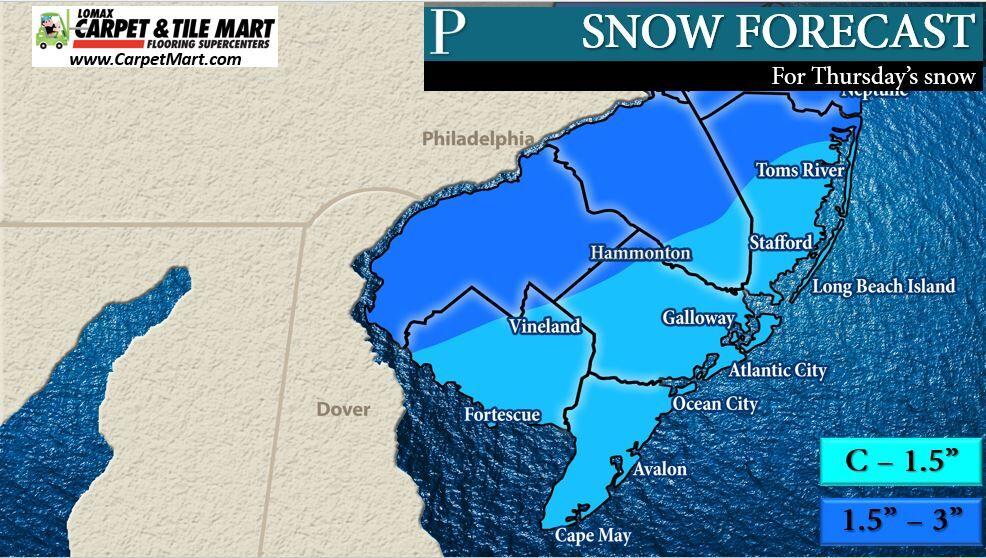 7:30 a.m. - Joe Martucci here. As the rain turns to snow, I want to see your snowfall measurements. Submit them on social media. Just make sure to include a photo with the ruler in the ground. 
A fairly minor snow event will take hold of the region Thursday.
A cold front will pass Thursday morning, flipping winds from southwest to northwest across the area. That will bring a drop in temperatures, cold enough to flip rain to snow. This will likely occur as early as 8 a.m. in Bridgeton or Manchester and as late at 10 a.m. in Atlantic City and Cape May. 
Light (under 0.5 inches per hour) to moderate (0.5 to 1.0 inch per hour snow) will be around until it ends 1 to 3 p.m.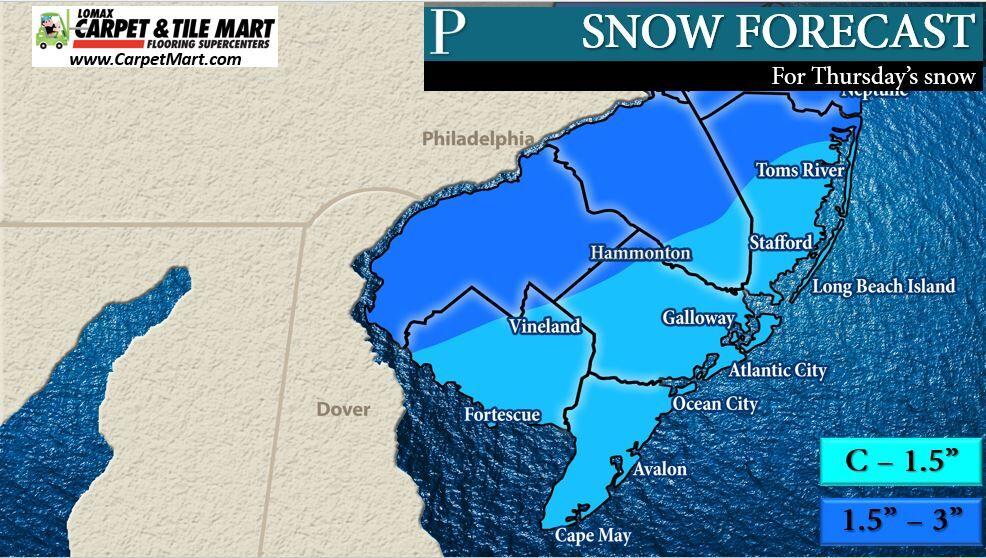 I bumped up snowfall totals slightly compared to Tuesday. A coating to 1.5 inches will be likely for most of our region. However, 1.5 to 3 inches will fall in places like Bridgeton or Manchester, closer to the New Jersey Turnpike.
Weather: Coastal storm grazes South Jersey Friday night, next week stays cold
Why is it so active?
The jet stream, the river of air roughly 30,000 feet high that separates two airmasses that is often times the storm track at the surface is locked in a position that allows for cold air to drain in from Canada while also allowing storms to move from the South in a northeasterly direction. While it's meant meteorologists keeping a close eye on what's next, airplane pilots and passengers are enjoy flights arriving much ahead of schedule from the South to the North. 
Taking a deeper dive into this, the Pacific North American teleconnection pattern (PNA) is in a positive phase. That favors a trough of lower pressure aloft, which is cold, to sit in the Eastern United States. For December, up until the record high temperature set at Sen. Frank S. Farley Marina in Atlantic City on Jan. 2, the PNA was negative, keeping the cold air to the west and mild air in the east.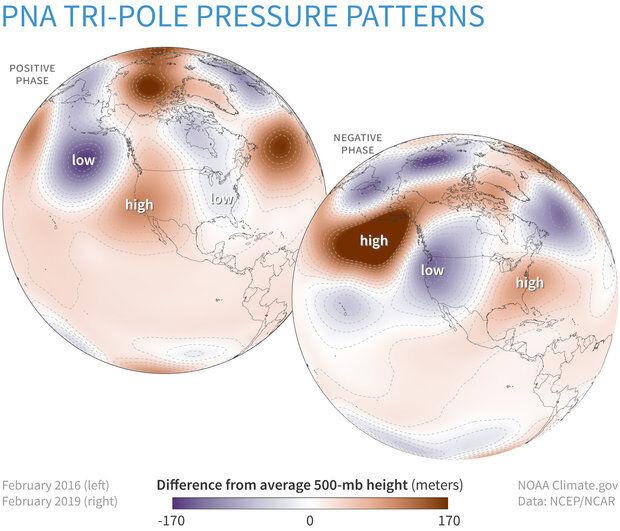 The North Atlantic Oscillation (NAO) is a phrase more often used to describe our pattern. This looks at the air pressure difference between Iceland and the Azores, located off of Portugal. The NAO has been in a neutral phase, meaning no real signal. A negative NAO would bring a blocking high pressure to southern Greenland, which prevents storms moving off the East Coast from going east, well out to sea from New Jersey. 
Friday night to Saturday: Storm mainly slides south
The cold front with the rain and snow Thursday runs from Newfoundland to Florida to Texas Friday afternoon. 
This will lay down the railroads tracks needed for this storm to move northeast off the Florida coast. Arctic, dry, high-pressure in New England will push that train track southeastward before the low-pressure rides along it Friday night.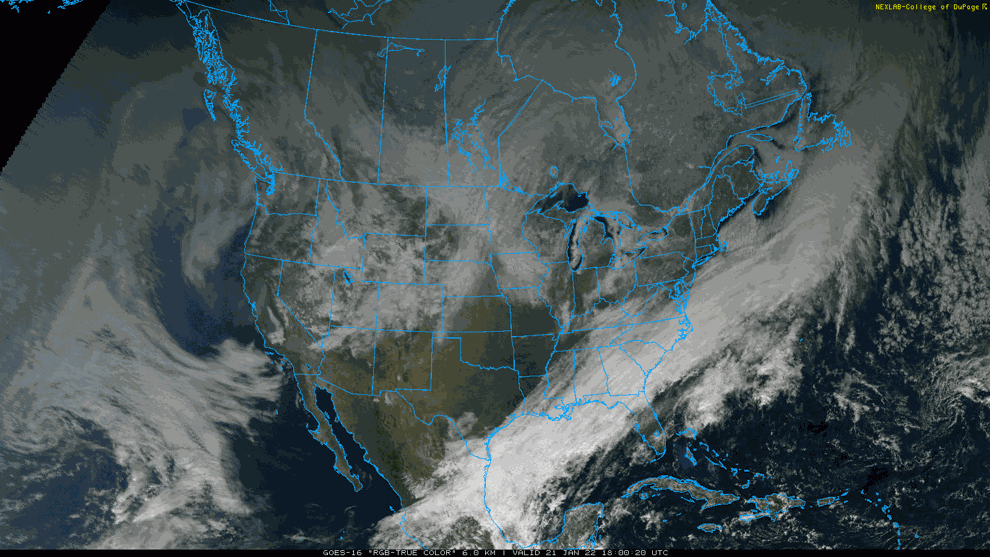 That will be the difference maker. The greater the difference between the air temperature and the dew point, the drier it is. On Friday afternoon, they're about 20 degrees apart, pretty far if you're looking for snow at night. Dew points have been in the single digits in South Jersey for most of the day.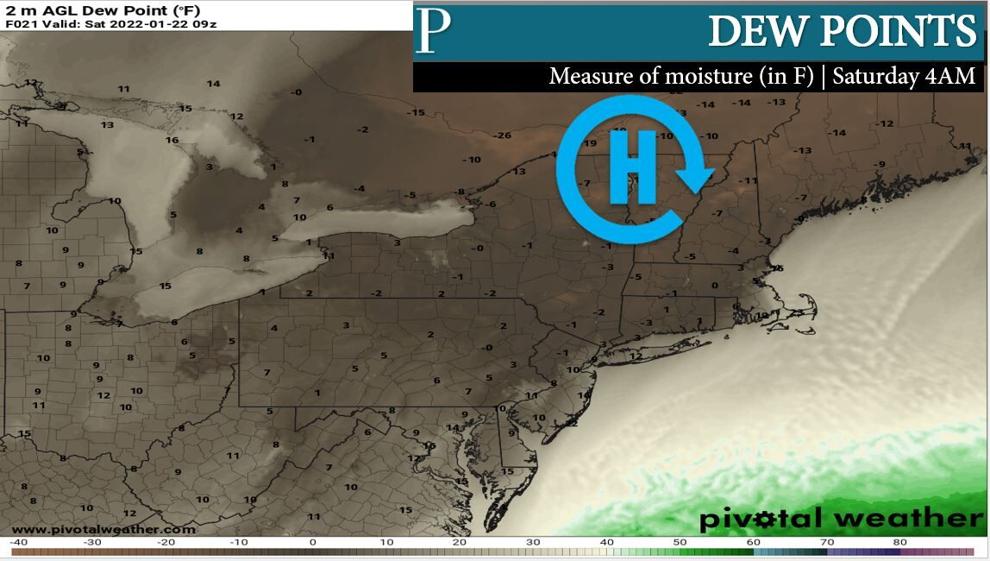 That storm will bring in more moisture as it tracks northeast from the Carolinas, where the difference is less than five degrees along the coast. 
By Friday night, I believe that dew point to temperature difference will be close enough where snow happens in the peninsular part of Cape May County. 
The timeframe for snow will be between 11 p.m. and 5 a.m. Friday into Saturday. The snow that falls will be light but can cover the ground, given the cold conditions and overnight timing. 
Snowfall totals will be from scattered coatings to as high as one inch from Dennis Township to Sea Isle City on south. Outside of there, flurries will be possible in Atlantic City or Maurice River township. Beyond that, not a flake will fly in towns like Deerfield and Barnegat Light.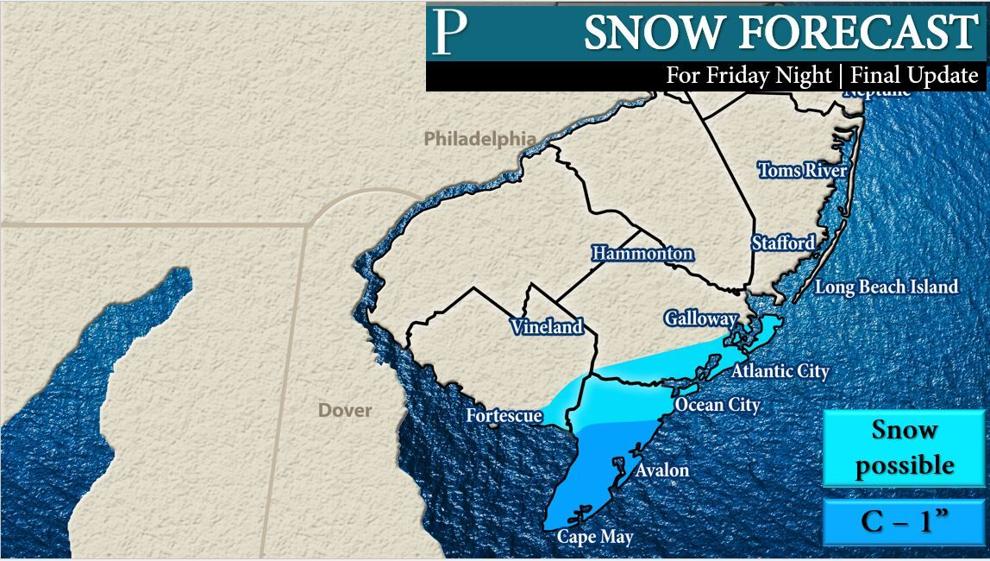 Given the weak northeasterly winds expected and a moon phase that favors lower tides, coastal flooding is not anticipated. Wind damage or power outages will not be a problem. 
Sunday: Swing and a miss from nor'easter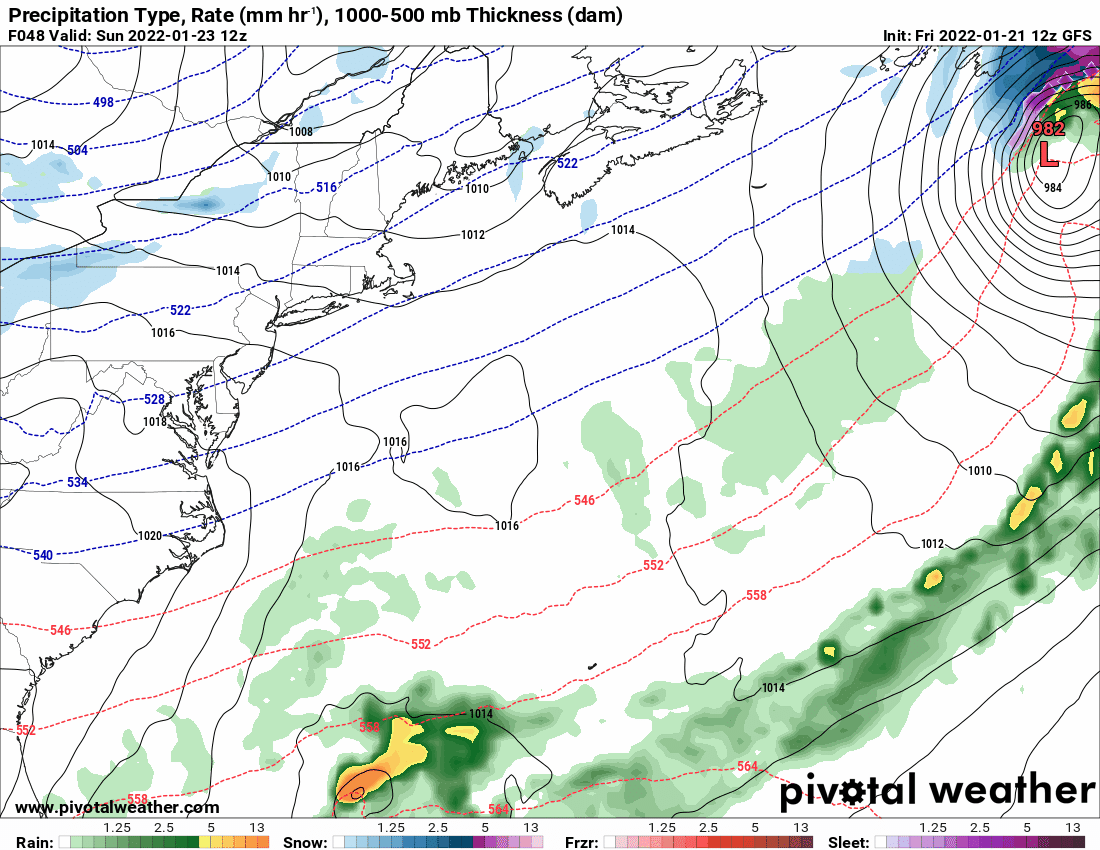 It'll be a dry day with high temperatures finally rising above freezing, getting into the mid-30s. Expect a mix of clouds and sun. 
A storm system I was watching earlier in the week will be very far out to sea. That being said, a snow showers will be possible Sunday night from 10 p.m. to 4 a.m., as a weak disturbance passes. 
Next Week: Fast moving, weak low-pressure systems pass.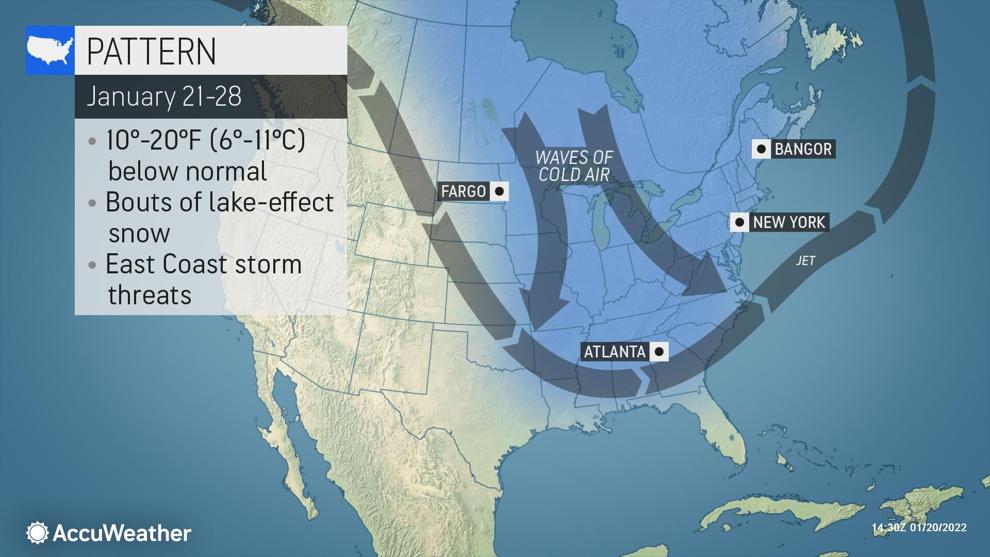 The PNA will remain positive, supporting cold air in the east. A neutral to slightly positive NAO will bring a faster moving jet stream through the workweek.
An Alberta Clipper, a cold, quick moving low-pressure system, will meet up with plenty Gulf of Mexico at some point Tuesday p.m. into Wednesday a.m. Beneficial rain showers are expected, but that is all. 
Winds will be strong out of the north Wednesday, bringing the polar plunge back to South Jersey. 
We're then tracking another storm for the weekend. The details are too murky to go into specifics but it does look like the jet stream will move in a more south to north direction, slowing any systems. Therefore, if something were to arise from this, it'd hang around for a day or so. 
Expect highs in the 30s and low in the teens inland and lower 20s at the shore for most of the week. The only exception will be Tuesday, where it will be in the 40s for highs. 
WATCH NOW: What exactly are nor'easters?
While nor'easters bring everything from strong winds to heavy precipitation to coastal flooding, Meteorologist Joe Martucci says there's one simple phrase to define it. Joe explains what nor'easters actually are and how they form.
Contact Joe Martucci:
609-272-7247
Twitter @acpressmartucci