Atlantic City Electric released the following information in regards to the power outages, which, at one point, consumed 209,000 customers.
"We will continue to work around the clock until every customer is restored," said Gary Stockbridge, Atlantic City Electric region president. "This storm was incredibly destructive, and we will continue to keep our customers informed as we complete our assessments of the damage. We know power outages can add additional stress during an already difficult time and we want customers to know that we are working to restore their service safely and as quickly as possible." 
A significant amount of work remains to repair the damage and customers should be prepared for a multi-day restoration effort.
Ocean County roads crews continued to scour the 618 miles of county roads on Wednesday for downed trees and broken branches causing havoc for motorists and homeowners. The county also issued an emergency declaration allowing the county to tap into resources in order to expedite the ongoing cleanup and other storm related activities.
Freeholder Director Joseph H. Vicari. met with Gov. Murphy earlier Wednesday in Jackson Township and told the governor that the largest concern is the power outages.
"We have a very large senior population and also the number of people in the County swells at this time of year due to our tourism season," Vicari said. "From our most vulnerable citizens to our visitors, getting power restored is paramount at this time."
County residents can bring storm debris including downed tree branches to the county's regional recycling centers located in Lakewood and Stafford Township.
"Our homeowners can access the county recycling centers with their storm debris," said Ocean County Freeholder Gary Quinn, who is liaison to the county's recycling program. "I am happy we can provide this free service to our residents so they can quickly clean up their properties."
Widespread power outages continues to impact South Jersey.
As of 5:35 p.m., only Buena Borough and Brigantine had less than 5 percent of their towns without power, according to Atlantic City Electric. 
In Long Beach Island, over 99 percent of the island was without power. On mainland Ocean County, over 98 percent of the region was powerless. 
There is no estimated restoration time form the company. 
The tropical storm warnings are dropped for South Jersey. At the 5 p.m. update, Tropical Storm Isaias was located near Albany, New York, with maximum sustained winds of 65 mph. The tropical storm wind field remains large, stretching from Long Island to central Vermont. 
In addition to the Tornado in Marmora, the National Weather Service also reported a second in Ship Bottom.  
A waterspout came ashore near the borough on Long Beach Island Tuesday morning, part of a line of cellular thunderstorms on the northeastern side of the storm. A weather gauge measured a wind gust of 109 mph at 10:53 a.m.
The Ocean City Fire Department responded to a house on Central Avenue in the city after a roof uplifted from a house on Tuesday. Much of South Jersey is in a tornado and flood watch as Tropical Storm Isaias bears down on the Northeast, leaving more than 100,000 people without power in the area. The New Jersey coast can see winds up to 70 miles per hour due to the storm.
At least two trees are down in Dorset Avenue in Ventnor.
At 1 p.m. there were currently more then 3,000 active outages across South Jersey, according to Atlantic City Electric's outage map. 
There are more than 150,000 customers affected, according to the site.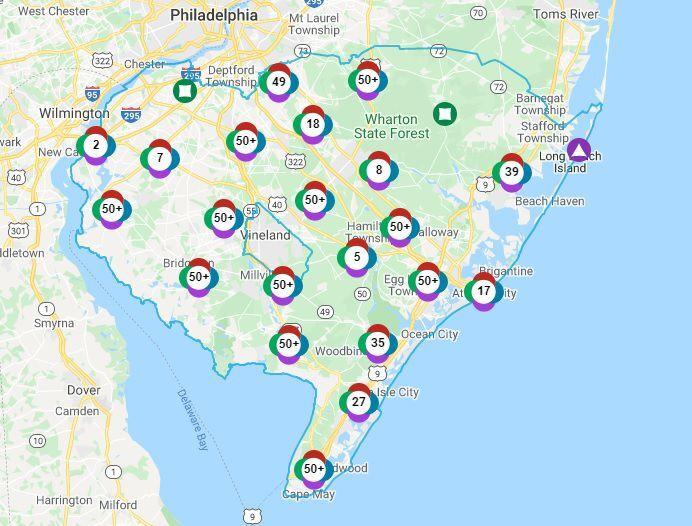 Last night, Gov. Phil Murphy signed an Executive Order placing New Jersey under a State of Emergency for the storm.
"We urge all New Jerseyans to stay off the roads and stay at home today," he said during a storm briefing Tuesday morning.
The entire state is under a flash-flood watch, and areas may experience some flooding, especially in low-lying areas. 
"If you are out on our roads and come across a flooded section, do not attempt to cross it," he said. "Turn around, don't drown. Especially with the flash-flood watches in effect, some flooded streets may have currents swift enough to wash a car into them.
He added that the state can expect wind gusts in excess of 40 miles per hour across most of the state, with the potential for even more damaging winds in excess of 70 miles-per-hour along the coastal areas.
A tornado watch is also posted for the entire state. Some watches will expire for some counties at noon, others at 4 p.m.
Lower Township officials asked residents to stay off the roads while officials clean storm damage from township roads.
"The Lower Township Office of Emergency Management is requesting that residents please try and stay off our roadways for the next several hours," according to a news release from police. "There are multiple trees and wires down across roadways from storm damage and our DPW Crews need time to clear the storm debris and trees. Thank you for your cooperation and patience."
 A tornado warning is in effect for parts of Cape May and Atlantic counties through 10:15 a.m.
A tornado is on the ground in Strathmere. 
A tree was knocked down on the Garden State Park way near mile marker 24, according to a a First Responder Twitter account.
A tornado warning was in effect for parts of Cumberland County. However, that has since been cancelled. 
At 9:15 a.m. Jerry Inderwies, Jr. City Manger and Emergency Management Director reported up to 10 fire calls, downed wires and a "surge" of winds in Cape May. 
A storm, with radar indicated rotation with in. passed just to the west of the city. However, strong winds were still present within the cells, which did move through. 
Two separate tornado watches are in effect for South Jersey Tuesday.
The first covers Atlantic and Cumberland Counties, and is in effect until noon. The next one is in effect for Atlantic, Ocean and counties northward. That is in effect until 4 p.m. 
Damage can occur with these storms, before the strongest winds from Isaias moves in. If you are in a tornado warning, get to the center of your building and to the lowest level, away from windows. 
On average, two tornadoes come through New Jersey each year, according to the National Weath…
All state Motor Vehicle Commission offices will be closed Tuesday due to the storm, according to the state.
UPDATE: All @NJ_MVC centers and state offices will be CLOSED today due to the State of Emergency. #Isaias

— New Jersey (@NJGov) August 4, 2020
The Casino Reinvestment Development Authority, or CRDA, has authorized the Wave Parking Garage, located at the corner of Mississippi and Fairmount avenues, to provide free overnight parking for all Atlantic City residents and visitors from 8:00 p.m. Monday evening through 8:00 a.m. Wednesday in preparation for the impending Tropical Storm Isaias, according to a news release.
Overnight parking will only be permitted on the 4th floor of the garage during this time, according to the release. Standard parking personnel will be on duty through the overnight hours. Residents will be required to show proof of residency.
Parking will be validated at the exit gate upon departure.
The Cove Beach in Hamilton Township will be closed to swimming on Tuesday due to expected Tropical Storm Isaias. The Cove will open again on Thursday from 11 a.m. to 6 p.m.
Due to the forecast of inclement weather related to Tropical Storm Isaias, curbside service at Atlantic County library branches is canceled for Tuesday but is expected to resume at all branches on Wednesday, from 9:30 a.m. to 5 p.m., unless otherwise noted, according to a news release from the city.
Cape May County officials have announced cancellations to government due to the storm.
The Freeholder Caucus scheduled for Tuesday has been canceled, according to a news release from the county. The caucus and regular Freeholder meeting will take place on Aug. 11 at 3 p.m. and the regular Freeholder meeting is scheduled for 4:30 pm.
Fare Free Transportation is suspending all services to the barrier islands on Tuesday and Wednesday, due to the potential of flooding, officials said. All services to the mainland will continue on the regular schedule during this time.
All services to the barrier islands will resume on Thursday, according to the release. There is no change to the services to the mainland during this weather incident.
Meals on Wheels will provide double service to cover meals for both Tuesday and Wednesday for those living on the barrier islands and impacted by the canceled services, officials said.
The Cape May County Park and Zoo are closed.
Freeholder Director Gerald M. Thornton advised all residents and visitors to take this storm warning seriously and follow safety guidelines in preparing for and during the storm.
"Remove or secure outdoor furniture and other items that can blow away from the high winds associated with a tropical storm and hurricane," officials said. "Stay indoors during the storm and if you must go out, avoid flood-prone areas for your safety and the safety of First Responders. Everyone is advised to follow posted notices at all beaches, and U.S. Coast Guard restrictions on boating during this storm. "
South Jersey is bracing for impact Tuesday morning as Tropical Storm Isaias is expected to bring heavy rains, dangerous rip currents and roadway flooding.
Gov. Phil Murphy is scheduled to hold a briefing at 10 a.m. about the storm.
Isaias was downgraded from a hurricane to a tropical storm Monday after making landfall near Ocean Isle Beach, North Carolina, according to an official with the National Hurricane Center.
The hurricane had touched down just after 11 p.m. on Monday with maximum sustained winds of 85 mph (136 km/h). The storm now has maximum sustained winds of 70 miles per hour (117 km/h).
"Now that the center has moved further inland into east North Carolina, the winds are now coming back down, so it has been downgraded back to a tropical storm," Robbie Berg, a hurricane specialist with the National Hurricane Center, told The Associated Press.
The weather service also said in its 4 a.m. advisory that threats of tornadoes were beginning to spread into southeastern Virginia.
The storm set off flooding and sparked five home fires in Ocean Isle Beach, Debbie Smith, the town's Mayor, told WECT-TV. Firefighters from the town's fire department were battling the blaze with assistance from Horry County firefighters in South Carolina, Tony Casey, a spokesperson for Horry County Fire Rescue, told The Associated Press.
About 80 miles (128 kilometers) north of Ocean Isle Beach, about 30 people were displaced due to a fire at a condominium complex in Surf City, news outlets reported. It is not clear if the fires were connected to the storm. No injuries have been reported.
The Associated Press contributed to this report.
Where is Isaias now? Where is the forecasted path?
New Jersey remains in the forecast cone. Options from a graze up the coast to an inland track near the Delaware River are possible. Tropical storm warnings extend from Boston, down the I-95 corridor to Myrtle Beach, South Carolina.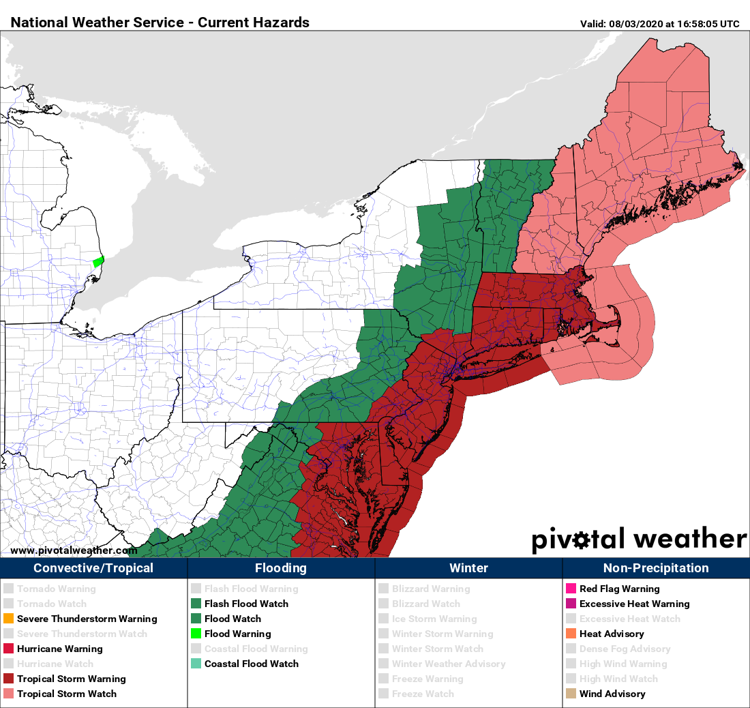 It is important to note that the heaviest rain will be to the west of Isaias' center. Meanwhile, the strongest winds will be to the east. 
WEATHER: What to expect from Isaias Tuesday in South Jersey
What are the threats for the mainland and the shore?
Mainland
The potential for roadway, stream and creek flooding will be the highest threat. However, recent developments makes winds an issue as well, especially if the center of the storm moves through the Garden State.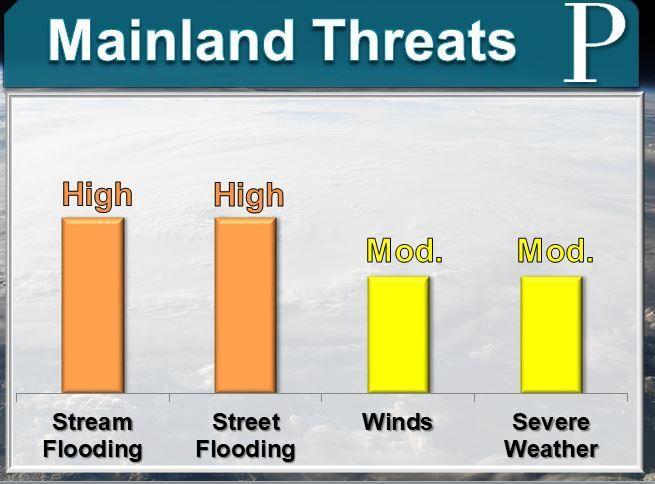 Shore
Rip currents and high surf continue to be the most dangerous threats from the shore. However, a bump up in the threat level for winds has been included. Tropical storm force winds (39 mph sustained or higher) will be likely for up to 5 hours Tuesday. Gusts up to 70 mph will be possible.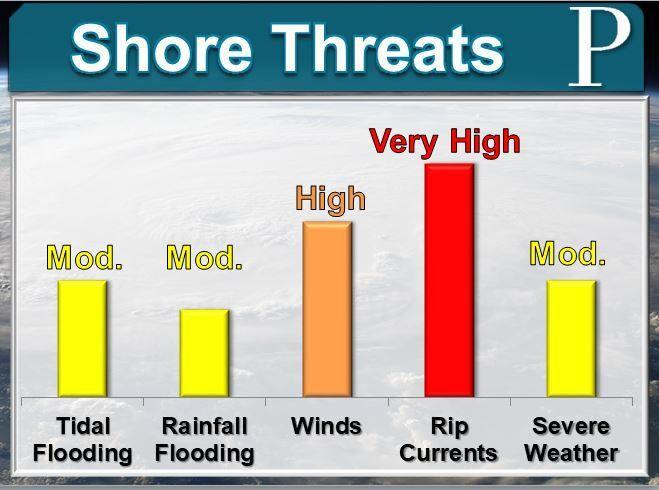 A closer look at: Rip Currents
A high risk of rip currents will be present Tuesday. Do not go out in the water, as the water will be dangerous. A high surf advisory is in effect from 8 a.m. Tuesday through midnight Wednesday, with surf heights 6 to 10 feet. 
Rip currents are caused by breaks in the sand bar. Water escapes quickly through them, dragging swimmers out to sea. During Tropical Storm Fay, an 18-year-old New York man drowned while saving two others in the waters.
If caught in a rip current, don't fight it. Let it pull you out to sea as you call for help. Once out of the rip current, continue to call for help, while swimming diagonally back toward the shore. 
A closer look at: Wind
For the shore, winds will be the biggest threat with Isaias. At the shore, and along the Delaware Bayshore, power outages, downed tree, flying loose objects and more will be expected. Restaurants with outdoor dining will need to secure all materials.
On the mainland, winds will also be the concern, especially in Cape May County. However, winds will be slightly weaker. 
Regardless of storm path, winds will be howling. The strongest winds are on the northeast side of the storm. So, even though a track up the Delaware River would yield a weaker storm, the region would be on the strongest side of it.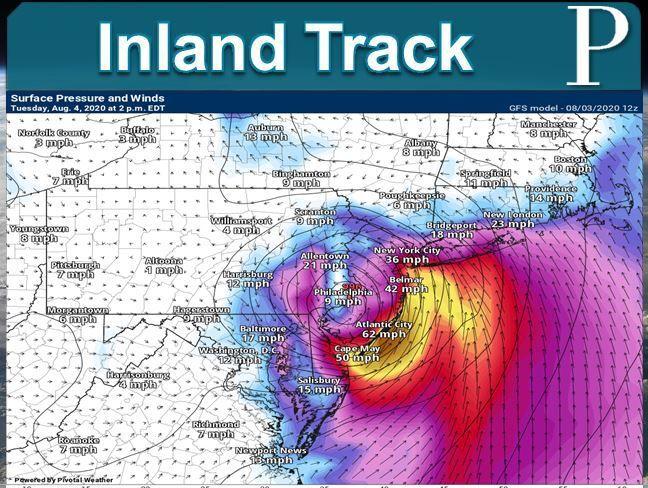 On the other hand, if the storm spends more time overwater, we'd be on the weaker, western side. However, the region would be so close to the core of the storm, the winds would still be high.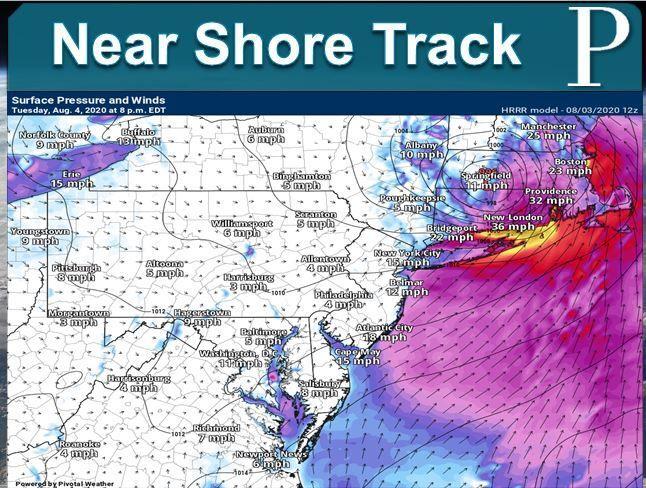 Here's an idea at on how winds will be Tuesday.
8 a.m. - Southeast 10-20 mph, gusts in the 20s for all.
11 a.m. - Southeast 25-35 mph with gusts to 50 at the shore, mainland will have 20-25 mph winds, with gusts to 40 mph
2 p.m. - Southeast to south 40-50 mph, gusts to 75 mph at the shore. The mainland will be 25-35 mph, with gusts to 60 mph. 
5 p.m. - Southwest winds 25-35 mph at the shore, with gusts to 50 mph. The mainland will be 20-25 mph with gusts to 40 mph. 
8 p.m. - Southwest winds 15-20 mph, with gusts to 35 mph at the shore. The mainland will be 8-14 mph, with gusts to 20 mph. 
Remember, emergency personnel are not allowed to respond, by law, when sustained winds are tropical storm force. 
A closer look at: Rain, Flash Flood Watch is in effect
Southeastern New Jersey should escape the worst of the rain from Isaias. More than likely, the heaviest rain should hold to the New Jersey Turnpike corridor, into eastern Pennsylvania. Still, areas of roadway, stream and creek flooding will be likely, mainly away from the shore. A flash flood watch is in effect from 10 p.m. Monday to midnight Wednesday, a change from earlier.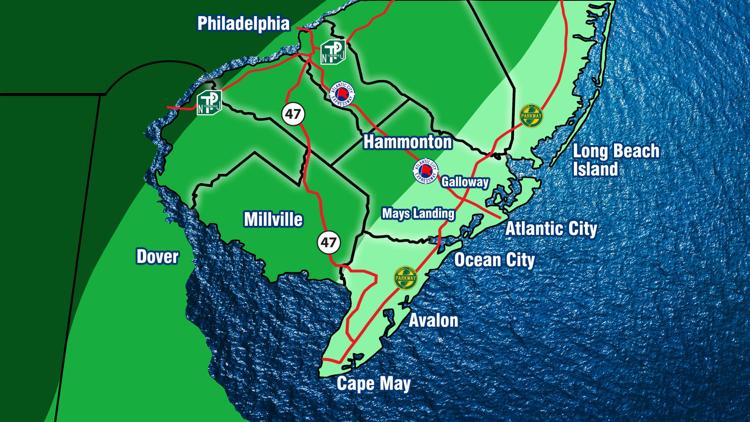 Rain showers and storm will be present overnight, especially before midnight. 
Steady rain will then enter the picture around 9 a.m. Tuesday. Rain will turn heavy, with torrential downpours expected during the midday and early afternoon. 
The steady rain will end by 12 p.m., as the storm lifts north. Then, expect just scattered showers until 4 p.m.
A closer look at: Severe weather, tornado watch in effect
Waterspouts and weak, isolated tornadoes will be possible with Isaias as it passes through South Jersey. A tornado watch is in effect through 12 p.m. for Cumberland and Cape May counties, with another watch covering Atlantic and Ocean counties through 4 p.m.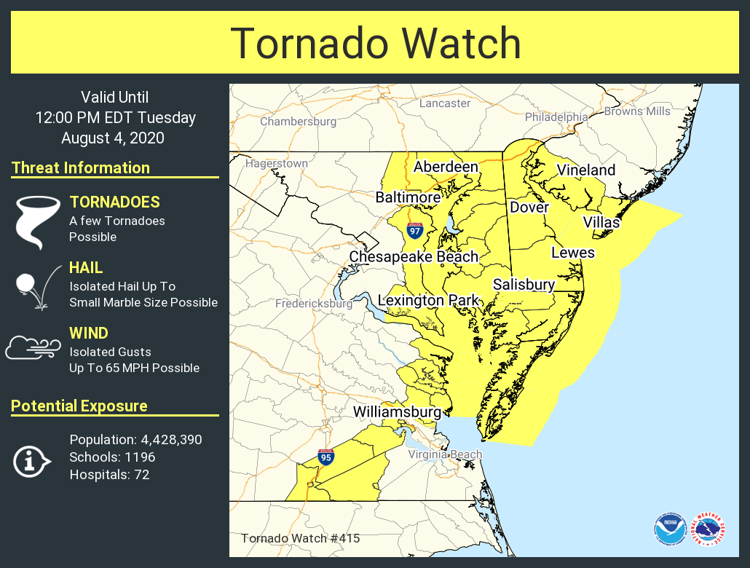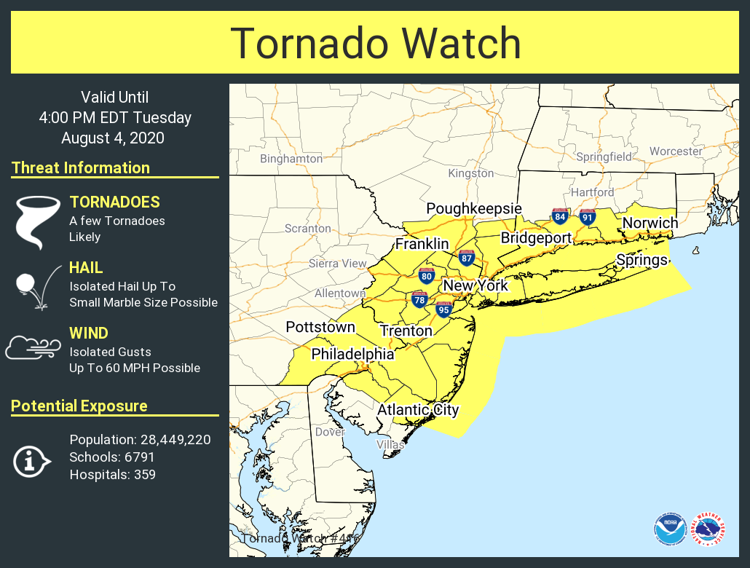 Tropical systems often have spinning supercell storms, where tornadoes come from. Secondly, the warm, moist air of a tropical system acts as the fuel needed for severe weather.
Hail will not be likely. Hail needs cold air aloft to form, which tropical systems do not bring. 
The Storm Prediction Center, a government agency in Norman, Oklahoma, has placed South Jersey in a level 3 of 5 risk for severe weather Tuesday. That's an upgrade from a level 1 forecast Sunday and a level 2 forecast Monday. Numerous severe storms are possible in this set up.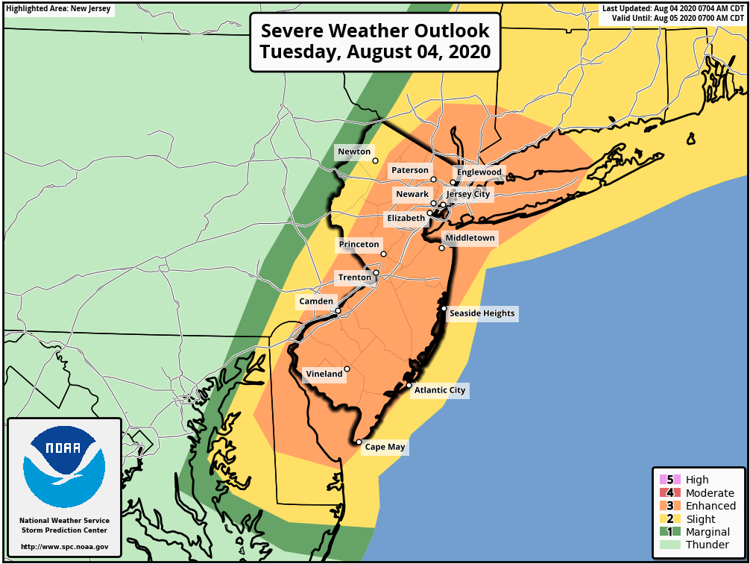 A closer look at: Coastal Flooding
No significant coastal flooding is likely -- great news for the Jersey Shore and Delaware Bay communities. 
However, minor, nuisance flooding, up to moderate flood stage will be likely. The full moon Monday, occurring at 11:58 p.m., will prime the waters with naturally higher tides. The Tuesday p.m. high tide, between 9 and 11 p.m., should be in minor, possibly moderate flood stage. The Tuesday a.m. high tide will be in minor flood stage for localized spots. 
The timing of the storm will be key. Low tides will be in the 2 p.m. hour on the ocean and the 3 p.m. hour on the bays. The strongest onshore winds likely will occur then. By the time of the evening high tide, winds could already be blowing west. This will bear watching.
The Delaware Bay likely will have the most coastal flooding, as Isaias will be a plug to the mouth of the bay. Even here, though, moderate flood stage, at worst, will be expected.  
To find coastal flooding on your block, go to the bottom of www.pressofac.com/weather, where you'll find Climate Central's Surging Seas Risk Finder. A how to video will show you how to search for the tidal information on your street. 
For more context on Isaías and the 2020 hurricane season
The Press of Atlantic City's Hurricane section of the Weather Center has the information you need to know to protect yourself and learn more about tropical systems in South Jersey. 
Ten tropical storms and hurricanes have made landfall in South Jersey since 1900. Here's the list, newly updated with Tropical Storm Fay, which made landfall July 10. As long as the storm makes landfall in New Jersey, it will be the first time with two storms making landfall within the same year.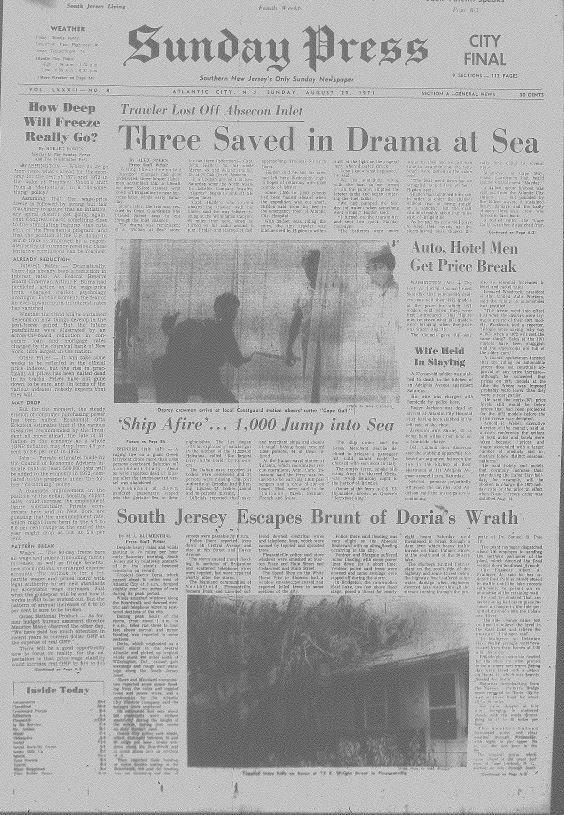 An active 2020 hurricane season was predicted by Colorado State University. With Isaias, 2020 continues its record breaking pace to hurricane season, beating out the historic 2005 year. 
How do you say Isaías?
"Isaías" is the Spanish and Portuguese word for the biblical Isaiah. It is pronounced ees-ah-EE-ahs.