Gov. Phil Murphy said Friday that the spot positivity rate has risen to 2.15%, and put those "on notice" who have flouted restrictions.
South Jersey has the highest daily positivity in the state, with 3.01%.
"These numbers are setting off alarms. The only way to silence these alarms is by taking this seriously," Murphy said during his daily briefing with other state officials. "Wear a mask. Stop hosting house parties. Now."
The number of positive cases of COVID-19 in New Jersey has increased by 699, bringing the total to 181,660, Murphy said. There have been 10 additional deaths, bringing the state total to 13,944.
There are also 1,875 probable deaths.
The state also hit an "extraordinary" milestone, Murphy said – there has been no hospital confirmed COVID-19 death in past 24 hours, the first time that's happened since mid-March.
There are 695 people hospitalized across the state, including 113 people in intensive care and 45 people on ventilators, Murphy said.
So far, Atlantic County has reported 3,539 cases with 239 deaths and 1,944 cleared as recovered. Cape May County has reported 975 cases with 81 deaths and 773 designated off quarantine. Cumberland County has reported 2,709 cases with 144 deaths.
Included in the totals are 42 additional positive cases that Atlantic County officials reported Friday.
They include 19 men, ages 22 to 80, and 23 girls and women, ages 1 to 67, according to a news release from county spokeswoman Linda Gilmore. There were seven in Atlantic City; six each in Absecon and Pleasantville; five each in Egg Harbor Township and Margate; three each in Hammonton and Longport; two in Egg Harbor City; and one each in Buena Borough, Galloway, Hamilton Township, Northfield and Ventnor.
Atlantic County will continue to provide COVID-19 testing at its drive-thru facility in Northfield at Rt. 9 and Dolphin Avenue, behind the county public works yard, each Tuesday in August, from 9 a.m. to 11:30 a.m., according to the release.
The test site is available for both symptomatic and asymptomatic county residents with or without a doctor's prescription, officials said. Residents must make an appointment for testing and provide proof of county residency and appointment confirmation.
Appointments can be made online at www.aclink.org. Officials asked those who are unable to keep their appointments to cancel no less than 24 hours in advance so others may have an opportunity to fill those spots.
For most people, the new coronavirus causes only mild or moderate symptoms, such as fever and cough. For some, especially older adults and people with existing health problems, it can cause more severe illness, including pneumonia.
Also during the briefing, Murphy called Senate Majority Leader Mitch McConnell "despicable" for sending members to a long weekend before extending federal unemployment benefits.
"Senate Republican Leader Mitch McConnell sent the Senate home for the weekend without taking any action to renew federal unemployment benefits for millions of families," he said. "Completely irresponsible and a dereliction of duty."
Murphy also announced an update to the state's COVID-19 dashboard, where case data and fatalities are reported.
Now, the dashboard shows:
Number of cases can now be viewed by the date of illness onset
Breakdowns by race and ethnicity are given greater clarity
Posting the complete curve of confirmed deaths by date of death
Posting the dates of deaths we currently have listed as probable
Providing statewide and county-level trends in confirmed cases, deaths, and hospitalizations over time
Posting percent positivity by region and date
Department of Health Commissioner Judith Persichilli announced $32.3 million in federal funding for public health efforts across the state, particularly county and local health departments.
There are no live briefings scheduled for the weekend. The next live briefing is scheduled for 1 p.m. Monday. 
Officials at the state Motor Vehicle Commission announced Friday that driver knowledge exams, also known as "written" driver tests, will be available to all drivers, including commercial drivers, by appointment starting Monday.
All Licensing Centers except Oakland and Flemington will offer the tests, according to a news release.
Officials cautioned customers that demand will be high, so it may take time to secure an appointment.
Road tests, which re-started Wednesday, continue on a by-appointment basis. More information about road tests is available at the MVC website.
For more MVC news and updates, visit NJMVC.gov.
Airbnb on Friday announced action to crack down on party houses throughout the state.
As part of this, 35 listings across New Jersey that have received complaints or otherwise violated our policies on parties and events have been either suspended or removed from the Airbnb platform, according to a release from the company.
They did not release the addresses for the suspended listings, citing respect for the privacy of the hosts and homeowners
While the vast majority of hosts in New Jersey take important steps to prevent unauthorized parties - like establishing clear house rules, quiet hours, and communicating in advance with their guests - our actions today address the small minority of hosts who have previously received warnings about hosting responsibly, according to the release. The suspensions were communicated to the hosts beginning yesterday.
"We stand with Governor Murphy, and we support his call to action to stop parties and promote behavior that respects the public's health," said Chris Lehane, SVP of Global Policy & Communications for Airbnb. "We ban party houses and will not tolerate irresponsible behavior on our platform. We know that there is still more work to be done, we ask that neighbors contact us as soon as possible through our Neighborhood Support Hotline, to directly communicate any concerns, which will help us continue to effectively enforce our party house ban."
The suspensions and removals impacted listings in the following South Jersey cities:
Atlantic City
Brigantine
Stafford Township
Ventnor City
Stopping large gatherings is more important than ever in this current environment, officials said. The party house measures come on the heels of several other anti-party initiatives from Airbnb, including a strengthening of our policies to prohibit gatherings that violate public health mandates.
Another COVID-19 testing site is coming to South Jersey.
A testing site in Vineland at Rock of Salvation Church, 513 E Grape St., will be open from noon to 7 p.m. Wednesday.
In a weekly update to residents Thursday, Sea Isle City Mayor Leonard C. Desiderio announced the cancellation of another city event.
"Unfortunately, because of COVID-19, we are forced to cancel most of the events that were scheduled for this year's Fall Family Festival Weekend in September," he said. "Because huge crowds gather each year for the festival's vendors market, food court and family-friendly activities, we simply do not feel that they can be held in a safe manner."
However, officials still plan to hold the Fall Festival Antique Auto Show on Sunday, September 20, along the Promenade, which can be held with social distancing, according to the letter.
"After the awards are presented to the winners of this year's auto show, we will then have the annual Fall Festival Antique Auto Parade at 1:30 p.m. on September 20," he said.
Additionally, in lieu of this year's Fall Festival Vendors Market along the Promenade, Desiderio is inviting all Sea Isle City businesses to participate in a city-wide Sidewalk Sale on Saturday, September 19.
Details about that event will be shared in the weeks ahead, he added.
In addition, a "Flyers Caravan" is coming to the city August 10 at 5:30 p.m., at which time the Flyers will host a socially-distanced "Mobile Pep Rally" along Fish Alley and other streets in the community, he said. The Mobile Pep Rally will include Flyers alumni, Gritty (the wild-eyed Flyers Mascot), and other festive participants.
"We all know that these are economically challenging times for our nation and the world – including for small business owners," he said. "Knowing this, I once again encourage everyone to 'shop locally' and support our community's businesses whenever you can. We have amazing shops, fantastic restaurants and other fine businesses here in Sea Isle City – and each one is doing all they can to provide the products and services that the people of our town need and desire. Case in point, many of our restaurants traditionally do not provide take-out services, yet many of them are now providing wonderful meals-to-go that people are enjoying in their homes rather than in the restaurant's indoor dining rooms. Because these are such unusual circumstances for our local businesses and their customers, I thank everyone for their patience and consideration as we support Sea Isle City's business community."
State officials scheduled a 1 p.m. briefing Friday to update residents on the spread of COVID-19.
Appearing for the briefing will be Gov. Phil Murphy, Department of Health Commissioner Judith Persichilli, Department of Health Communicable Disease Service Medical Director Dr. Edward Lifshitz and State Police Superintendent Colonel Patrick Callahan.
In addition, Murphy is scheduled at 7 p.m. to throw the first pitch at the Last Dance World Series Championship Game at Arm & Hammer Park, 1 Thunder Road, Trenton. Then, at 10 p.m., he is slated to appear on "CNN Tonight" hosted by Don Lemon to discuss the state's response to the new coronavirus.
So far, Atlantic County has reported 3,497 cases with 239 deaths and 1,926 cleared as recovered. Cape May County has reported 975 cases with 81 deaths and 773 designated off quarantine. Cumberland County has reported 2,709 cases with 144 deaths.
For most people, the new coronavirus causes only mild or moderate symptoms, such as fever and cough. For some, especially older adults and people with existing health problems, it can cause more severe illness, including pneumonia.
2020 hurricane season now forecasted to be the second most active in Aug. update
The Aug. 5 Atlantic Hurricane season update from Colorado State University (CSU) forecasts in total tropical activity take a large step up, enough to make the 2020 hurricane season the second most active on record. 
As of Aug. 5, nine named storms have formed in the Atlantic Hurricane basin, which includes the Gulf of Mexico. That is on pace to break the record, last set in 2005. Given this, CSU forecasts 24, named tropical storms or hurricanes to occur. That is an increase from the 20 last predicted in the July update. Out of the 24, 12 hurricanes and 5 major, category 3 or greater (at least 111 mph sustained winds) are forecasted.
In July, the number of forecasted hurricanes and major hurricanes were 19 and 9, respectively. 
"We have increased our forecast and now call for an extremely active 2020 Atlantic hurricane season" the CSU report read, which is led by Philip J. Klotzbach, Michael M. Bell, and Jhordanna Jones. 
The 1981-2010 average of activity includes 12.1 tropical storms, 6.4 hurricanes and 2.7 major hurricanes, respectively. 
There still remains an above average risk of a major hurricane making landfall on the East Coast of the United States, including the Florida Peninsula. The 49% chance is an increase from 45% in the July update. On average, there has been a 31% probability of a strike in the last century.
CSU attributes warmer than average waters in the subtropical Atlantic Ocean, slightly warmer than average waters in the tropical Atlantic as reasons for the active forecast. Furthermore, there's a lack of wind shear, or change of winds with height, which can rip storms apart. A transition from the current El Nino Southern Oscillation (ENSO) neutral state to a La Nina late in the summer puts more confidence that wind shear will remain light.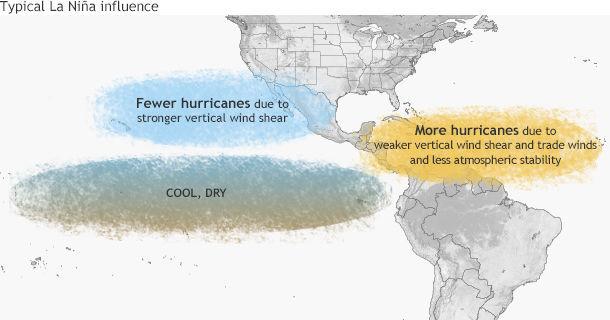 Tropical cyclone names rotate every six years. Exceptionally notable hurricane names, such as Sandy, become retired by the World Meteorological Organization. However, no names were retired in 2014, meaning 2020 will have the same list as then.
Arthur - Used
It's the sixth year in a row that a named tropical system has developed in the Atlantic Hurricane Basin before the June 1 official start.
Bertha - Used
Tropical Storm Bertha is the second tropical storm or greater storm to have formed in the Atlantic Hurricane basin before the official start June 1. This is only the sixth time since records have been kept in the 1700s that two tropical storm or greater storms have formed before the start. 
Even though the official start to the Atlantic Ocean hurricane season is June 1, May has not…
Cristobal - Used
Dolly - Used
Dolly was the third earliest fourth named (D storm) storm in Atlantic Hurricane history, which goes back to 1851. It also flared up further north than any tropical storm before July 1 in recorded history, according to Sam Lilo, postdoctoral researcher at the National Oceanic and Atmospheric Administration
#Dolly has formed in the North Atlantic - the 3rd earliest 4th Atlantic named storm formation on record (since 1851). Danielle is earliest on 6/20/2016. Debby is 2nd earliest on 6/23/2012 at 12 UTC. Dolly in 2020 formed on June 23 at 1615 UTC. #hurricane pic.twitter.com/1Ha6ZnxHqc

— Philip Klotzbach (@philklotzbach) June 23, 2020
Edouard - Used
The Atlantic Hurricane season continued its blistering pace. Edouard, which developed July 6, was the earliest fifth named (with the letter "E") storm in Atlantic Hurricane history, which goes back to 1851. This is according to Philip Klotzbach, Meteorologist at Colorado State University, who issues a highly reputable hurricane forecast each year and is used by The Press. 
The previous record was held in 2005 with Emily, which occurred on July 12. 2005 holds the record for the most active hurricane season on record in the Atlantic Hurricane basin, with 27 named storms.  
However, all of the storms to this point have all been tropical storms. Some, like Edouard, likely would not have even been noticed before the satellite era, as they were out to sea and may have been missed by shipping routes. 
Fay - Used
Tropical Storm Fay will go in the record books for multiple reasons.
- It is the tenth tropical storm or hurricane to make landfall in New Jersey since 1900. 
- It made landfall just south of Holgate, on Long Beach Island, this is, incredibly, about ten miles away from where Tropical Storm Irene and Superstorm Sandy made landfall, right near Brigantine.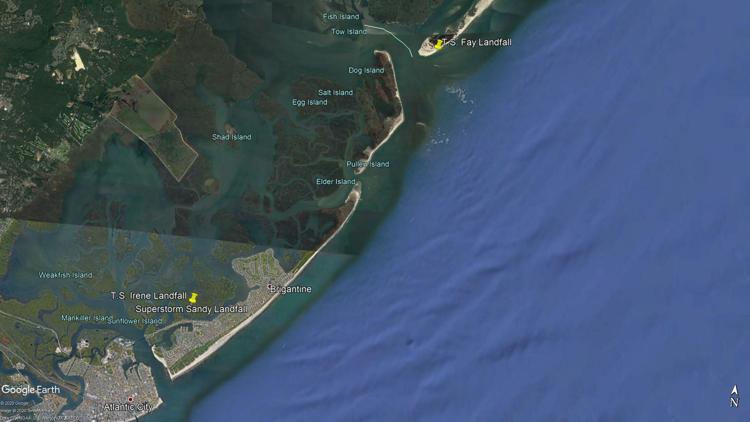 - Fay was the earliest sixth tropical storm or hurricane to form in the Atlantic Hurricane basin, since records started in 1851. On other words, it was the earliest "F" storm on record. 
Gonzalo - Used
Tropical Storm Gonzalo formed as a tropical depression July 21 and turned into a named storm July 22. 
Hanna - Used
Tropical Storm Hanna formed Thursday, July 24. That put the 2020 hurricane season in a big lead over the 2005 hurricane season for the quickest, most active start. In 2005, Harvey formed on August 3, putting the 2020 season roughly two weeks ahead of 2005.
According to Retired National Weather Service Meteorologist Jim Eberwine, this was the first time in 22 that there have been eight tropical storms, without any hurricanes. However, its upgrade to a hurricane July 25 meant this streak was broken. 
Isaias - Used
The fourth largest power outage event in Atlantic City Electric's history came with Isaias, which passed to the west of New Jersey as a tropical storm. 
Isaias continues the blistering pace of the hurricane season, beating out the 2005 season. The "I" storm then, Irene, developed on August 7.
Hurricane Irene would be retired by the World Meteorological Organization in 2011. The storm brought power outages to over 100,000 in South Jersey, a tornado in Vineland and nearly a foot of rain to the Wildwoods. 
This also ties the record for the most number of July tropical systems in a month, at five. 
Josephine
Kyle
Laura
Marco
Nana
Omar
Paulette
Rene
Sally
Teddy
Vicky
Wilfred