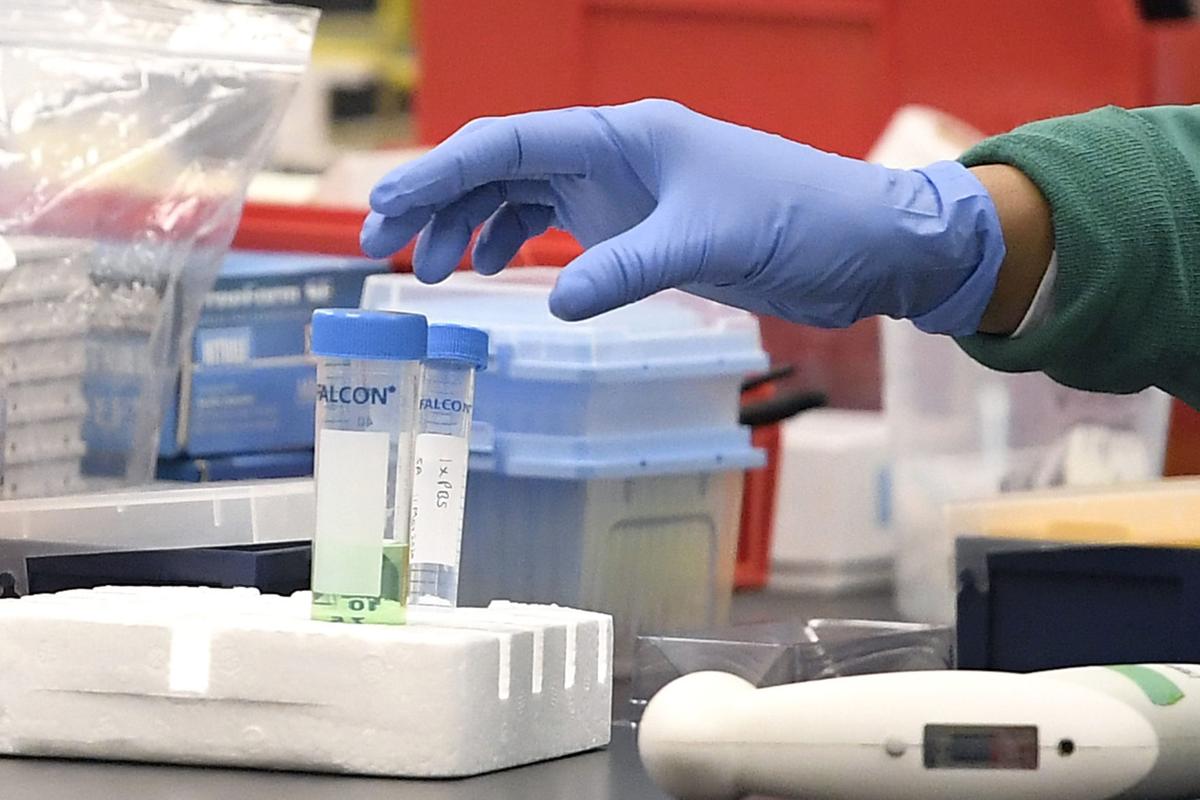 Gov. Phil Murphy announced Monday that there are 3,347 new positive COVID-19 cases throughout the state since Sunday.
There are a total of 16,636 cases in the state. There are also 37 more deaths due to the virus, totaling to 198 deaths in the state.
Five additional COVID-19 cases were confirmed in Atlantic County as of Monday morning, for a total of 30 cases countywide. There are 12 cases in Cumberland County and 15 in Cape May County.
"The absolute, number one weapon at our disposal is the one that we've been pounding away on day in and day out, and that is stay at home, practice social distancing,period," Murphy said.
He displayed a chart during the announcement that showed that by mid to late April 80,000 people would need to be hospitalized in New Jersey where there are only 18,000 hospital beds if no social distancing was practiced.
The governor last week also called for anyone with prior medical experience to volunteer at the frontlines of the pandemic. Since putting out the call, 3,611 healthcare volunteers stepped forward.
The NJ Department of Human Services also announced $70 million in additional SNAP benefits will be made available over the next two months to qualified NJ beneficiaries. Funds will be loaded directly onto a family's EBT card.
A new executive order allows auto dealerships to conduct online or remote sales. Authorize dealers may deliver vehicles directly to their customers or arrange for curbside pickup at a dealership. Realtors can still show houses to prospective buyers on a 1-on-1 basis or to immediate families. There is still a prohibition on open houses.
SIX FLAGS SUSPENDS OPERATIONS
Six Flags Great Adventure & Safari and Six Flags Hurricane Harbor temporarily suspended operations and will open in mid-May, or as soon as possible thereafter. There are no reported cases of COVID-19 at the property.
For guests with prepaid tickets, the valid dates have been extended to the end of the 2020 season. For current 2020 season pass holders, passes will be extended for the number of days the park is temporarily closed. Six Flags Great Adventure members will receive a month for each month that the park is closed plus a free membership level upgrade for the rest of the 2020 Season.
DRBA DONATES MASKES AND GLOVES
The Delaware River and Bay Authority (DRBA) donated 4,000 N-95 respirator masks and 2,000 pairs of disposable gloves to medical centers and first responder agencies in South Jersey and Delaware.
Of the donated items, 500 masks and 250 pairs of gloves were each provided to Salem Medical Center, Cape Regional Medical Center Cumberland County Fire/EMS and Gloucester County Fire/EMS. Two thousand ma
"We recognize the dire need for N95 respirator masks in our region and we're thankful to be in a position to share what we have," said DRBA Executive Director Thomas J. Cook. "Medical professionals and first responders are on the front lines in this battle to contain the outbreak and we want to do what we can to support their lifesaving mission."
SHOPRITES TO LIMIT SHOPPERS
Area ShopRites will limit its number of shoppers to about 30% of regular maximum occupancy after several store locations confirmed positive COVID-19 cases among its employees, according tohe store's local Facebook pages. Under the new restrictions, one store entrance will be open during operating hours and a security guard will be stationed at the entrance to track the number of customers entering the store. Local ShopRites enforcing the new restriction are located in Egg Harbor Township, Somers Point, Galloway, Absecon, Hammonton, Vineland, Marmora and Rio Grande.
8 NURSING HOME RESIDENTS DIE
Eight residents of a nursing home in northern New Jersey have died from COVID-19, and the total number of deaths in the state approaches 200, officials said.
Wanaque Mayor Michael Mahler said in a letter on the town's website that the community nurse notified him that the deaths occurred at Lakeland nursing home and that other residents and staff members also were infected.
The number of nursing homes with positive COVID-19 cases continues to climb, according to Health Commissioner Judy Persichilli. There are positive cases now in 73 of the state's 375 facilities. Last week the figure was just over a dozen.
New Jersey brew pubs will now be able to deliver, Murphy said Monday.
The state's Division of Alcoholic Beverage Control had previously barred such delivery.
He also said that auto retailers would be permitted to conduct online sales, with customers allowed to pick up vehicles at dealers or for dealers to deliver
Murphy, a Democrat, said in a tweet that 300 ventilators are on their way to New Jersey from the national stockpile.
Murphy said he spoke with the White House about the need for the equipment in multiple conversations. He said they are the state's No. 1 need.
Belmar decided Monday to close its boardwalk, one of the most heavily trafficked spots at the Jersey shore in recent weeks.
The borough will still allow people to use the beach, but police will monitor them to ensure they are observing social distancing.
Belmar's boardwalk is one of the more narrow oceanfront walkways at the shore, and has been drawing heavy crowds recently, particularly as other shore towns closed their own boardwalks.
A liquor store that was inundated with residents of Pennsylvania, where the state has closed the wine and hard-alcohol shops it runs, has reopened, the store's manager told NJ.com.
Johnny Canal said he decided to close the Pennsauken store last week after it was swamped by residents from Pennsylvania over concerns that customers were not adhering to social-distancing precautions.
The store reopened after it updated a sign outside saying that "Social Distancing Saves Lives," and employees directed customers where to stand in line.
The Associated Press contributed to this report.
Contact: 609-272-7239
Twitter @ACPress_CJ
Source: State of New Jersey Department of Health