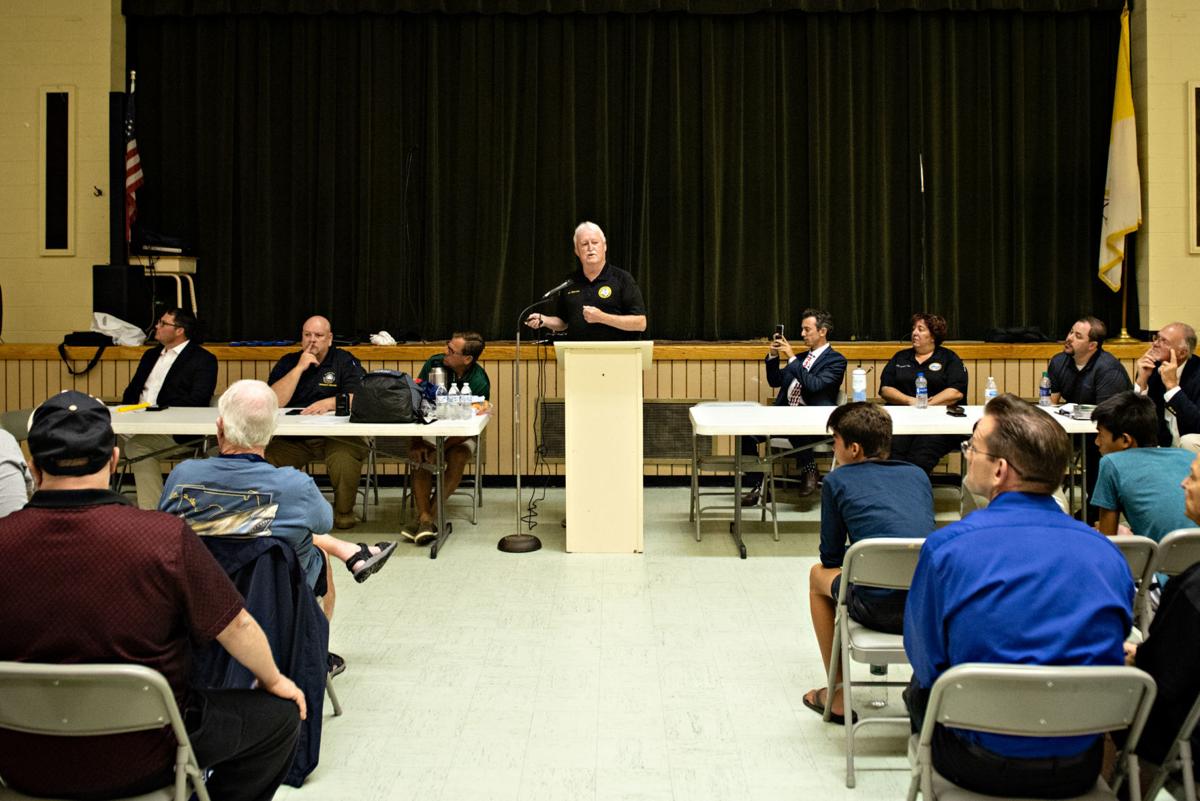 MARGATE — With Tropical Storm Elsa bringing over 70 mph winds, two tornadoes and heavy rain, and an active rest of the hurricane season ahead, the Downbeach Community Meeting will prepare you for what's to come.
The annual meeting will be held from 6:30 to 8 p.m. Thursday at the Margate Municipal Building, 9001 Winchester Ave. The event is free to attend.
You will have the opportunity to ask questions to a panel of municipal officials, utility company representatives and more. Press of Atlantic City Meteorologist Joe Martucci and Absecon Emergency Management Coordinator Jim Eberwine will give a hurricane presentation, with sessions from Ventnor, Margate, Longport, the Atlantic County Office of Emergency Management, South Jersey Gas, Atlantic City Electric, Comcast and Ventnor Veterinary Office.
You will also be able to hear an update about the state's Coastal Resiliency Plan, which includes raising the base flood elevation 5 feet above current levels.
Here's the full list of 2021 tropical system names, forecast after Elsa hit N.J.
Comparing Colorado State University's forecast to the average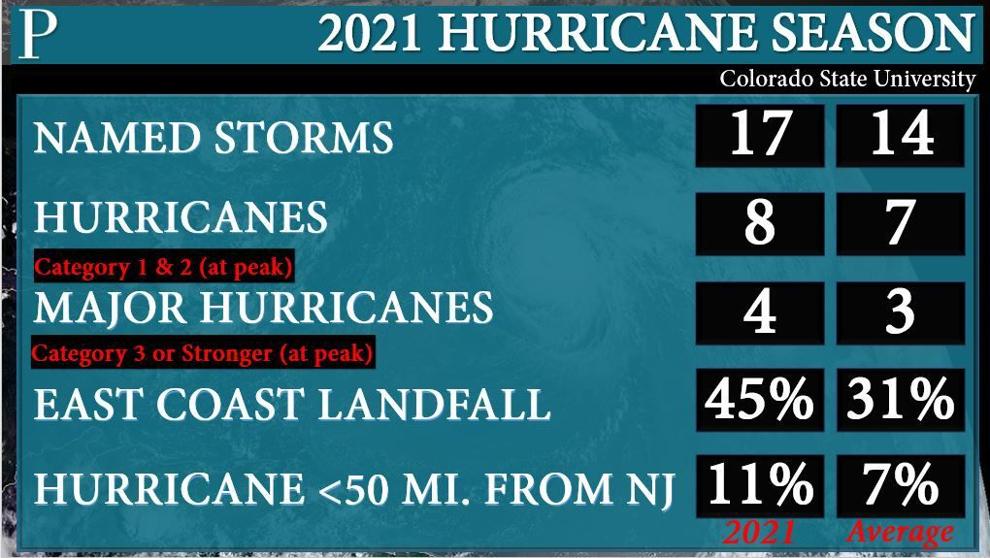 In their June 3 update, Colorado State University maintains that the Atlantic tropical season will be more active than usual. 18 named storms (an increase from 17 in the initial, April, forecast), with eight hurricanes and four major hurricanes will be likely. 
Here are storm names for the 2021 Atlantic Hurricane Season
Ana - Used
For the seventh year in a row, a named storm formed in the Atlantic before the official start to the hurricane season June 1.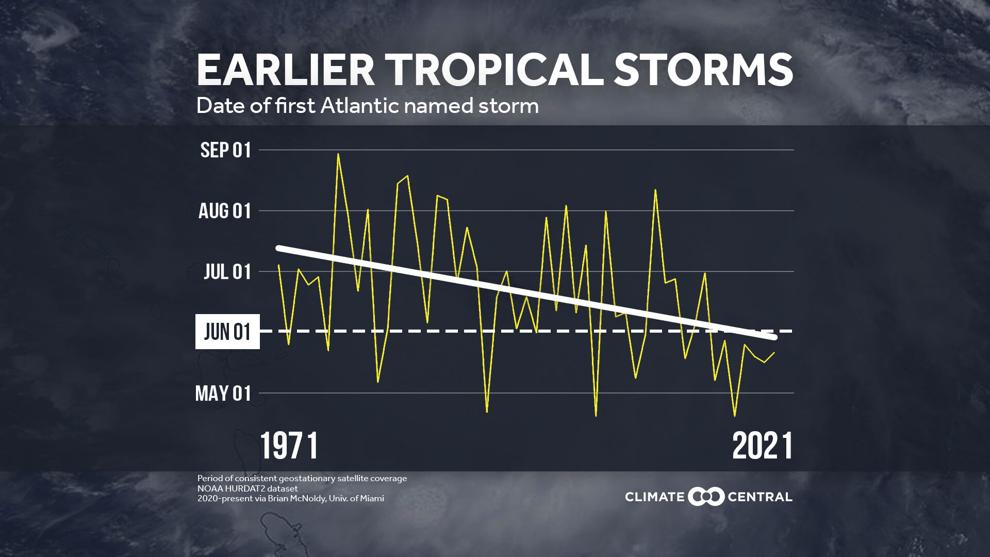 According to Climate Central, a non-profit agency in Princeton, New Jersey, warmer ocean waters driven by climate central may have an influence on the earlier development of tropical cyclones, but there is no direct link. 
Bill - Used
Tropical Depression Two formed on June 14. Later that day it strengthened into Tropical Storm Bill.
Claudette - Used
Claudette became a tropical storm on June 18, after a stretch of day of monitoring by the National Weather Service. It ashore Louisiana the night of June 18-19. 
Danny - Used
Tropical Storm Danny formed the afternoon of June 28, near the South Carolina coast. 
Elsa - Used
For many, Elsa is a name you think of when it's frozen out. However, this time she took a trip to the tropics, where she formed on July 1.
The Press of Atlantic City team and myself will be providing live updates on Elsa. We have f…
Fred
Grace
Henri
Ida
Julian
Kate
Larry
Mindy
Nicholas
Odette
Peter
Rose
Sam
Teresa
Victor
Wanda
Then what?
In early 2021, the World Meteorological Organization (WMO) decided to end the use of Greek names, after the original Atlantic hurricane list was exhausted. Instead, a supplemental list of tropical cyclone names will be used, going in Latin or Roman alphabetical order (which the English, French and Spanish languages uses).
During the 2020 season, nine tropical systems were named in Greek alphabetical order. They included: Alpha, Beta, Gamma, Delta, Epsilon, Zeta, Eta, Theta and Iota.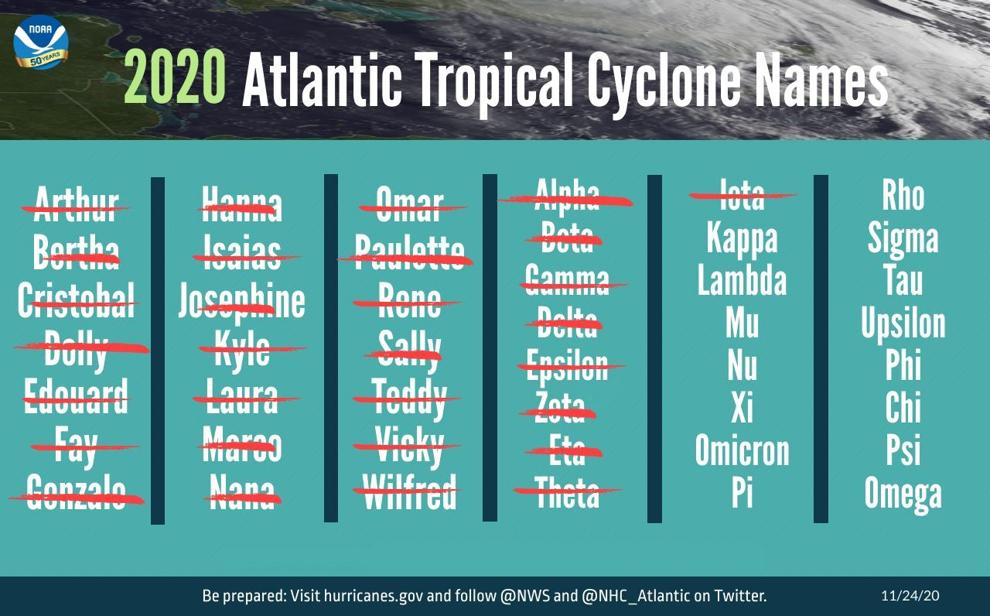 The nine was a part of a record breaking storm system, that saw 30 named storms, besting the previous record of 28 in 2005, the only other time the Greek Alphabet was used. Numerous issues with using the previous format arose. In some countries, the names of the storms sounded too similar to each other, making it easy to misinterpret storm messaging.
Furthermore, the WMO had to grapple with how to retire storm names in the Greek alphabet, which was never done before. The rules stated that a storm using the Greek alphabet could be retired if it was significant enough. However, the storm would be reused if it came up again, adding to the confusion. 
Starting in 2021, if one of the supplement storms names is retired, it will be replaced with a storm name of the same letter. 
Something in the Air: The 2021 hurricane forecast, from the woman who helped make it
Contact Joe Martucci:
609-272-7247
Twitter @acpressmartucci