MIDDLE TOWNSHIP — Access to the Delaware Bay beaches is prohibited from May 7 through June 7 to allow nature to take its course.
Shore birds, specifically the red knot, will stop along the bay and feast on horseshoe crab eggs on the sand.
Late last week, the American Littoral Society, the New Jersey Division of Fish and Wildlife and the Conserve Wildlife Foundation of New Jersey put up signs and roped off beach access points to allow for this to happen without any human interruption.
According to the U.S. Fish and Wildlife Service, the bird flies more than 9,300 miles from the southernmost tip of South America to the Canadian Arctic each spring, making red knots one of the longest-distance migratory birds. After breeding, they reverse the trip each fall and fly back to South America.
The Delaware Bay is the red knot's only stop during that trip, according to Quinn Whitesall, habitat restoration coordinator for the American Littoral Society. The society promotes the study and conservation of marine life and their habitats. The organization has five divisions along the East Coast, with one stationed along the Delaware Bay.
Striped bass continue to be the headliner since tautog season closed Friday.
When the red knot stops along the bay, it needs to eat enough horseshoe crab eggs to triple its weight before continuing its trip, Whitesall said.
"They use up all of their energy from flying. They come to the Delaware Bay and are completely malnourished when they get here," she said. "They spend two weeks or so eating as many horseshoe crab eggs as possible because they're super fatty."
According to a 2019 survey by the American Littoral Society, there were 1,291,799 spawning horseshoe crabs along the Delaware Bay in New Jersey. About 30,000 red knots came to the Delaware Bay.
The horseshoe crab population is considered stable, Whitesall said, but conservation efforts are ongoing.
On Earth Day, Middle Township Mayor Tim Donohue and Business Administrator Kim Krauss planted dune grass along South Reeds Beach to protect the horseshoe crab habitat.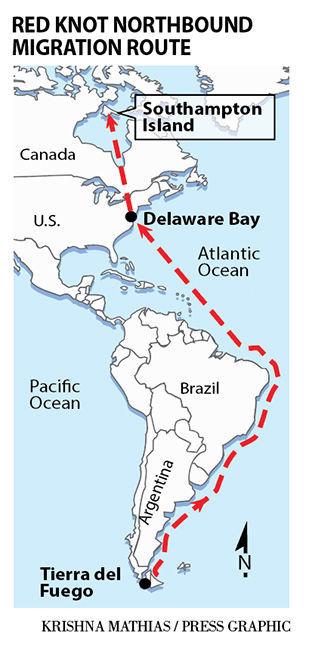 "We have these low-lying marshes along the Delaware Bay … and when the tide comes in and the horseshoe crabs come in, they'll get trapped in these low-lying areas and they die," Whitesall said. "This year we built up that berm (in front of the marshes) to keep the horseshoe crabs from washing in."
Donohue said it's a community-wide effort that requires, for example, getting the homeowners at those beaches on board. Protecting the beaches also protects the homes on the beaches and helps drive ecotourism in the area.
"It's an historical and biologically significant site for the whole globe," he said. "The horseshoe crabs have been making the trek there as long as any of us can remember, literally millions of years."
Female horseshoe crabs will come onto the beach about 20 times during the spawning season and lay between 4,000 and 5,000 eggs per trip in the sand, according to Whitesall. Each egg is smaller than a BB pellet. The eggs that become exposed by waves and drifting sand are eaten by shore birds.
The American Littoral Society has replenished beaches along the bay through federal grant funding every year since Superstorm Sandy in 2012.
Rick Robinson likens the idea of building up to 98 wind turbines on the ocean horizon to pla…
Aside from beach erosion affecting the horseshoe crab population, commercial fishing also has contributed, Whitesall said. The crabs are used as bait for some marine life, such as eels. Luckily, there are regulations in place, she added.
And preserving the horseshoe crab population is important because it's all connected, Whitesall said.
"The horseshoe crabs need to lay their eggs not only for their population but also for the shorebird population. Horseshoe crabs are also a food source for other fish," she said.
Horseshoe crabs also are critical to human health as their blood is used to test vaccines and injectable drugs. Researchers and scientists come from all over to witness the horseshoe crab spawning season as well as the shore birds feasting on their eggs.
"We have all of these people coming to these bayshore towns spending money on lodging, local restaurants and gas stations," she said. "It's really important that this keeps happening so we have a place for people to come visit."
Five Atlantic Cape Community College students are working with researchers and engineers fro…
"It's beneficial to everybody," Donohue said.
Horseshoe crabs have been around for 450 million years and red knots have been stopping in the area for thousands of years, but the work continues. Researchers with the American Littoral Society and other wildlife conservation organizations continue to study horseshoe crabs and how to better protect their habitats so they'll be around for another 450 million years.