Oct. 2 Update: The New Jersey Forest Service issued its weekly update to Fall Foliage Friday. With the cooler nights in the second half of the month, there has been "some change" to the fall colors in Atlantic and Ocean counties on north. Meanwhile, Cape May and Cumberland Counties remain green.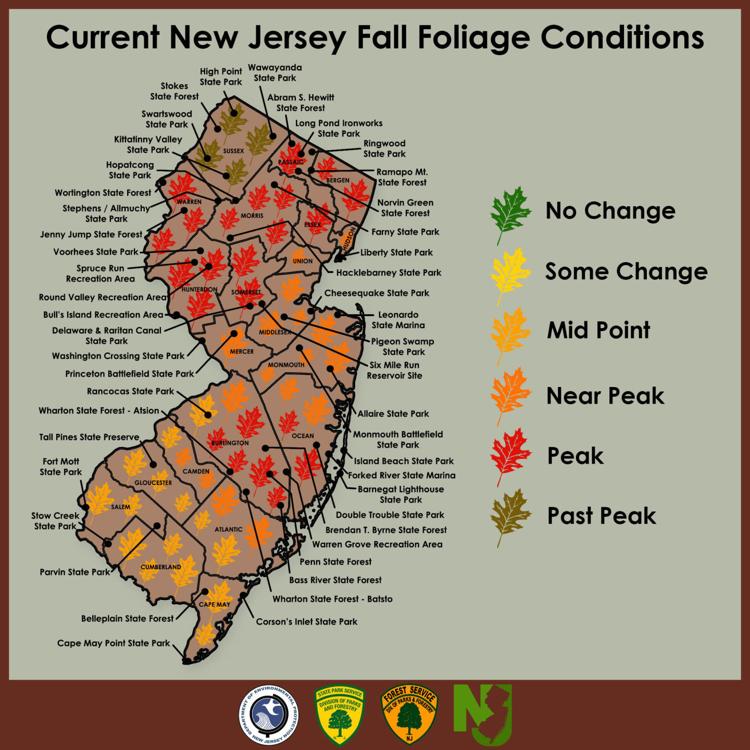 Initial forecast and story is posted below. 
With many people opting for stay trips and "staycations" this fall, New Jersey residents should have a plethora of options to enjoy the upcoming fall foliage.
"It'll probably look great," said Bernie Isaacson, forester for the New Jersey Department of Environmental Protection.
Favorable weather conditions during the growing season and September are guiding foliage season to one with vibrant reds and yellows. Long-range meteorologists confirm with a positive forecast for October and early November, the peak of foliage.
"The peak of foliage is for different times for different parts of the state. In early October, you'll see it peak in Sussex County, and later in October, as far down as Cape May," Isaacson says.
Autumn is not the only season determining the vibrancy of the year's fall foliage tapestry. The growing season — from April to August — begins the process, followed by leaf change in September and leaf drop after that
"You want not terribly hot weather, not huge storms, a nice, moderate rain throughout the year, and you want an easy growing season without a lot of stress," Isaacson says.
WASHINGTON TOWNSHIP — While October brings people to farms for hayrides, pumpkin patches and…
April through August featured only four days with 95 degree or greater heat at Atlantic City International Airport, according to the National Oceanic and Atmospheric Administration (NOAA). Still, it was the 10th warmest period in history, with records going back to 1943. Rainfall was the eighth highest during this time. Tropical Storm Fay brought a widespread 3 to 5 inches in South Jersey, while a derecho tore through part of the region June 4.
During and after Tropical Storm Isaias, local residents were stunned by the autumnal look of…
Still, Isaacson says the season was "relatively good," and warmer temperatures can be offset by an increase in water, which did happen.
"When it comes to precipitation, we're already good to go. ... Even if it were going to stop raining now (mid-September) for the next six weeks, it might have some impacts, but not nearly as much as if we had a dry summer," said Dave Robinson, the New Jersey state climatologist based at Rutgers University in New Brunswick — Piscataway.
From September until the leaves change, sunny days, cool nights and a lack of an early frost are ideal for keeping the leaves vibrant. On average, A.C. International Airport averages 34% of September days with a clear sky, according to NOAA. Through Sept. 16, NOAA showed the month had been about average in terms of cloud cover. Low temperatures had generally been at or above average through Sept. 15, though they should be below average for much of the rest of the month.
"The second half of September into the first week of October is more of what we're seeing recently. It's not persistently cooler, but we have cool downs. .. Nothing really extreme either way. I do think the second half of October will be warmer than average. It'll be more persistently mild," said Jim Sullivan, chief meteorologist for WeatherWorks, a meteorological consulting firm based in New Jersey.
That should mean no widespread frosts for a while. On average, the first 36-degree low temperature of the season at Atlantic City International, which can be used as a loose measure for frost development, is Oct. 23. In Indian Mills, located within Shamong, Burlington County, it is Oct. 10. While not a guarantee, more than likely, the first frost on the ground should hold off until after these dates.
Once the leaves begin to change, it's a matter of keeping the leaves on the trees. That means no storms or high winds like those that came Aug. 4 with Isaias, which tore leaves off trees and even turned some along the shore brown due to salt intrusion.
"The ridge (of high pressure) may expand into much of the country for a couple of weeks," Sullivan said. Ridges of high pressure are known for bringing drier air during the fall months.
"When you put it all together, I think it's going to be a pretty good season," said Robinson.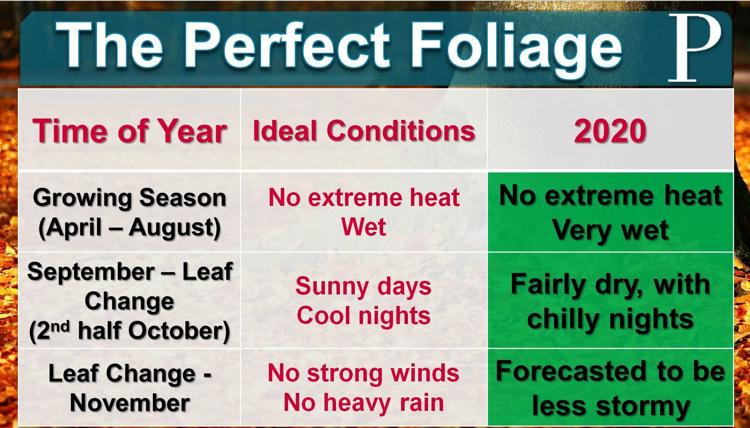 For South Jerseyans looking to spend some vacation time in the Garden State, Isaacson says there are two places he likes for colorful, plentiful fall foliage.
"In South Jersey, the area around Batso Village. ... Up north, I really like Warren County, particularly by the Delaware Water Gap at Worthington State Forest. That area has a lot of different tree species ... because of the topography, and you can see so far, you can get a lot of color up there," Isaacson said.
Early fog and drizzle to a mix of sun and clouds. Lilely dry during the afternoon
Gradually thickening clouds. Showers develop 4 to 7 p.m., lasting overnight.
Early showers give way to partial sun.
Periods of rain likely
A mix of clouds and sun
Watching a storm system to bring rain
Windy from the north, with a few showers possible
Get local news delivered to your inbox!
Subscribe to our Daily Headlines newsletter.