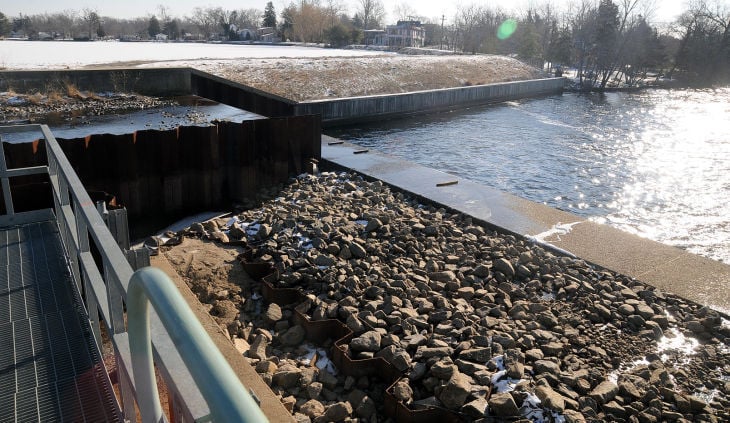 HAMILTON TOWNSHIP — For decades, many Mays Landing residents have been concerned about the deteriorating condition of the dam at Lake Lenape. The dam is considered high hazard, meaning its failure would result in loss of property and possibly loss of life.
It now appears that the improvements, that for various reasons have been delayed for years, are ready to commence.
The Hamilton Township Committee is scheduled to vote Monday on a resolution authorizing the mayor to execute a development application to the state Pinelands Commission and a safety permit application to the state Department of Environmental Protection regarding the dam.
The dam is owned and operated by Atlantic County and Hamilton Township, and Lake Lenape is maintained for public recreation as part of Atlantic County's public park system. The county is responsible for engineering and the township for doing its best to use the failing water control structure to control water flow during high-volume rain events.
The next step is for the DEP's Historic Preservation Office to issue a permit following its next meeting on Feb. 17. That office's approval is needed due to the historic nature of the dam. It was originally constructed across the Great Egg Harbor River in the mid 1840s by Jeremiah Stull, flooding approximately 300 acres of apple orchards to a depth of about 13 feet.
The original dam eventually broke, and in 1853 was replaced by a new dam constructed as the power source for a cotton mill. The cotton mill closed in 1949 and was sold to Wheaton Industries, which operated at the location until it closed in 1999.
The present structure includes a powerhouse and an 80-foot spillway. Hamilton Township Deputy Mayor Carl Pitale served as a township resident on the Lake Lenape Dam Board and has remained on that commission since his election to the governing body in 2019.
"The first step is to upgrade the powerhouse," he said. "Then the spillway can be addressed. Due to a limited amount of space because the dam is landlocked, a labyrinth system is planned to increase the amount of spillway."
"I would like to see the dam become a focal point along Mill Street," Pitale said. "That can be done with new lighting including LED lights behind the spillway. The timing is perfect with the replacement of the Mill Street Bridge, which will include sidewalks on both sides and lighting. I would love to see lights that can be changed for holiday themes."
Pitale estimated the cost of the powerhouse upgrade to be between $600,000 and $800,000 and the spillway improvements to cost about $5 million.