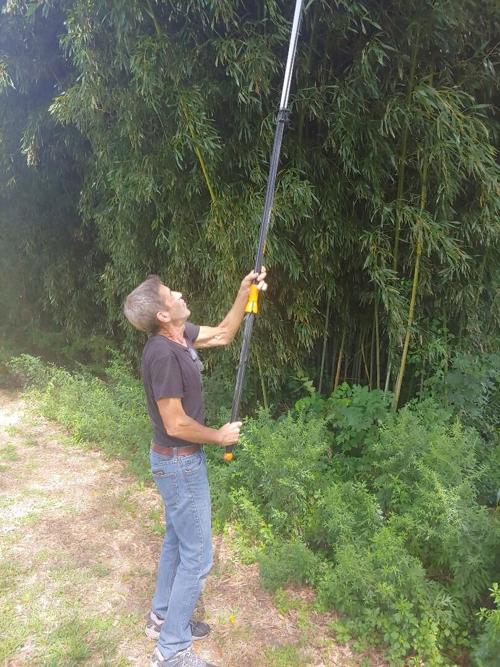 HAMILTON TOWNSHIP — Mays Landing resident Ted Marx attended Monday's Township Committee meeting to argue against a proposed ordinance that would regulate invasive plant species.
The ordinance was primarily intended to prevent the spread of bamboo and other species onto adjoining properties and public areas.
"We have had bamboo on our property for 30 years," Marx said. "We planted it to create a barrier from a nearby business that had flashing lights as well as high-intensity streetlights. The bamboo also alleviated flooding problems in our yard because the plants soak up the water."
Marx's presentation inspired the committee to table the ordinance and make revisions before revisiting it Sept. 7.
Former Committeeman and Mayor Bruce Strigh supported Marx's claims. "Something should have been done years ago to stop the illegal flashing lights at the business," he said.
The township is one of the largest municipalities in the state by geography, and Strigh said it would be difficult to enforce such an ordinance in so many different zoning areas.
Marx expressed concern about a provision of the ordinance that states that bamboo must be at least 10 feet from a property line and can be no higher than 8 feet tall.
Interim township Administrator Peter Miller eased Marx's concerns about his situation.
"Anyone with existing plants is exempt from the setback and height requirements," he said.
While Marx was relieved with that response, he had concerns about the height limitation.
"Keeping an 8-foot limit will not work for these plants," he said. "Mine grow to 20 to 25 feet."
Marx also explained other benefits of the plants.
"They are very popular in Asian food, and we also provide the shoots to Boy Scouts and other groups for fishing poles," he said.
Mayor Charles Cain was sympathetic.
"Growing up on Main Street, I often used bamboo fishing poles to fish in the river," he said.
Beth Morarty is a friend of the Marx family.
"I have seen many birds nesting in the plants," she said.
"It attracts thousands of starlings and other birds," Marx said. "It really helps to control the insect population. The plants also require no fertilizer or chemicals and provides 33% more oxygen than trees. When grinded up it can be used as a low-nitrogen mulch."
Harry Bilicki was the lone supporter of the ordinance.
"I agree with everything that Mr. Marx said, and I support him," he said. "However, there are others who don't care if their plants infringe on their neighboring properties."
Marx closed his presentation by telling the committee that Google says that bamboo is the most useful plant in the world. He then took out his phone and asked Google if that was true. Holding his phone to the microphone he got the answer he expected.