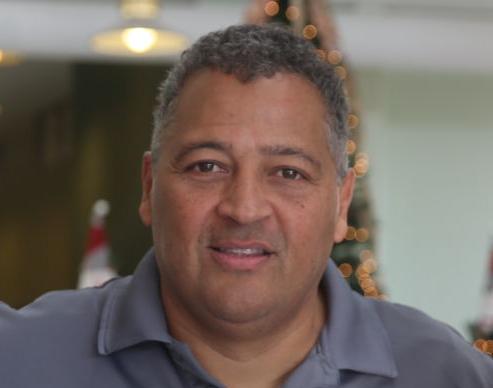 EGG HARBOR TOWNSHIP — Retired Egg Harbor Township police Capt. Hector Tavarez said Wednesday he will seek the 2022 Democratic nomination for Congress in the 2nd Congressional District.
"Over the years, I've considered running for office but never did for one simple reason," Tavarez said in a news release. "I was always convinced that the good we were doing for the PAL kids far outweighed any benefit I could produce as a local politician."
That began to change for him after watching violence across the nation for months, culminating Jan. 6 as he watched the attack on the U.S. Capitol, he said.
The Democratic winner would face incumbent U.S. Rep. Jeff Van Drew, R-2nd, in the fall of 2022. Van Drew won reelection to his second two-year term in 2020.
Tavarez, co-founder and executive director of the Egg Harbor Township Police Activities League and the Police Activities League of Atlantic County, is the second Democrat with a law enforcement background to announce his run.
Building a strong, positive relationship between law enforcement and youth has always been i…
Tim Alexander, a lawyer and a retired detective and captain in charge of the criminal investigation section of the Atlantic County Prosecutor's Office, announced earlier this month he will run for the Democratic nomination.
Tavarez has never held an elected office but said he is confident his experience as a police officer, police executive and executive director of a nonprofit makes him a strong candidate with deep ties to the community.
"I'm running for Congress because, like many of you, I am disappointed and disgusted with our present representation in D.C. I am like you, not a millionaire, not an attorney, not a career politician. I want to give the people of the 2nd District a better choice, one that is more like them," Tavarez said.
Tavarez's parents moved from Puerto Rico to New Jersey in the 1960s. Hector was born in Hammonton, he said, and grew up in Mullica Township with four sisters and two brothers. He graduated from Oakcrest High School in 1984 and earned an associate's degree and a bachelor's degree in criminal justice from Atlantic Cape Community College and Stockton University.
Tavarez also is a graduate of the West Point Command and Leadership School and Certified Public Manager program.
ABSECON — Lucia Corso looked nervous at first as she approached the mound Saturday at the So…
He has lived in Egg Harbor Township for 34 years and has been married for 32 years. He has two adult children, a child in high school and a granddaughter, with a second grandchild due in the fall.
Tavarez co-founded the EHTPAL in 1989 after he and some fellow officers agreed the relationship between the community and the Police Department could be improved. The EHT PAL was expanded to the Police Activities League of Atlantic County in 2020.
Contact Michelle Brunetti Post: 609-272-7219
Twitter @MichelleBPost