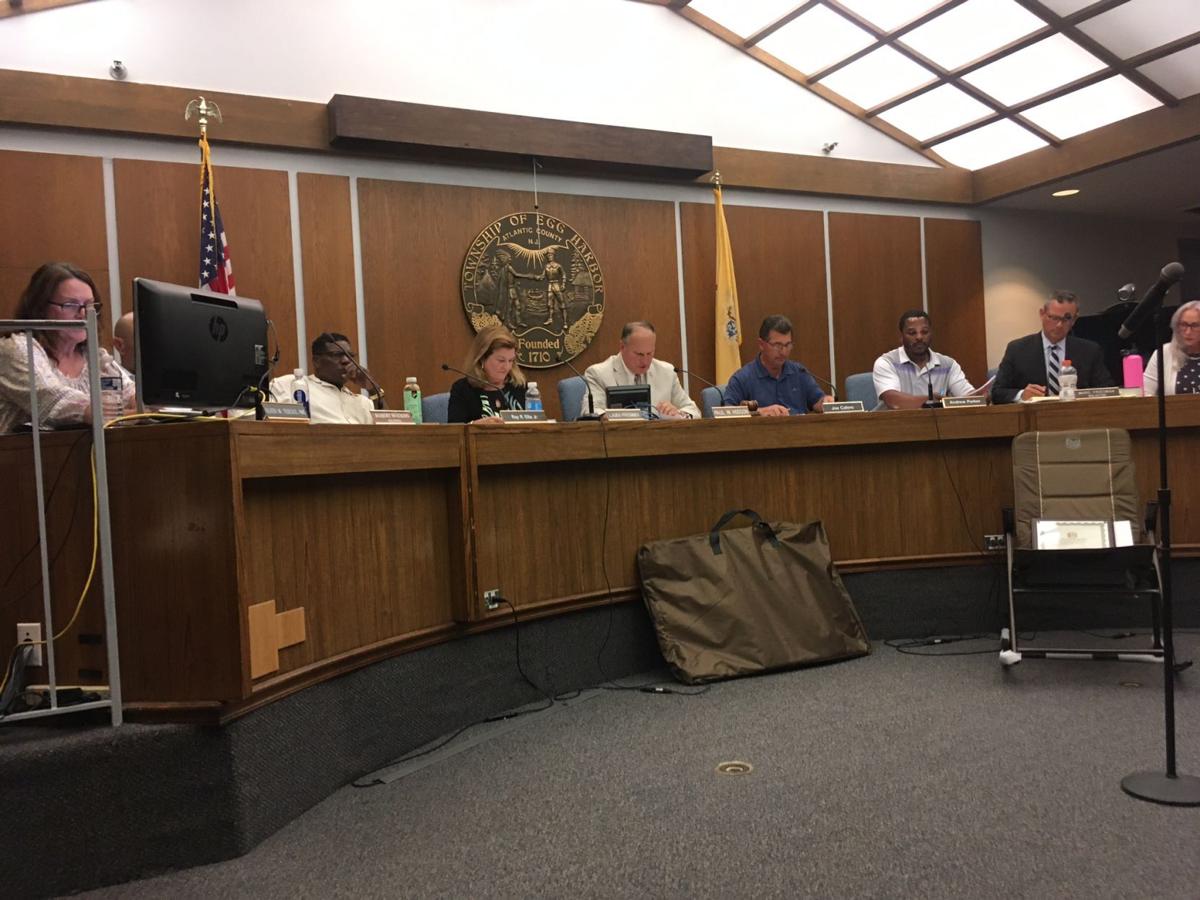 EGG HARBOR TOWNSHIP — The Township Committee on Wednesday introduced two ordinances that would clear the way for recreational cannabis businesses within its borders.
A public hearing will be held on the ordinances before final passage during the next regular committee meeting at 5:30 p.m. July 21.
Any municipal regulation or prohibition on the operation of a legal adult cannabis recreational business must be adopted by Aug. 21, or the municipality will be subject to the laws of the state, which have not been made public yet.
"We have received no guidelines from the State of New Jersey," Deputy Mayor Laura Pfrommer said about how the township should regulate legal recreational cannabis businesses.
Since Gov. Phil Murphy signed legislation legalizing cannabis in February, area towns have wrestled with whether to allow businesses to grow or sell within their borders. Multiple communities have opted to ban the shops entirely and forgo the additional tax revenue, while a few plan to allow at least some businesses. In Cape May County, Lower Township and West Cape May have both introduced ordinances that would allow the businesses in some zones, if approved on their final votes.
Atlantic City held a series of workshop meetings this month to get neighborhood input on the potential placement of up to six cannabis licenses. City Council has also introduced an ordnance that would keep adult-use cannabis sales out of the Boardwalk zone.
Under the first ordinance introduced in Egg Harbor Township, there will be six different cannabis licenses available in the municipality — cultivator, manufacturer, wholesaler, distributor, retailer and deliverer. Licenses for anything other than delivery will cost $10,000 initially and $10,000 annually after that.
EGG HARBOR TOWNSHIP — The Township Committee passed a resolution Wednesday to support the es…
Any entity interested in becoming involved with delivery only will pay $2,500 for its original license followed by $2,500 annually after that.
The township wants to limit the number of cannabis-selling businesses within its boundaries. The ordinance limits cannabis retailers in the township to four, not including The Botanist medical marijuana facility owned by Acreage Holdings off Delilah Road.
There will be no more than four cannabis delivery businesses within the township. The Botanist also is not included in that number.
The township also wants to limit the hours of operation for cannabis businesses. Licensed cannabis cultivators, manufacturers, wholesalers and distributors would be limited to operating between 7 a.m. and 10 p.m. Cannabis retailers could only sell their products from 8 a.m. to 10 p.m.
On the premises of the cannabis businesses, the township does not want anyone consuming the product, removing it from its original packaging or consuming it in a vehicle.
MIDDLE TOWNSHIP — Perhaps cannabis stores are not such a hot topic after all.
A person under 21 will not be allowed in any building where cannabis is sold, and they will not be allowed to buy cannabis, according to the ordinance. No person can transfer cannabis to a person under 21.
Cannabis products will be subject to state sales taxes, and the municipality will add a 2% tax for cannabis cultivators, manufacturers and/or retailers and 1% for wholesalers.
Licenses can be suspended or revoked for violation of any provisions of the cannabis ordinance.
Fines also can be assessed to any licensee who fails to comply with the ordinance. The license holder can have his or her license subject to a fine of $2,500 for a first offense and $3,500 for any subsequent offense.
The person who violates the cannabis ordinance shall, upon conviction, be subject to a minimum fine of $250 or a maximum of $2,000 or be imprisoned for a term not exceeding 90 days or be sentenced to a period of community service not exceeding 90 days.
The second ordinance concerns the zoning of cannabis businesses.
The businesses have to be located in one of four of the township's zones — highway business district, special highway development district, light industrial district or general commercial. Licensed cannabis retailers and delivery businesses cannot be located within 1,000 feet of a school, school facility, park and/or recreational facility. Drive-through facilities are prohibited.
All facilities have to be located within enclosed heated and air-conditioned buildings and shall not be permitted in greenhouses or outdoors.
Off-street parking shall be provided in accordance with the township's zoning ordinance as deemed by the members and professionals of the township Planning and Zoning boards.
For any licensed cannabis cultivation, processing, manufacturing or similar operation, the facility shall provide for noise mitigation features designed to minimize disturbance from machinery, processing and/or packaging operations and loading.
The Township planner, attorney and administrator along with the Township Committee crafted the two ordinances.
"I think we came up with something really good," Committeeman Andrew Parker said.
Staff Writer Bill Barlow contributed to this report.
Where does your town stand on legalized marijuana?
ABSECON
The city introduced and passed on first reading June 17 establishing permitted zones for certain cannabis-related businesses.
City Council on June 17 published a map on its website showing the proposed areas where specific types of licensed cannabis establishments would be permitted to operate. An ordinance has  been introduced to change zoning to create the cannabis zones.
A public hearing and vote for adoption of the ordinance will take place 5:30 p.m. July 15 at  the Municipal Complex, 500 Mill Rd.
ATLANTIC CITY
ATLANTIC CITY — City Council voted on July 21 to restrict recreational marijuana sales from the Boardwalk.
Council's vote came despite protests from a union representative and employees from The Botanist, a medical marijuana dispensary at 1301 Boardwalk. "The rational behind this ordinance is that we are trying to bring the family atmosphere to the boardwalk," Council Vice President Kaleem Shabazz said Thursday.
AVALON
Borough Council voted on June 23 on an ordinance banning any cannabis-related businesses from operating in the borough.
BARNEGAT
Township Committee passed an ordinance on May 4 that would prohibit the operation of any cannabis businesses in the community.
BARNEGAT LIGHT
Officials here voted May 12 on an ordinance banning any type of cannabis business in the municipality.
BASS RIVER TOWNSHIP
The Burlington County township adopted an ordinance on July 12 allowing the operation of "certain classes of cannabis businesses."
BRIDGETON
On Aug. 17, the City Council approved an ordinance that would provide control and regulations for the cannabis establishments in the city. 
BRIGANTINE
City Council voted May 5 to prohibit the operation of any class of cannabis businesses within its geographical boundaries.
BUENA
The Borough Council in a March 8 agenda noted, "Marijuana legislation will need future discussion." 
CAPE MAY CITY
City Council adopted an ordinance April 6 banning smoking of marijuana in public places. While on June 15, the council adopted an ordinance prohibiting the sale of marijuana in the city. 
CORBIN CITY
On July 12, city council approved an ordinance prohibiting any class of cannabis business from opening in the city.  
DENNIS TOWNSHIP
Township Committee approved an ordinance on June 8 prohibiting any class of cannabis business in the town. 
DOWNE TOWNSHIP
An ordinance prohibiting the operation of certain classes of cannabis businesses within its limits was introduced April 12.
EGG HARBOR CITY
City Council unanimously passed an ordinance Aug. 12 establishing six marketplace classes of licensed cannabis businesses.
The ordinance states that all classes other than retail will be permitted in the city's industrial use or purpose zones. The ordinance also stipulates that one retail cannabis establishment can be included on both Philadelphia Avenue and the White Horse Pike.
EGG HARBOR TOWNSHIP
The township decided there could be a maximum of four cannabis retailers and four cannabis delivery businesses within its boundaries.
Cannabis cultivators, manufacturers, wholesalers, distributors and retailers will pay a $10,000 application fee and $10,000 annually afterward. Cannabis delivery businesses will pay a $2,500 application fee and $2,500 annually afterward.
The township is allowing recreational cannabis businesses in the following four zones only — highway business, special highway development, light industrial and general commercial.
ESTELL MANOR
The city on July 7 adopted an ordinance prohibiting the operation of any class of cannabis business in the city limits. 
GALLOWAY TOWNSHIP
Galloway's Planning Board voted unanimously to recommended to the Township Council that any company wanting to cultivate, manufacture, wholesale, distribute or deliver cannabis would need to enter into a redevelopment agreement with the council, so the governing body would have more of a say on guidelines that needed to be met before the business was approved.
Previously, Township Council voted May 11 to prohibit smoking cannabis in township recreation areas.
HAMMONTON
The town is reviewing options and will have some legislation by the 180-day deadline, a town official has said.
HAMILTON TOWNSHIP
Hamilton The Township Committee is expected to hold a public hearing and final vote Aug. 2 on an ordinance to permit cannabis establishments, distributors and delivery services anywhere in the township. A hearing and vote will also take place on an ordinance to impose a local cannabis transfer tax and user tax as revenue sources.
This spring, Columbia Care New Jersey, LLC, was also  seeking planning board approval to build a state licensed medical marijuana dispensary with drive-thru window involving a currently vacant commercial property located at 4436 East Black Horse Pike, according a public notice.
HOPEWELL TOWNSHIP
No record of recent legislation, but at least as early as September 2019, town officials voiced opposition to locating a dispensary in town.
LACEY TOWNSHIP
The town's governing body will vote to adopt two ordinances on May 13; one ordinance will prohibit the establishment of any recreational cannabis business in the township; another will medical cannabis dispensaries in its M-1 business zone.
LINWOOD
City Council introduced an ordinance at their July 14 meeting that would prohibit the retail sale of all cannabis products within city borders.
The ordinance also would prohibit the use of marijuana anywhere in the city but an individual's private residence.
A public hearing and final vote is set for Aug. 11.
LITTLE EGG HARBOR TOWNSHIP
No action taken. In minutes of the township's senior advisory board, the township's police chief spoke against it in 2019.
LONGPORT
Borough commissioners were expected to approve an ordinance banning cannabis-related businesses at their June 2 meeting.
LOWER TOWNSHIP
In a 5-0 vote on Tuesday July 6, the township became the first municipality in Cape May County to say yes to retail cannabis sales.
The approved zoning ordinance will allow one license in each of two zones; the retail area in the North Cape May section of the township and in the industrial zone near the Cape May Airport, although Cape May County officials have said the use will not be accepted on the airport property itself.
MARGATE
The City Commission voted June 17 on two cannabis-related ordinances. One banned all cannabis businesses from setting up shop here, and the other made it illegal to use cannabis products in public.
A representative of United Food and Commercial Union in Egg Harbor Township said the union called on the commission to reverse its actions, saying "cannabis creates good union jobs."
City officials said the ordinance bans all forms of cannabis for public use.
MIDDLE TOWNSHIP
Middle Township has scheduled a public hearing and final vote on an ordinance that would preliminarily ban recreational cannabis establishments and distributors for 6 p.m. Aug. 2.
Mayor Tim Donohue said his administration felt most comfortable putting the idea of cannabis sales on "pause" until it receives further guidance from the state, including with regard to who receives what percentage of revenue generated by cannabis sales.
The township also is proposing to ban the smoking of marijuana in public areas.
"The time to act is now," Donohue said.
MILLVILLE
The city's Planning Board will hold a public hearing June 7 seeking resident input on regulations for cannabis businesses.
For more information: The agenda will be published on the City of Millville website located at http://millvillenj.gov/310/planning prior to the meeting, as usual. Please join the meeting from your computer, tablet or smartphone using the following URL or access phone number: From your computer, tablet or smartphone. https://global.gotomeeting.com/join/645672285 Using your phone. United States: +1 (669) 224-3412 Access Code: 645-672-285 New to GoToMeeting? Get the app now and be ready when your first meeting starts: https://global.gotomeeting.com/install/645672285 The Board Secretary will be taking the names of those in attendance once callers enter the meeting.
MULLICA TOWNSHIP
Township Committee voted to introduce an ordinance prohibiting any cannabis-related businesses from opening in its boundaries. A public hearing and final vote will take place June 22.
NORTH WILDWOOD
City Council will hold a final vote May 18 on banning any type of recreational cannabis business in the city.
NORTHFIELD
A public hearing and final vote to allow cannabis sales in the city is set for Aug. 10 after a divided council introduced it in June.
City Council has also introduced an ordinance that would ban sales.
Council President Tom Polistina said the two-side approach was intended as a safety net, in case the other ordinance falls through.
"We're in the air right now," he said. "If you don't act, then you are tied in with whatever the state puts forth."
That's a reference to local town's Aug. 21 deadline to either accept the state's legalization or to come up with their own laws and policy.
OCEAN CITY
On April 8, the city adopted ordinances aimed at keeping out dispensaries.
City council adopted an ordinance banning vaping, and smoking of cannabis, marijuana and hashish on the boardwalk, in parks and in recreational areas following a public hearing May 27.
PLEASANTVILLE
The city has previously approved a medical marijuana dispensary. No legislation regarding recreational marijuana has been brought up, according to a review of minutes.
PORT REPUBLIC
The City Council will hold a public hearing and vote on final adoption on June 15 on an ordinance banning the operation of any cannabis-related business in the city limits. The meeting will be held at 6:30 p.m. at City Hall, 143 Main St.
SEA ISLE CITY
The city will vote May 11 to adopt an ordinance prohibiting the sale or operation of any recreational marijuana manufacturing, cultivation, processing, distribution or dispensaries as well as the delivery of cannabis. The vote also will include prohibiting the public consumption or smoking of cannabis in public.
SOMERS POINT
A public hearing on an ordinance to amending zoning regulations to prohibit all manner of marijuana-related land use and development will be considered for final adoption following a public hearing 7 p.m. July 22 in City Council Chambers, 1 West New Jersey Ave.
STAFFORD TOWNSHIP
The Township Committee will hold a public hearing and final vote May 11 on an ordinance prohibiting "the consumption of cannabis items."
A previous township law, established in 2020, prohibited the operation of marijuana retail establishments, marijuana cultivation facilities and marijuana product manufacturing facilities.
STONE HARBOR
The borough voted May 4 to prohibit the sale of marijuana, as well as the operation of an marijuana-related business. Smoking and ingesting cannabis also will be prohibited.
UPPER TOWNSHIP
The township on May 10 adopted an ordinance aimed at keeping out recreational marijuana dispensaries.
UPPER PITTSGROVE
No information could be found regarding legislation. At a Jan 5, 2021, meeting, the board was asked for support for a marijuana growing operation application.
VENTNOR
The City Commission on May 13 introduced two separate ordinances that would prohibit the creation of any cannabis-related businesses and the smoking of marijuana on public property.
On June 10,the city will hold a public hearing and final vote on both ordinances. The meeting will be held 5:30 pm, in Commission Chambers City Hall, 6201 Atlantic Ave.
VINELAND
The city's Zoning Board took the issue up at a recent meeting. It's unclear what action was taken.
WEST CAPE MAY
West Cape May voted in July in favor of allowing cannabis sales. The borough became the second municipality in Cape May County to do so, joining Lower Township, which approved its own ordinance July 6.
WEST WILDWOOD
The borough adopted an ordinance May 7 prohibiting the operation of "all classes of cannabis businesses" within its borders.
WILDWOOD CREST
Wildwood Crest will vote on May 12 on final adoption of an ordinance that would prohibit anyone under the age of 21 from consuming cannabis on private property.
WEYMOUTH TOWNSHIP
The township adopted an ordinance following a public hearing on July 7 that prohibits the operation of any class of cannabis business in its jurisdiction.
Contact Vincent Jackson:
609-272-7202
Twitter@ACPressJackson