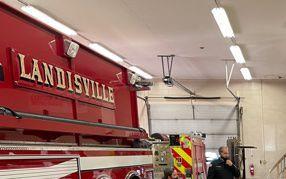 BUENA — The five-member Borough Council voted unanimously Thursday to dissolve Fire District #1, which the Landisville Volunteer Fire and Rescue Company has served for the past 99 years, for the second time in 10 days.
Council's second and final vote on the ordinance also expanded Fire District #2, which is served by the Minotola Volunteer Fire Company, so Minotola will now cover the area formerly served by Landisville.
Similar to the July 19 meeting, the only elected official who had anything to say was Mayor David Zappariello, who opened and closed the public portion for people to speak Thursday. Again, there was no discussion among the council members before they voted during the virtual meeting.
On July 19, the public spoke for about an hour before the council voted. This time, the public spoke for about 30 minutes, possibly sensing nothing could change the outcome.
Loretta Gazzara, of Landisville, told the council that a member of the Board of Commissioners for Fire District #1 had resigned and been replaced, but the council had no reaction to that information.
Susan Romeo, also of Landisville, wanted to know how the dissolution of Fire District #1 was being discussed among council members when they hardly ever schedule executive sessions, the time during public meetings when elected officials discuss certain matters in private.
Romeo asked the council not to let outsiders decide the fate of the volunteer fire company, which has been suspended since late last year.
"Open them on probation if that makes you more comfortable," Romeo said.
BUENA — The five-member Borough Council voted unanimously Monday to dissolve Fire District #…
Elizabeth Testa, of Landisville, reminded the council that all the violations against the fire company had been corrected.
"We need both fire companies for our continued safety," Testa said.
The council's vote ends a tumultuous period that has lasted more than a year. The Landisville company has had serious violations lodged against it by the state during this time.
Landisville whistleblowers led to investigations by the state departments of Labor and Health that began last year. During the past year, the department had four chiefs. Systemic problems included an audit saying there have been violations of statutory obligations and duties by the Board of Fire Commissioners.
Fire company supporters have said all of the labor and health violations have been cleared up. People who used to be affiliated with the fire company and those outside it could have assisted in fixing problems instead of criticizing, supporters said.
After the council's first vote on the ordinance, Landisville Chief Ken Barbagli said the fire company gave it their best shot to stay open, adding there will be a petition to recall the mayor and all five member council members.
PHOTOS: Scenes from the Unexpected Wildlife Refuge in Buena Vista Township
Contact Vincent Jackson:
609-272-7202
Twitter@ACPressJackson