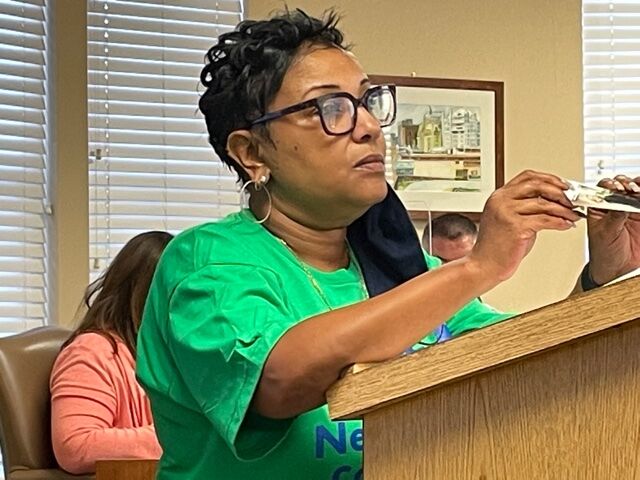 Atlantic County has received $52 million in American Rescue Plan funding, some of which can be used for hazard pay for essential workers, according to state and federal guidelines.
"We are getting nowhere getting dates to meet to discuss hazard pay for all essential workers," said Yolanda Lawson, a staff representative of AFSCME C63.
Its Local 2302 represents workers in health and human services in Atlantic City, Northfield and Pleasantville locations, and its Local 3408 represents workers at Meadowview Nursing Home, Lawson said.
"Our workers worked tirelessly throughout the pandemic and have nothing to show for it," Lawson told the commissioners. "You are our last resort."
She said attempts to get the county administration to meet on the issue have been fruitless.
County Administrator Jerry DelRosso agreed to set up a meeting but warned "it may not change anything."
DelRosso said most county employees got six to seven weeks off with pay during the worst of the pandemic, which computes to a bonus of about $4,000 per worker.
"We thought that was pretty good," DelRosso said of getting paid without having to work. "We made the decision we are not going to pay premium pay based on the fact we let people off (with pay) during it."
NORTHFIELD — Superintendent of Elections Maureen Bugdon may soon get some help in dealing wi…
"We are still waiting for money to happen, not time," said Evan Fauntleroy, a human services worker who said many in the department make just $25,000 a year. "Atlantic County is known to be one of the lowest (paying for) salaried workers. Why is it so hard to fight for hazard pay when we were risking our lives?"
Only nursing home and jail workers worked full time throughout the pandemic, DelRosso said.
DelRosso also said 14 of 17 counties on a recent phone meeting had made the decision not to award hazard pay as well.
"We all were using the same logic. There was a time period people didn't have to come to work. ... Some people were allowed to work from home. If they didn't have child care, they did not have to come to work," DelRosso said.
"What about hazard pay for Meadowview? They never missed a beat. They worked double shifts and were short-staffed," Lawson said.
DelRosso said the administration is still studying the possibility of hazard pay for workers in Meadowview and the county jail.
After the meeting, DelRosso said it's important to figure out how to do that while being fair to everybody.
"There's still a job to do. That's the other side of the coin," he said of the need to use the ARP funds wisely.
DelRosso also said the county is hiring someone to pursue getting Federal Emergency Management Agency grants to pay some managers in public health and public safety for overtime worked during the pandemic.
In other business, the commissioners introduced an ordinance to create a deputy superintendent of elections, who under state law must be of the opposite political party from the superintendent.
Current Superintendent Maureen Bugdon is a Republican.
The new position is intended to help Bugdon deal with the demands of early voting and other changes in how elections are conducted. State law was recently changed to allow counties the size of Atlantic to hire deputy superintendents.
The superintendent's office handles voter registration, voter roll accuracy, voting machine purchasing and security, provisional paper ballots cast the day of the election and more.
The commissioners also passed a resolution to spend $34,200 a year to rent warehouse space in Egg Harbor City for storing new equipment related to early voting.
The county recently purchased 74 voting machines and 400 electronic poll books, which cannot fit in the warehouse space currently used for other voting machines in Northfield, according to the resolution.
The lease is with S&T Realty LLC: 801 Atlantic Ave., Unit 3, Egg Harbor City, for Aug. 15, 2021, through July 15, 2022.
REPORTER: Michelle Brunetti Post
609-272-7219