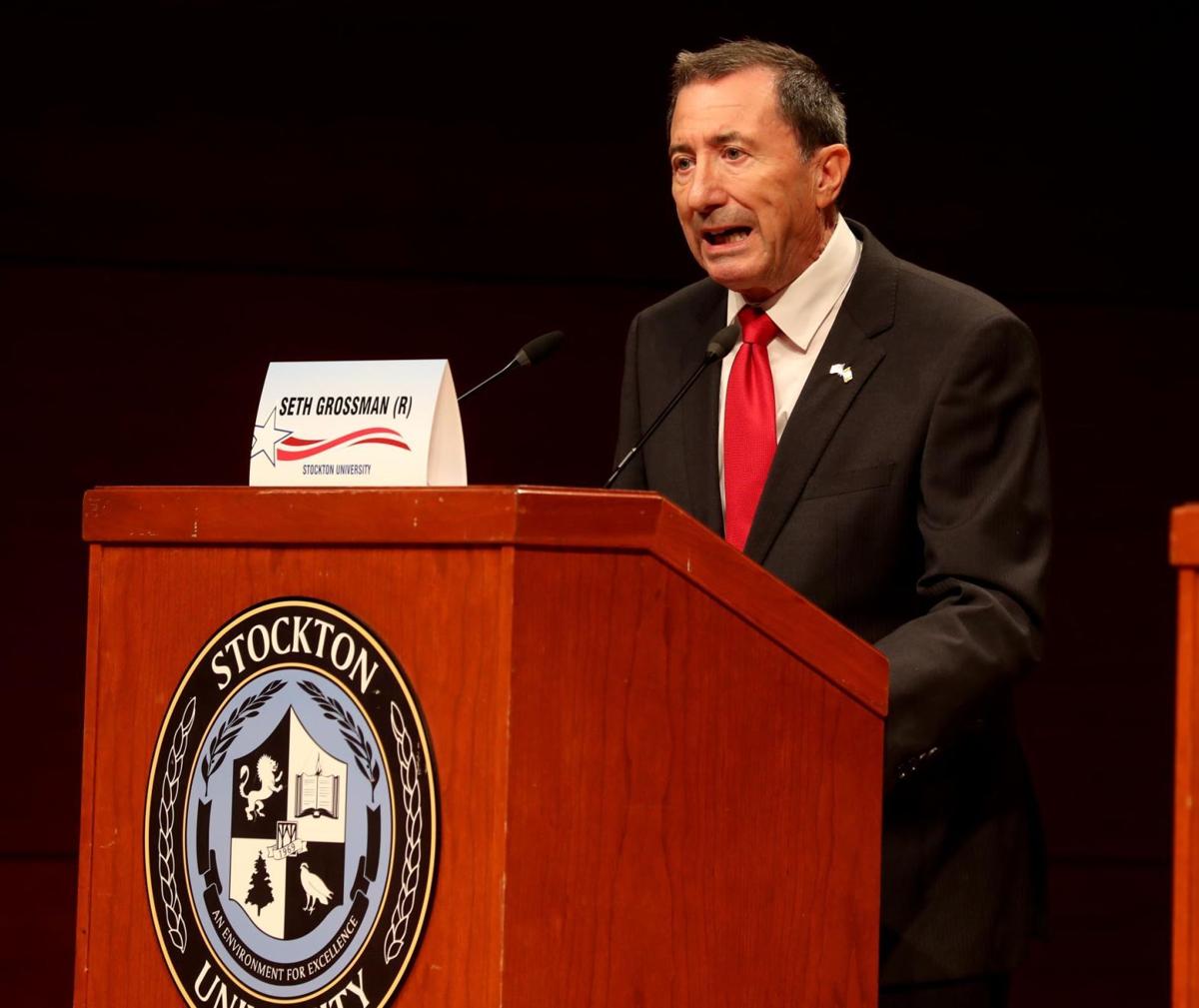 EGG HARBOR TOWNHIP — Atlantic County Republicans endorsed Egg Harbor Township's Vince Polistina for state Senate at their convention Saturday, but there will be a contested primary.
Seth Grossman, the Somers Point lawyer who garnered national news coverage for controversial statements when he ran for Congress against then-Democrat Jeff Van Drew in 2018, withdrew his request for convention support and said he will instead seek support of the voters in his Senate bid.
"Only the primary election can give the nomination," Grossman said after the event.
Under county GOP rules, candidates who ask for the convention's support but do not get it must agree not to run in the primary. Grossman was not willing to give up running in the primary, so he withdrew his name at the convention, he said.
The convention, held Saturday morning at the Scullville fire hall, also endorsed former Atlantic City Mayor Don Guardian and Margate attorney Claire Swift for Assembly; Joe Giralo for county clerk, and incumbents Maureen Kern, Frank X. Balles and Jim Bertino for county commissioners.
Atlantic County Commissioner John Risley withdrew Monday from the 2nd Legislative District A…
"I believe our conservative message of bringing fiscal responsibility back to Trenton, safely reopening schools and businesses and fighting for our hardworking middle-class families is exactly what Atlantic County wants to hear," Polistina said in a statement. "With the convention behind us, it is time for all Republicans to come together and support this ticket."
Polistina formed the engineering firm Polistina & Associates in 2003. He was elected to the Assembly in District 2 from 2008 to 2012.
He was defeated in a 2011 challenge to incumbent Democrat state Sen. Jim Whelan, a former Atlantic City mayor and assemblyman.
Grossman said he did not feel the convention vote would reflect the votes of most Republicans in the district, which covers 17 of 23 Atlantic County municipalities.
"You only have a contested primary when people in the clubs are not representing the opinions of most Republican voters," Grossman said of the committee members who vote in primaries.
When he ran against Van Drew for Congress in 2018, Grossman got 45% of the vote to Van Drew's 53%, doing better than expected in spite of a backlash against some of his statements. They included calling diversity "a bunch of crap and un-American" at a Republican forum.
Last year's combination of the presidential election and one of the nation's most closely wa…
Grossman got very little applause and even a couple of boos as he finished speaking to the convention and withdrew his name.
When Grossman ran in 2018, national and state GOP organizations disavowed him for some of his statements, said Keith Davis, chairman of the Atlantic County Republicans.
"This Atlantic County organization stood by him, and I think the organization deserves some respect in return so we can have a strong ticket," Davis said.
But Grossman said the county organization only supported him once he won the primary in 2018. It had supported Hirsh Singh, of Linwood, going into the primary, he said.
Davis said an expensive, contentious primary will only harm the GOP's chances of winning in November.
Former congressional candidate Seth Grossman, whose statements on race created controversies…
"I'm going to take my case to voters in the June primary," Grossman said. "I can guarantee it will not be expensive, not nasty, just a secret ballot vote of all Republicans to see who the best candidate is."
Atlantic City Councilman Jesse Kurtz, the only Republican on the resort council, made his case for support in the race for Assembly, but Guardian and Swift got more votes. He will not run in the primary, he said.
Davis, however, praised the 36-year-old and said he has a bright future in the party.
"It was a good experience," Kurtz said after the convention. "I fell a little bit short but will be able to refocus my efforts in Atlantic City for my remaining two–year council term."
He said he gained a new perspective on how important Atlantic City is to the district as a whole by campaigning across the district.
State Sen. Chris Brown, R-Atlantic, on Friday endorsed Vince Polistina to succeed him in the…
"I will view my council role in a little bit more of a broader sense," Kurtz said. "It will make me a sharper and better councilman."
The Atlantic County Democratic Convention will be broadcast beginning 2 p.m. Sunday via webinar to registered attendees. More information about registering for the event can be found at t.co/OUJCV7eTlU.
The primary election is June 8.
Contact Michelle Brunetti Post:
609-272-7219
Twitter @MichelleBPost