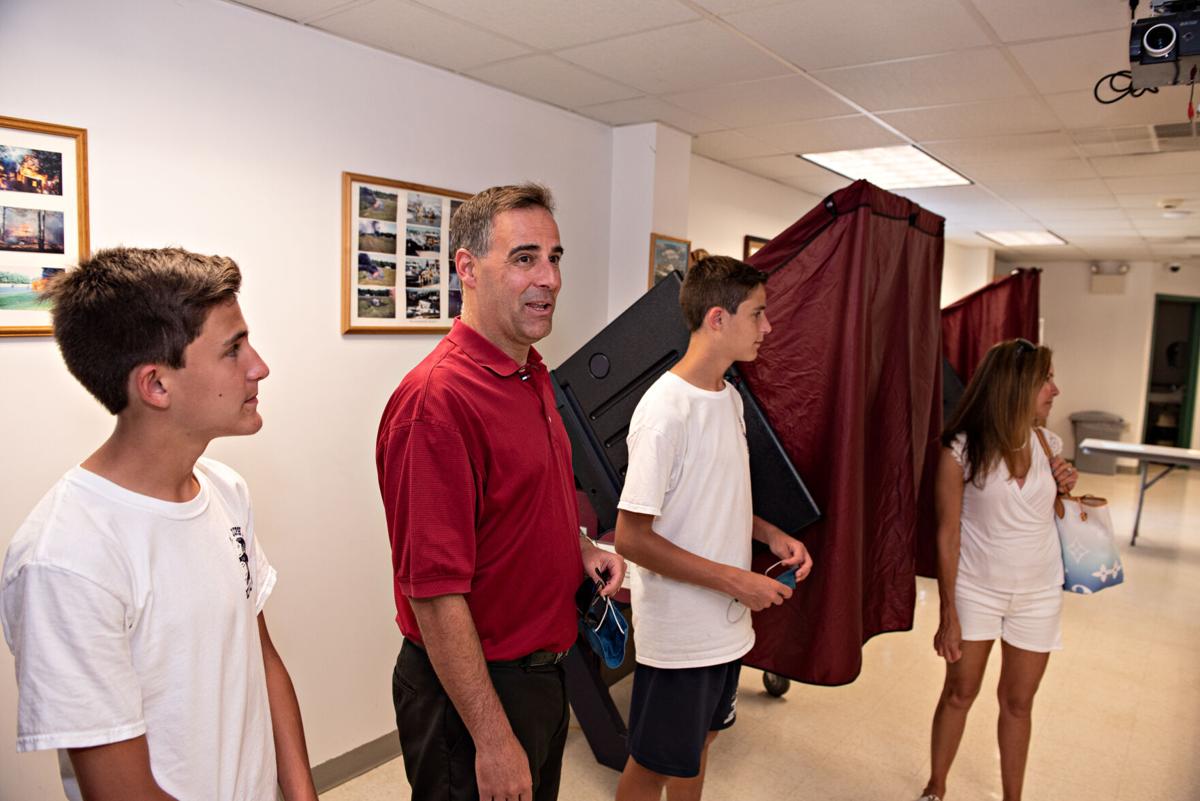 Republican state Senate candidate Vince Polistina will be at a financial disadvantage in the November election, with powerful Democratic boss George Norcross pledging to raise and spend $5 million on behalf of his opponent.
But Polistina says he will have enough financial backing to wage an effective campaign against Assemblyman Vince Mazzeo, D-Atlantic, in the 2nd Legislative District.
"The statewide Republicans recognize how important this district is. We will absolutely have the funds necessary," Polistina said, but added Republicans in New Jersey are always outspent by Democrats.
"I expect this to be a very expensive race, with external independent PACs to be spending heavily," said John Froonjian, executive director of the William J. Hughes Center for Public Policy at Stockton University. "It's clearly one of the few competitive races and we will see a lot of money directed there."
On Wednesday night, Atlantic County Republicans selected Polistina to fill Chris Brown's term, which ends in early January. Brown announced in the winter he would not seek reelection. He then resigned in July before his term was up to become the senior adviser to Gov. Phil Murphy on Atlantic City affairs.
Polistina said State Senate President Steve Sweeney has not responded to his request to have Sweeney swear him in.
Sweeney's office did not respond to a request from The Press of Atlantic City for comment about swearing in Polistina.
In a Friday news release, Polistina said his Legislative office is open and staffed to assist with any variety of needs faced by the residents of Atlantic County and can be reached at 609-677-8266.
The fact that this is a gubernatorial year and the Republican candidate Jack Ciattarelli chose a South Jersey woman as his running mate, could benefit Polistina, Froonjian said. Ciattarelli announced Diane Allen as his choice last week.
"She's a known quantity in South Jersey, a former broadcaster who was in the Legislature for years," Froonjian said.
There has long been a gender gap in New Jersey, with women more likely to vote for Democrats. Allen will help mitigate that, Froonjian said.
Polistina, an engineer from Egg Harbor Township, may be at a disadvantage if Democrats can paint all Republicans as Trump supporters, Froonjian said.
"If it sticks, it probably turns off independent voters," Froonjian said. "You try to be the master of your destiny in political campaigns, but a race like this, there are forces beyond any individual candidate's control."
Independent PAC spending is another of those factors outside of candidates' control, Froonjian said.
Norcross recently pledged to raise and spend $5 million to help re-elect Mazzeo and $5 million to re-elect State Sen. Dawn Addiego, D-Atlantic, Burlington, Camden. Addiego, who switched parties from Republican to Democratic in January 2019, must run for re-election for the first time as a Democrat.
Norcross' $5 million pledge was surprising, coming as early as it did, Polistina said.
"I've never seen anybody do that. It shows there's some panic on their side about the candidates they have here," Polistina said. "The notion they are spending $5 million at a time families are struggling in a pandemic ... that kind of spending is obscene."
Mazzeo Campaign Manager Paul Weborg said Polistina is trying to deflect attention away from Republican SuperPACs.
"Vince Polistina would rather whine about his losing race than talk about the Chris Christie-funded SuperPac that has already sent out campaign mailers for him this year," Weborg said Sunday.
"While Polistina is hoping no one remembers his entire career has been about getting rich from taxpayer-funded contracts, Assemblyman Mazzeo has been busy serving the people of Atlantic County," Weborg said. He said Mazzeo has focused on restoring funding to healthcare programs, ensuring millions of dollars for small businesses, and getting Atlantic City back on track to self-governance.
"We'll take that comparison any day of the week," Weborg said.
Addiego has been in office since 2010, and is up against Republican Jean Stanfield, the retired Burlington County sheriff.
Running for Assembly on Addiego's ticket are Mark Natale, an attorney from Marlton who lost an Assembly bid in 2019, and marketing strategist Allison Eckel, of Medford.
On Stanfield's ticket are Hammonton Councilman Michael Torrisssi and Lumberton Township Administrator Brandon Umba, of Medford, Burlington County.
If Republicans win District 2, covering most of Atlantic County, and District 8, covering Hammonton in Atlantic County as well as parts of Burlington and Camden counties, "we will control the entire Jersey Shore into Ocean County," Polistina said.
Sen. Mike Testa Jr., R-Cape May, Cumberland, Atlantic is expected to win re-election in District 1, as well as Sen. Christopher Connors, R-Ocean, Burlington, Atlantic, in District 9.
"The 'Camden machine' will be confined to the Philly suburbs," Polistina said. "I think they are worried about it."
Polistina is a former Assemblyman who gave up his seat to run for state Senate in 2011 against popular Democrat State Sen. Jim Whelan. Polistina lost, and has not run again until now.
Polistina is also at a bit of a disadvantage because he won't be able to campaign with his predecessor, Brown.
"Certainly any time you could campaign with someone of Sen. Brown's stature, without doubt that would be helpful," Polistina said. "I agree the role he's in, he has to work with the Democratic city administration and the Republican administration in the county. He has to work with both sides."
After announcing in February that he wouldn't run for re-election this year, Brown endorsed Polistina for the state Senate seat. Brown said this week he was not asked to stay out of politics by Murphy, but that he and people on both sides of the aisle agreed it would be best to stay on the sidelines.
All necessary paperwork on Polistina's selection by the GOP was delivered to Trenton Thursday, he said, and once the Secretary of State signs off on it and gives him a certificate of selection he can be signed in.
He would prefer the Senate President Steve Sweeney, D-Gloucester, Cumberland, Salem, to sign him in, as has been the usual practice, but if necessary he will take another route.
"Our attorney believes a judge can swear me in," Polistina said.
Atlantic County Republicans will meet Aug. 4 to replace former state Sen. Chris Brown, R-Atl…
Running with Polistina will be Republican Assembly candidates Claire Swift, of Margate, and Don Guardian, of Atlantic City.
Running for Assembly on a ticket with Mazzeo are Assemblyman John Armato, D-Atlantic, and Atlantic County Commissioner Caren Fitzpatrick.
State Sen. Chris Brown, R-Atlantic, will become the governor's senior advisor for Atlantic C…
REPORTER: Michelle Brunetti Post
609-272-7210