ATLANTIC CITY — A war of words on social media between a Republican candidate for mayor and a sitting Democratic councilman over allegations of racism resulted in a formal criminal complaint and a date in court.
Tom Forkin filed a complaint against At-large Councilman Jeffree Fauntleroy II in June, alleging harassment and terroristic threats. The matter will be heard in Hammonton Joint Municipal Court on a yet-to-be scheduled date.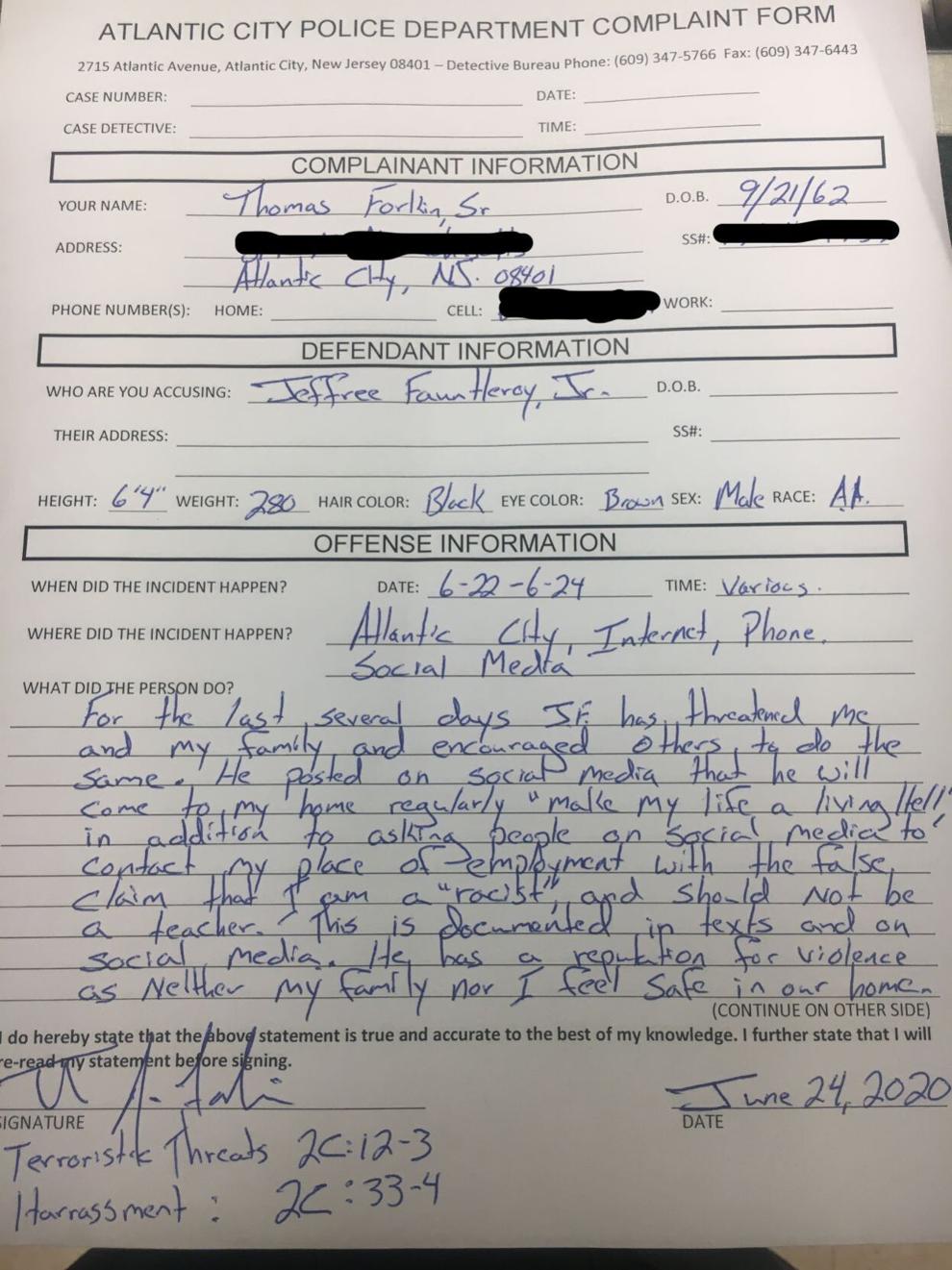 Both Forkin and Fauntleroy said their differences have nothing to do with politics. Forkin is challenging incumbent Mayor Marty Small Sr., a Democrat, in November for a one-year term.
"This is not political. This is actually a personal issue I have with Tom Forkin, and we should leave it as that," Fauntleroy said Tuesday.
In June, Forkin posted a photo on Facebook of trash and litter at the inlet seawall following a night of partying and faulted local officials for not enforcing the law. Fauntleroy responded the next morning on his own Facebook account, saying "Tom Forkin is a Racist and doesn't like Black people!!"
Fauntleroy then put up a second post with Forkin's phone number, encouraging people to call or text.
"It's ridiculous for an elected official to behave like this," Forkin said.
ATLANTIC CITY — Mayor Marty Small, Sr. does not want to shut down a popular gathering area a…
In his complaint filed with the Atlantic City Police Department on June 24, Forkin alleges that over the next several days, he and his family received numerous threatening and harassing calls and texts. Forkin said there was one day he received "over 1,000" such messages.
Forkin said it got to the point where he feared for the safety of himself and his family.
Fauntleroy said he never threatened anyone. He also said he has yet to receive a copy of the filed complaint.
"I've taken nonsense from Forkin for the last three years with the Frank Free AC (Facebook) page," Fauntleroy said of a political page Forkin administrated. "He dishes it out, but he can't handle it."
Forkin said a line was crossed when the councilman accused him of being racist. The former assistant city solicitor noted his pro-bono legal work for the local chapter of the NAACP among several examples of how Fauntleroy tried to "create a false narrative about me."
The state Senate unanimously approved a bill Thursday that would permanently allow for the p…
"The people in this community know me. They know I'm not racist," Forkin said. "But what he did was put me and my family in danger, and that's unacceptable."
Asked if he still thought Forkin was racist, Fauntleroy said, "Tom Forkin believes that he has the privilege to speak on African Americans as if he was African American. And he's not.
"He shouldn't speak that way to other people, and he's been doing it for years."
Forkin scoffed at the notion that his criticism of local elected leaders was racially motivated.
"I go after (Gov.) Phil Murphy, I go after (Assemblymen Vince) Mazzeo and (John) Armato, and they're all white," he said. "I criticize people who do a poor job, and our city's leaders, whether they're Black, white or whatever, are doing a poor job."
ATLANTIC CITY — With 3,202 Democratic votes counted in Atlantic City shortly before noon Wed…
Since taking a seat on City Council in 2018, Fauntleroy has had several legal issues, including a dismissed domestic matter and a motor vehicle infraction. Most notably, Fauntleroy was involved in a November 2018 melee with former Mayor Frank Gilliam Jr. outside the Haven Nightclub at Golden Nugget Atlantic City. Charges were dropped in that matter, and Fauntleroy pleaded guilty to an obscure local traffic ordinance and paid a $500 fine.
Forkin also has had run-ins with the legal system. He was disbarred by the state in 2006 after having his law license suspended twice for various infractions, including deceit, gross neglect, lying to ethics investigators and record-keeping violations.
Contact: 609-272-7222
Twitter @ACPressDanzis