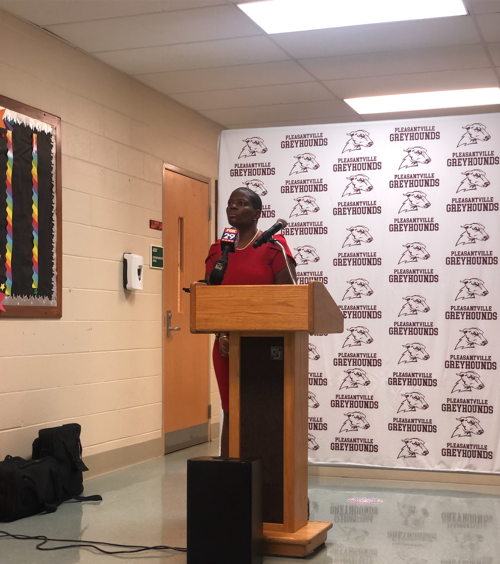 PLEASANTVILLE — Superintendent Natakie Chestnut-Lee called for an investigation Friday into what she said was an effort to oust her from her seat and "prey upon the school district's resources and ultimately its children."
While Chestnut-Lee called for an inquiry into her opponents and their motives — and filed a notice of intent to sue the board — a former board member is alleging she misled the district on her job application when she checked "no" on a box for a question asking whether she had ever been the subject of an investigation or fired.
In a Sept. 13 letter to state Education Commissioner Angelica Allen-McMillan, James Pressley asked the state to look into Chestnut-Lee.
"Upon information and belief, Natakie Chestnut-Lee may have withheld information from the Board before she was hired and may have falsified her application for employment," wrote Pressley. "Yet, there has been no investigation."
A special meeting scheduled for 6:30 p.m. Friday was to address a Rice notice for Chestnut-Lee. A Rice notice is the notification given to an employee before a board can discuss their employment in closed session.
But when the meeting started, school board President Julio Sanchez said there weren't enough members for a quorum and ended the meeting in minutes.
There will be several crowded contests this year for seats on local school boards on Electio…
"This meeting was not put together by myself," Sanchez said. "They went around me to do it, didn't take the necessary steps. So there is no meeting."
Chestnut-Lee on Wednesday filed a tort claim, or notice of intent to sue, the board and members Jerome Page, Anny Melo and Sharnell Morgan, saying they have spread rumors that she lied on her application about how she left her previous job as chief school administrator of Principle Academy Charter School in Egg Harbor Township, among other claims. Chestnut-Lee says she resigned and was not fired from the school.
Reached for comment Friday, Morgan referred a reporter back to Pressley's complaint.
Just last week, as the school district celebrated the end of state oversight, six members of the board sought a termination hearing for Chestnut-Lee, according to a document obtained by The Press.
Chestnut-Lee was hired in July 2020 by the school board, which unanimously approved a three-year, $167,500 annual contract. Her appointment followed a decades-long period of short tenures and quick turnover of superintendents. The district had been under a state monitor since 2007 for fiscal reasons, but that oversight officially ended Friday.
At midday Friday, as students from Pleasantville Middle School attended classes, and school notices were broadcast over the loudspeakers, the superintendent made her allegations and fielded questions from reporters.
During the news conference, she called on the Attorney General's Office and the FBI to investigate.
"There is an organized family in the city of Pleasantville," Chestnut-Lee said. "They have helped with getting certain school board members their seats, and because of that and their affiliation to those school board members and other politicians feel obligated to do what those particular family members want them to do, and I am not one of those people. Right now our board is split. We have a faction on the board that represents that particular family. Then there is another part of the board who truly cares about the students of this district and moving this district forward and continuing to do what's right."
PLEASANTVILLE — The local public school district will soon be without a state-appointed fisc…
According to the document seeking a Rice hearing for Chestnut-Lee's removal, the members who signed the petition were Yadira Falcon, Melo, Page, Morgan, Cassandra Clements and Alejandrina Alberto.
The Press reached out to these members with requests for comment. Only Morgan responded.
Pressley was among 12 men arrested in a 2007 corruption sweep. Five of them had served on the school board together. He pleaded guilty to bribery that same year and served time in federal prison. He acknowledged his past in his complaint but said he was a scapegoat.
Staff Writer John Russo contributed to this report.