GALLOWAY TOWNSHIP — A protest has been planned ahead of a fundraising event at which President Donald Trump's eldest son, businessman Donald Trump Jr., will appear Tuesday at the Historic Smithville Inn.
Speakers will discuss fiscal accountability, lowering taxes, responsible development, job creation and common-sense governance during the forum, which is scheduled for 6 to 7:30 p.m.
"Donald Trump Jr. and Kimberly Guilfoyle have the nerve to come to South Jersey," according to the statement posted on the site. "They're headlining a $300 a head fundraiser for a shady Super PAC controlled by disgraced former Galloway Township Mayor and political boss Don Purdy.
"Hate has no place in South Jersey. Let's show Donald Trump Jr. that South Jersey is NOT Trump Country, it's Biden/Harris Country!" the statement continued.
Guilfoyle, who is also slated to be at the event, is a senior adviser to the Trump campaign.
The event will be hosted by former Galloway Mayor Don Purdy and former New Jersey Assemblyman Vince Polistina. Radio talk show host Harry Hurley will serve as master of ceremonies.
GALLOWAY TOWNSHIP — As former White House counsel to President Donald Trump, Atlantic City n…
Additional invited guests include Doug Steinhardt, New Jersey Republican chairman, and James Shultz, a former special assistant and senior associate counsel to President Trump.
The Historic Smithville Inn is located at 1 New York Road. Admission is $300 per ticket. There also will be a private reception for those contributing $1,500 or more. Checks are payable to Citizens for Responsible Development.
For tickets, contact Galloway Republican Club President Christopher Coleman at 609-276-4438 or ccoleman609@gmail.com.
Bridgeton semi-annual, city-wide cleanup set for Sept. 19
Gateway Community Action Partnership, in partnership with CompleteCare Inc. and Bridgeton, is hosting a "Take Pride Where You Reside" citywide, semi-annual cleanup from 9:30 a.m. to 2:30 p.m. Sept. 19.
Volunteers will meet for breakfast, t-shirts and cleanup assignments at 8:30 a.m. at the Marino Center, 11 Washington St.
For additional information on this event, call 856-497-6730.
Seven new cases of COVID-19 announced Wednesday in Cape May County
Seven new positive cases of COVID-19 infection have been discovered in Cape May County, according to news released Wednesday by Cape May County's Department of Health.
The breakdown of municipalities for the new cases are as follows: three cases in Wildwood; two cases in Middle Township; and one case each in Lower Township and Woodbine, the county said.
The county had zero deaths to report on Wednesday, the county said.
Total positive cases of COVID-19 infection in Cape May County is now 1,200, including 89 deaths, the county said.
Margate condo first in state to install ultraviolet light sanitizing technology, they say
A condominium complex in Margate has become the first in the state to install ultraviolet light sanitizing technology, according to a news release. 
The technology was installed at the 9600 Condominium, 9600 Atlantic Avenue, to help protect staff, residents and guests from harmful pathogens like the coronavirus, according to the release.
The three-layered sanitization solution is designed by Healthe to sanitize indoor public environments in real-time using UVA, UVC and Far-UVC light to continuously inactivate air and surface contaminants, according to the release. Far-UVC 222 nm lighting has been shown to inactivate up to 99.9 percent of viruses and bacteria.
They will be installed at key touch and travel points throughout the facility, including the building's lobby, gym and bathrooms, according to the release.
Atlantic County reports 13 new COVID-19 cases, no new deaths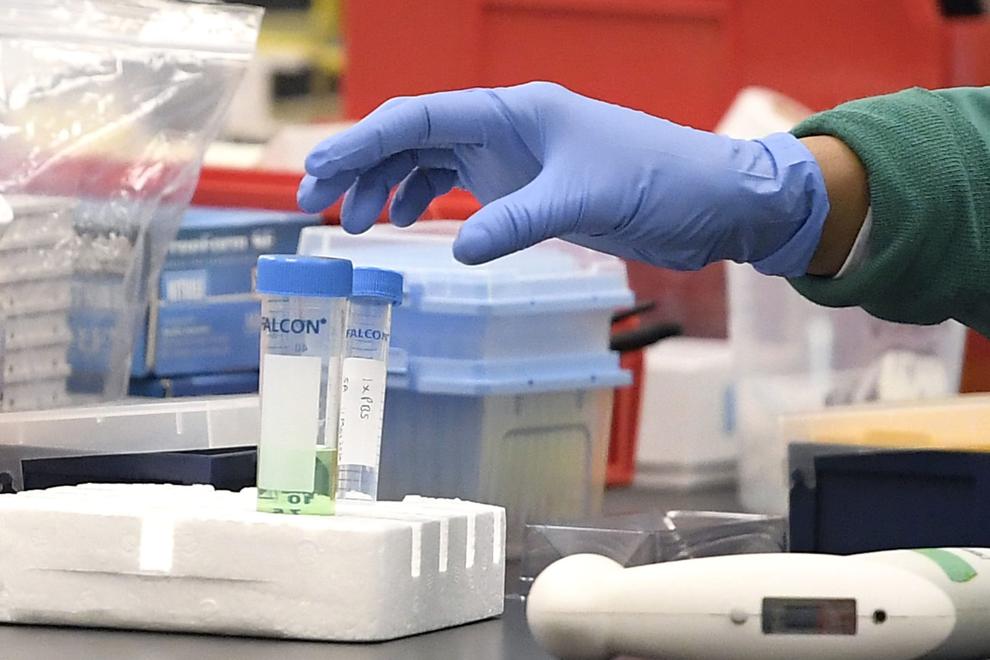 Atlantic County health officials Wednesday reported 13 new cases of COVID-19, but no new deaths.
The new cases were confirmed in four men, ages 21 to 58, and nine women, ages 19 to 54, according to a news release from county spokeswoman Linda Gilmore. Three of these residents are from Hamilton Township, two each are from Egg Harbor Township, Galloway and Pleasantville, while one each is from Atlantic City, Buena Vista Township, Linwood and Somers Point.
So far, Atlantic County has reported 4,076 cases with 247 deaths and 2,767 recoveries. Cape May County has reported 1,193 cases with 89 deaths and 990 designated off quarantine. Cumberland County has reported 3,169 cases with 147 deaths.
Atlantic County will continue to provide testing by appointment at its drive-thru facility in Northfield at Rt. 9 and Dolphin Avenue, behind the county public works yard, according to the release. Testing is scheduled for each Tuesday from 9 a.m. to 11:30 a.m. through Sept. 29.
The test site is available by appointment for both symptomatic and asymptomatic county residents, according to the release. No prescription is necessary, however, residents must provide proof of county residency and appointment confirmation.
If available, appointments can be made online at www.aclink.org. Officials asked those who are unable to keep their appointments to cancel no less than 24 hours in advance so others may have an opportunity to fill those spots.
Health officials urged residents to continue to remain vigilant to help mitigate the spread of the disease, including wearing face coverings, maintaining social distancing and avoiding crowds, washing hands frequently and sanitizing common-touch areas, and answering the call if contacted by contact tracers.
Middle Township officials cancel 2020 Harvest Festival
Middle Township officials on Wednesday announced the cancellation of the 2020 Harvest Festival, citing public health and financial concerns.
Officials had been considering a scaled-down event, but drastically reducing the number of vendors and attractions would make the event financially unsustainable, according to a news release from the township.
"As with all our events, we worked hard to find a safe and sensible strategy for putting on the Harvest Festival during this public health state of emergency," Mayor Tim Donohue said. "With the plan we've used the last several years, the event paid for itself. A smaller event, at risk of being canceled due to the ever-changing state of COVID-19 restrictions, would be a financial risk to our taxpayers that we cannot afford in this challenging economic environment."
Officials will work to develop some alternative events for the fall, more in line with the current restrictions on large crowds.
"Sadly, this is the times we live in," said Committeeman Jim Norris, who oversees recreation and special events. "We regret the necessity of this decision, but public safety has to come first. We look forward to restarting our Harvest Fest tradition, even bigger and better in 2021."
Cape May County Health Department announces flu shot clinics
Cape May County health officials are encouraging residents to get their flu shots as soon as possible.
The vaccination is the best way to prevent the flu and its potentially serious complications, according to a news release from the county Health Department.
Flu vaccine prevents millions of illnesses and flu-related doctor's visits each year. For example, during 2018-2019, flu vaccination prevented an estimated 4.4 million influenza illnesses, 2.3 million influenza-associated medical visits, 58,000 influenza-associated hospitalizations, and 3,500 influenza-associated deaths, officials said.
During seasons when the flu vaccine viruses are similar to circulating flu viruses, flu vaccine has been shown to reduce the risk of having to go to the doctor with flu by 40 percent to 60%, according to the release.
"With this year's flu season approaching, it is critical that adults and children get the flu vaccine to protect against infection and help prevent the spread of seasonal flu to others," said county Freeholder Jeff Pierson. "By getting a flu shot now, you will protect yourself, as well as your family and friends."
"Influenza is a contagious virus that can spread rapidly in our communities and cause severe illness resulting in hospitalization or death," said Health Officer Kevin Thomas. "Getting vaccinated is the best way to avoid the flu; it reduces the spread of the virus and can also help make illnesses less severe for those who do still get sick."
The vaccine is recommended for everyone six months and older, including pregnant women, according to the release. Individuals that are at most risk for getting severely ill from the flu are young children, pregnant women, people with certain chronic health conditions like asthma, diabetes, heart disease or lung disease, and people aged 65 years and older.
It takes approximately two weeks after vaccination for your body to develop protection against the flu, officials said. The Centers for Disease Control and Prevention (CDC) recommend getting a flu vaccine every year because flu viruses evolve quickly, and last year's vaccine may not protect against the current year's strain. Even if the vaccine does not fully protect against the flu, it may reduce the severity of symptoms and the risk of complications.
Most pharmacies and doctors' offices are offering the flu shot and due to the COVID-19 pandemic, the Health Department will be offering the flu vaccine by appointment only at the following locations:
Flu Vaccine Drive -Thru Clinics: Individuals 13 years and older. Appointment Only
To be offered at the Cape May County Fire Academy, 171 Crest Haven Roadd, Cape May Court House.
8 a.m. to 1 p.m. Oct. 3
8 a.m. to 1 p.m. Oct. 17
Family Flu Vaccine Clinics: Children 6 months and older and their families. Appointment Only
The Family Flu clinics will be offered at Cape May County National Guard Armory, 600 Garden State Parkway, Cape May Court House.
2 p.m. to 5 p.m. Oct. 6
9 a.m. to noon Oct. 14
2 p.m. to 5 p.m. Oct. 22
All flu clinics are by appointment only and will require a completed consent form, according to the release.Masks must also be worn to receive a flu vaccine. High dose vaccine will be offered as supplies last. Please request high dose when making your appointment. To make an appointment, call 609-465-1187. For consent forms and more information on upcoming flu clinics, visit www.cmchealth.net - Click Seasonal Flu.
Veterans' Drive-thru Resource Fair coming to Middle Township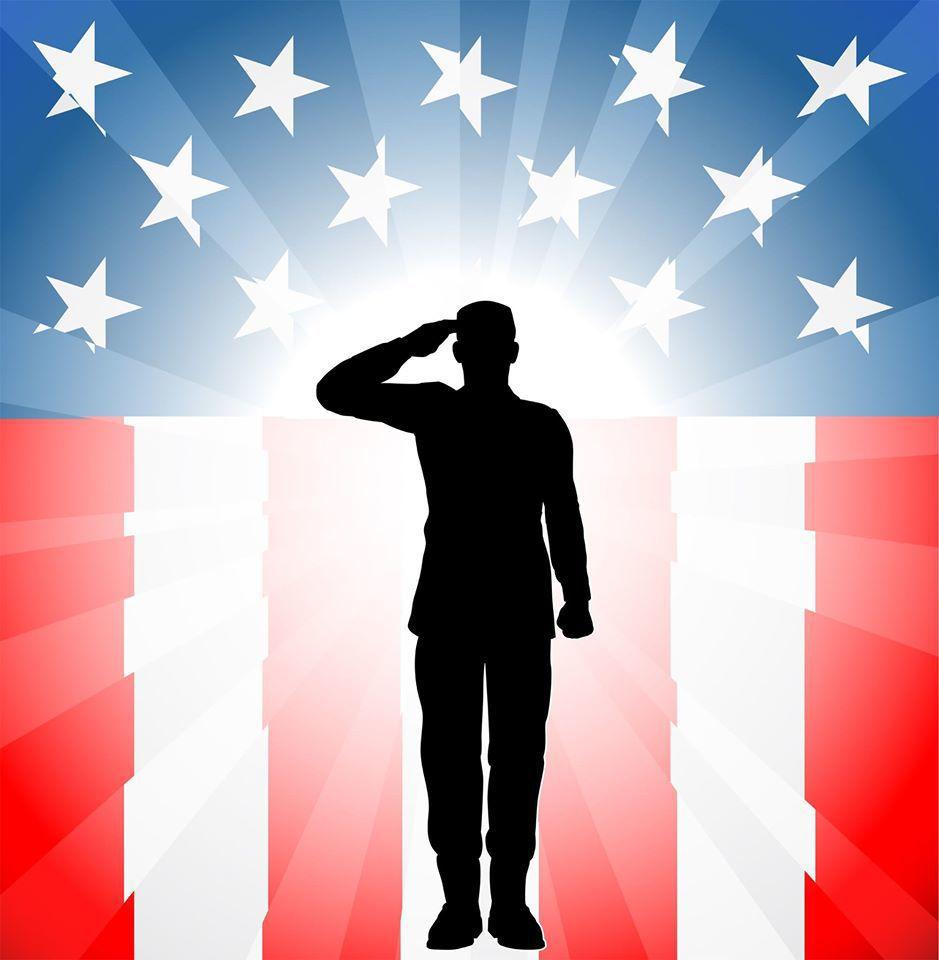 Cape May County officials announced Wednesday a veterans' drive-thru resource event next week.
The county Division of Veterans' Services will host the event from 10 a.m. to 2 p.m. on September 17, according to a news release from Freeholder Director Gerald Thornton and Freeholder Jeffrey Pierson. It will be held in the front parking lot of the county Department of Human Services in the Social Services Building, 4005 Route 9 South, in the Rio Grande section of Middle Township.
"With COVID-19 eliminating in-person events, we have been forced to change our annual Veterans' Day Memorial Ceremony at Naval Air Station Wildwood," Pierson said. "Instead, we will mark the occasion with a virtual video honoring our Veterans that will be available on the county website www.capemaycountynj.gov. The Resource Drive-thru event will give our Veterans and their families the opportunity to talk to representatives and gather important information."
Representatives from the Wilmington VA Medical Center's Southern New Jersey Veteran Community Outreach Team, the county Prosecutor's Office HopeOne resource van and the county Division of Aging and Disabilities Services will be there, officials said. Additionally, Veteran Service Officers from the New Jersey Department of Military and Veterans Affairs and Cape May County will also be there.
Information and resources regarding Veterans healthcare, disability claims, VA pensions, and many other subjects will be readily available, officials said. For the safety of all, appropriate social distancing and mask-wearing will be required. Veterans and their families may stay in their vehicles and a representative will come to them.
Parking will be available on the side of the building for those who wish to park, according to the release.
TSA training Wednesday in Hamilton Township could get noisy, police say
Starting at about 10 a.m., the TSA will be conducting training in the area of Wrangleboro and Tilton roads near the airport, according to the Hamilton Township police. Loud bangs will be a result of this training and should last until 3 p.m. 
Earthquake hits Monmouth County Wednesday morning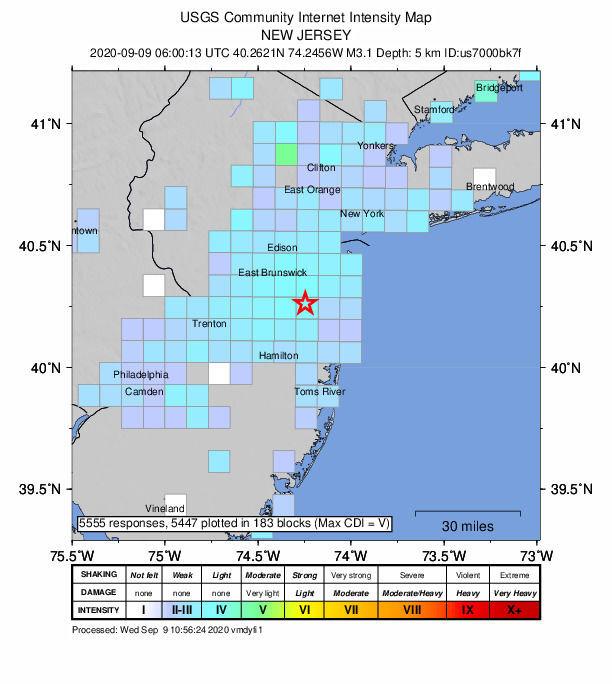 The United States Geological Survey reports a magnitude 3.1 earthquake hit near Freehold, Monmouth County, early Wednesday morning.
The earthquake, which began around 2 a.m., is not reported to have caused any serious damage or injuries.
At least one person in Atlantic County felt the effects of the earthquake. 
State to give out free overdose-reversal drug this month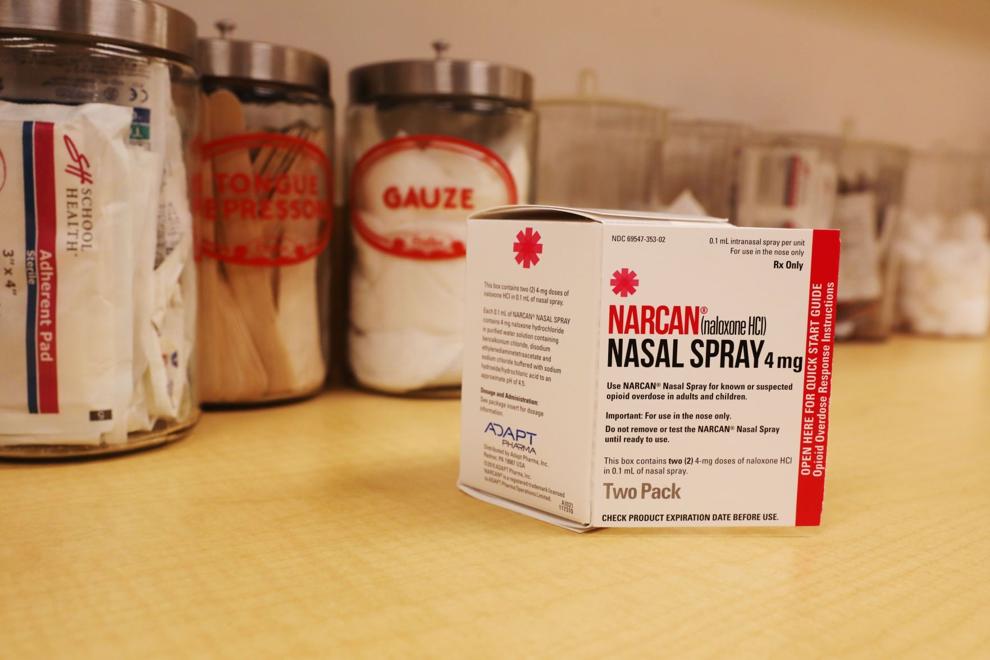 State officials said Wednesday they will offer the opioid overdose reversal drug for free to residents at participating pharmacies throughout the state later this month.
Naloxone, commonly called Narcan, will be available from Sept. 24 to Sept. 26, according to a news release from Gov. Phil Murphy and Human Services Commissioner Carole Johnson.
"The ongoing opioid epidemic continues to devastate communities across our state," said Murphy. "By expanding access to Naloxone, New Jerseyans will have this lifesaving medication readily available to help those who may be suffering from an overdose."
Residents can visit participating pharmacies and anonymously obtain naloxone for free with no prescription and no appointment, officials said. Each naloxone pack contains two doses.
"This is all about saving lives," Johnson said. "We're continuing to find innovative ways to combat this epidemic that has taken far too many lives. We urge everyone to visit a participating pharmacy to get a free pack of this overdose reversal drug because, quite frankly, you never know when you're going to need it to save a life."
The free naloxone will be available at 322 pharmacies, including several locations of Acme, CVS, Rite Aid, Sav-On, ShopRite, Stop & Shop, Walgreens, Walmart, Weis Markets and independent pharmacies, officials said.
This will be the second free naloxone distribution to residents in recent years, according to the release. Human Services in June 2019 oversaw a free naloxone distribution at pharmacies that led to residents receiving 32,000 doses of naloxone.
Crews continue work to demolish former Trump Plaza in Atlantic City
Construction crews are continuing the process of preparing the former Trump Plaza Casino in Atlantic City for its demolition.
The property,  owned by billionaire Carl Icahn, is slated to implode early next year. 
Trump Plaza Hotel & Casino opened on May 14, 1984, and closed for good Sept. 16, 2014, one of four resort casinos to close that year.
Donald Trump himself was no longer an owner at the time of its closure.
Traffic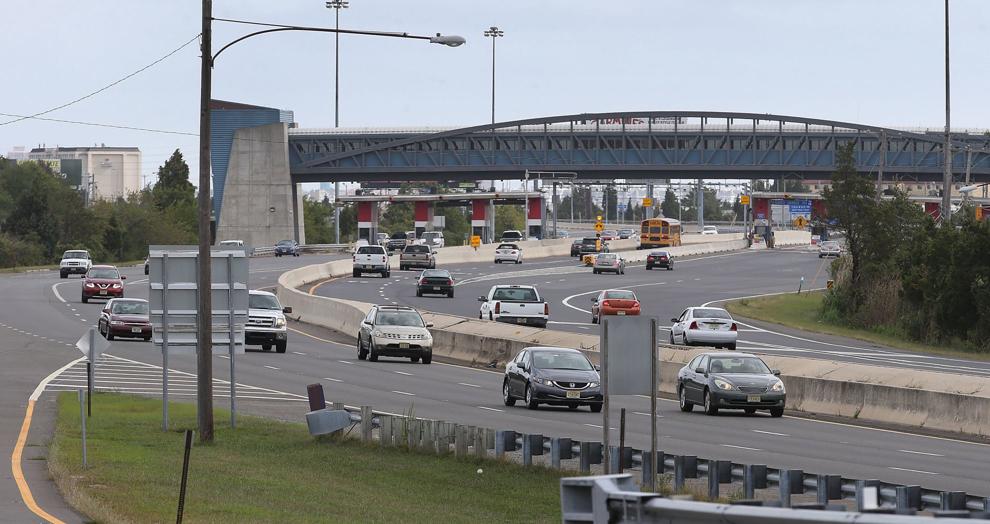 There is construction and sign work on the Atlantic City Expressway eastbound between West of Atlantic City Convention Center/Eastern Terminus and Atlantic City Convention Center/Eastern Terminus. The left and center lanes will be closed until 2:30 p.m.
Stockon University, Hispanic Association of Atlantic County partner for school supply drive for Atlantic City students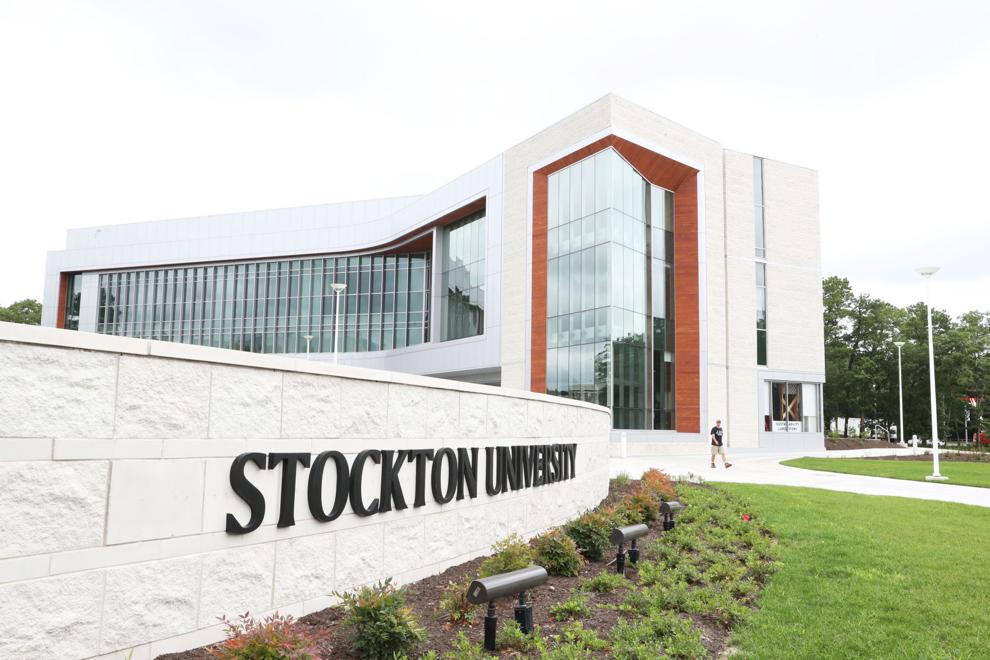 Stockton University Alumni Relations is partnering with the Hispanic Association of Atlantic County for a University District Supply Drive to collect and distribute book bags and school supplies for children in Atlantic City.
The university will host a drop-off site at the Stockton John F. Scarpa Academic Center, 3711 Atlantic Avenue, from 11 a.m. to 1 p.m. Saturday, according to a news release from the university. Stockton alumni and volunteers from the Hispanic Association will collect items and pack the backpacks.
Local families can pick up the filled backpacks starting at 2 p.m. in O'Donnell Park, across from the Stockton campus, officials said.
Donated items can also be dropped off in advance by emailing the Hispanic Association at haacnj@gmail.com or by calling Stockton Alumni Relations at 609 652-4469.
Among the items needed are backpacks, pencils, folders, crayons, highlighters, notebooks, hand sanitizer, disposable masks, tissues and reusable water bottles.
No COVID-19 briefing with state officials Wednesday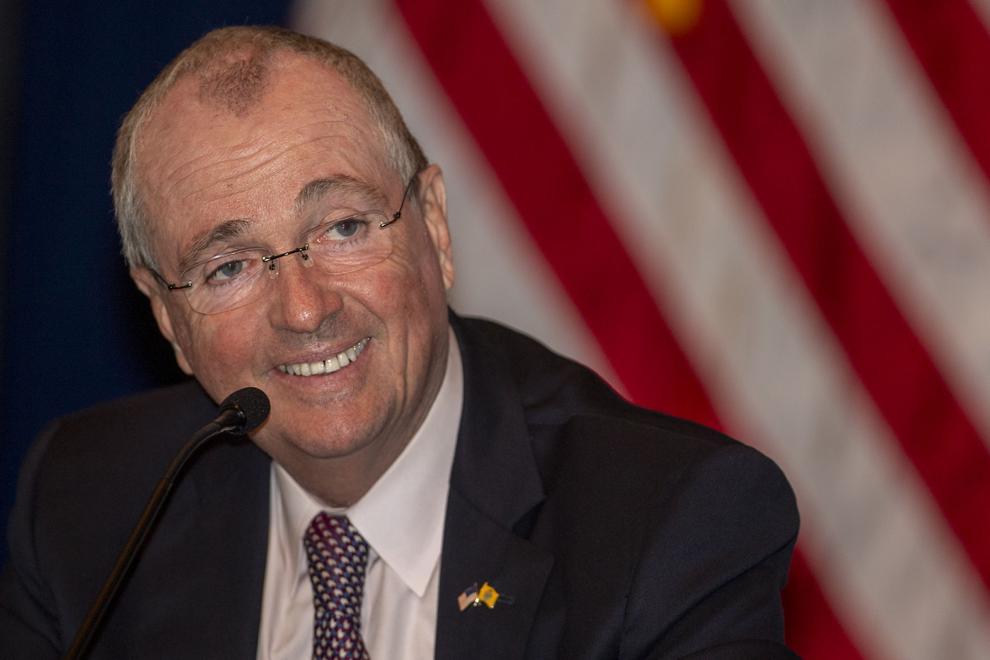 There is no briefing will state officials Wednesday to update residents on the spread of COVID-19.
However, at 1 p.m., Gov. Phil Murphy is scheduled to highlight the "Baby Bonds" proposal in the revised budget.
Then, at 4 p.m., Murphy is scheduled to appear on "The Lead with Jake Tapper" on CNN to discuss the state's response to the new coronavirus.
For most people, the new coronavirus causes only mild or moderate symptoms, such as fever and cough. For some, especially older adults and people with existing health problems, it can cause more severe illness, including pneumonia.
Your Wednesday Morning Headlines: Park to be named for victim of Pleasantville football game shooting, how endurance-race culture has changed and more
An online fundraiser has raised more than $500 so far for those affected by a fire last week that destroyed the second floor of a North Dorset Avenue building in Ventnor, routing three men from their homes. The GoFundMe, titled "Dorset Ave. fire victims," raised $515 of its $4,000 goal as of 2 p.m. Tuesday, according to the campaign.
All of the major 2020 outdoor endurance events have been canceled or converted to virtual events due to the COVID-19 pandemic — the Atlantic City Marathon, Atlantic City Triathlon, Escape the Cape Triathlon, Tri the Wildwoods, Ironman 70.3 Atlantic City and the Rock 'n' Roll Half Marathon. The inaugural Rock 'n' Roll Half Marathon also canceled its 2021 race. 
Micah "Dew" Tennant, an Atlantic City boy who was fatally shot in November during a Pleasantville High School football game, will have a park dedicated to him Wednesday by city officials. On what would be Micah's 11th birthday, Mayor Marty Small Sr. and other city officials will gather at 3 p.m. at the Maryland Avenue playground in the 800 block to name the park after Micah, according to a news release from the city.
New Jersey's tax revenues aren't as dire as Gov. Phil Murphy estimated, legislative calculations published Tuesday show. The difference is significant because it could mean lawmakers and Murphy won't have as much of a budget gap to close.
Jackson Braddock, a Ship Bottom resident, verbally committed to continue his education and cross country and track career at the University of Virginia on a full athletic and academic scholarship. The Southern Regional High School senior will sign a national letter of intent in the fall.
Contact: 609-272-7202
Twitter@ACPressJackson