COLT SHAW Staff Writer
SEA ISLE CITY — The firehouse on John F. Kennedy Boulevard is just under a mile from Janice Pantano's Central Avenue shore home, but on May 23, when Pantano called 911 to report that her car was on fire, it took 19 minutes before firefighters had begun spraying water at the scene.
By the time the fire was put out, her car and her home were destroyed. Pantano, 62, of Blue Bell, Pennsylvania, wants to know why it took so long.
According to a review of 18 months of fire call data and a former city fire chief, the city follows a legal, if controversial, practice of sending police officers to a fire first before calling out firefighters.
In Pantano's case, police arrived within moments of her 911 call at 10:36 p.m., but the Sea Isle City Volunteer Fire Department wasn't dispatched until six minutes later, according to computerized dispatch records obtained through a public records request.
It took another six minutes for fire engines to get to the scene; and at 10:55 p.m., seven mi nutes after arriving, firefighters were fighting the fire, according to timestamped videos provided by Pantano's neighbor, Kevin Brennan.
Police Chief Thomas McQuillen, who oversees the fire department as Public Safety Director, said that it is patently false that it's a city practice to dispatch police first to evaluate a fire.
"That's not our practice. ... We dispatch police, fire and EMS, and all of those responders are dispatched as close to the initial call as possible," McQuillen said. "Six minutes is not true."
But an interview with the city's former fire chief and a review of documents obtained from the city and the state show the fire at Pantano's house was not an isolated response pattern.
The Press reviewed dispatch records from January 2018 through July — 51 fire calls, including 14 when fire trucks were ultimately not dispatched. On average, from January 2018, the Sea Isle City Volunteer Fire Department was not dispatched until 4 minutes and 24 seconds after the city received a 911 call, according to dispatch records.
A rash of destructive fires this past year has sparked questions about whether the city needs a professional force. The fires also prompted a state investigation that led to the June dismissal of three department officials — Chief Frank Edwardi Sr. and his two assistants, Mike Tighe and Mike Ryan — over a lack of proper "incident command" training.
Edwardi — who volunteered for 46 years in the city, including five as chief — said the city has sent police units first to fires since he can remember. He said he's pushed city officials in the past to have the fire department dispatched immediately, but his calls fell on "deaf ears."
"People criticize the fire company for being late. Well this is what we're up against," said Edwardi, 75. "I said this a hundred times: call us out. Who cares? You know, call us. ... you can always turn (the truck) around."
The state does not recommend the police-first practice either.
"In many municipalities in the state, the police department does dispatching for emergencies, including fire calls, and determines which first responder is sent to the scene first," said Lisa Ryan, a spokeswoman for the Department of Community Affairs, which oversees the Division of Fire Safety. "The New Jersey Division of Fire Safety urges dispatchers to immediately send the fire department when a fire call comes in so that firefighters can get to the scene as soon as possible. However, dispatching protocol is ultimately a local decision."
For response times, the DCA recommends fire departments follow the National Fire Protection Agency's standards. The NFPA recommends that, for a city the size of Sea Isle with a volunteer department, firefighters respond to a scene within nine minutes for 90% of calls.
In one sense, Sea Isle City's fire response meets that standard — 91% of the time the fire company is dispatched to a scene, it arrives within nine minutes from the time it's been called, according to a copy of the city's dispatch records.
But when you factor in the time between the 911 call, the dispatch of fire trucks and the time it takes to arrive on scene, the department's rate for meeting the nine-minute benchmark drops to 49%.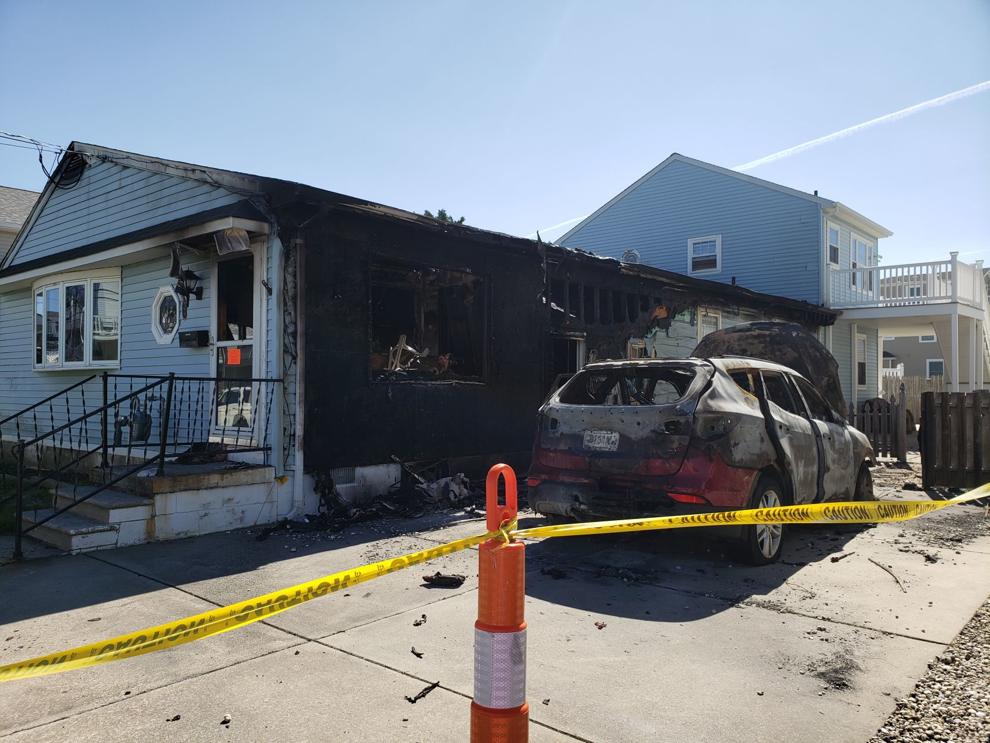 One South Jersey volunteer firefighter, who spoke on the condition of anonymity, found the practice shocking.
"That right there, that can be catastrophic, as far as fire development," the firefighter said. "It starts out (as) a little fire ... and then next thing you know, you get there (and) the whole siding of the house is on fire ... That's a long time for fire development."
McQuillen told The Press there is pending litigation that keeps him from answering in detail, but did say the city's administration has "the utmost confidence" in the city's fire department.
"Our fire department has had a long, successful history of serving this community," McQuillen said. "They are comprised solely of dedicated volunteers who give hundreds of hours each year to protect citizens and residents of Sea Isle. As far as I'm concerned, the Fire Department followed all appropriate protocols when responding to this call. Due to pending litigation, we can not offer any additional comments on this particular call."
The records kept by the city can make the fire department's performance difficult to assess.
Sea Isle voluntarily files National Fire Incident Reporting System (NFIRS) documents with the DCA's Division of Fire Safety. The state uses them to compile yearly reports, and also forwards them to the National Fire Data Center at the United States Fire Administration where they are analyzed for "frequency, causes, spread, and extinguishment of fires," and more, DCA spokeswoman Ryan said.
The Press obtained the NFIRS documents from November 2018, April 2019 and May 2019 — three months in which the city fire department responded to major fires — through an Open Public Records request. A review of the documents show officials never reported the commanding officer on scene, something Ryan said should always be included. The reports also listed call times, dispatch times and arrival times as happening simultaneously. The document for Pantano's fire, for example, said trucks left the station at 10:36 p.m. and arrived at 10:36 p.m.
Ryan said the omissions could have been indifference or just carelessness.
"Either way, we would encourage that more attention be paid to the data going into the incident reports," she said.
Edwardi believes the city has outgrown its all-volunteer force, which has responded to fires in the resort since 1896. New homes are bigger, and built closer together. Fewer people are volunteering.
Brennan, Pantano's neighbor and a CPA, went to the City Council meeting after the Memorial Day weekend fire to ask the city to commission a study on a paid department.
He pointed to Ocean City's fire department, which has a fully professional force with 58 members and a $7.2 million fire budget. Sea Isle spends just $116,300 on its fire budget. Brennan calculated that Sea Isle could hire 21 firefighters to staff the firehouse in shifts around the clock for less than $2 million, to support the existing fire department.
"The volunteers, God bless them. They're putting their life on the line. It's not fair to them," Brennan said.
But since the removal of Edwardi, Tighe and Ryan this summer, the city has been quiet regarding other changes in the department, which has been working to obtain proper state certification for its volunteers. A November election will decide new fire officials.
Pantano, meanwhile, is still waiting for answers.
She has yet to receive a copy of the fire report, she said. The windows on her shore house are covered by plywood, the siding is melted, and the home is charred black, inside and out.
"I'm not mad at the volunteers," Pantano said. "I'm mad at the process."
Contact: 609-272-7260 cshaw@pressofac.com
Twitter @ACPressColtShaw
Contact: 609-272-7260
Twitter @ACPressColtShaw
Tags
Get local news delivered to your inbox!
Subscribe to our Daily Headlines newsletter.