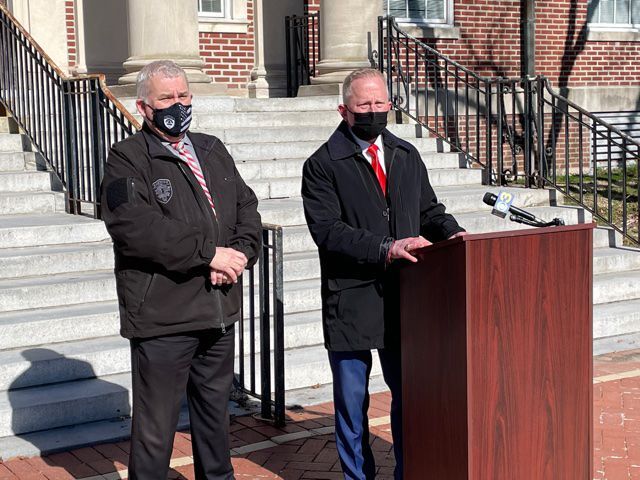 OCEAN CITY — Police have charged a local man with harassment after U.S. Rep. Jeff Van Drew, R-2nd, reported a threatening phone message left on his home voicemail to U.S. Capitol Police last month.
City spokesperson Doug Bergen confirmed the harassment charges against John McCall, 68.
McCall could not be reached for comment Thursday.
A court date is still pending as the investigation is ongoing.
The Ocean City Sentinel printed two columns by McCall, for which the editor has apologized, that contained language the editor agreed could be interpreted as threatening Van Drew and his wife.
Capitol Police confirmed in late March that they were investigating a report by Van Drew of a credible threat. Ocean City police were asked to assist.
The United States Capitol Police is investigating a report by Rep. Jeff Van Drew, R-2nd, of …
At a news conference March 15, Van Drew described the voicemail message, in which McCall said he "will do everything in my power to make sure you are deposed if not dead."
Van Drew also demanded the Sentinel apologize for printing guest columns by McCall that Van Drew said contained death threats against him and the threat of sexual assault against his wife.
Later that day, the editor and publisher of the Sentinel, David Nahan, said he was wrong to print the March 10 column by McCall as it was. It included graphic wording about a potential attack on Van Drew's wife.
"Because you felt threatened and felt your wife was threatened, I am sorry," Nahan said at the time in a written statement. "I don't have a problem with giving readers space to put their names to criticism of any elected official. However, in this instance, I have let the readers down."
McCall, however, refused to apologize and said Van Drew "is attempting to censor the free press for criticizing his radical, disingenuous behavior in strong language."
CAPE MAY COURT HOUSE — Representative Jeff Van Drew, R-2nd, condemned a weekly newspaper Mon…
But later in the statement, Nahan said he didn't believe any of the seemingly threatening statements by McCall were serious threats.
Van Drew switched parties from Democrat to Republican in late 2019, after refusing to vote to impeach President Donald Trump.
In the guest columns, McCall muses graphically about seeing how Van Drew's wife would react if she were grabbed between the legs, as Trump once said he felt free to do to women.
McCall also wrote that Van Drew deserves the fate of all traitors.
Contact Michelle Brunetti Post: 609-272-7219
Twitter @MichelleBPost