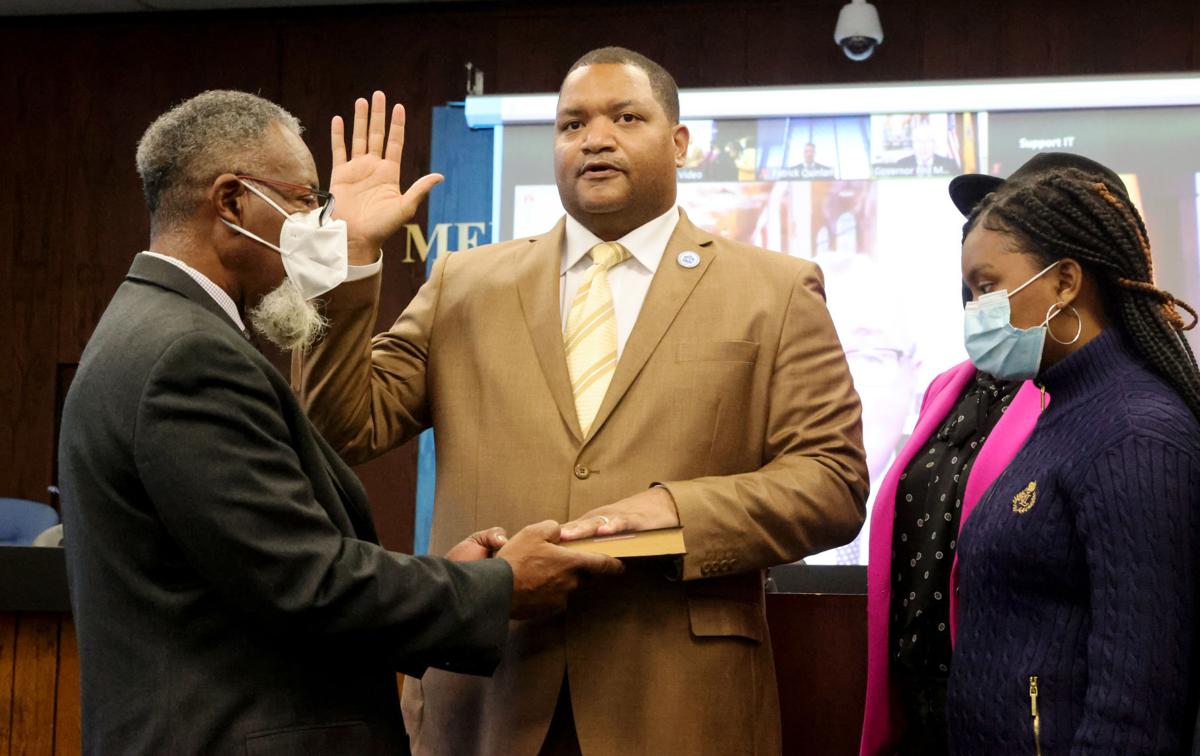 ATLANTIC CITY — The mother of a child sexually abused by a relative of Mayor Marty Small Sr. and his wife, La'Quetta, is suing the couple, the Board of Education, Superintendent Barry Caldwell and former substitute teacher Kayan Frazier, the relative.
The federal lawsuit was filed Thursday by Jane Doe on behalf of John Doe, her minor child. The use of pseudonyms was designed to protect the identity of the child.
Frazier, 28, of Somers Point, pleaded guilty in February to one count of child exploitation involving sexual abuse and child pornography of a child identified in criminal charges as "Minor Child 1."
A spokesman for the law firm representing the mother confirmed that the "John Doe" in the latest lawsuit is the "Minor Child 1" identified in Frazier's guilty plea.
Mayor Small directed questions to his attorney, Ed Jacobs, who could not be reached for comment.
Political organizer Craig Callaway filed a motion Thursday to move Atlantic City Mayor Marty…
Caldwell said he was not superintendent at the time the abuse is alleged to have occurred.
"I'm not aware of the allegations that are going on," Caldwell said. "This was thoroughly investigated by the U.S. Attorney's Office. Kayan Frazier is in jail."
The federal lawsuit alleges Frazier, a former caseworker at the New Jersey Department of Child Protection and Permanency, sexually abused the child over three years, including in a bathroom inside the Smalls' home. Frazier was a substitute teacher in the district from 2015 to 2017 while La'Quetta Small was the principal of the Pennsylvania Avenue School.
Frazier had lived with the Smalls at their Atlantic City home while attending Stockton University and for some time after, Small has said, but moved out to live in his own apartment in October 2015.
La'Quetta Small has said she dismissed Frazier as a school employee in 2017 when she discovered Minor Child 1 was staying over Frazier's home in violation of school policy.
The federal lawsuit alleges La'Quetta not only knew of the sleepovers with Minor Child 1 but had allowed her own son to participate in them for a time. It alleges she knew of Frazier's abusive behavior because she eventually prohibited her son from continuing to go to the sleepovers.
ATLANTIC CITY — The mayoral campaign is in full swing — literally — after a video surfaced o…
According to the criminal plea agreement, Frazier possessed and distributed child pornography — including images involving Minor Child 1 — dating as far back as March 2015 when he was still living with the Smalls.
The lawsuit also alleges Frazier took photos of himself sexually assaulting the child, and showed the child pornographic images.
"Kayan Frazier is a monster," said lawyer Rook Ringer, who is representing the child's mother.
The lawsuit alleges the child now suffers from emotional, psychological and psycho-social problems, has suicidal thoughts and suffers from fears and phobias.
It also alleges the parties negligently failed to protect the child, and seeks compensatory and punitive damages, attorneys' fees and cost of suit, and other relief the court may order.
In March, the Smalls filed a slander lawsuit in Atlantic County Superior Court against Craig Callaway and five unnamed others for comments Callaway made on local radio programs, claiming the Smalls allowed sexual abuse to happen in their home.
ATLANTIC CITY — Mayor Marty Small Sr. has filed a legal complaint against Atlantic City poli…
At the time, the mayor denied anything happened in his home and said Callaway's statements were politically motivated. Callaway is supporting Tom Foley in this year's Democratic primary for mayor against Small.
La'Quetta Small followed district policy in reporting Frazier's inappropriate conduct with a student, according to findings in an October memo by school board Solicitor Tracy Riley.
Riley's report said La'Quetta Small investigated. In an incident report, La'Quetta Small said the mother of the child told her Frazier was helping her out and mentoring her son. But Frazier's conduct violated school policy, so he was dismissed.
The report also said La'Quetta Small reported the incident to the Department of Child Protection and Permanency.
Also in October, the school board hired an independent investigator to look at the district's handling of the Frazier case. That investigation is ongoing.
Mayor Small is running for reelection this year. In a statement issued late Thursday, one of his Democratic primary opponents, Tom Foley, said: "While these allegations are just allegations, they are damning and suggest Mayor Small and Ms. Small prioritized protecting a sexual predator over protecting a young child from harm."
Staff Writer Claire Lowe contributed to this report.
Contact Michelle Brunetti Post: 609-272-7219
Twitter @MichelleBPost