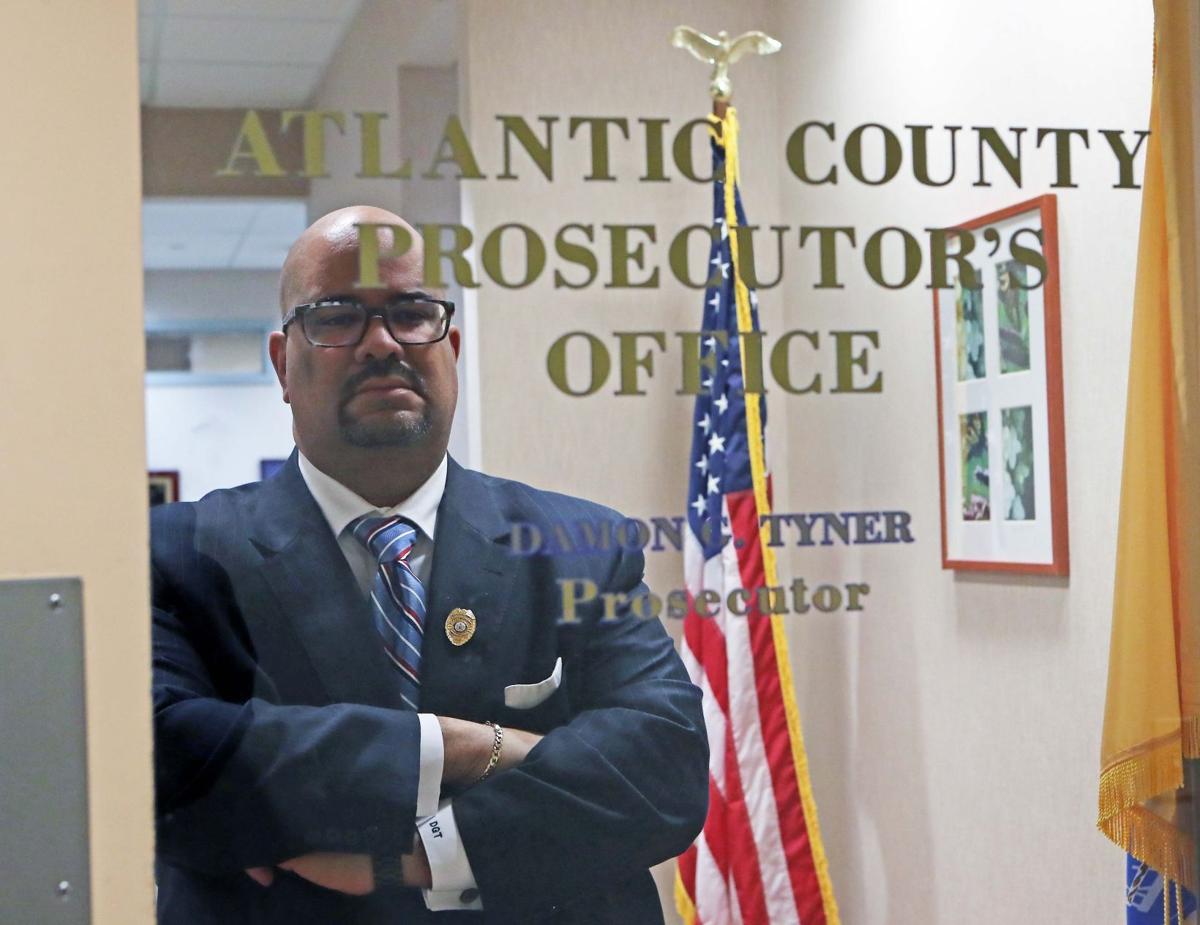 An investigation by the state Attorney General's Office has found evidence to support a number of alleged ethics violations, including lying, nepotism and mishandling of funds and a vehicle by Atlantic County Prosecutor Damon G. Tyner and his first assistant prosecutor.
The allegations stem from two complaints. One was filed by a county resident and another was filed by three former employees of the county Prosecutor's Office who are also suing Tyner over their dismissal. Both complaints date to 2018 and 2019 and were concluded this month, according to copies of the letters the Attorney General's Office of Public Integrity mailed out Monday.
The Prosecutor's Office did not respond to requests for comment Thursday. Tyner and First Assistant Prosecutor Cary Shill were named as the subjects in the ethics complaints.
Among the allegations sustained by the investigation:
Shill inappropriately used a victim witness vehicle outside its specified purpose, then appeared to retaliate against an employee who complained.
Tyner violated Atlantic County policy by supervising his brother, Agent Michael Graham.
Tyner failed to recuse himself from a matter in which he had previous, unfavorable knowledge of a complainant and a conflict involving a prominent minister's relative. He used that knowledge to influence the assistant prosecutor assigned to the case, the office reported.
Tyner told a community group that a file marked "NIM" stood for "non-important murders" and represented homicides of Black and minority residents that hadn't been fully investigated by previous prosecutors.
MAYS LANDING — At least 30 people have been charged for their roles in a drug ring spanning …
Tyner's comments were "an attempt to build trust between the ACPO and the community," the investigation found, adding Tyner had no "firsthand knowledge that such files existed."
The report also partially sustained two additional allegations:
Tyner and Shill mishandled forfeiture funds, although the letter noted the inaccurate entries were not "made in furtherance of a nefarious purpose."
As prosecutor, Tyner did not recuse himself from a case involving a local doctor who had appeared in court before him in a civil case when he was a Superior Court judge.
Eleven other allegations were either not sustained or determined to be unfounded. In one allegation, investigators reported a stronger term, listing "exonerated" as the result of an investigation into Tyner and Shill's handling of information related to personnel involved in the investigation of the 2012 murder of April Kauffman.
ATLANTIC CITY — When Donald Scott is home in his apartment, his television is on one of two …
Former Atlantic County Assistant Prosecutors Diane Ruberton and Donna Fetzer and former Prosecutor's Office Lt. Heather McManus leveled the charges against Tyner. The three women also have an ongoing lawsuit alleging discrimination, retaliation and other illicit behavior by Tyner and the Prosecutor's Office.
Michelle Douglass, their attorney, declined to comment on the attorney general's letter.
During a community event in July 2019, Tyner told a group of more than 100 people gathered at Atlantic City's Dolphin Field he had been surprised to find out that some homicide investigations, particularly those with Black or minority victims, had been marked with the letters "NIM," a notation, according to a report by BreakingAC.com.
"This investigation also found that Prosecutor Tyner had no firsthand knowledge that such files existed," according to the letter.
"While New Jersey has long led the way in police training and criminal justice reform, we st…
The attorney general has implemented corrective actions deemed appropriate, according to the letter.
"Your allegations about Prosecutor Tyner's financial issues were probed, however this investigation did not find sufficient evidence to conclude that these issues impacted his decision making as Prosecutor," counsel Richard T. Burke wrote in his letter to Douglass.
The letter comes two months after the county reached a $230,000 settlement with Matthew Davidson, a former assistant prosecutor. Davidson accused Tyner of unethical behavior including doing political favors.
Contact Nicholas Huba:
609-272-7046
Twitter @acpresshuba