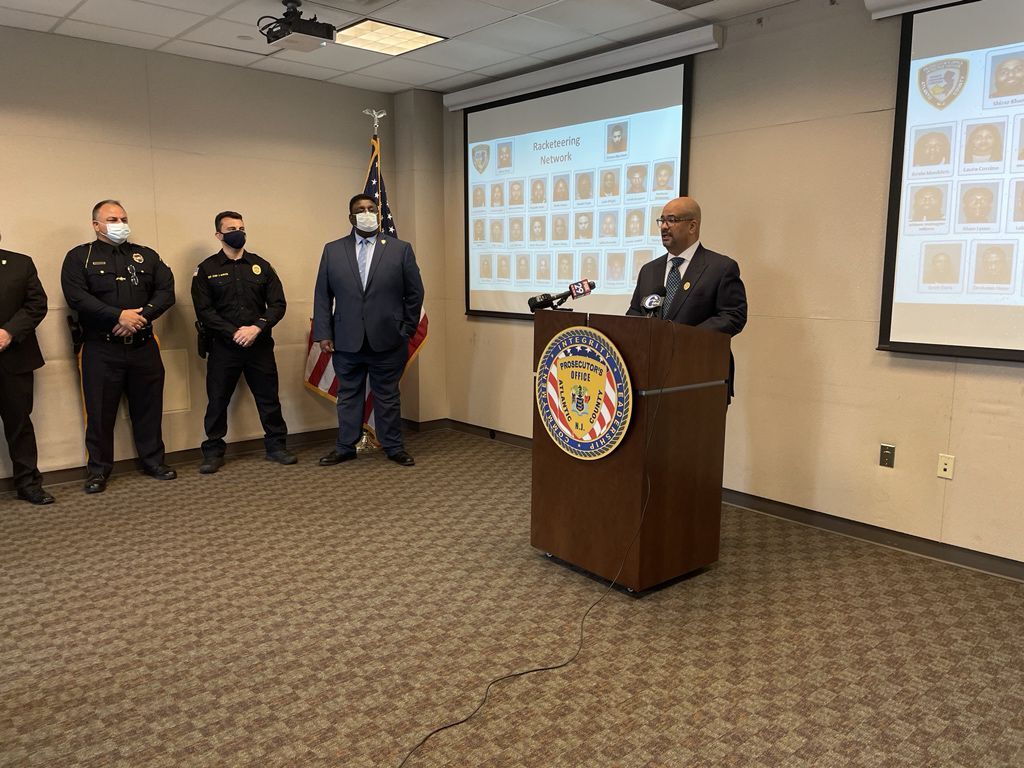 Tyner said it was a 4-year investigation leading to RICO charges for the 30 individuals. More than $2.6 million and various drugs and weapons were seized. pic.twitter.com/nUGE1oOyUa

— Ahmad Austin (@ACPressAustin) April 21, 2021
MAYS LANDING — At least 30 people have been charged for their roles in a drug ring spanning multiple towns in Atlantic County, with three facing additional charges in the 2019 killing of an Atlantic City youth football coach.
An investigation into the multimillion-dollar operation also revealed the involvement of a corrections officer, who allegedly smuggled drugs into the Atlantic County jail for one of the incarcerated leaders.
County Prosecutor Damon G. Tyner on Wednesday announced Racketeer Influenced and Corrupt Organization (RICO) charges against the 30 suspects. Additionally, murder charges were levied against the three believed responsible for the fatal shooting of Demond Tally two years ago.
More than $2.6 million was seized over the course of the investigation, Tyner said. Officers also seized a "large amount" of drugs and weapons from eight properties in Hamilton Township, Pleasantville and Buena, and three vehicles.
"Very simply, drugs, money and murder may be romantic stories for the streets," Tyner said during a news conference at his office, "but in reality, there are only two possible endings to those stories. Those involved either wind up in a box or in a box. They wind up in a cell or in a casket."
ATLANTIC CITY — Residents came together last month to honor the memory of the Atlantic City …
Tally, 45, was shot and killed in February 2019 in Atlantic City outside the home of then-Councilman Marty Small Sr., who is now the mayor. In a Press report shortly after the killing, Small said Tally, a longtime friend, was "only 20 steps away" from his house.
Small declined to comment Wednesday on the charges.
According to Tyner, the network was led by 27-year-old Steven Martinez and 31-year-old Shiraz Khan. Martinez has been in the Burlington County jail since May 2019 after being arrested for narcotics distribution and weapons possession.
"The indictment handed up last week will add a host of other charges that he will face," Tyner said, "including the murder and conspiracy to commit murder of Demond Tally."
Martinez orchestrated Tally's killing, which was carried out by 25-year-old Shamar Scott and 23-year-old Deshawn Hose, Tyner said. All three were handed conspiracy and murder charges.
ATLANTIC CITY — It's been a deadly year in the city.
Khan was arrested in April 2019 during a traffic stop when officers recovered 11 ounces of cocaine from his car. He remains in the Atlantic County jail, where he was then discovered to have been paying a corrections officer to smuggle in drugs.
Luis Mercado, the 27-year-old officer, was charged with various RICO offenses as well as official misconduct and selling electronic devices in a correctional facility.
Tyner was joined at the conference by Atlantic City police interim Officer-in-Charge James Sarkos, Egg Harbor Township police Chief Michael Steinman, a representative from the Galloway Township Police Department and county Chief of Detective Bruce DeShields.
"While we know that these charges will not bring their loved one back, we hope that this will bring some comfort and peace to the Tally family," Sarkos said later in a news release.
The investigation is ongoing as authorities are looking into other murders that may be linked to Martinez and Khan's network.
"There are a myriad of reasons why any particular investigation begins," Tyner said, "but what I want to make clear is that just because someone is out there violating our laws and they haven't been caught yet, the operative term is 'yet.' We will catch up to them."
Contact Ahmad Austin:
609-272-7404
Twitter @ACPressAustin