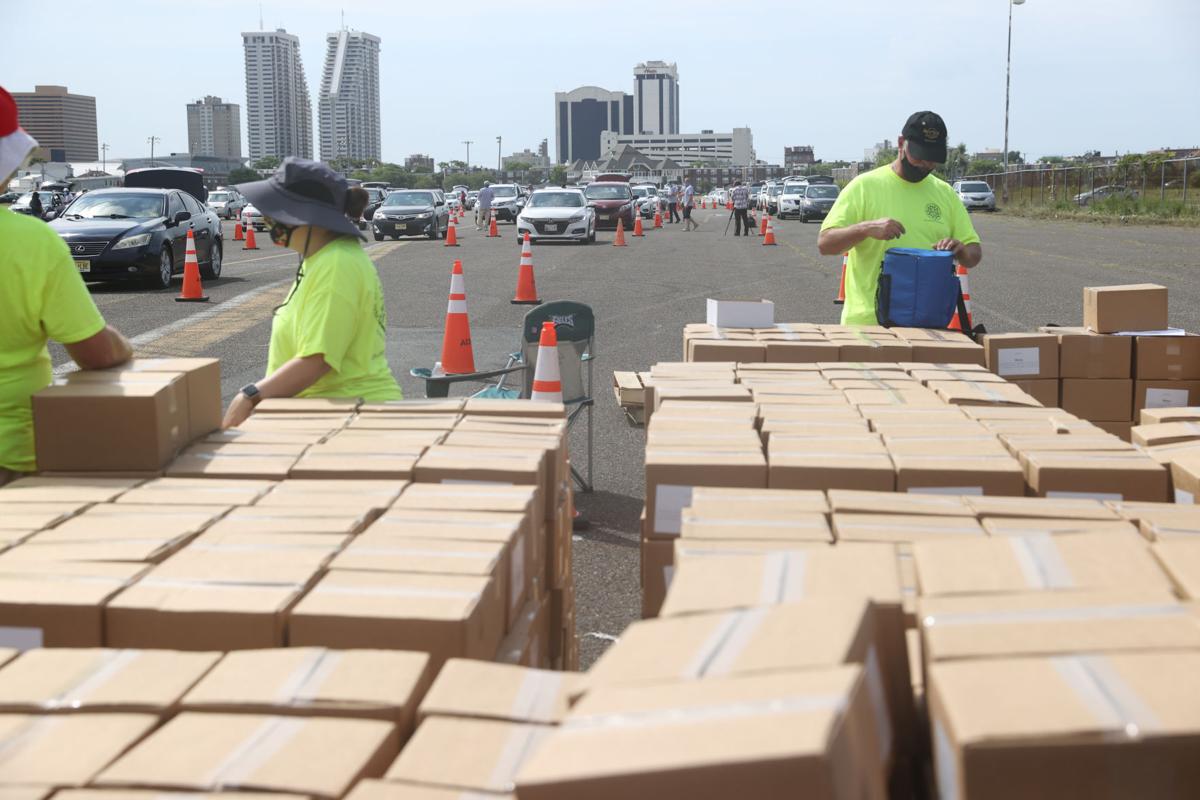 ATLANTIC CITY — The Casino Reinvestment Development Authority has spent more than $1.6 million on emergency initiatives in response to the novel coronavirus' impact on the community.
The CRDA allocated an additional $350,000 at its public meeting Tuesday to support food distribution events, which are now being called "FeedAC."
Tuesday's funding brings the CRDA total to $949,655 spent on emergency food services for Atlantic City residents and out-of-work casino employees since the onset of the COVID-19 pandemic in March. More than $650,000 has been allocated by CRDA on youth and civic programs in that time.
The CRDA emergency food funding has been combined with more than $600,000 in private donations from Atlantic City casino owners and executives, such as Resort Casino Hotel owner Morris Bailey, Hard Rock Hotel & Casino Atlantic City co-owner Joe Jingoli and Hard Rock International Chairman and Seminole Gaming CEO Jim Allen. Unite Here Local 54, NJ AFL-CIO and the Philadelphia Foundation have also contributed.
The funding will allow the emergency food events to continue through October, if necessary.
A seventh mass food distribution, organized by the Community Food Bank of New Jersey-Southern Branch, event is scheduled for 10 a.m. Thursday at Bader Field. Registration is required, at cfbnj.org.
Prior CFBNJ events have drawn out-of-work casino employees and city residents by the thousands.
"There's no place in the state of New Jersey that's getting hit harder than Atlantic County, and in particular Atlantic City, where we're seeing incredible unemployment numbers," said CRDA Executive Director Matt Doherty. "This board action today affirms the CRDA commitment to the Atlantic City community and the needs of industry workers during these unprecedented times."
According to the U.S. Bureau of Labor Statistics, the June unemployment rate for the Atlantic City-Hammonton region was 34%, which represents 40,061 unemployed people.
Before COVID-19, the unemployment rate for the region was 5.7%.
Included in Tuesday's funding is $50,000 earmarked for walk-up food distribution events throughout Atlantic City. The CRDA will partner with social service agencies in Atlantic City to target specific neighborhoods where the need is greatest for the walk-up distribution events, said CRDA Deputy Executive Director Rosa Farias.
"I personally want to thank the board members for approval of all of these items," said Chairman Robert Mulcahy. "I think that we're living in very difficult times and the willingness of this board to have sense and compassion for the problems that exist in the city is really terrific."
In other business, the CRDA board approved awarding a second contract of $100,000 to ABM Industry Groups, LLC, for cleaning and sanitation of the porta johns and comfort stations installed on the Boardwalk as a result of COVID-19.
ABM's first contract expires at the end of this month. The new contract runs through August 2021.
CRDA also approved $4.5 million for the Boardwalk renovation project, slated to begin in October.
The contract was awarded to Massett Building Company.
"If anyone has been in those restrooms lately, they know that they are in very bad shape, both above-ground and underground," Doherty said. "And what's important about this project is that it will not simply address what you see in the bathrooms — meaning the stalls, sinks, toilets, things like that — but also underground infrastructure, the water pipes and sewer pipes, that are failing on a regular basis. So, it's a much needed project that's going to significantly enhance people's experience coming to Atlantic City to enjoy the beach."
CRDA also took action on cleaning up the selected site for the proposed ShopRite grocery store project.
The board awarded a $120,000 contract to the Ambient Group, LLC and NorthStar Environmental Services for environmental remediation services.
The planned construction has been stalled by contamination issues at the CRDA-owned site at the corner of Baltic and Indiana avenues.
The 40,000-square-foot store has an estimated project cost of $13.5 million.
Contact: 609-272-7222
Twitter @ACPressDanzis