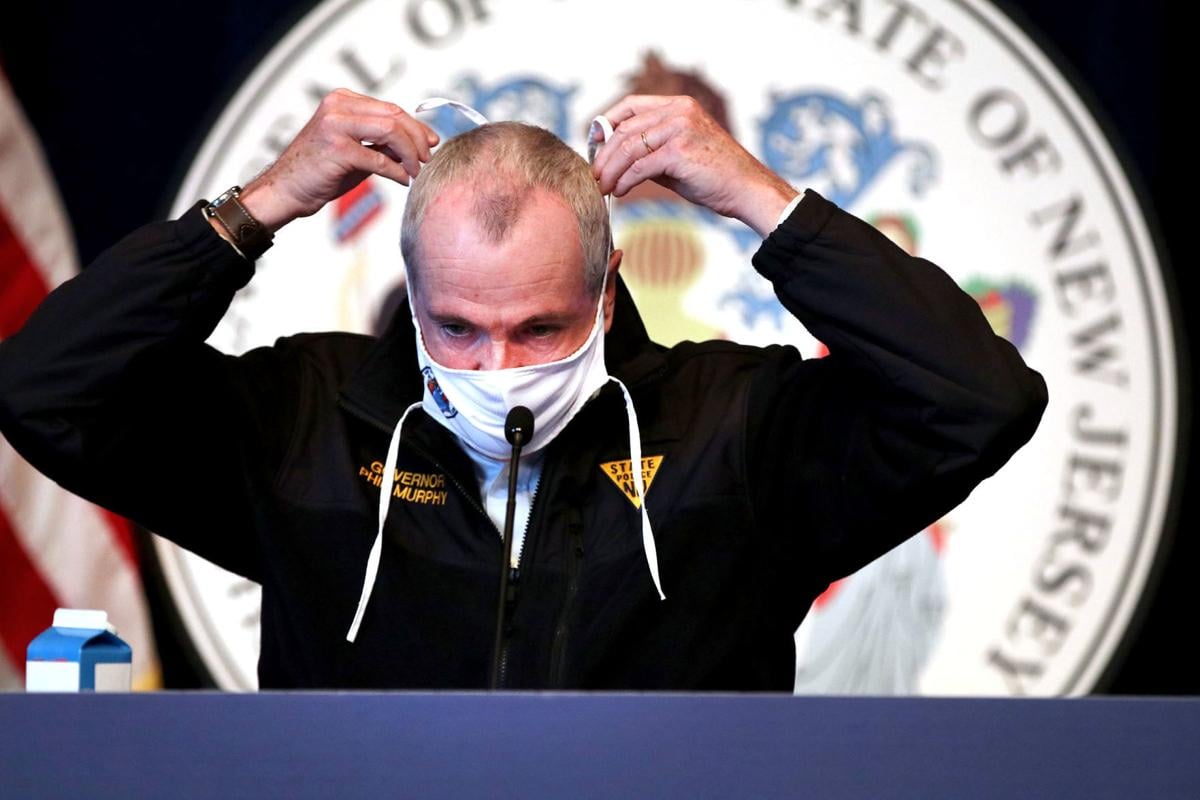 President Donald Trump continues to receive poor marks for his response to the coronavirus outbreak, as a majority of the American public believes the U.S. is handling the pandemic worse than other countries, according to poll results released Thursday.
A Monmouth University Poll also found a decline in what had been overwhelmingly positive ratings for federal health agencies and state governors, according to a news release. Most Americans are hopeful that they will be able to get back their lives to normal once the outbreak subsides, but few expect that to happen anytime soon.
Most Americans, or 52%,think the United States' handling of the pandemic is worse than other countries, the poll found. Just 15% feel the U.S. is a doing a better job than others and 29% say it is doing about the same. Currently, 22% of the public says the country is headed in the right direction while 72% says it is on the wrong track. The "wrong track" number has been above 70% since early June.
"There appears to be a growing sense that the U.S. does not have a handle on this pandemic, especially when Americans see other countries opening up without the uptick in cases we see here," said Patrick Murray, director of the independent Monmouth University Polling Institute.
The Monmouth University Poll was conducted by telephone from August 6 to 10, 2020 with 868 adults in the United States. The question results in this release have a margin of error of +/- 3.3 percentage points. The poll was conducted by the Monmouth University Polling Institute in West Long Branch, NJ.
There were 12 new cases of Atlantic County COVID-19 infection confirmed Thursday, the county said.
Health officials break down the 12 new cases as follows — six males, ages 21-63 and six females, ages 11-78, said Linda Gilmore, Atlantic County spokeswoman in a written statement.
To date, 3,725 residents have tested positive for Covid-19 since March, Gilmore said.
Hammonton and Northfield each had two new confirmations today while one new case was found in each of the following locations: Absecon, Atlantic City, Buena Vista Township, Corbin City, Egg Harbor City, Egg Harbor Township, Galloway and Somers Point, Gilmore said.
Forty-seven more Atlantic County residents have been cleared as recovered from COVID-19 for a countywide total of 2,262, according to the Atlantic County Division of Public Health, which also reported no additional fatalities for the 12th consecutive day leaving the cumulative number of deaths at 241, Gilmore said.
Atlantic County will continue to provide Covid-19 testing at its drive-thru facility in Northfield at Rt. 9 and Dolphin Avenue, behind the county public works yard, each Tuesday in August, 9 AM – 11:30 AM, unless otherwise noted.
The test site is available for both symptomatic and asymptomatic county residents with or without a doctor's prescription. Residents must make an appointment for testing and provide proof of county residency and appointment confirmation. If available, appointments can be made online at www.aclink.org.
A 50-year-old Woodbine male died as a result of a COVID-19 infection, the Cape May County Department of Health said Thursday.
"I am truly sorry for this loss," said Cape May County Freeholder Jeff Pierson in a written statement. "I extend to the family and friends my most heartfelt sorrow and condolences."
Five new cases of COVID-19 were discoverd in the county and announced on Thursday. There were found in: Dennis Township; Lower Township; Ocean City; Upper Township and Woodbine, the county said.
The total positive cases of COVID-19 infection in Cape May County is now 1,024, including 83 deaths, the county said.
New Jersey has 186,594 total COVID-19 positive cases and 14,054 deaths, the county said.
Officials from Holy Spirit High School welcomed back Joe Welsh as the head coach of the Girls Crew program.
The announcement was made on the school's Instagram account.
Welsh was a 1977 graduate of the school and was a member on the 1976 varsity eight-boat that won the Henley Royal Regatta in England, according to the post.
He also rowed at Temple University before returning to Holy Spirit to coach for 33 years, according to the post. He stepped away in 2018 to watch his daughter row in college.
The number of new unemployment applications fell another 17% last week – to 13,822 – the lowest weekly total of new claims in five months, as the state paid out another $516 million in weekly benefits to eligible claimants, officials said Thursday.
The week ending Aug. 8 marked the second consecutive double-digit decline in weekly unemployment applications, according to a news release. Last week, 16,573 people applied for benefits, a 41% drop from the prior week.
"It's a relief to see initial unemployment claims decline for two consecutive weeks. But with hundreds of thousands of New Jerseyans still out of work, or being called back only partially, our workforce needs continued, sustained economic relief," said Labor Commissioner Robert Asaro-Angelo. "We are doing everything we can to make sure every person in need receives every benefit they qualify for."
There is no briefing with state officials Thursday to update residents on the spread of COVID-19.
However, Gov. Phil Murphy is scheduled at 12:30 p.m. to hold a virtual town hall on the 2020 Census via Zoom. In addition, First Lady Tammy Murphy is scheduled to volunteer in Newark.
So far, Atlantic County has reported 3,713 cases with 241 deaths and 2,215 cleared as recovered. Cape May County has reported 1,019 cases with 82 deaths and 888 designated off quarantine. Cumberland County has reported 2,892 cases with 146 deaths.
For most people, the new coronavirus causes only mild or moderate symptoms, such as fever and cough. For some, especially older adults and people with existing health problems, it can cause more severe illness, including pneumonia.
On Wednesday, Murphy announced in-person instruction at schools and universities can resume immediately, but any student who wishes to continue remotely must be accommodated.
Murphy also signed into law a bill that delays physical examination requirement for certain student-athletes who participate in school-sponsored athletic activities during fall athletic season of 2020-2021 school year.
What is your school district's reopening plan?
Contact: 609-272-7241
Twitter @ACPressMollyB
Concerned about COVID-19?
Sign up now to get the most recent coronavirus headlines and other important local and national news sent to your email inbox daily.