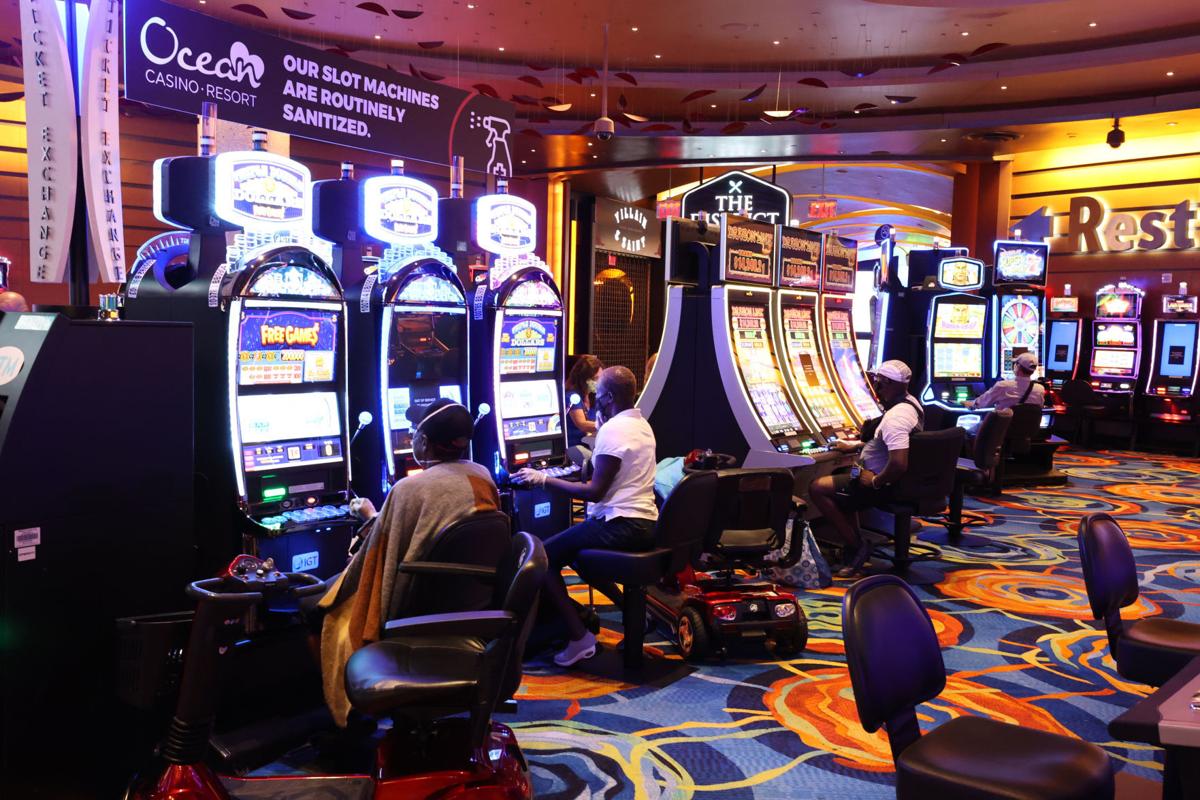 Beverage service on casino floors will resume Friday, state officials said.
Drinks must be ordered from a server and consumed in your seat, according to Gov. Phil Murphy's office. Smoking will also be permitted in AC casinos beginning Friday, according to Murphy's order.
Just received word from the Governor's Office that beverage service on casino floor will resume Friday. Drinks must be ordered from a server and consumed in your seat. https://t.co/nvIv0AIgOk

— David Danzis (@ACPressDanzis) September 1, 2020
The Atlantic County Division of Public Health reported no new deaths related to COVID-19 for the sixth consecutive day Tuesday, as well as eight more residents who have been cleared as recovered.
Health officials, however, did confirm 13 new positives among six men, ages 18 to 66, and seven girls and women, ages 3 months to 77, with locations as follows: two each from Brigantine, Galloway, Hammonton and Ventnor, and one each from Absecon, Egg Harbor Township, Hamilton Township, Linwood and Northfield, according to a news release from county spokeswoman Linda Gilmore.
So far, Atlantic County has reported 3,989 cases with 245 deaths and 2,697 recoveries. Cape May County has reported 1,117 cases with 88 deaths and 963 designated off quarantine. Cumberland County has reported 3,089 cases with 147 deaths.
Atlantic County will continue to provide testing by appointment at its drive-thru facility in Northfield at Rt. 9 and Dolphin Avenue, behind the county public works yard. 
More than 3,000 residents have been tested at the county facility since April 9 with 17.8% having tested positive, officials said.
Testing is scheduled from 9 a.m. to 11:30 a.m. for each Tuesday through September 29, according to the release. The only exception will be next week when testing will occur on Wednesday, September 9, instead of Tuesday, September 8.
The test site is available for both symptomatic and asymptomatic county residents with or without a doctor's prescription, officials said. Residents must provide proof of county residency and appointment confirmation.
If available, appointments can be made online at www.aclink.org, and officials asked those who are unable to keep their appointments to cancel no less than 24 hours in advance so others may have an opportunity to fill those spots.
Health officials urge residents to continue to remain vigilant to help mitigate the spread of the disease, including wearing face coverings, maintaining social distancing and avoiding crowds, washing hands frequently and sanitizing common-touch areas, and answering the call if contacted by contact tracers.
Gov. Phil Murphy on Tuesday signed into law legislation that allows all qualified residents, regardless of immigration status, to be able to apply for professional and occupational licenses.
Murphy called it "landmark legislation to bolster our economy and build a stronger, fairer and more inclusive New Jersey."
"This bill is a good idea no matter what, but God knows the stress and strain on our health professionals made it even more so," Murphy said, adding that it "illuminates a roadblock" for immigrants that will be removed. " … Frankly, this is the smart and right thing to do."
The state requires licenses for several professions, from doctors and accountants to plumbers and architects.
Individuals will still need to meet all the educational and training qualifications in their field to obtain the license.
Gov. Phil Murphy on Tuesday signed an executive order establishing rules for the resumption of indoor dining on Friday.
The order also contains requirements for movie theaters and other indoor entertainment businesses, where the number of patrons for a performance will be limited to 25% capacity, up to a maximum of 150 people, according to a news release. It also increases the limits for indoor gatherings that are religious services or celebrations, political activities, wedding ceremonies, funerals, or memorial services to 25% capacity with a maximum of 150 people, an increase from the current limit of 25% capacity with a maximum of 100 people.
Other indoor gatherings, including house parties, remain at the limit of 25% capacity with a maximum of 25 people, officials said.
"Given the progress we continue to see statewide, and with the proper precautions and limitations in place, I am proud that we can take this step today to allow our restaurants to once again welcome patrons back for indoor dining services," Murphy said. "Our job now is to ensure that this resumption only leads to future expansions of indoor capacity limits, and that we do not have to take a step backward."
"Sitting at a table inside a favorite restaurant and enjoying a good meal with family and friends has been a shared missed experience for New Jerseyans," said Health Commissioner Judith Persichilli. "The measures outlined in this directive will help ensure that restaurant-goers and staff alike remain healthy and protected from the spread of COVID-19."
"We are excited to see the announcement allowing the start of indoor dining," said Marilou Halvorsen, President of the New Jersey Restaurant & Hospitality Association. "This has been a long road and I appreciate the Governor and his team communicating with the association and members of the industry. The industry is ready for a safe reopening and getting New Jerseyans back to work. We look forward to the next phase."
Under the Department of Health's Health and Safety Standards, food or beverage establishments offering in-person service must adhere to the following protocols, among others:
Limit the number of patrons in indoor areas to 25% of the food or beverage establishment's indoor capacity, excluding the food or beverage establishment's employees;
Limit seating to a maximum of eight customers per table (unless they are from a family from the same household) and arrange seating to achieve a minimum distance of six feet between parties;
Require customers to only consume food or beverages while seated;
Require patrons to wear face coverings while inside the indoor premises of the food or beverage establishment, except when eating or drinking at their table;
Food or beverage establishments with table service must require that customers be seated in order to place orders;
Food or beverage establishments with table service must require that wait staff bring food or beverages to seated customers; and
Keep doors and windows open where possible and utilize fans to improve ventilation.
The order includes requirements for theaters and indoor performance venues to reopen to the public on Friday, which include:
Any particular showing is limited to 25% capacity with a maximum of 150 people;
Groups that buy tickets together can sit together, but must be at least 6 feet apart from all other groups; and
Individuals must wear masks, unless they are removing them to eat or drink concessions.
Also on Tuesday, Murphy released an updated list of state and territories from which individuals are to quarantine for two weeks.
The updated advisory includes two additional states Alaska and Montana, bringing the total to 33 states and territories, according to a news release.
The list now includes: Alabama; Alaska; Arkansas; California; Florida; Georgia; Guam; Hawaii; Iowa; Idaho; Indiana; Illinois; Kansas; Kentucky; Louisiana; Minnesota; Missouri; Mississippi; Montana; North Carolina; North Dakota; Nebraska; Nevada; Oklahoma; Puerto Rico; South Carolina; South Dakota; Tennessee; Texas; Utah; Virginia; Virgin Islands; and Wisconsin.
"We continue to ask everyone to practice self-responsibility and good citizenship by complying with our travel advisories," Murphy said. "It is critically important for anyone arriving to New Jersey from these 33 states and territories to get tested for COVID-19 and self-quarantine for 14 days."
Travelers and those residents who are returning from impacted states should self-quarantine at their home, hotel or other temporary lodging, officials said. Individuals should leave the place of self-quarantine only to seek medical care/treatment or to obtain food and other essential items.
The Cape May County Department of Health reported seven new positive cases Tuesday, including one new out-of-county case. No new deaths were reported. There were three new cases in Woodbine and one each in Lower Township, Ocean City and Wildwood Crest.
The total positive cases in Cape May County is now 1,124 and 88 deaths.  
There is no briefing with state officials Tuesday to update residents on the spread of COVID-19.
However, at 1 p.m., Gov. Phil Murphy is slated to sign legislation expanding access to professional and occupational licenses.
For most people, the new coronavirus causes only mild or moderate symptoms, such as fever and cough. For some, especially older adults and people with existing health problems, it can cause more severe illness, including pneumonia.
Contact: 609-272-7241
Twitter @ACPressMollyB